© copyright stannes4/2000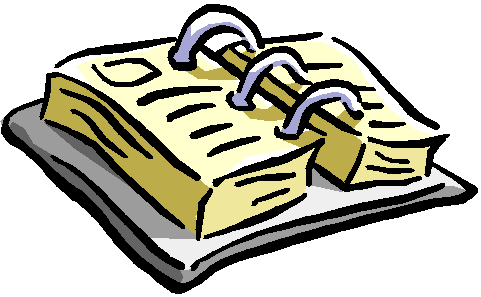 To use the Catholic calendar and follow the readings of the day please click the link below:
http://www.usccb.org/nab/index.htm
Page 1
January 4th, 2004
Epiphany of the Lord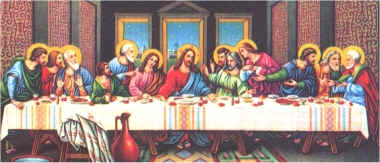 Schedule of Masses Week of January 5th - January11th, 2004

Day

Time

Requested for

Requested by

Mon 1/5

7 A.M.

Frances Muzikar

Sister Alberta

9A.M.

Liv Ann Cerosky

Theresa

Tues1/6

7 A.M.

David Schwer

Michael, Carmela & Michael Lombardi

9 A.M.

Liv Julie & Alfred Lattanzi

Theresa

Wed 1/7

7A.M.

Colegero & Camela Tagliarini

Roseann

9 AM

Thanksgiving prayers

Anabelle Chua & Family

7 P.M.

John Romano

Nieves & Romano Families

Thurs 1/8

7 AM.

Elizabeth Krohn

Family

9A.M.

Dorothy O'Donnell

Pauline & Helen Staranka

Fri. 1/9

7 AM

Frank Ferrara Sr.

Wife & Children

9A.M.

Frances Muzikar

St. Joseph/Padre Pio Prayer Group and Friends

Sat. 1/10

9 A.M.

John & Klara Pekar

Sons, Nicholas and George

6P.M.

Charles T. Schaadt Sr.

Barbara Schaadt

7:30 PM

For the People of the Parish

Sun. 1/11

7:30AM

Priscilla Figueroa

Family

9 AM

Gary Stracquatanio

Tina Edelman

10:30AM

Socorro Kennedy

Tina Edelman

12 PM

Liv/Dec Members of St. Anne's Parish
Sanctuary Gifts January 4th - 10th, 2004

Gift

In Memory Of

Requested By

Altar Wine

Audrey Lanigan

Yvonne & Lois Delavu

Altar Bread

David Schwer

Yvonne & Paul

Sanctuary Lamp

Paul & Elizabeth Hebert

Friend

Altar Candles

Evelyn Villenger

Friend
Let Us Pray For Those Seriously Ill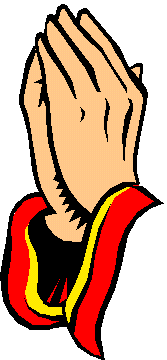 People will remain on the sick list for 2 weeks unless otherwise notified:
Anthony Tuzzo, Margaret Ng, Angelo Polcari, and Richard Carlson, Edwin Kraatz, Anne Cahilll, and Joan Wheeler..
Vocation reflections

Benedictine Sisters, Eizabeth, NJ offer a Monastic Live-in, January 16-23. This is an opportunity to live, work and pray with a Benedictine community for a week. It is open to young adult Catholic women (20's & 30's). Cost $150. For information, call 908-353-3028. Vocation Discernment January 30-31, 2004 for young men of high school age held at the Archdiocesan Retreat Center in Kearny. We will gather, January 30th at 4 p.m. in Kearny and conclude the retreat with lunch on the 31st at 1 p.m. For further information, permission slips, registration forms, contact Rev. Marc Vicari at Our Lady of Sorrows, 217 Prospect St., South Orange or call 973-763-5454 by January 22nd deadline.
If so, please contact the Vocations Office at 973-497-4365 or by e-mail at platebri@rcan.org or visit our website at www.rcan.org.
Page 2 Top

SCRIPTURE REFLECTION
All nations are invited to sing the Lord's praises for they have been called to hear the good news and worship the long awaited Messiah and King with the gift of their lives.

Our Weekly Offering
December 2003

December 27/28

$

4,8488.

Month's Total
$

19.863

.

Month's Average
$

4,965.

Mailed in, thank you
$

317.

MONTHLY AVERAGE COMPARISONS:

Month

'02 Monthly Avg.

'03 Monthly Avg.

November

$5,281.

$5,314.

December

$

5,330

.

$4.965.




HOLY HOUR


Every Tuesday, the Blessed Sacrament is exposed in the church from 3 to 4 p.m. It is an hour of prayer for the priests, DIVINE MERCY and religious men and women of the church. Prayers are also said for an increase of vocations to the priesthood and religious life.
We invite you to come and spend time with the Lord for these intentions and for your personal requests. The Holy Hour closes with Benediction of the Blessed Sacrament. If you cannot join us in church, we ask you to join us from a quiet spot in your home and pray with us, asking the Lord to guide and protect our priests.




Church Website
A reminder that St. Anne's Church website is: HTTP://STANNESJC.COM . Log on to view our current parish activities.
Yule Log

Don't forget to pick up your Yule Log. On Christmas Day, the Yule Logs were blessed. If you donated $6 for an Advent Calendar, you need to bring the Calendar with you to the rectory in order to pick up your Yule Log.
Padre Pio
St. Anne's Padre Pio Prayer Group has cancelled their meeting for January! Their next gathering will take place on Saturday, February 14th at 2 p.m. in the church for prayers followed by their meeting in the auditorium. All are welcome.
All Are Invited!!
All are invited to make a joyful noise unto the Lord! The adult choir will be having a rehearsal on January 4th at 1 p.m. in the church in preparation for our Centennial Mass on January 11th. They would like the community of St. Anne's to join them in this special rehearsal.
Top page 3
Top page 4
VENDORS NEEDED FOR

FEBRUARY 7TH FLEA MARKET

.
PLEASE CONTACT SISTER ALBERTA -
201-659-1794 OR 201-963-0998
Top page 5
Spiritual Bouquet
As we get ready to celebrate our Centennial year, our Centennial Committee is inviting all parishioners to set aside the year 2004 as a Jubilee year of prayer. The tradition of a jubilee year comes from OLD TESTAMENT ORIGINS. The ultimate derivation of the word jubilee is disputed, but it is most probable that the Hebrew word jobel, to which it is traced, meant "a ram's horn", and that from this instrument, used in proclaiming the celebration, a certain idea of rejoicing was derived. Further, passing through the Greek iobelaios, or iobelos, the word became confused with the Latin jubilo, which means "to shout", and has given us the forms jubilatio and jubilaeum, now adopted in most European languages.
For the Israelites, the year of Jubilee was, in any case, preeminently a time of joy, the year of remission or universal pardon. "Thou shalt sanctify the fiftieth year," we read in Leviticus 25:10, "and shalt proclaim remission to all the inhabitants of thy land: for it is the year of jubilee."
With this in mind, as pastor and Spiritual Shepherd of St. Anne's, I am calling for a year of prayers during our Centennial. I ask that we pray for the continuing conversion of our parish and the world around us, to a life open to Christ. I ask that this take the form of a spiritual bouquet to be offered during our Centennial Year. Let it be a time of forgiveness and healing; a time filled with rejoicing and shouting for joy, the great love God has for his people and the desire he has for us to be healed. Let us pray, that at the conclusion of jubilee year, the words of Micha the prophet. "You have been told, O man, what is good, and what the LORD requires of you: Only to do right and to love goodness, and to walk humbly with your God." Mi 6:8, will be witnessed in our parish.
The spiritual Bouquet is found in pews of the church. Please fill out and place in the collection basket or drop at the rectory. these will be brought up in the Offertory Procession of the January 11th opening Mass, and kept before the Blessed Sacrament during the Centennial Year.
M

onthly Memorial Mass
At the request of many parishioners, we will begin a monthly memorial mass on the first Saturday of each month. Those who are enrolled, will have their names recorded in our Parish Prayer Request Book located near the Blessed Sacrament.
Each month, this book will be brought up in the Offertory Procession and all will be invited to pray for these special intentions. These intentions can be for the living or for the deceased. Our Parish Family of St. Anne's wishes to share in your sorrow and in your prayer. We are calling this "Our Lady of Fatima Society". Each person enrolled on a yearly basis, will share in the spiritual benefits and good works of the St. Joseph's Morning Prayer Group, and in a monthly Mass and Rosary shared on the First Saturday of each month in honor of the Blessed Mother.
These Memorial Mass cards will be available at the rectory. You may see an example already set up in the Parish Prayer Request Book.
page 6 Top
Resoluciones catolicas para el año nuevo
El tiempo es un regalo precioso, el cual, a travez de los ojos de la fe, se convierte en oportunidad para crecer en la graia de dios. que el 2004 sea de muchas bendiciones para cada uno de nosotros en santa ana. para ayudarnos a mantener el espiritu de la navidad a travez del nuevo año, la iglesia sugiere las siguientes resoluciones:
- Asistir diario a misa una o dos veces al mes
- Participar en alguna de las vovenas
- Dedicar un rato todos los dias para leer las escrituras
- No abandonar la misa despues de la comunion,cantar la ultima cancion. - dedicarle tiempo a la meditacion, y no apresurar sus oraciones.
- Rezar por las vocaciones en este tiempo de necesidad
- Rezar el rosario
- Sacar un tiempecito en la noche para rezar por este dia y pedir la presencia del señor.
- Participar en el sacramento de la reconciliacion mediante la confesion, por medio del cual el señor nos recuerda su tierno amor.
- Parcipe en una de las sociedades de la iglesia(legion de maria, padre pio,grupo de oraciones mañaneras, St. Jose, sociedad de nuestra señora de guadalupe) erc, y comparta su fe en comunidad.
Elegir una dos o tres de estas resoluciones y cada mes renueve su decision de manera que se haga un habito.
feliz año nuevo!
Page 7 Top
MONDAY 1Jn 3:22-4:6 Ps 2:7-8,10-11 Mt 4:12-17,23-25
TUES. 1Jn 4:7-10 Ps 72:2-4ab,7-8 Mk 6:34-44
WED 1Jn 4:11-18 Ps 72:2,10-13 Mk 6:45-52
THURS. 1Jn 4:19-5:4 Ps 72:2,14,15bc,17 Lk 4:14-22a
FRIDAY 1Jn 5:5-13 Ps 147:12-15,19-20 Lk 5:12-16
SATURDAY 1Jn 5:14-21 Ps 149:1-6a,9b Jn 3:22-30
NEXT SUNDAY - THE BAPTISM OF THE LORD Is 42:1-4,6-7 Ps 29:1a,2,3ac-4,3b,9b-10 Acts 10:34-38 Lk 3:15-16,21-22 Eph 3:2-3a,5-6 Mt 2:1-12
Finance Committee Meeting

There will be a Finance Committee Meeting held on Monday, January 12th at 7:30 p.m. in the rectory. Please pick up your financial packet next weekend. Thank you.

Parish Auction

St. Anne's annual Parish Auction is just around the corner. It will be on Sunday, March 7th at 1 p.m. in the church auditorium fro 1-6 p.m. Doors will open at 12 noon.

Open House

Academy of Saint Aloysius in Jersey City is having Open House on Wednesday, January 28th at 7 p.m. for all interested grammar school students and parents.

Vocation Announcements

The Benedictine Center for Spirituality invites you to a New Year's Eve Retreat for women from 4 p.m. Wednesday to 1 p.m. Thursday. Cost $40 - for information call 908-353-3028.

Benedictine Sisters, Elizabeth, NJ, offer a Monastic Live-in, January 16-23. This is an opportunity to live, work and pray with a Benedictine community for a week. It is open to young adult Catholic women in their 20's/30's. Cost $150 - for information call 908-353-3028.

A Vocation Discernment Weekend is scheduled for January 16-18. If you are a single Catholic woman over 18 and think you may be called to the Benedictine way of life, this weekend retreat is for you. Call 908-353-3028.
St. Anne Seniors
For more information on event below, contact Peggie Riscoe at 201-659-3930: (Open to all, sorry NO children.)
· Wildwood Vacation for 5 days/4 nights, June 2004 - all included: hotel, meals, entertainment. Cost approx. $320. (Last week's bulletin had wrong price!)
CCD News
NO CLASSES FOR NEW YEAR HOLIDAY - JANUARY 4TH!! CLASSES WILL RESUME ON SUNDAY, JAN. 11TH!
Page 8 Top
Centennial Grand 50/50 Raffle
To Celebrate the 100th Anniversary of St. Anne Church, the Centennial Committee is having a Grand 50/50 Raffle with the opportunity to win up to $50,000 (based on the sale of 1,000 tickets). They are now available for purchase at the rectory or from Committee Members and will be available up to the day of the raffle.
Raffle Date: January 11, 2004 at 5 p.m.
Place: St. Anne's Auditorium
Win Up To $50,000!
Only 1,000 Tickets Will Be Sold
One Winner Only!
2004 Anniversary Masses
The Archdiocese of Newark is once again preparing the annual tradition of honoring those couples in our Archdiocese who will be celebrating five, twenty-five or fifty years of Christian marriage in the year 2004. These liturgies will be celebrated by Archbishop John J. Myers and will be held at the Cathedral Basilica of the Sacred Heart in Newark at 3 p.m.:
Sunday, March 14, 2004 - 25 & 5 years
Sunday, May 2, 2004 - 50 years
Register through your rectory.
National Migration Week 2004
The Refugee Resettlement and Immigration Assistance Programs (RRIAP) of Catholic Community Services (CCS) will recognize National Migration Week 2004 with a Mass celebrated by Most Reverend John J. Myers, on Saturday, January 10th at 10 a.m. at the Cathedral Basilica of the Sacred Heart. The theme for National Migration Week, "Together on the Journey", is drawn from a recent pastoral letter issued jointly by the Catholic Bishops of Mexico and the United States. The letter specifically addresses the circumstances of migration within the American continent, its underlying reflections on scripture and the principles of Catholic social teaching and their direct relevancy to the global issues of border security, refugee resettlement, and economic migration that impact each of us. The Cathedral Basilica is located on 89 Ridge Street in Newark. For more information, please call Meaghan Tuohey-Kay, Esq., Managing Attorney, (RRIAP) at 973-733-3516, ext. 207.
Welcome to our Family
We recently received two new members to our St. Anne's Parish Family through the Sacrament of Baptism. As they begin their new life of grace, we ask that you remember them in your prayers. They are: Kalila Reagan Richards and Mariella Olivia Dagdag.
Page 9 Top