© copyright stannes4/2000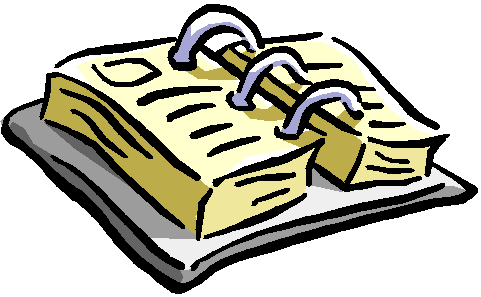 To use the Catholic calendar and follow the readings of the day please click the link below:
http://www.usccb.org/nab/index.htm
Reminder!! Please go to Spiritual Journey Page for visual guide to reciting the Stations of the Cross and for explanation for the Seder Celebration.
Page 1
February 15th, 2004
5th Sunday of Ordinary Time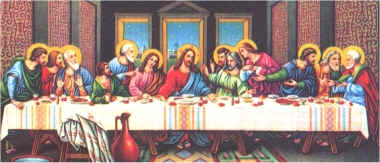 Schedule of Masses Week of February 16th - February 22nd, 2004

Day

Time

Requested for

Requested by

Mon 2/16

7 A.M.

Elizabeth Fisken

Frieda Fireskin

9A.M.

Angelo Marocolo

Angela & Ennio Maccini

Tue 2/17

7 A.M.

Nydia Salgado

Melissa Acevedo

9 A.M.

Salvatore Infante

Maria Russo

Wed 2/18

7A.M.

Thomas E. Doyle

Children

9 AM

Domenico Nicastro

Anna Mele

7 P.M.

Nicholas Merced

Dolore & Wayne Carter

Thurs 2/19

7 AM.

Liv Joseph Ferrara

Mother

9A.M.

Theresa Buckley

Marie Caskey

Fri. 2/20

7 AM

Special Intention

9A.M.

Veronica Coar

Husband, Paul

Sat. 2/21

9 A.M.

Alfred Driver

Margie Caruso

6P.M.

Mildred Samuelson

Chris Burke

7:30 PM

For the People of the Parish

Sun. 2/22

7:30AM

Frances Kakowski

Donaway Family

9 AM

Lisa O'Rielly

Alisa Halter & Family

10:30AM

Mary Cecere

Dolores DeLuise

12 PM

Monica Keenan

Keenan Family
Sanctuary Gifts February 15th - 21st, 2004

Gift

In Memory Of

Requested By

Altar Wine

Special Intention

Altar Bread

Special Intention

Sanctuary Lamp

Special Intention

Altar Candles

Elizabeth Fesken

Santoro Family
Let Us Pray For Those Seriously Ill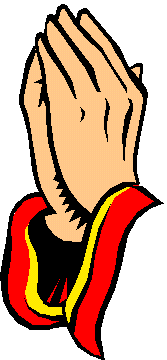 People will remain on the sick list for 2 weeks unless otherwise notified:
Joseph Sarao, Anthony Tuzzo, Joan Wheeler, and Anthony Cozzolino.
Vocation reflections
In today's Gospel, Jesus teaches the crowd of people.

He says, "Blessed are the poor in spirit, blessed are they who mourn, blessed are they who are persecuted."

His words need to be taught to the people of today.

Will you answer God's call to teach as a priest, deacon, or religious sister or brother?
If so, please contact the Vocations Office at 973-497-4365 or by e-mail at

platebri@rcan.org

or visit our website at

www.rcan.org

.
Page 2 Top

SCRIPTURE REFLECTION
Blest are they who trust and hope in the Lord.

Blest are they who are poor and who endure insult, for their reward shall be great: eternal life.

Our Weekly Offering
February 2004

January 31/Feb. 1

$

3,794.

Month's Total
$

8,951.

Month's Average
$

4,475.

Mailed in, thank you
$

284.

MONTHLY AVERAGE COMPARISONS:

Month

'03 Monthly Avg.

'04 Monthly Avg.

January

$

5,383

.
$

4,995

.

February

$

5,213

.

$

4,475

.




HOLY HOUR


Every Tuesday, the Blessed Sacrament is exposed in the church from 3 to 4 p.m. It is an hour of prayer for the priests, DIVINE MERCY and religious men and women of the church. Prayers are also said for an increase of vocations to the priesthood and religious life.
We invite you to come and spend time with the Lord for these intentions and for your personal requests. The Holy Hour closes with Benediction of the Blessed Sacrament. If you cannot join us in church, we ask you to join us from a quiet spot in your home and pray with us, asking the Lord to guide and protect our priests.




School News
Congratulations! Sonika Tyagi, an eighth grade student at St. Anne's School, has placed first in the Knights of Columbus Spelling Bee held February 8th. We are very proud of you Sonika. Great job!!
"Seeds of Faith, Branches of Hope"
The written history of the past 150 years of the Archdiocese of Newark, have been distributed to each Parish throughout the Newark Archdiocese and is available (for sale) to all parishioners. These books can be purchased from the rectory. If you wish to order one (or more) to be put aside, there are order forms found in this week's bulletin or in the church vestibule.
A copy of this beautifully designed book is on display in the church vestibule.
Description:
8 1/4" x 11 3/4" Hard Cover
192 Glossy Pages; Full Color Throughout
COST: $25 each or 2 for $45
Top page 3
Palms

We are requesting that your old Palm be dropped off at the rectory by February 22nd in order for it to be burned for Ash Wednesday, February 25th. This is the appropriate way to dispose of your old Palm and make it useful for the church.

Concert

Our Lady of Mount Carmel Concert Series Musica Carmelite will be hosting its sixth performance on Sunday, February 15th at 3:30 p.m. Artistic Director, Rasaan Bourke, will be the concert's featured piano soloist. For more information call 201-435-7080.

Bereavement Support Group Facilitator Training

Are you interested in becoming part of the ministry to the bereaved in your parish? An eight-week training

program is offered at the Archdiocesan Center and is now open for registration. Participants will explore the stages and tasks of grief and mourning and develop their communication and group facilitation skills. Sessions begin at the end of March and continue through May and are offered on Tuesday mornings or on Thursday evenings. For registration and fee information, please contact the Office of Family Life Ministries of the Archdiocese of Newark at 973-497-4327. Pre-registration is required; class size is limited.

Greatest Show On Earth

Would you like to attend performance on March 3 or 4th at 7:30 p.m. in East Rutherford. If interested, contact Sr. Alberta at 201-659-1794 or 201-963-0998. Tickets are $12.50 per person.
Top page 4
Top page 5
MONDAY Jas 1:1-11 Ps 119:67-68,71-72,75-76 Mk 8:11-13
TUES. Jas 1:12-18 Ps 94:12-15,18-19 Mk 8:14-21
WED. Jas 1:19-27 Ps 15:2-5 Mk 8:22-26
THURS. Jas 2:1-9 Ps 34:2-7 Mk 8:27-33
FRIDAY Jas 2:14-24,26 Ps 112:1-6 Mk 8:34-9:1
SATURDAY Jas 3:1-10 Ps 12:2-5,7-8 Mk 9:2-13
NEXT SUNDAY - 7th SUNDAY IN ORDINARY TIME 1Sm 26:2,7-9,12-13,22-23 Ps 103:1-4,8,10,12-13 1Cor 15:45-49 Lk 6:27-38
Day of Reflection
"Behold: The Lord is with You", a Day of Reflection with keynote speaker Dr. Alice von Hildebrand, will be held on Saturday, March 27th at Queen of Peace Parish in North Arlington. Archbishop John J. Myers will celebrate Mass, and the day will include opportunities for sharing and a meditative recitation of the Stations of the Cross. The day is being sponsored by the Archdiocese of Newark's Women's Commission. Further information and the registration form are available at www.rcan.org/womcom or you may call the Office of the Chancellor at 973-497-4009.
CCD News
· NO CCD CLASSES TODAY - PRESIDENT'S WEEKEND!!
· Feb. 22nd - Confirmation Enrollment at 9 a.m. Mass. All parents and sponsors are to attend. After Mass, there will be a meeting for sponsors and candidates in the library.
· Feb. 23rd & Feb. 26th - First Reconciliation practice in church 3 to 4:30 p.m. Please pick up children on time! Please bring fee, if not paid, and windmill.
· Feb. 28th - First Reconciliation Day; ceremony at 11 a.m.. Children to be here in church at 10:45!! For this day, first grade parents of St. Anne's School and the Religious Education Program are requested to help out with refreshments. Please bring to the school Thursday or Friday.
· Each year, the Archdiocese requires the Acre Test to be administered to grades 5 & 8.
This test is to evaluate the
program NOT your child
.
This test will be given to grade 5 on February 29th.

Please make sure your child attends class on this day!
Spirituality Program
Catechist Enrichment Day at College of St. Elizabeth in Morristown on February 21st. Presentations, workshops, and opportunities for prayer for all involved in religious education. Details: 973-290-4300/4364.
Marriage Enrichment Weekend
Lent is coming - what are you doing? Scripture tells us that Jesus went to the desert for 40 days to prepare himself for his public ministry by being alone with his Father. He needed a solid relationship to face the challenges ahead. Lent is the traditional time to work on our relationship with God through prayer and works of penance. But what about your relationship with your spouse Want to work on that to help face the challenges of life in the modern world? Try a weekend for just the two of you - not forty days, not in a desert but a comfortable hotel, a real opportunity to rediscover and strengthen your relationship. This opportunity is brought to you by Marriage Encounter - making good relationships better. For reservations or more information, please call Sal and Sylvia Vassallo at 973-857-8184. Call now, space may be limited.
2004 Anniversary Liturgies
Those couples celebrating their 5th, 25th, or 50th wedding anniversary in 2004 have the opportunity to celebrate with a special Mass in Newark. If interested, please contact the rectory.
Top page 6
Page 7 Top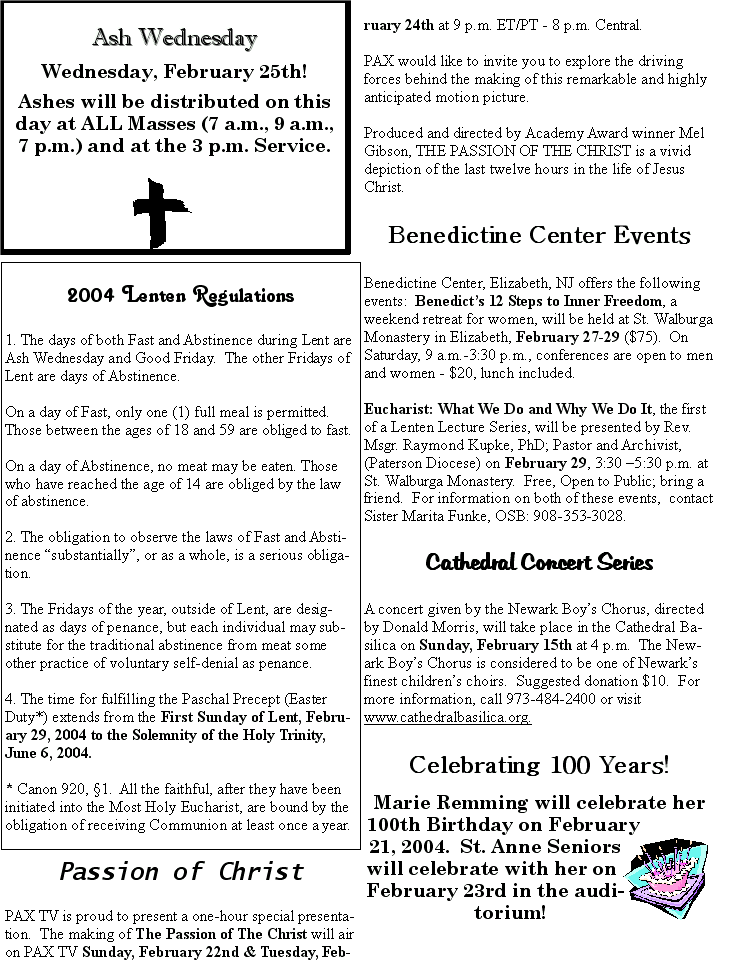 Page 8 Top
Page 9 Top