© copyright stannes4/2000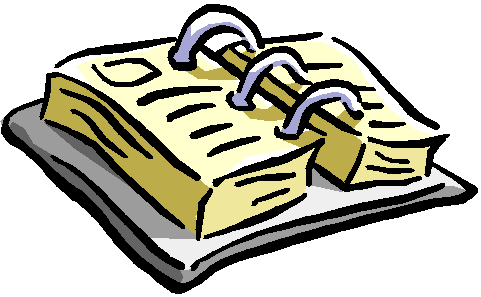 To use the Catholic calendar and follow the readings of the day please click the link below:
http://www.usccb.org/nab/index.htm
Reminder!! Please go to Spiritual Journey Page for visual guide to reciting the Stations of the Cross and for explanation for the Seder Celebration.
Also Please try to recite the rosary daily or as often as you can. For your convenience click rosary for an audio accompaniment ROSARY . Press the play button on your media monitor.
Page 1
March 7th, 2004
2nd Sunday of Lent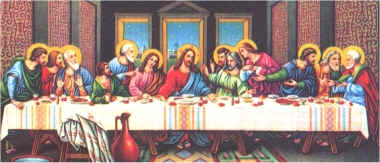 Schedule of Masses Week of March 8th - 14th, 2004

Day

Time

Requested for

Requested by

Mon 3/8

7 A.M.

Laura Verdon

Madeline Gerrity

9A.M.

Edward Wilkins Jr.

Family

Tue 3/9

7 A.M.

Joseph Altomonte

Daughters Agnes & Josephine

9 A.M.

(Liv) Joseph Paparella

Frances & Bruno

Wed 3/10

7A.M.

Charles Catrillo

Todd Hennessey

9 AM

Aniello Russo

Grace Nicastro

7 P.M.

Walter Dennis

William Toolen

Thurs 3/11

7 AM.

Filomena Abbate Marco

Emma Rizzo

9A.M.

Lawrence Huber

Burke Family

Fri. 3/12

7 AM

Henry Vigna

Vigna Family

9A.M.

Frances Muzikar

St. Joseph/Padre Pio Prayer Groups & Friends

Sat. 3/13

9 A.M.

Samuel Wilkins Sr.

Family

6P.M.

Josephine Juchnewich

Roz & George Juchnewich

7:30 PM

Maddelena Santomauro

Emma Rizzo

Sun.3/14

7:30AM

Sarah & John Potts

Rita Diller

9 AM

Theresa & Salvatore Fontana

Daughter

10:30AM

Patrick & Kathleen Burke

Warren & Helen Ferris

12 PM

Tim Guy

Family
Sanctuary Gifts March 7th - March 13th, 2004

Gift

In Memory Of

Requested By

Altar Wine

Special Intention

Altar Bread

Special Intention

Sanctuary Lamp

Special Intention

Altar Candles

Elizabeth Anton

Mezzina Family
Let Us Pray For Those Seriously Ill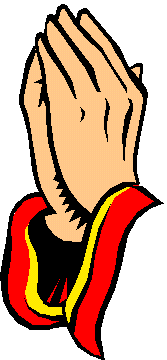 People will remain on the sick list for 2 weeks unless otherwise notified:
Anthony Tuzzo, Joan Wheeler, Jane Sands, Catherine Gray, Jack Salvatore, Theresa Sardella, Gladys Connelly, Angelo Polcari, Michael Carlson, Joseph Sarao, Carmela Simone.
Vocation reflections

As Jesus was transfigured before their eyes, Peter, James and John heard a voice from the cloud say, "This is my beloved Son, with whom I am well pleased, listen to him."

The voice of God speaks to men and women of today, calling them to be priests, deacons and religious.

Will you listen to this voice?
If so, please contact the Vocations Office at 973-497-4365 or by e-mail at

platebri@rcan.org

or visit our website at

www.rcan.org

.
Page 2 Top

SCRIPTURE REFLECTION
Abram's faith is sealed with a covenant initiated by God, our light and our salvation.

The transfiguration of Jesus prefigures the transformation in glory to which we are called by our sharing in the paschal mystery— the dying and rising of Jesus
.

Our Weekly Offering
February 2004

February 28/29

$

5,481.

Month's Total
$

26,077.

Month's Average
$

6,519.

Mailed in, thank you
$

471.

MONTHLY AVERAGE COMPARISONS:

Month

'03 Monthly Avg.

'04 Monthly Avg.

February

$

5,213

.
$

5,149

.

March

$

5,545

.

$6,519




HOLY HOUR


Every Tuesday, the Blessed Sacrament is exposed in the church from 3 to 4 p.m. It is an hour of prayer for the priests, DIVINE MERCY and religious men and women of the church. Prayers are also said for an increase of vocations to the priesthood and religious life.
We invite you to come and spend time with the Lord for these intentions and for your personal requests. The Holy Hour closes with Benediction of the Blessed Sacrament. If you cannot join us in church, we ask you to join us from a quiet spot in your home and pray with us, asking the Lord to guide and protect our priests.




Class of '74 Reunion
Reunion to be held on March 27th in the Valley Regency in Clifton for St. Anne's School Graduating Class of 1974. Please contact Peter Griese at 908-876-5270 ASAP.
"Seeds of Faith, Branches of Hope"
The written history of the past 150 years of the Archdiocese of Newark, have been distributed to each Parish throughout the Newark Archdiocese and is available (for sale) to all parishioners. These books can be purchased from the rectory. If you wish to order one (or more) to be put aside, there are order forms found in this week's bulletin or in the church vestibule.
A copy of this beautifully designed book is on display in the church vestibule.
Description:
8 1/4" x 11 3/4" Hard Cover
192 Glossy Pages; Full Color Throughout
COST: $25 each or 2 for $45
Top page 3
Top page 4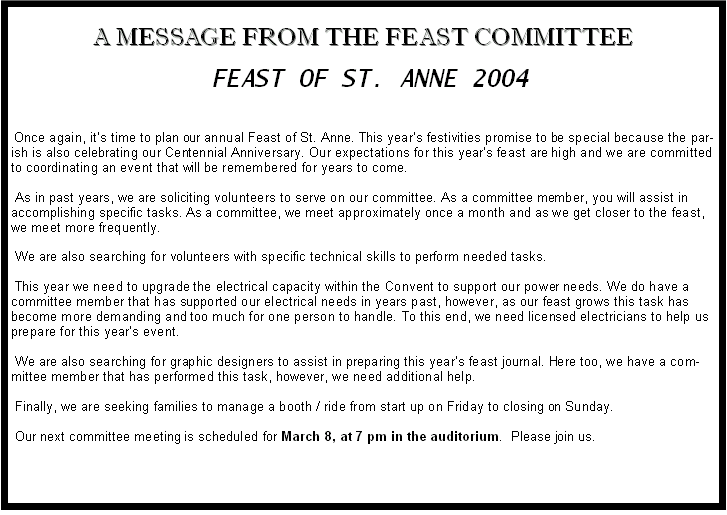 Second Collection
Next week, as a parish, we will participate in the Peter's Pence Collection for the Works of the Holy Father. This collection enables the Holy Father to respond to requests for emergency funds from the most needy throughout the world. The gospel continually challenges us to lend a helping hand to those in need, to help build a better world with justice for all. This special Collection is an opportunity to demonstrate justice as well as kindness to our brothers and sisters in need. Please pray for the Holy Father's works and contribute generously to the appeal.
Bid for Student Success
The Felician College Alumni Association and Council of Regents invite you to come to the auction block and make a bid for student success at a live auction and dinner. Join us on Saturday, March 13th in the cafeteria of the Lodi campus, 262 South Main Street, and bid on vacations, sports memorabilia, electronics, tickets to shows and events, celebrity autographed collectibles, and many other fabulous items. Preview begins at 5 p.m., and the dinner and live auction begin at 6:30 p.m. Tickets - including dinner, dessert, beer, wine, and soda - are $50 per person, and are advance sale only. For reservations, please call 201-559-3315. Proceeds benefit the Felician College Student Scholarship Fund.
Beefsteak Dinner
The Alumnae Association of the Academy of Saint Aloysius is sponsoring an "All You Can Eat" Beefsteak Dinner on Saturday, March 20th in the ASA auditorium. Dinner starts at 7 p.m. and tickets are $30 per person. All proceeds will go to benefit the school. For tickets or further information, please call Margaret Marley at 201-433-8877.
Top page 5 & 6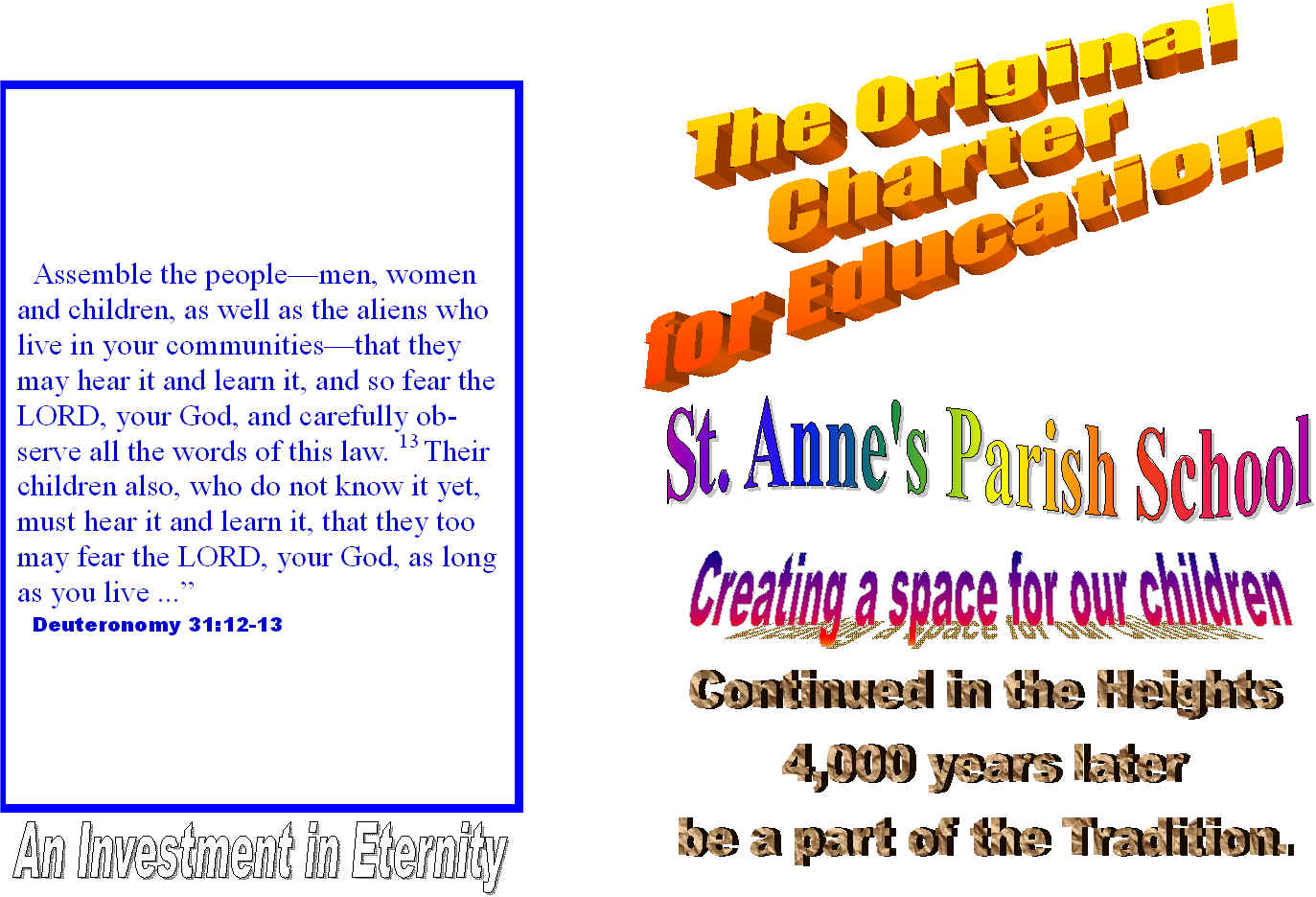 Page 7 Top
MONDAY Dn 9:4b-10 Ps 79:8-9,11,13 Lk 6:36-38
TUES. Is 1:10,16-20 Ps 50:8-9,16bc-17,21,23 Mt 23:1-12
WED. Jer 18:18-20 Ps 31:5-6,14-16 Mt 20:17-28
THURS. Jer 17:5-10 Ps 1:1-4,6 Lk 16:19-31
FRIDAY Gn 37:3-4,12-13a,17b-28 Ps 105:16-21 Mt 21:33-43,45-46
SATURDAY Mi 7:14-15,18-20 Ps 103:1-4,9-12 Lk 15:1-3,11-32
NEXT SUNDAY 3RD SUNDAY OF LENT Ex 3:1-8a,13-15 Ps 103:1-4,6-8,11 1Cor 10:1-6,10-12 Lk 13:1-9

Page 8 Top
CCD News

· Communion Parent Meeting (Catholic/Public School) TODAY 10 a.m. in library of school.

· Parent Club Meeting TODAY 10 A.M. PC#3.

· Teacher's Meeting TODAY 11:30 in PC#3.

· Confirmation Conferences this week: Tuesday, March 9th 11 a.m. in PC#3; 4 p.m. in Convent; Thursday, March 11th 11 a.m. in PC#3. Candidates have received notices. Please check with them if you haven't received it.

· Please make your reservations for Fish & Chips TODAY!!

"What Are You Doing?"

Sunday, March 21st - Confirmation Presentation at 2 p.m. in Church. The Letter of James as performed by TV star FRANK RUNYEON.
Page 9 Top
First Sunday of Lent
CARING for CREATION CORNER
We have entered a most solemn season of the Liturgical Year. Our Lenten practices are meant to lead to a conversion of heart that is expressed in the way we live in relationship to God, others and all of creation.
The New Jersey Catholic Coalition for Environmental Justice (NJCCEJ) invites parishes and individuals to consider how our Lenten practices can engage us in some of the ecological crises of our times. For the next four weeks the bulletin will contain brief articles on a particular subject: consumerism, water, food and energy. These articles are guides to help us determine whether how we live is consistent with our Catholic values and whether our lifestyle might need a few adjustments.
Reflection Question
For two decades the Church has taught that the ecological crisis is a moral issue. How is my/our parish's use or misuse of material goods, water, food and energy an expression of our response to the ecological crisis?
Prayer: God of all creation, we pray that as we journey through the Lenten season, we may have a renewed vision of your presence in the world. May this new vision lead to a more harmonious way of living with all creation. Amen.
Second Sunday of Lent

- - Consumer Choices
CARING for CREATION CORNER
Our Church Teaches
If God clothes in such splendor the grass of the field, which grows today and is thrown on the fire tomorrow, how much more will God provide for you, O weak in faith! Luke 12:28
It is unjust that a privileged few should continue to accumulate excessive goods, squandering available resources, while masses of people are living in conditions of misery. . .Simplicity, moderation and discipline, as well as a spirit of sacrifice, must become a part of everyday life, lest all suffer the negative consequences of the careless habits of a few. THE ECOLOGICAL CRISIS: A COMMON RESPONSIBILITY, Pope John Paul II, 1990
Facts for Thought
• The U.S. has 5% of the world's population but consumes 25-30% of the world's resources.
• Each American throws away approximately 1400 lbs of garbage per year.
Reflection Questions
- When I shop, how often do I ask myself before purchasing an item, "Do I need this, or do I simply want it?"
- Would I consider downsizing holidays and birthdays, i.e., agreeing with family members to find alternative ways to observe the holiday or celebration? For example, make a charitable contribution or give the gift of time by assisting with house projects such as painting or gardening.
Prayer : God of abundance, help us to recognize that your creation is not a limitless supply of goods for us to plunder. Give us the grace to strive for a life of simplicity -a life that respects the integrity of all creation, and the plight of the poor. Amen.