© copyright stannes4/2000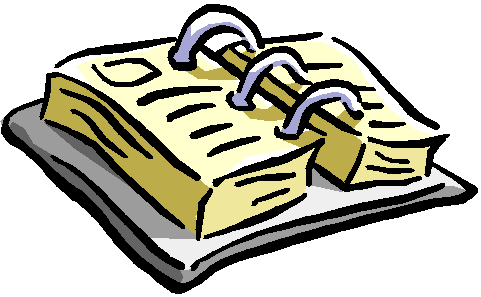 To use the Catholic calendar and follow the readings of the day please click the link below:
http://www.usccb.org/nab/index.htm
Reminder!! Please go to Spiritual Journey Page for visual guide to reciting the Stations of the Cross and for explanation for the Seder Celebration.
Also Please try to recite the rosary daily or as often as you can. For your convenience click rosary for an audio accompaniment ROSARY . Press the play button on your media monitor.
Page 1
March 14th, 2004
3rd Sunday of Lent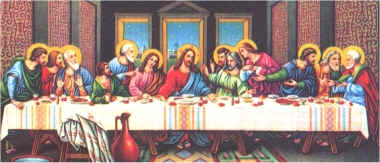 Schedule of Masses Week of March 15th - 21st, 2004

Day

Time

Requested for

Requested by

Mon 3/15

7 A.M.

Giuseppina DiGeronimo

Virginia Sami

9A.M.

Luis Fusco

Teresa Fusco

Tue 3/16

7 A.M.

For The People Of The Parish

Daughters Agnes & Josephine

9 A.M.

Rose & Thomas Mastrant

Theresa

Wed 3/17

7 A.M.

Glennon & Ruddy Families

Family

9 AM

Mr. & Mrs. J. Houlihan

Perez Family

7 P.M.

Lillian Koska

Albert Koska

Thurs 3/18

7 AM.

Giuseppe Belfiore

Toni

9A.M.

(Liv) St. Joseph Morning Prayer

Burke Family

Fri. 3/19

7 AM

(Liv) Joseph Mocarski

Family

9A.M.

In Honor of St. Joseph

Frances Spazian

Sat. 3/20

9 A.M.

Frank & Catherine Infante

Frank & Gemma

6P.M.

Raymond Caroselli

Joy, Eric, Sandy & Ken

7:30 PM

For The People Of The Parish

Emma Rizzo

Sun.3/21

7:30AM

Florence Driver

Margie Caruso

9 AM

Rosalie Cacioppa

Michael Casalaspro Family

10:30AM

Tripsas Family

Grace Russo

12 PM

Monica Keenan

Keenan Family
Sanctuary Gifts March 14th - March 20th, 2004

Gift

In Memory Of

Requested By

Altar Wine

Special Intention

Altar Bread

Special Intention

Sanctuary Lamp

Special Intention

Altar Candles

Special Intention
Let Us Pray For Those Seriously Ill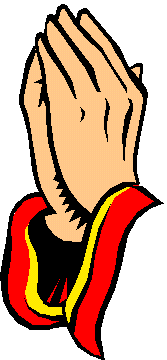 People will remain on the sick list for 2 weeks unless otherwise notified:
Anthony Tuzzo, Joan Wheeler, Jane Sands, Catherine Gray, Jack Salvatore, Theresa Sardella, Gladys Connelly, Angelo Polcari, Michael Carlson, Joseph Sarao, Carmela Simone, Brian Burke, Carol Skinner.
Vocation reflections

After her encounter with Jesus at the well, the Samaritan woman is filled with joy and a new found freedom from all that oppressed her.

It is with this joy and exhilaration that she goes to all her friends and neighbors and shares the Good News of Jesus Christ.

You too may be called to share the Good News as a priest or religious brother or sister?

?
If so, please contact the Vocations Office at 973-497-4365 or by e-mail at

platebri@rcan.org

or visit our website at

www.rcan.org

.
Page 2 Top

SCRIPTURE REFLECTION
From the burning bush, Moses is called by God to lead his people out of slavery into freedom. The parable of the fig tree speaks, on the one hand, of God's patience, but, on the other, of the urgency of the call to conversion. Like the Hebrews of old, we too have failed to heed God's call, thinking ourselves to be self-righteous.

Our Weekly Offering
March 2004

March 6/7

$

5,269.

Month's Total
$

5,269.

Month's Average
$

5,269.

Mailed in, thank you
$

235.

MONTHLY AVERAGE COMPARISONS:

Month

2003

2004

February

$

5,213

.
$

5,149

.

March

$

5,545

.

$5,269




HOLY HOUR


Every Tuesday, the Blessed Sacrament is exposed in the church from 3 to 4 p.m. It is an hour of prayer for the priests, DIVINE MERCY and religious men and women of the church. Prayers are also said for an increase of vocations to the priesthood and religious life.
We invite you to come and spend time with the Lord for these intentions and for your personal requests. The Holy Hour closes with Benediction of the Blessed Sacrament. If you cannot join us in church, we ask you to join us from a quiet spot in your home and pray with us, asking the Lord to guide and protect our priests.




Easter Decorations

For your convenience, a "Flower" depository has been placed by the altar. Remember your loved ones this Easter Season while beautifying the church.
"Seeds of Faith, Branches of Hope"
The written history of the past 150 years of the Archdiocese of Newark, have been distributed to each Parish throughout the Newark Archdiocese and is available (for sale) to all parishioners. These books can be purchased from the rectory. If you wish to order one (or more) to be put aside, there are order forms found in this week's bulletin or in the church vestibule.
A copy of this beautifully designed book is on display in the church vestibule.
Description:
8 1/4" x 11 3/4" Hard Cover
192 Glossy Pages; Full Color Throughout
COST: $25 each or 2 for $45
Top page 3
Top page 4
Anointing Mass

The Anointing Mass for the Sick will be Saturday, April 3rd at 2 p.m. in the auditorium. Since this is the weekend of Palm Sunday, Palm will be blessed and distributed. If anyone you know needs transportation, please contact Father John Bauman at the rectory.

Passover Meal

Celebrate an authentic Passover meal from 33 A.D. with Christ Centered Overtones - March 28th at 5 p.m. in the auditorium.

Limited to the first 50 persons. Cost: $5.

Sign up in the rectory!
Top page 5 & 6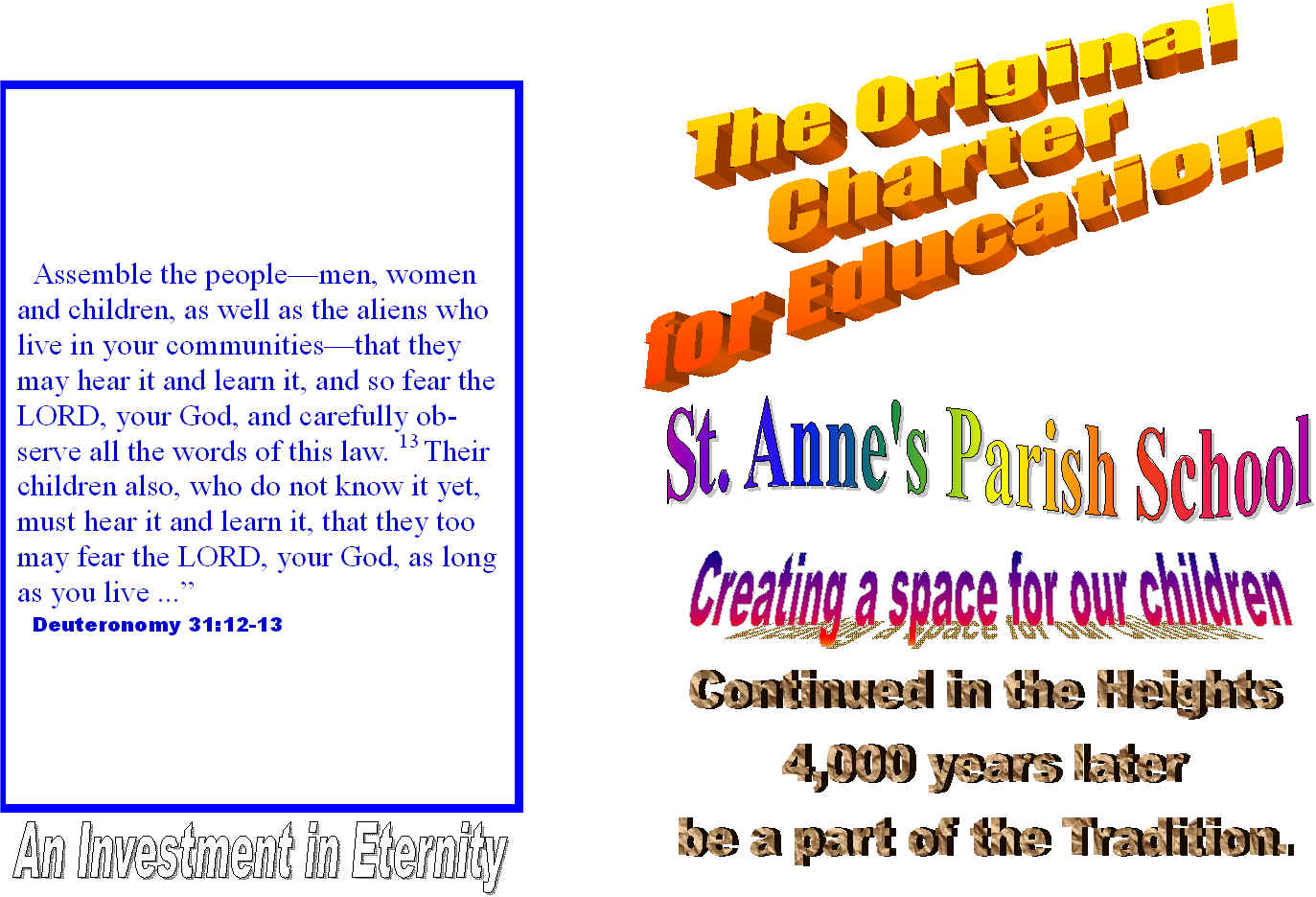 Page 7 Top
Page 8 Top
MONDAY 2Kgs 5:1-15b Pss 42:2-3;43:3-4 Lk 4:24-30
TUES. Dn 3:25,34-43 Ps 25:4bc-5ab,6-7bc,8-9 Mt 18:21-35
WED. Dt 4:1,5-9 Ps 147:12-13,15-16,19-20 Mt 5:17-19
THURS. Jer 7:23-28 Ps 95:1-2,6-9 Lk 11:14-23
FRIDAY 2Sm 7:4-5a,12-14a,16 Ps 89:2-5,27,29 Rom 4:13,16-18,22 Mt 1:16,18-21,24a
SATURDAY Hos 6:1-6 Ps 51:3-4,18-21b Lk 18:9-14
NEXT SUNDAY 4th SUNDAY OF LENT Jos 5:9a,10-12 Ps 34:2-7 2Cor 5:17-21 Lk 15:1-3,11-32

CCD News
· Today the First Communion Class will begin their preparation for the Sacrament of Holy Eucharist. They are to come to the 9 a.m. Mass, sit up front, bring the lesson done with parents. Please remember to keep these children in your prayers.
· Confirmation conferences TODAY at 12 noon in P.C.#3 for those who have received appointments. March 17th appointments will take place at CONVENT, 246 Congress St.: 1 at 5:30; 1 at 7:15
· Sunday, March 21st - Confirmation Presentation at 2 p.m. in Church. The Letter of James as performed by TV star FRANK RUNYEON.
· March 28th 3 p.m. - Last Supper Presentation in Chapel Hall. Practice for this with First Communicants will take place on March 22,23,24 from 3-4:30 p.m. in Chapel Hall.
· Re-registration for those already in program for the 2004-05 school year has begun. Please return envelopes given out at Open House. If you were not in attendance, please come to CCD Office to pick one up. All registration is to be in by May 16th. If you register in September, there will be a late fee.
· New registration for CCD: March 15,18,22,25 (daytime) 10 a.m. to 12 noon; 1-3 p.m.; (evening) 6:30 p.m.-8 p.m. Please bring Baptism Certificate.
· Does anyone have a guitar they aren't using? CCD is in need of one!
Feast of Divine Mercy
Annual pilgrimage to the Shrine of Divine Mercy in Stockbridge, Massachusetts on April 18th. Bus will leave from St. Anne's Church at 6:30 A.M. and will leave from Massachusetts at around 4:30 P.M. to return. If interested to join us, please call Tina at 201-653-4785 or Lou at 201-656-6567. The fee is $25. Payment reserves seating. Seating is limited; please reserve early.
St. Anne Seniors
For more information on event below, contact Peggie Riscoe at 201-659-3930: (Open to all, sorry NO children.)
· Wildwood Vacation for 5 days/4 nights, June 2004 - all included: hotel, meals, entertainment. Cost approx. $320.
Second Collection
Today our parish participates in the Peter's Pence Collection for the Works of the Holy Father. Once each year, the Holy Father asks us to help him provide for our neediest brothers and sisters throughout the world - those who suffer due to war, oppression, and natural disasters. We are summoned to be a people who listen with our hearts, lend a helping hand, and build a better world. Let us respond by joining the Holy Father in this act of justice and kindness. I ask for your prayers for the Holy Father and for your generous gifts to this special appeal. Thank you.
Page 9 Top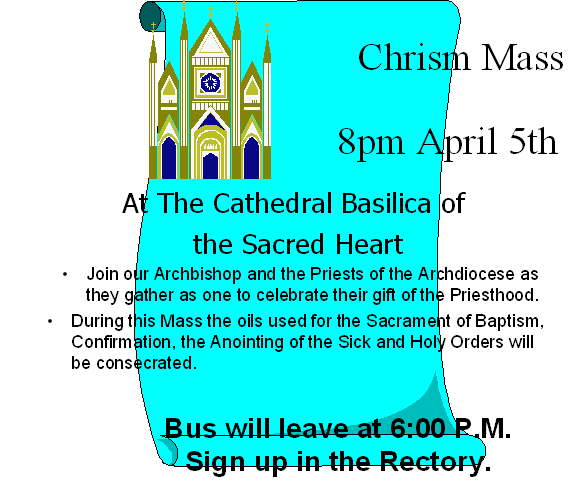 `