© copyright stannes4/2000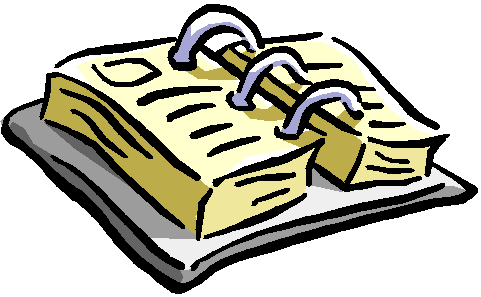 To use the Catholic calendar and follow the readings of the day please click the link below:
http://www.usccb.org/nab/index.htm
Reminder!! Please go to Spiritual Journey Page for visual guide to reciting the Stations of the Cross and for explanation for the Seder Celebration.
Also Please try to recite the rosary daily or as often as you can. For your convenience click rosary for an audio accompaniment ROSARY . Press the play button on your media monitor.
Page 1
March 21st, 2004
4th Sunday of Lent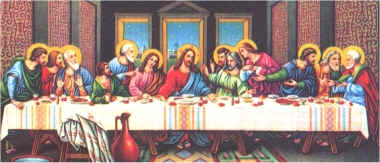 Schedule of Masses Week of March 22nd - 28th, 2004

Day

Time

Requested for

Requested by

Mon 3/22

7 A.M.

Joseph Manzo

Maro & Silva Berardo

9A.M.

Edward Wilkins Sr.

Family

Tue 3/23

7 A.M.

Marcela Villanueva

Family

9 A.M.

Grazia Russo

Grace Nicastro

Wed 3/24

7 A.M.

Luiga Fioccola

Fioccola Family

9 AM

Francis Muzikar

Joy Krieger

7 P.M.

Annita D'Amico

Family

Thurs 3/25

7 AM.

Sina S. Butts

McNamara Family

9A.M.

Mary Koska

Albert Koska

Fri. 3/26

7 AM

Father Prosperino

John Ciacciarelli/Ann Walsh

9A.M.

Priests of St. Anne

St. Joseph Prayer Group

Sat. 3/27

9 A.M.

John Delgado

Wife

6P.M.

Maria Disalvo

Manzo Family

7:30 PM

For The People Of The Parish

Sun.3/28

7:30AM

Julia Jensen

Family

9 AM

Angelo Tomeo

Granddaughter Claire

10:30AM

Raymond Caroselli 3rd

Caroselli & Waddleton Families

12 PM

Evelyn Napolitano & Joseph Romano

Flora Romano
Sanctuary Gifts March 21st - March 27th, 2004

Gift

In Memory Of

Requested By

Altar Wine

John Hollingsworth

Rita Rinyak

Altar Bread

John Clifford

Doris Hollingsworth

Sanctuary Lamp

Anthony Tuzzo

Theresa & Georgene

Altar Candles

Special Intention
Let Us Pray For Those Seriously Ill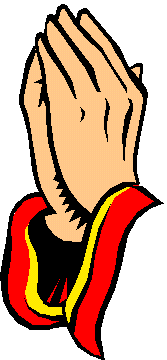 People will remain on the sick list for 2 weeks unless otherwise notified:
Raymond J. Caroselli Sr., Joan Wheeler, Jane Sands, Catherine Gray, Jack Salvatore, Theresa Sardella, Angelo Polcari, Michael Carlson, Joseph Sarao, Carmela Simone, Brian Burke, Carol Skinner.
Vocation reflections

Paul tells the Ephesians that they were once in darkness but now they are light of the world. So many in our world are trapped in darkness and do not know the light that Jesus Christ offers all people. Be light for those in darkness! Say yes to God's call to become a priest or religious brother or sister.
If so, please contact the Vocations Office at 973-497-4365 or by e-mail at

platebri@rcan.org

or visit our website at

www.rcan.org

.
Page 2 Top

SCRIPTURE REFLECTION
Having arrived in the promised land, the Hebrews celebrated their deliverance from affliction and distress in the Passover. Christ, our Passover, has entrusted to us the message of reconciliation: let us forgive one another and celebrate the unconditional and abundant love of God our Father.

Our Weekly Offering
March 2004

March 13/14

$

4,856.

Month's Total
$

15,395.

Month's Average
$

5,132.

Mailed in, thank you
$

413.

MONTHLY AVERAGE COMPARISONS:

Month

2003

2004

February

$

5,213

.
$

5,149

.

March

$

5,545

.

$5,132




HOLY HOUR


Every Tuesday, the Blessed Sacrament is exposed in the church from 3 to 4 p.m. It is an hour of prayer for the priests, DIVINE MERCY and religious men and women of the church. Prayers are also said for an increase of vocations to the priesthood and religious life.
We invite you to come and spend time with the Lord for these intentions and for your personal requests. The Holy Hour closes with Benediction of the Blessed Sacrament. If you cannot join us in church, we ask you to join us from a quiet spot in your home and pray with us, asking the Lord to guide and protect our priests.




Class of 1954
Looking for Graduates from St. Anne's School from the Class of 1954! We're having reunion on June 26th. Please contact Jim Baxter at 201-933-8447.
"Seeds of Faith, Branches of Hope"
The written history of the past 150 years of the Archdiocese of Newark, have been distributed to each Parish throughout the Newark Archdiocese and is available (for sale) to all parishioners. These books can be purchased from the rectory. If you wish to order one (or more) to be put aside, there are order forms found in this week's bulletin or in the church vestibule.
A copy of this beautifully designed book is on display in the church vestibule.
Description:
8 1/4" x 11 3/4" Hard Cover
192 Glossy Pages; Full Color Throughout
COST: $25 each or 2 for $45
Top page 3
Top page 4
page 5 Top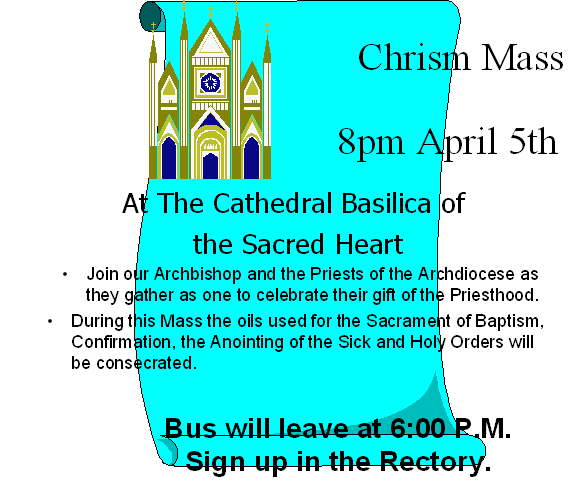 `
page 6 Top
Page 7 Top
Page 8 Top
MONDAY Is 65:17-21 Ps 30:2,4-6,11-12a,13b Jn 4:43-54
TUES. Ez 47:1-9,12 Ps 46:2-3,5-6,8-9 Jn 5:1-16
WED. Is 49:8-15 Ps 145:8-9,13c-14,17-18 Jn 5:17-30
THURS. Is 7:10-14;8:10 Ps 40:7-11 Heb 10:4-10 Lk 1:26-38
FRIDAY Wis 2:1a,12-22 Ps 34:17-21,23 Jn 7:1-2,10,25-30
SATURDAY Jer 11:18-20 Ps 7:2-3,9b-12 Jn 7:40-53
NEXT SUNDAY 5th SUNDAY OF LENT Is 43:16-21 Ps 126:1-6 Phil 3:8-12 Jn 8:1-11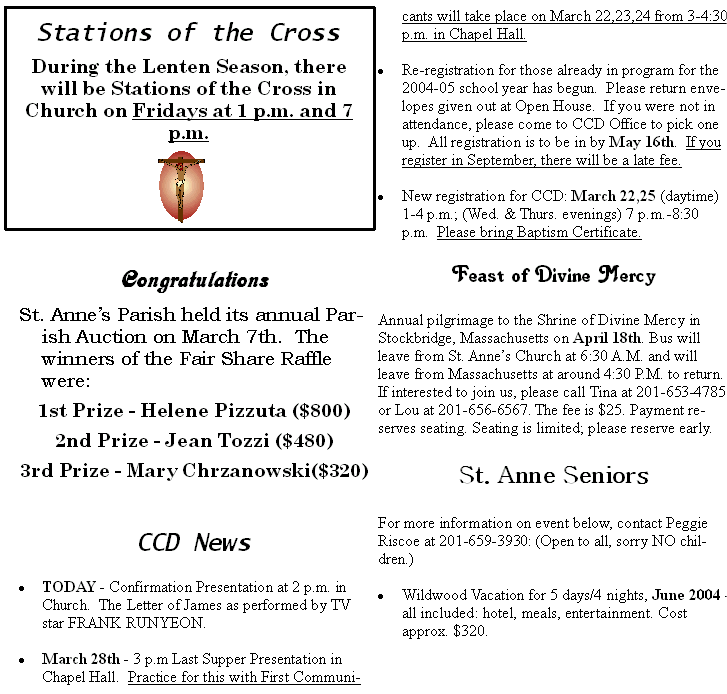 Page 9 Top