© copyright stannes4/2000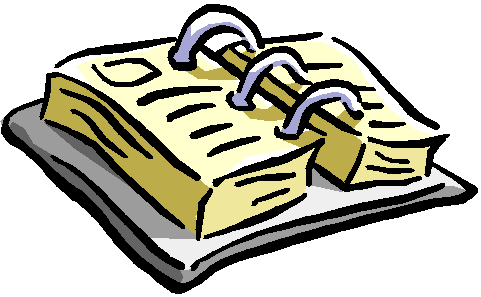 To use the Catholic calendar and follow the readings of the day please click the link below:
http://www.usccb.org/nab/index.htm
Reminder!! Please go to Spiritual Journey Page for visual guide to reciting the Stations of the Cross and for explanation for the Seder Celebration.
Also Please try to recite the rosary daily or as often as you can. For your convenience click rosary for an audio accompaniment ROSARY . Press the play button on your media monitor.
Page 1
April 4th, 2004
Passion Sunday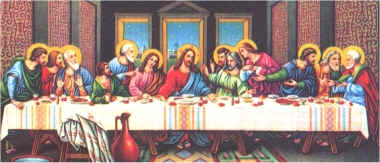 Schedule of Masses Week of

Day

Time

Requested for

Requested by

Mon 4/5

7 A.M.

For the People of the Parish

9A.M.

Dec. Members of McMahon Family

Mary Fisher

Tue 4/6

7 A.M.

Florinda Fioccola

Fioccola Family

9 A.M.

Mary Gallesich

Theresa

Wed 4/7

7 A.M.

Concepcion Samson

Samson Family

9 AM

Charles Fabre

Albert Koska

Thurs 4/8

7:30 PM.

Lyda & Doris Cullen

Ruth Cullen

7:30 PM

Frances Muzikar

Family

Fri. 4/9

3 PM

GOOD FRIDAY SERVICE

Sat. 4/10

8 P.M.

Isabella Infante

Maria Russo

8 P.M.

Charles B. Gerrity

Madeline

Sun.4/11

7:30AM

Liv. Sandy Krieger

Joy, Eric, and Ken

9 AM

Kathryn Riffey

Mezzina Family

10:30AM

Gemma Russo

Mr. & Mrs. Gigant

12 PM

Alice Kilmer

Mr. & Mrs. Anthony Manzo
Sanctuary Gifts April 4th - April 10th, 2004

Gift

In Memory Of

Requested By

Altar Wine

For the People of the Parish

Altar Bread

For the people of the Parish

Sanctuary Lamp

For the People of the Parish

Altar Candles

For the People of the Parish
Please Note: Due to Holy Week, there is no Novena Mass Wednesday Evening!
Please see back page of bulletin for Easter Confession & Mass Schedules.
Let Us Pray For Those Seriously Ill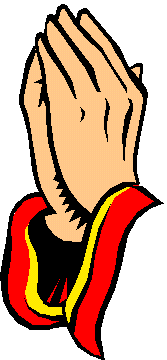 People will remain on the sick list for 2 weeks unless otherwise notified:
Raymond J. Caroselli Sr., Joan Wheeler, Michael Carlson, Joseph Sarao, Brian Burke, Anna Rose Smith .
Vocation reflections
Help those around you to come forth and hear the Good News of Jesus as a priest or religious brother or sister.

If the Lord is calling you, please contact the Vocations Office at 973-497-4365 or by e-mail at

platebri@rcan.org

or visit our website at

www.rcan.org

.
Page 2 Top
.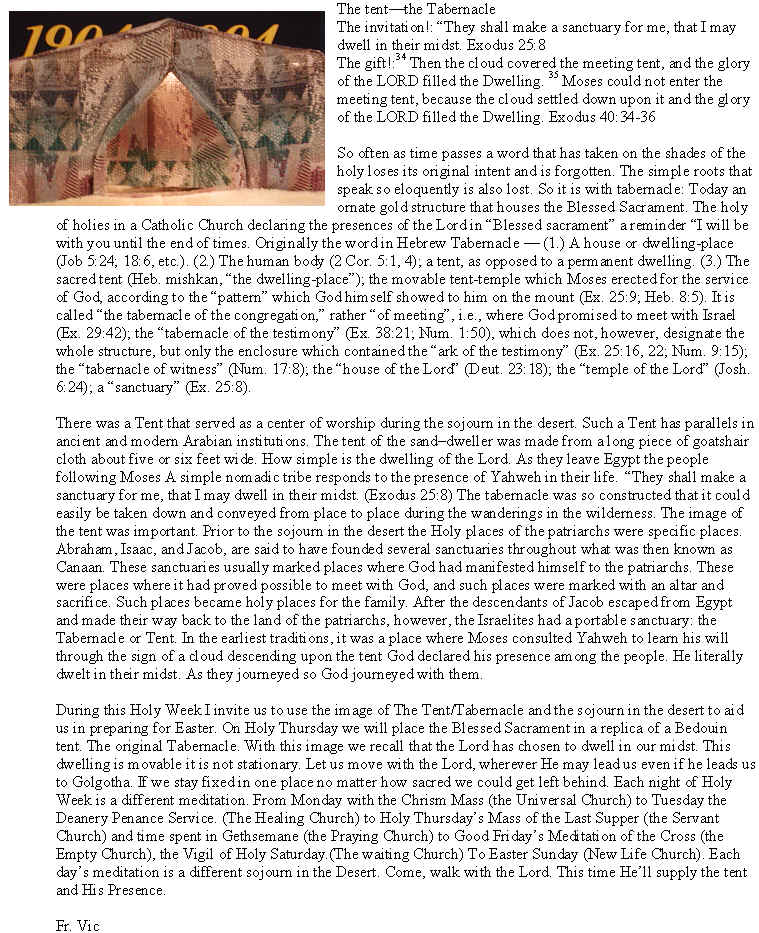 Easter Decorations
A "Flower" depository has been placed by the altar. Remember your loved ones this Easter Season while beautifying the church.

On Easter Sunday, a list of "donors" will be displayed in the church vestibule for those who drop off their envelopes by April 4th! Thank you.

Top page 3
Top page 4
Top page 5
Top page 6
Top page 7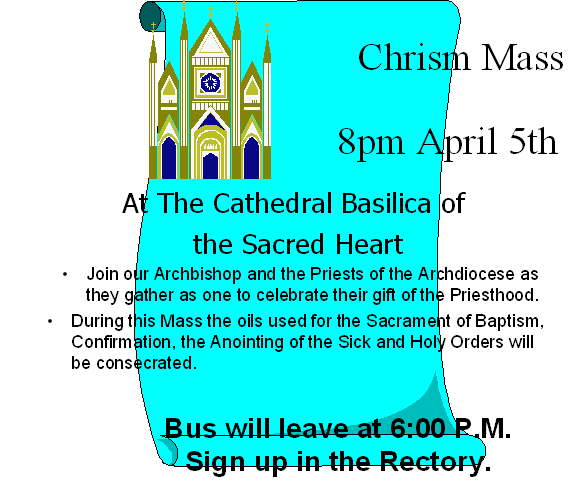 `
Lenten Penance Service
Deanery Lenten Penance Service – Tuesday, April 6th at 7 p.m. at St. John the Baptist Church. Individual confessions will be heard. Transportation is "on your own".
Page 8 Top
MONDAY Is 42:1-7 Ps 27:1-3,13-14 Jn 12:1-11
TUES. Is 49:1-6 Ps 71:1-4a,5-6ab,15,17 Jn 13:21-33,36-38
WED. Is 50:4-9a Ps 69:8-10,21bcd-22,31,33-34 Mt 26:14-25
THURS. Is 61:1-3a,6a,8b-9 Ps 89:21-22,25,27 Rv 1:5-8 Lk 4:16-21
FRIDAY Is 52:13-53:12 Ps 31:2,6,12-13,15-17,25 Heb 4:14-16;5:7-9 Jn 18:1-19:42
SATURDAY Gn 1:1-2:2 Ps 104:1-2a,5-6,10,12-14,24,35c
NEXT SUNDAY EASTER SUNDAY Acts 10:34a,37-43 Ps 118:1-2,16ab-17,22-23 Col 3:1-4 Jn 20:1-9



Page 9 Top
Page 10 Top