© copyright stannes4/2000
Page 1
*******************************************************************************************************************
January 12th, 2003
Baptism of the Lord


Schedule of Masses Week of January 13th - January 19th, 2002

Day

Time

Requested for

Requested by

Mon Jan. 13th

7 A.M.

Mildred Aiello

Faith Drennan

9A.M.

Socorro Kennedy

Staranka Family

Tues Jan. 14th

7 A.M.

Donald Shimkus

Carlos Sosa

9 A.M.

Giuseppe Infante

Maria Russo

Wed Jan. 15th

7A.M.

Felix Cruz

Robert & Johnny

9A.M.

Andrew Creazzo

Wife

7 P.M.

Lino Bertinato

Dave & Joann Marcille

Thurs Jan. 16th

7A.M.

Edwin Smith

Edythe Yukon

9A.M.

Socorro Kennedy

Marie Pianese

Fri. Jan. 17th

7A.M.

Dominick DeSciscio

Gerrity Family

9A.M.

Socorro Kennedy

Ray & Ellen Caroselli

Sat. Jan. 18th

9 A.M.

Antonina Grillo

Daughters

6 P.M.

Dec. members of the Ruddy Family

Henry

7:30PM

For the People of the Parish

Sun. Jan.19th

7:30AM

Karolina Grunt
Lenore & Joyce Chiara
9 AM
Anna Cummings
Danny & Joyce Chiara

10:30AM

Eugene Smarth
Marie & Tom Dolan

12 PM

Monica V. Keenan 10th Anniv.
Keenan Family
Sanctuary Gifts January 12th - January 18th, 2002

Gift

In Memory Of

Requested By

Altar Wine

Hugo Fabre

Madeline Gerrity

Altar Bread

Dorothy Ensmenger

Sharon Oakley

Sanctuary Lamp

Hugo Fabre

Debra & Denise Pisani

Altar Candles

Hugo Fabre

Lorraine Dewan
Let Us Pray For Those Seriously Ill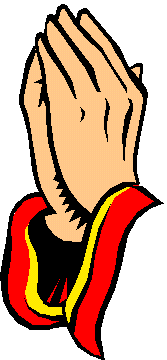 Frank Plantamura, Marie Starz, Bruno Spazian, and Angela Krajnik.
Vocation reflections

As Jesus was baptized in the Jordan by John, a voice came from the heavens saying, "this is my beloved Son, with whom I am well pleased". Through our baptism we are called to follow Jesus as His disciples. Does God want you to do this as a Priest, Religious or Deacon?
If you feel this call, "inquire within" and Please contact the Vocations Office the Vocations Office at (973) 497-4365 or by E-mail at kellyric@rcan.org. Or visit our web site at www.rcan.org.

Page 2 Top
STEWARDSHIP



STEWARDSHIP SCRIPTURE REFLECTION
Jesus is the beloved Son of the Father. He is the light of the nations and Lord of all creation. To him be all glory and praise!
Our Weekly Offering
December 2002
December 28/29 $ 4,971.
Month's Total $26,653.
Month's Average $ 5,330.
Mailed in, thank you $ 266.
Our Weekly Offering
January 2003
January 4/5 $ 6,034.
Month's Total $ 6,034.
Month's Average $ 6,034.
Mailed in, thank you $ 535.

WEEKLY AVERAGE COMPARISONS:
Month '01 Monthly Avg. '02 Monthly Avg.
December $6,056. $5,330.
January $5,657. $6,034.




Christmas Collection

Due to the generosity of the parishioners of our Parish, the Church has received $22,682.; however, last year's Christmas collection was $28,513. Thank you for all of your efforts.
HOLY HOUR FOR PRIESTS


HOLY HOUR WILL RESUME JANUARY 7TH!!
Every Tuesday the Blessed Sacrament is exposed in the church from 3 to 4 p.m. It is an hour of prayer for the priests, DIVINE MERCY and religious men and women of the church. Prayers are also said for an increase of vocations to the priesthood and religious life. We invite you to come and spend time with the Lord for these intentions and for your personal requests. The Holy Hour closes with Benediction of the Blessed Sacrament. If you cannot join us in church, we ask you to join us from a quiet spot in your home and pray with us, asking the Lord to guide and protect our priests.




Bingo Reopens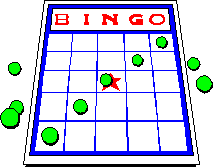 Welcome Back!
St. Anne's Tuesday and Friday Bingo games will resume on
JANUARY 14th.
Sorry for any inconvenience this may have caused but I'm sure you'll appreciate the improvements being made to the Auditorium.

Seniors Cancelled
St. Anne's Seniors' meeting for Monday, January 13th has been cancelled due to auditorium improvements.
Top
page 3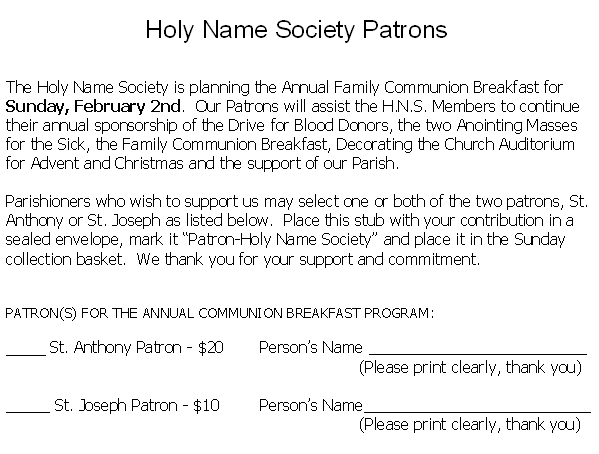 Top page 4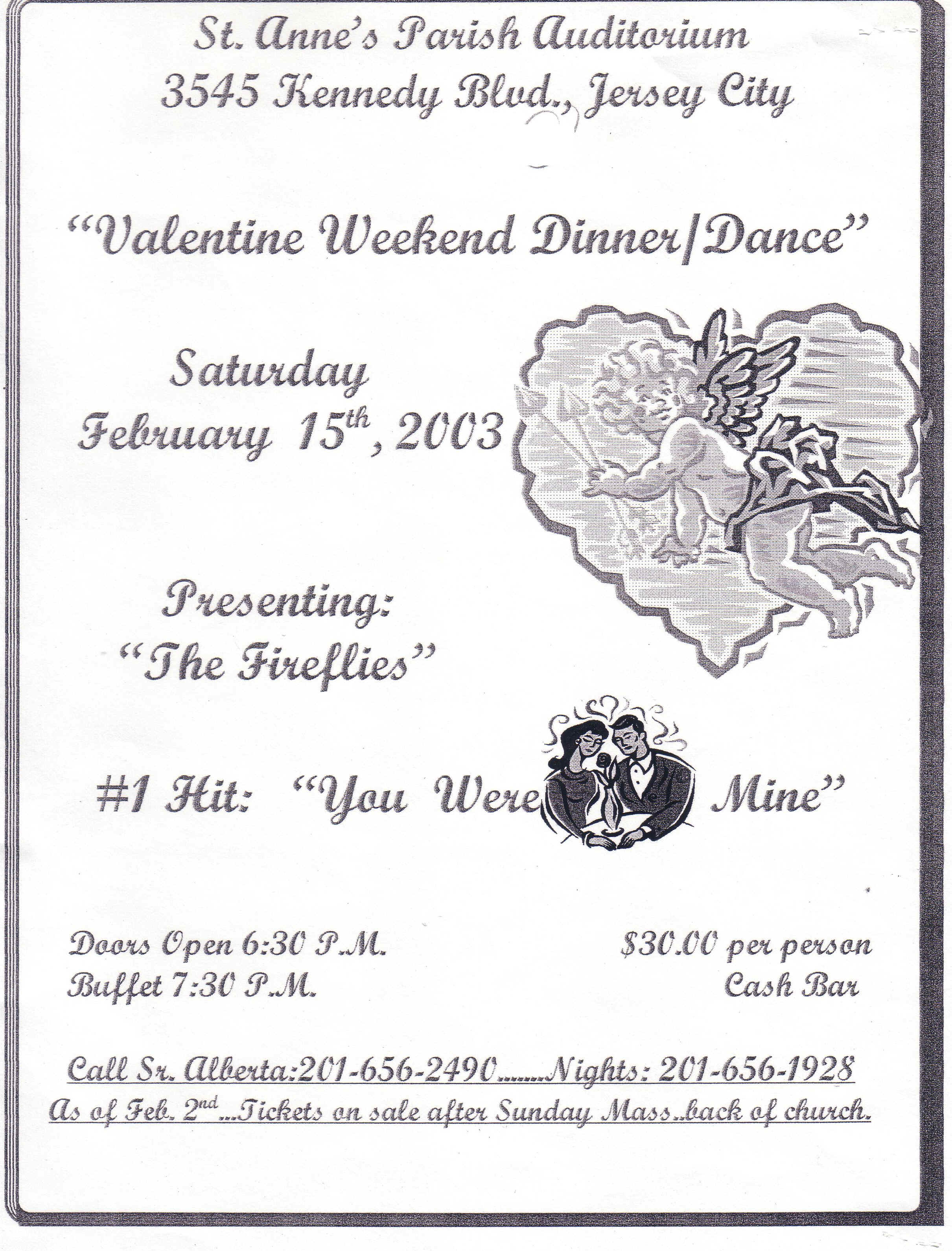 Our Web Site
When you log on and browse around you'll see all kinds of information about our parish. Included, of course, will be the current activities for the many different organizations as well as an update as to what is going on with our parish family.
Do not let evil defeat you: Instead, conquer evil with good!!
By your wounded heart: teach us love, teach us love, teach us love..... -Daphne Fraser
From Generation to Generation, We Share Our Faith
The 100th Anniversary of our Parish is fast approaching. We will be celebrating this once in a lifetime event during the year 2004. Special events, both spiritual and social, are being planned. Preliminary plans regarding the Centennial Celebrations will be discussed at all the Masses the weekend of January 25th/26th.
If you have not yet submitted your suggestions, or memorabilia, it is not too late. The Suggestion Box is in the vestibule of the Church. Memorabilia can be left at the rectory marked "Centennial Committee". Pictures will be scanned and originals will be returned to you.
Let us pray that the Faith we share will continue to grow.
Second Collection
St. Anne's School will be celebrating Catholic Schools' Week January 27th –31st. Throughout the week students and teachers will participate in special activities and invite parents/guardians to observe.
We will have a second collection the weekend of January 25/26 for St. Anne's Education Fund to kick off Catholic Schools' Week. This fund was established a few years ago to assist with the education of St. Anne's School children.
Day of Recollection
Are you a young single adult woman, age 18-35, searching to deepen your spiritual life? The Felician Franciscan Sisters invite you for a day of recollection on Saturday, January 18th at Heart of Mary Convent, 257 S. Main St., Lodi from 9 a.m. to 3 p.m. For more info, call Sr. Marilyn Minter at 973-473-5923.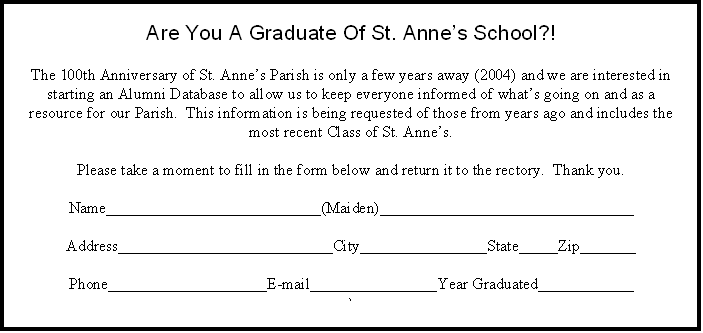 Top Page 6
MONDAY Heb 1:1-6 Ps 97:1,2b,6,7c,9 Mk 1:14-20
TUES. Heb 2:5-12 Ps 8:2a,5-9 Mk 1:21-28
WED. Heb 2:14-18 Ps 105:1-4,6-9 Mk 1:29-39
THURS. Heb 3:7-14 Ps 95:6-11 Mk 1:40-45
FRIDAY Heb 4:1-5,11 Ps 78:3,4bc,6c-8 Mk 2:1-12
SATURDAY Heb 4:12-16 Ps 19:8-10,15 Mk 2:13-17
NEXT SUNDAY - 2ND SUNDAY IN ORDINARY TIME 1Sm 3:3b-10,19 Ps 40:2,4,7-10 1Cor 6:13c-15a,17-20 Jn 1:35-42

Finance Committee Meeting
There will be a Finance Committee Meeting held on Monday,January 13th at 7:30 p.m. in the rectory. Be sure to pick up your finance packet from the rectory. Thank you.
2003 Anniversary Liturgies
Archbishop John J. Myers has announced the following dates to honor couples in our Archdiocese who will be celebrating five, twenty-five or fifty years of Christian marriage in 2003: (Please come to the rectory to register.)
March 23, 2003 - 3:00 p.m. 5 & 25 Years Deadline to register: March 12th
April 6, 2003 - 3:00 p.m. 50 Years Deadline to register: March 26th
CCD News
· January 12th - First Reconciliation parent meeting in Chapel Hall at 1 p.m. Please be on time. There will be no make-up meeting.
· January 19th - New Confirmation parent meeting in Chapel Hall at 1 p.m.. Please be on time. All must attend this meeting. There will be no make-up meeting.
· January 26th - Open House 11:30 am.-12:30 p.m. Parents are to be here at 11 a.m. to discuss important matters of the Religious Education Program. At 11:30 children will come down to Chapel Hall to meet parents and proceed to visit teachers and receive report cards.
· January 30th - New Confirmation classes begin for public school 6:30 to 8:30 p.m. in Parish Center #3. Parents, please make sure candidates are here on time and attend every week. If they miss 3 classes, they will have to wait for next group.
· The Religious Education Program will be sponsoring a trip to Villa Roma in the Catskills July 1st-6th. It is a family resort. The price includes accommodations, food, indoor/outdoor recreation, night entertainment and transportation. If you're interested, please contact Sister Alberta at 201-659-1794 as reservations have to be in by end of February.
See flyer for Valentine Dance on Feb. 15th.
Souper Bowl of Caring
On Sunday, January 26th, St. Anne's will again participate in the annual "Souper Bowl of Caring". After each Mass, Kelly Ann Lillis and her classmates will be in the church vestibule with their "soup pots" to accept your $1 donations for St. Lucy's Shelter.
The Souper Bowl of Caring began in 1990 in a single South Carolina church. Since that time, more than $16.6 million has been donated to fight hunger and poverty. None of the money collected goes to Souper Bowl organizers. Thanks to your past generosity, more than $1,000 has been donated to St. Lucy's Homeless Shelter since St. Anne's began participating in this event three years ago.
Thank you in advance for your donations.
Top Page 7
Top Page 8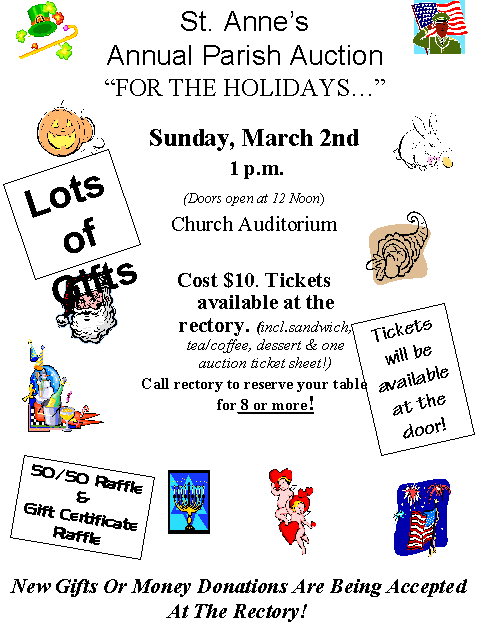 Page 9 Top
Personal Meditation
January 12th, 2003
Is 42:1-4, 6-7, Mk 1:7-11
Gospel Reading
John the Baptist preached to the people saying, "After me comes one who is more powerful than I am; I have baptized you with water, but he will baptize you in the Holy Spirit. As for me, I am not worthy to bend down and untie his sandals."
At that time Jesus came from Nazareth, a town of Galilee, and was baptized by John in the Jordan. And the moment he came up out of the water, heaven opened before him and he saw the Spirit coming down on him like a dove. And these words were heard from heaven, "You are my Son, the Beloved, the One I have chosen."
Reflections
Why was Jesus baptized? Wasn't John's baptism "for the forgiveness of sins?" Why should the sinless one, Jesus, descend into the swirling, filthy waters of repentance? The question is really even more basic: why should the Son of God have descended at all? Because, this is the strangeness of Jesus: he is the God who descends. The Creed tells us that "he came down from heaven." St. Paul's letter to the Philippians tells us that he not only "took the form of a slave," but that he humbled himself, lowered himself even further, "accepting death, death on the cross." As if that were not low enough, the Creed proclaims that he "descended into hell," descending to the lowest possible place of Godforsakenness that the human beings can reach. On this last day of the Christmas season, we are confronted with the radicality of the mission of the Incarnate Son: to enter deeper and deeper into our humanity, to descend lower and lower into our pain, our desolation, our hells, to search for the lost sheep however far he or she has strayed, to fill all our darkness with the radiance of the Beloved Son. In this upwardly mobile world, where one's value as a person is measured by the heights of success and position one ascends, the Son of God descending into the Jordan and into the chaos of humanity offers a counter invitation.
* * * * *
There is a danger that baptism and confirmation may become merely status encounters for us if we take pride in our relationship with the Holy Spirit but refuse to release the Spirit for others. Today's readings see the Spirit as a catalyst for aiding the down-and-out, not as a private gift for cushioning our own ego. Here, the Holy Spirit's power energizes the powerless.
In the first reading, the spirit-imbued servant looks to the good of the despiritualized community. Without resorting to violence, he witnesses to God's glory on earth by empowering the powerless. For Isaiah, to receive God's spirit is to respond to the task of reviving and transforming the brokenhearted and discouraged.
Luke, the author of Acts, shows in the second reading that salvation does not depend on being a Jew. It is sufficient to fear God and practice righteousness. Luke looks back to the baptism preached by John and the ministry of Jesus. For Luke, Jesus' reception of the Spirit propels Jesus to do good works.
Mark links the baptism scene with the prophetic career of Jesus. Like the servant in the first reading, Jesus will accomplish his mission by reaching out to the hurting. To this end Mark shows the consequences of the baptism by showing Jesus curing the demoniac, Peter's mother-in-law, and a leper.
Small gestures and few words often go a long way in alleviating the pain of those hurting. A visit to a shut-in is much more than spending an hour with an elderly or sick person. It is a release of God's Spirit to offset the aches of loneliness and isolation. A word of encouragement to a struggling child or a grief-stricken adult is much more than the formulation of several sentences. It is the sending forth of God's Spirit to counteract the hurts of discouragement and despair. These are but two examples of the myriad ways in which the modern believer can confront evil. Such ways clearly announce that the Holy Spirit's power energizes the powerless.