© copyright stannes4/2000
January 27th, 2002
3rd Sunday in Ordinary Time


Schedule of Masses Week of January 28th to February 3rd, 2002

Day

Time

Requested for

Requested by

Mon. Jan. 28th

7 A.M.

For the People of the Parish

9 A.M.

Salvatore Lattanzi

Theresa Lattanzi

Tues. Jan. 29th

7 A.M.

Liv. Geraldine Boos

Burke Family

9A.M.

Liv. Anne Cerodky

Theresa

Wed. Jan. 30th

7A.M.

Jack Knego

Mr.& Mrs. James Kerwin

9A.M.

Liv Robert Mastrant

Terry

7 PM

Giovanna Vaccaro

Mr. & Mrs. Scalia

Thurs. Jan. 31st

7A.M.

Liv. Agnes Ferrara

Josie & Tony

9A.M.

Liv. Socorro Kennedy

Theresa Lattanzi & Frances Muzikar

Fri. Feb. 1st

7A.M.

Liv. Bridget Burke

Cathy & Chris

9A.M.

Rose Amendola

Michael Stefano

7 PM

Liv. Purifacacion Gonzales

Family

Sat. Feb. 2nd

9 A.M.

Joseph Leo Meehan

Daniel & Joyce Chiara

6 P.M.

Charles & Stella D'Amico

Chips & Ella D'Amico

7:30PM

Liv. Purificacion Gonzales

Family

Sun. Feb. 3rd

7:30AM

Liv Mary, James & Richard Franco

9A.M.

Carmela M. Pinto

Michael Stefano

10:30AM

Ralph Russo

Mom

12 Noon

Ida Romano

Family
Sanctuary Gifts January 27th to February 2nd, 2002

Gift

In Memory Of

Requested By

Altar Wine

Mercedes Nicdaw

Tom O'Neill & Family

Altar Bread

Joseph Weber

Dougherty & Kennedy Families

Sanctuary Lamp

Rosemary Maffei

Mr. & Mrs. Daniel Chiara

Altar Candles

John Gilbert

John Seborowski Jr.
Let Us Pray For Those Seriously Ill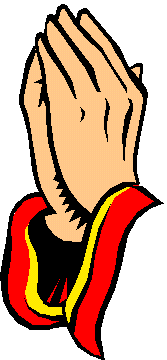 People will remain on sick list for 2 weeks unless otherwise notified:
James Bombich, Meghan Smith, Suzan Monilaro, Socorro Kennedy, Dorothy Ensmenger, Barbara Scocco, Corey Joseph Wood and Angelica Krajnik

Vocation reflections

As Jesus walked by the Sea of Galilee, he saw two brothers, Simon and Andrew, and said to them, "come after me, and I will make you fishers of men." They immediately left and followed him. Today Jesus continues to call men and women to come after him. Is Jesus calling you to do this as a Priest, Religious or Deacon?
If you feel this call, "inquire within" and Please contact the Vocations Office the Vocations Office at (973) 497-4365 or by E-mail at kellyric@rcan.org. Or visit our web site at www.rcan.org.
Page 2

STEWARDSHIP THOUGHT FOR THE WEEK


COMMITMENT
1 Corinthians 1:10-13,17
Any large group will inevitably have some friction among its members. A Church community will as well. St. Paul urges us to put aside our differences by focusing on our Lord Jesus Christ. If He is the reason wer are active in our parish, the possibility we will have dissension is lessened. If He is the reason for what we do, we also know we are on the journey to the Stewardship Way of Life.
Matthew 4:12-23
The commitment demonstrated by Peter and Andrew to follow Jesus is the epitome of the Stewardship Way of Life. They empty themselves of all possessions and attitudes to follow Jesus and serve Him. Although many of us cannot abruptly get up and drop everything to follow our Lord, our journey of Stewardship can help us gradually convert our attitudes to become rich in Christ.


OUR WEEKLY OFFERING
January 2002
January 12/13 $4,719.
Month's Total $16,135.
Month's Average $5,379.
Mailed in $169.

We thank you!

WEEKLY AVERAGE COMPARISONS:
Month '01 Monthly Avg. '02 Monthly Avg.
December $6,056.



HOLY HOUR FOR PRIESTS


Every Tuesday the Blessed Sacrament is exposed in the church from 3PM to 4PM. It is an hour of prayer for the priests and religious men and women of the church. Prayers are also said for an increase of vocations to the priesthood and religious life. We invite you to come and spend time with the Lord for these intentions and for your personal requests. The Holy Hour closes with Benediction of the Blessed Sacrament. If you cannot join us in church, we ask you to join us from a quiet spot in your home and pray with us, asking the Lord to guide and protect our priests.
DUE TO FATHER JULIO ROMAN BEING ON VACATION THIS MONTH, THE HOLY HOUR WILL BE CANCELED UNTIL FEBRUARY 5th!!






Second Collection
The second collection this weekend is for St. Anne's Education Fund. This Fund is for our school endowment and will help in developing scholarships to attend St. Anne's School in the future.


Every third Friday of the month, Father Jose Parcon and the Bible Study group meet in Parish Center #3 at 7p.m.. Please feel free to join them. The next meeting will be on Friday, February 15th.

Top
page 3
MONDAY 2Sm 5:1-7,10 Ps 89:20-22,25-26 Mk 3:22-30
TUES. 2Sm 6:12b-15,17-19 Ps 24:7-10 Mk 3:31-35
WED. 2Sm 7:4-17 Ps 89:4-5,27-30 Mk 4:1-20
THURS. 2Sm 7:18-19,24-29 Ps 132:1-5,11-14 Mk 4:21-25
FRIDAY 2Sm 11:1-4a,5-10a, 13-17 Ps 51:3-7,10-11 Mk 4:26-34
SATURDAY Mal 3:1-4a Ps 24:7-10 Heb 2:14-18, Lk 2:22-40
NEXT SUNDAY - 3rd SUNDAY IN ORDINARY TIME - Zep 2:3,12-13 Ps 146:7-10 1 Cor 1:26-31 Mt 5:1-12a


Blessing of the Throat
The feast of St. Blase is Sunday February 3rd. There will be a general blessing of the throats at all of the Sunday Masses next weekend February 2/3.
Palms
Ash Wednesday is less than a month away - February 13th. We are requesting that your old Palm be dropped off at the rectory to be burned for Ash Wednesday. This is the appropriate way to dispose of your old Palm and make it useful for the church.

CCD News
Conferences for First Reconciliation begin on January 13th and will continue through February 3rd. Please keep your appointment. Letters have gone home with your child.
New Confirmation group Parent Meeting will take place on Sunday, January 20th at 1 p.m. in Chapel Hall.
Extra classes for public school begin on January 24th on Thursday evenings from 6:30 p.m. to 8 p.m. in the Parish center.
Catholic Schools Week January 27th - Open House. All parents are to come visit classes while in session and pick up report cards from 10:30 a.m. to 11:30 a.m. Please come and show your interest for your child. There are many parents who leave children's report cards here and never see their child's progress. This shows you have no interest in your child's work. Please make every effort to come.



Debate on Human Cloning
Please take action today supporting a nationwide ban on human cloning! The U.S. Senate is expected to debate this matter very soon. The insert in today's bulletin explains how to contact our two U.S. Senators, urging them to support the Human Cloning Prohibition Act (S. 790, H.R. 2505). Please take a minute to read this insert and act today! Thank you.
You may alternatively enter the following link and express your opinions via e-mail http://congress.org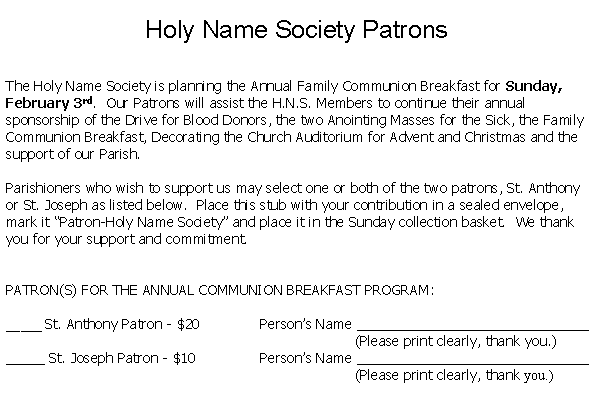 Top
page 4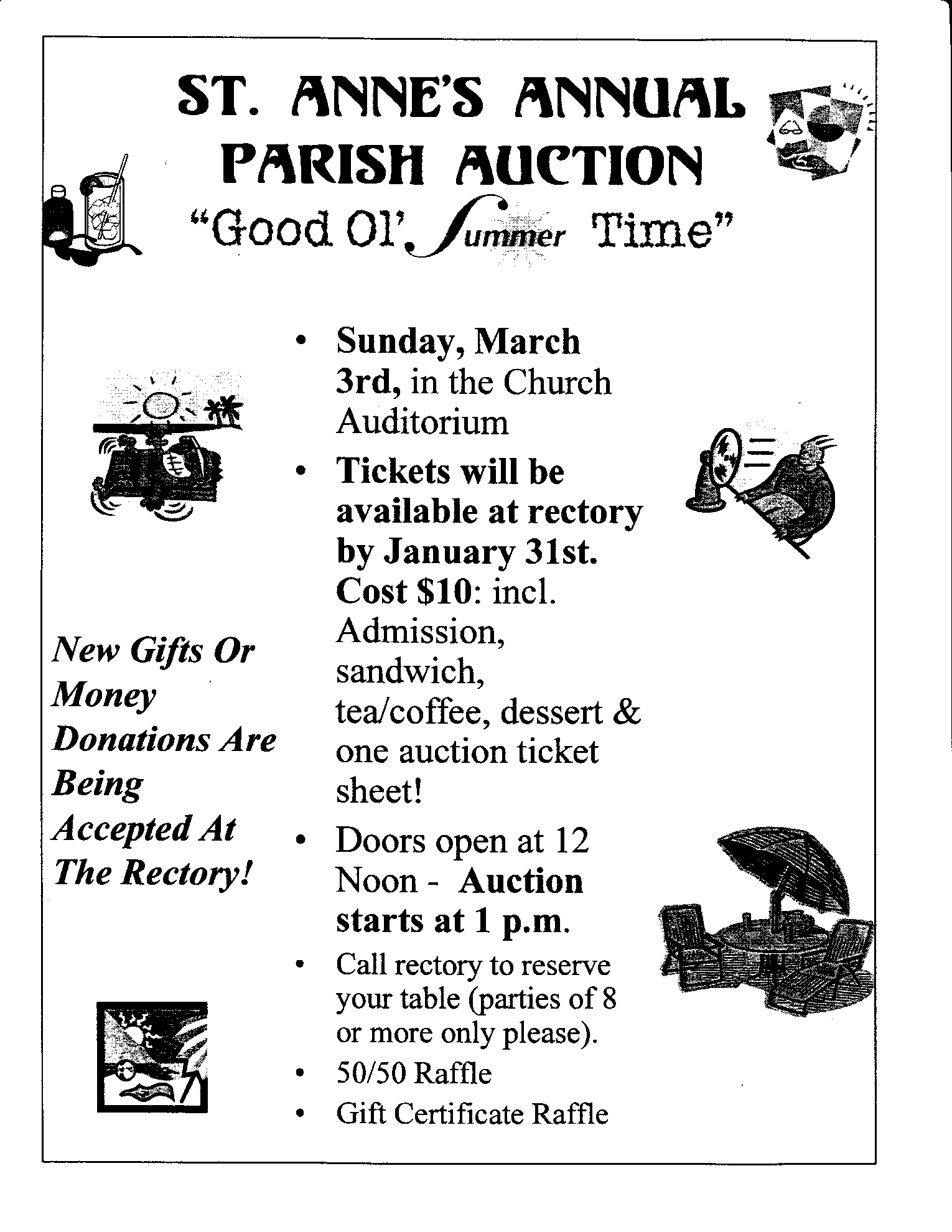 Our
Prophet's Pilgrimage
The Romero Center in Camden, New Jersey is hosting a four-day social justice program for business persons and professionals called the Prophet's Pilgrimage. The Pilgrimage will bring participants into close contact with the people of the city as well as some of the agencies which are helping to improve the quality of life for city residents. Presentations on Scripture and justice and Catholic social teachings as well as time for prayer and reflection are also a part of the program. This pilgrimage is scheduled for January 31st-February 3rd, 2002. If you are interested in finding out more about this program, please contact John Klein at the Romero Center at 856-964-9777 or be e-mail at Romerocam@aol.com.

Bereavement Support Group Facilitator Training
Are you interested in becoming part of the ministry to the bereaved at the parish? An eight-week training program is offered at the Archdiocesan Center and is now open for registration. Participants will explore the stages and tasks of grief and mourning and develop their communication and group facilitation skills. Sessions are offered on Tuesday mornings or on Thursday evenings and will begin at the end of February and continue through April. For registration and fee information, please contact the Office of Family Life Ministries of the Archdiocese of Newark at 973-497-4327. Pre-registration is required; class size is limited.

Retreat
Do distractions stand in the way of your obtaining a sense of peace in the direction of your life? If so...The Emmaus Retreat Experience is for you.
The Emmaus Retreat Experience is for men 18 years of age and older who are open to the possibility that the Lord may be calling them to a church vocation.
The retreat will take place the weekend of February 15-17, 2002 at the Archdiocese Youth Center in Kearny. For more information contact the Vocations Office at 973-497-4365 or by e-mail at kellyric@rcan.org. Or visit our web site at www.rcan.org.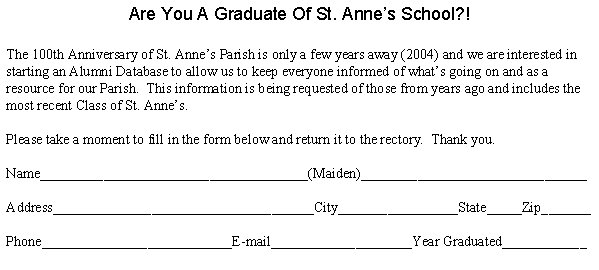 Top
page 5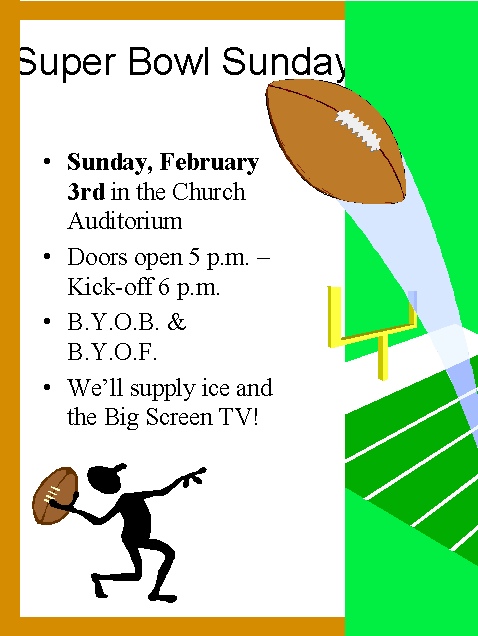 Top
page 6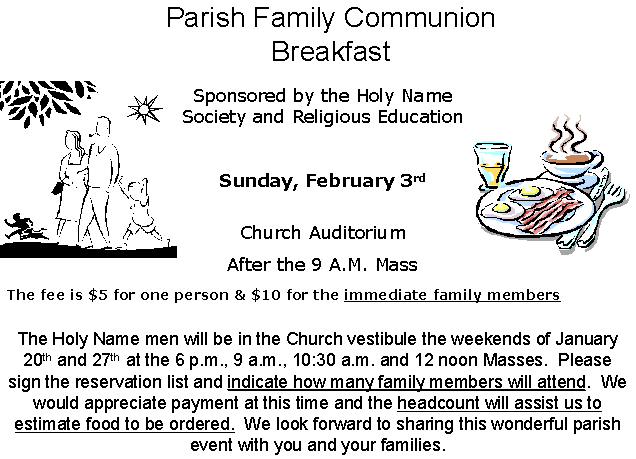 Top
page 7

Helping Hands
Sister Celeste and her "Helping Hands" group were recently in the Jersey Journal for their contribution to the senior community through knitting and/or crocheting.
Every Wednesday afternoon at 1 p.m. Sister Celeste gathers in St. Anne's Convent with those who are interested in making lap robes for nursing home patients. Come and join our afternoon social. Wool is supplied. If you wish to contact Sister Celeste, she can be reached at 201-792-5128.

Open Houses
St. Dominic Academy, 2572 Kennedy Blvd., Jersey City, invites 8th graders and their parents to an Open House on Wednesday, January 23rd from 6-8 p.m. Please call 201-434-5938, ext. 35 for more information.
Hudson Catholic Regional High School, will host an Open House on Thursday, January 24th. Boys in the 6th, 7th and 8th grades are welcomed with their families to visit with administration, teachers, coaches and current students. For further information, please call Mr. Terence Matthews at 201-332-3429. The school is located at 790 Bergen Avenue in Jersey City. Thank you.
Marist High School, 1241 Kennedy Blvd., Bayonne, invites everyone to an Open House on Thursday, January 24th at 7 p.m. Sharp. Come and witness the great things happening at Marist.
Xavier High School - 30 W. 16th Street in New York City is having Open House on Saturday, January 26th from 1-4 p.m. For more information call 212-924-7900. St. Peter's Preparatory School will be holding its 2002 Winter Open House on Sunday, January 27th from 12 noon to 2:30 p.m. at 144 Grand Street in Jersey City. Sixth, seventh and eighth grade boys and their parents are invited to attend.
Members of the St. Peter's Prep faculty and staff, as well as coaches, students and teachers, will be present to distribute information and answer questions about the school, and tours of the campus and school facilities will be provided.
For more information, or for directions, please call 201-547-6420 or visit www.stpetersprep.org.
The Academy of Saint Aloysius, an all girls, private high school in Jersey City is hosting a Winter Open House on Tuesday, January 29th from 7-9 p.m. School location is 2495 Kennedy Blvd., Jersey City.
Oratory Preparatory School: Come live the Oratory experience at their Open House on Sunday, February 3rd from 3-5 p.m. Oratory is a Catholic college preparatory day school for boys in grades 7-12. The main school building is located at One Beverly Rd., Summit, NJ off Morris Avenue. For further information call 908-273-5771, ext. 11 or visit at www.oratoryprep.org.

An Evening With Joe Finn
On Saturday, February 16th at 6:30 p.m., Marist High School will host an evening with Joe Finn, a popular singer, performer, and graduate of the Class of 1959. The evening will include a cocktail hour, dinner, and entertainment at the cost of $35 per person. The proceeds of this event will support Marist's academic programs.
We invite all to join us for what promises to be a very enjoyable evening. If you would like to purchase tickets, please call Nancy Lynch at Marist High School - 201-437-4544, ext. 21.

WORLD YOUTH DAY 2002
Registration Due This Month
If you or someone in your family are between the ages of 16 and 39, please take special note of the following information. World Youth Day is an international bi-annual gathering of Catholic young people (between the ages of 16 and 39) with Pope John Paul II. This year, the event will be held in Toronto from July 21-30. Cost is between $829 and $1099 plus fees. Registration and cash deposit are due Friday, January 25th, so act quickly! For more information, or a registration form, please contact your parish youth or young adult minister, or call the Office of Youth & Young Adult Ministry at 973-497-4500. The registration form and information can also be found online at www.cyoalive.org.

Hudson Hospice Children's Bereavement Program
The next 10 week session of the Children's Bereavement Program will begin in January. The program is designed for children 4-17 years of age and their parent/significant other who are coping with the loss or impending loss of a loved one. For more information or to set up an appointment for an intake, please call the Hospice Office at 201-433-6225.
Hudson Hospice also sponsors Bereavement Support Groups. The groups are a combination of education and self-help. Each session consists of a presentation on the aspects of healthy grieving and group discussion. The groups will be held in the following Hudson County areas: St. Joseph Church in Bayonne, West Hudson Hospital in Kearny and Meadowlands Hospital in Secaucus. For more information regarding meeting times and dates call Sharon at 201-433-6225.

Attention Bingo Players!
BINGO GAMES WILL NOW TAKE PLACE IN A SMOKE-FREE ENVIRONMENT! "THANK YOU" TO THOSE WHO CONTINUE TO ATTEND AND ENJOY ST. ANNE'S BINGO.

THERE WILL BE A SUNDAY BINGO ON FEBRUARY 10TH, 2002 AT 1:30 P.M. DOORS OPEN AT NOON. HOPE TO SEE YOU THERE!

Page 8
CATHOLIC SCHOOLS WEEK -SCHOOL ACTIVITIES
Dear Parents/Guardians,
St. Anne's School invites you to share our many offerings of academic excellence, spiritual preparation, and outreach programs. We celebrate the efforts of parents/guardians, faculty and staff, parishioner and non-parishioner, who play a dramatic and unselfish role in our program of success. Collectively, we make a "difference" in the lives of our children and they in turn shall make a "difference" in the lives of others. St. Anne's School is a "school you can believe in."
ACTIVITIES
PRE-K "RAINBOW ACTIVITY/ BUILD A SNOWMAN"
KA "PETER AND THE WOLF"
KB "JESUS' LOVES ME"
1A "YOU'RE BEARY SPECIAL"
1B "TEMPERATURE RISE"
2A "MOSAIC CROSSES"
2B "JESUS' LOVE IS MAGNETIC"
3A "JONAH AND THE WHALE"
3B "THIS IS ME"
4 "PRETTY IN PICTURES"
5A "WREATHS OF FAITH"
5B "JEOPARDY"
6 "MOTIONS AND SOUNDS"
7 "ROLE REVERSAL"
8 "TAKE A BITE OF OUR CULTURE"
VISITATIONS
Parents/Guardians may be additionally guided by teacher direction for specific activities. Observation of standard classroom instruction should be limited to one period for any classroom visited. Please feel free to visit other programs.
MONDAY, JANUARY 28TH
Mass at 9:00 A.M. in church. This is a school and family Mass.
Your attendance is welcome and would be greatly appreciated.
Classroom activities begin today.
Parents/Guardians should refer to individual teacher announcements for specifics.
MONDAY, JANUARY 28TH
Classroom Visitation: 10:45 a.m. to 11:55 a.m.
TUESDAY, JANUARY 29TH
Computers in action (FOR ALL) 10:15 A.M.-11:55 A.M.
WEDNESDAY, JANUARY 30TH
Physical Education Visitation (FOR ALL) 9:20-10:50
Classroom visitation 1:00-2:15 P.M.
THURSDAY, JANUARY 31ST
Spelling Bee Grades (4-8) 9:00 A.M (Auditorium)
Geography Bee Grades (5-8) 10:15 A.M.(Auditorium)
Dare Graduation Grades (5) 1:00 P.M. (Auditorium)
(ALL ARE WELCOME)
Student Appreciation Day- students may wear regular clothes to school (no cut-off or ragged clothing)! Sneakers may be worn.
FRIDAY, FEBRUARY 1ST
SCHOOL AND FAMILY MASS 9:00 A.M. (All are welcome)
Grade 8- Rings will be blessed and presented to our future graduates.
Teacher Appreciation Day -Faculty Luncheon 12:00 NOON DISMISSAL.
Website
When you log on and browse around you'll see all kinds of information about our parish. Included, of course, will be the current activities for the many different organizations as well as an update as to what is going on with our parish family.
Do not let evil defeat you: Instead, conquer evil with good!!
By your wounded heart: teach us love, teach us love, teach us love..... -Daphne Fraser
page 9
Personal Meditation
January 27th, 2002

Third Sunday in Ordinary Time
Mt 4:12-23
Reflections
Now when Jesus heard that John had been arrested, he withdrew to Galilee. He left Nazareth and made his home in Capernaum by the sea, in the territory of Zebulun and Naphtali, so that what had been spoken through the prophet Isaiah might be fulfilled: "Land of Zebulun, land of Naphtali, on the road by the sea, across the Jordan, Galilee of the Gentiles--the people who sat in darkness have seen a great light, and for those who sat in the region and shadow of death light has dawned." From that time Jesus began to proclaim, "Repent, for the kingdom of heaven has come near." As he walked by the Sea of Galilee, he saw two brothers, Simon, who is called Peter, and Andrew his brother, casting a net into the sea--for they were fishermen. And he said to them, "Follow me, and I will make you fish for people." Immediately they left their nets and followed him. As he went from there, he saw two other brothers, James son of Zebedee and his brother John, in the boat with their father Zebedee, mending their nets, and he called them. Immediately they left the boat and their father, and followed him. Jesus went throughout Galilee, teaching in their synagogues and proclaiming the good news of the kingdom and curing every disease and every sickness among the people.

Psalm 112:5

The Joy of Generosity

A man tells of a memorable incident that took place two decades earlier when he was a college student working in a sporting-goods store. A seven-year-old boy would visit the store two or three times a week. His purpose was to see and handle a baseball glove that he desperately wanted to buy.
Week after week, the boy would visit the store, put on the glove, pound his fist into the pocket a few times, and then very carefully place it back on the shelf and depart.
The man telling the story relates how he and the owner were impressed by the young man's dedication. He not only came in regularly but selected the most expensive glove in the store. It would take the boy months if not years to save enough money for the purchase.
One day, the boy came into the store with an enormous smile. He carried with him a small box stuffed with single dollar bills and coins. Eagerly the boy announced that he wanted to buy the glove. The owner brought the baseball glove to the cash register while the boy counted out a box full of nickels, quarters, dimes, and dollar bills. His savings came to exactly $19.98.

However, the glove cost $79.98 not including tax. The owner looked at the price tag; sure enough, the seven was slightly smudged, just enough that an eager and hopeful seven-year-old thought it was a one. With consummate grace and generosity, the store owner looked at his young customer and declared, "Yes. Exactly $19.98." And wrapping up the glove, he gave it to the boy.

Today's psalm correctly notes that a generous person will be a happy one. Generosity brings joy for several reasons. There is the pleasure of seeing the delight a generous action produces in another person. There is the satisfaction of knowing that a generous action softens some of life's harsher realities. There is the spiritual gratification of knowing that a generous action pleases God.


Thought for the Day

A gift of fragrance
always clings to the hands
that give roses.