© copyright stannes4/2000
February 3rd, 2002
4th Sunday in Ordinary Time


Schedule of Masses Week of February 4th to February 10th, 2002

Day

Time

Requested for

Requested by

Mon. Feb. 4th

7 A.M.

For the People of the Parish

9 A.M.

Joseph Creazzo

Daughter

Tues. Feb. 5th

7 A.M.

Joseph & Margaret Truppi

9A.M.

Joan Sbabaro

Celia Moran & Family

Wed. Feb. 6th

7A.M.

Helen Rybinski

Alfred

9A.M.

Liv. Theresa Lattanzi

Angela

7 PM

Anita D'Amico

Family

Thurs. Feb. 7th

7A.M.

John L Yori

Mother & Sister

9A.M.

Liv. Theresa Lattanzi

Frances

Fri. Feb. 8th

7A.M.

Helen Rybinski

Alfred

9A.M.

Doris & Lyda

Ruth Cullen

Sat. Feb. 9th

9 A.M.

Grazia Voza

Virginia Sarni

6 P.M.

Mary

Eileen Finnegan

7:30PM

Salvador Melendez

Melendez Family

Sun. Feb. 10th

7:30AM

Thanksgiving

Frances Muzikar

9A.M.

Rosmary Maffei

Warren & Helen Ferris

10:30AM

Alexander Vaccarella

Romilda Vaccarella

12 Noon

Mary Appleman

7:30PM

Clemente Visco

Tess Ayuda
Sanctuary Gifts February 3rd to February 9th, 2002

Gift

In Memory Of

Requested By

Altar Wine

Frank Oterson

Susan Smith

Altar Bread

Frank Oterson

Bonnie

Sanctuary Lamp

Frank Oterson

Barbara Sutcliffe

Altar Candles

Frank Oterson

Janet Eckert
Let Us Pray For Those Seriously Ill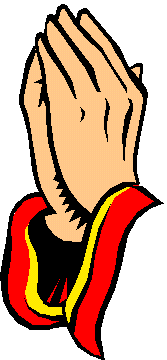 People will remain on sick list for 2 weeks unless otherwise notified:
James Bombich, Meghan Smith, Suzan Monilaro, Socorro Kennedy, Dorothy Ensmenger, Barbara Scocco, Corey Joseph Wood and Angelica Krajnik.

Vocation reflections

In today's gospel, Jesus teaches the crowd of people. He says, "blessed are the poor in spirit, blessed are they who mourn, blessed are they who are persecuted." His words need to be taught to the people of today. Will you answer God's call to teach as a Priest, Religious or Deacon?
If you feel this call, "inquire within" and Please contact the Vocations Office the Vocations Office at (973) 497-4365 or by E-mail at kellyric@rcan.org. Or visit our web site at www.rcan.org.
Page 2

STEWARDSHIP THOUGHT FOR THE WEEK


COMMITMENT
Blessed are they who are what they are and do what they do for the sake of the Kingdom! The Gospel today assures good stewards that their suffering and their service on behalf of the Kingdom will be rewarded!


OUR WEEKLY OFFERING
January 2002
January 26/27 $5,993.
Month's Total $22,628.
Month's Average $5,657.
Mailed in $218.

We thank you!

WEEKLY AVERAGE COMPARISONS:
Month '01 Monthly Avg. '02 Monthly Avg.
January $6,957. $5,657.



HOLY HOUR FOR PRIESTS


Every Tuesday the Blessed Sacrament is exposed in the church from 3PM to 4PM. It is an hour of prayer for the priests and religious men and women of the church. Prayers are also said for an increase of vocations to the priesthood and religious life. We invite you to come and spend time with the Lord for these intentions and for your personal requests. The Holy Hour closes with Benediction of the Blessed Sacrament. If you cannot join us in church, we ask you to join us from a quiet spot in your home and pray with us, asking the Lord to guide and protect our priests.
DUE TO FATHER JULIO ROMAN BEING ON VACATION THIS MONTH, THE HOLY HOUR WILL BE CANCELED UNTIL FEBRUARY 5th!!








Bible Study

Every third Friday of the month, Father Jose Parcon and the Bible Study group meet in Parish Center #3 at 7p.m.. Please feel free to join them. The next meeting will be on Friday, February 15th.
Blessing of the Throats
The Feast of St. Blase is Sunday, February 3rd. There will be a General blessing of the throats at all of the Sunday Masses this weekend February 2/3.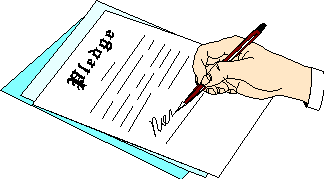 AAA Pledge Sunday
February 2/3 - This weekend the Archbishop's Annual Appeal begins throughout the Archdiocese. Once a year Archbishop Myers asks each of us to make a "sacrificial" commitment to the Church of Newark so that he will have the necessary resources to fund, for an entire year, the offices which provide direct services to parishes (including ours). In addition, a host of other programs and HUMAN SERVICES are provided which no single parish could provide on its own. Our parish and the Archdiocese are one. Both need your sacrificial support.
Every church going family will be asked to "say yes" at homily time by completing a special appeal envelope found in the pews throughout the church.

Top
page 3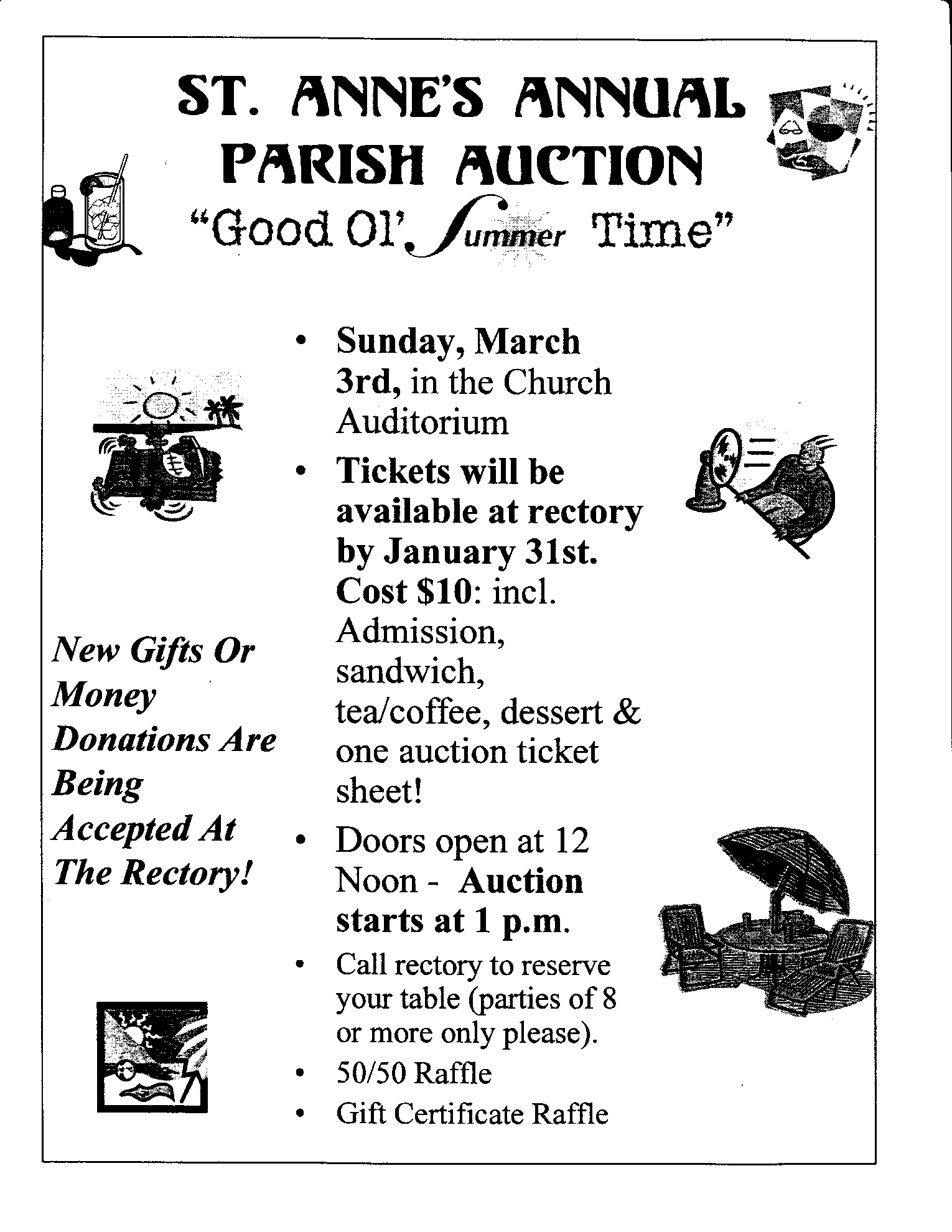 Top
page 4
Our Website
When you log on and browse around you'll see all kinds of information about our parish. Included, of course, will be the current activities for the many different organizations as well as an update as to what is going on with our parish family.
Do not let evil defeat you: Instead, conquer evil with good!!
By your wounded heart: teach us love, teach us love, teach us love..... -Daphne Fraser
Flea Market
Sts. John & Ann School located at 3044 Kennedy Blvd., Jersey City is having a flea market on Saturday, February 9th 9 a.m. to 4 p.m..
Vendors Wanted! Tables cost $15 each OR 2 for $25. Contact Donna at 201-653-4416 Monday thru Friday 11 a.m.-2:30 p.m.. Please do NOT call the rectory.

Hudson Hospice Children's Bereavement Program
The next 10 week session of the Children's Bereavement Program began in January. The program is designed for children 4-17 years of age and their parent/significant other who are coping with the loss or impending loss of a loved one. For more information or to set up an appointment for an intake, please call the Hospice Office at 201-433-6225.
Hudson Hospice also sponsors Bereavement Support Groups. The groups are a combination of education and self-help. Each session consists of a presentation on the aspects of healthy grieving and group discussion. The groups will be held in the following Hudson County areas: St. Joseph Church in Bayonne, West Hudson Hospital in Kearny and Meadowlands Hospital in Secaucus. For more information regarding meeting times and dates call Sharon at 201-433-6225.

Bereavement Support Group Facilitator Training
Are you interested in becoming part of the ministry to the bereaved at the parish? An eight-week training program is offered at the Archdiocesan Center and is now open for registration. Participants will explore the stages and tasks of grief and mourning and develop their communication and group facilitation skills. Sessions are offered on Tuesday mornings or on Thursday evenings and will begin at the end of February and continue through April. For registration and fee information, please contact the Office of Family Life Ministries of the Archdiocese of Newark at 973-497-4327. Pre-registration is required; class size is limited.

Padre Pio
The Padre Pio Prayer Group will be gathering on Saturday, February 9th at 2 P.M. in church followed by their monthly meeting in the auditorium. All are welcome.


Top
page 5
MONDAY 2 Sm 15:13-14,30;16:5-13a Ps 3:2-7 Mk 5:1-20
TUES. 2Sm 18:9-10,14b,24-25a,30-19:3 Ps 86:1-6 Mk 5:21-43
WED. 2Sm 24:2,9-17 Ps 24:9-17 Mk 6:1-6 THURS. 1Kgs 2:1-4,10-12 Ps 1Chron 29:10-12 Mk 6:7-13
FRIDAY Sir 47:2-11 Ps 18:31,47,50-51 Mk 6:14-29
SATURDAY 1Kgs 3:4-13 Ps 119:9-14 Mk 6:30-34
NEXT SUNDAY - 5th SUNDAY IN ORDINARY TIME - Is 58:7-10 Ps 112:4-8a,9 1 Cor 2:1-5 Mt 5:13-16


Palms
Ash Wednesday is less than a month away - February 13th. We are requesting that your old Palm be dropped off at the rectory to be burned for Ash Wednesday. This is the appropriate way to dispose of your old Palm and make it useful for the church.
Ash Wednesday
FEBRUARY 13th - ASHES WILL BE DISTRIBUTED AT A SERVICE AT 3 P.M. AND AFTER THE 7 P.M. MASS.

Aids Compassion Sunday
The weekend of February 9/10 the Archdiocese of Newark will again observe AIDS Compassion Sunday. As a community of faith, we focus our attention on those who are affected and infected by the HIV virus, asking the Lord to be with them and with us as we strive to meet their needs. Invite your family, friends and neighbors to this Mass for our commemoration, and extend a warm welcome to anyone you know living with AIDS.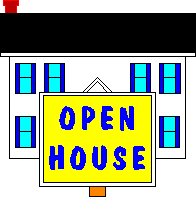 Open House

Oratory Preparatory School: Come live the Oratory experience at their Open House on Sunday, February 3rd from 3-5 p.m. Oratory is a Catholic college preparatory day school for boys in grades 7-12. The main school building is located at One Beverly Rd., Summit, NJ off Morris Avenue. For further information call 908-273-5771, ext. 11 or visit at www.oratoryprep.org.

SPREAD THE WORD ABOUT FEBRUARY 3RD!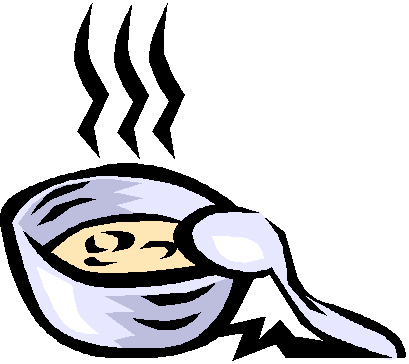 Souper Bowl of Caring

The Souper Bowl is fast approaching. Led by Kelly Ann Lillis (6th grade student of St. Anne's School) and our young people, St. Anne's Church will join with an anticipated 15,000 congregations representing all 50 states and 50 different denominations in asking our parishioners to donate $1.00 each on their way out of Church on Super Bowl Sunday (February 3rd). As in the past years, our donations will be sent directly to St. Lucy's Homeless Shelter here in Jersey City. Thank you.

Top Page 6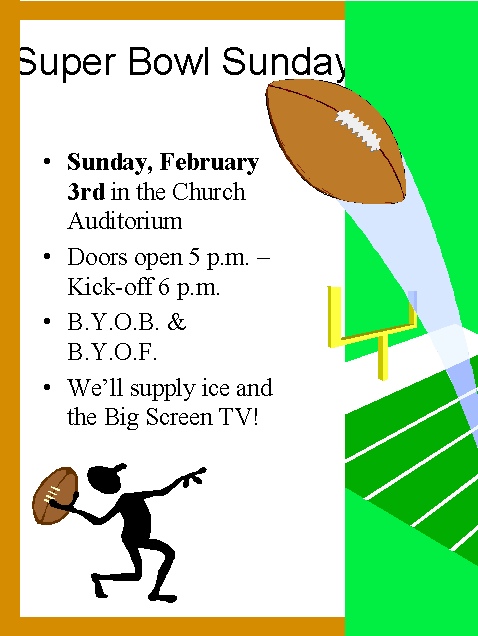 Top
page 7
World Marriage Day
Worldwide Marriage Encounter, Inc. sponsors World Marriage Day on Sunday, February 10th. WMDhonors husband and wife as head of the family, the basic unit of society. It salutes the beauty of their faithfulness, sacrifice and joy in daily married life.
The idea of celebrating marriage began in Baton Rouge, LA in 1981, when couples encouraged the mayor, the governor and the Bishop to proclaim St. Valentines Day as "We Believe in Marriage Day". The event was so successful, the idea was presented to and adopted by Worldwide Marriage Encounter's national leadership. By 1982, 43 Governors officially proclaimed the day and celebrations spread to U.S. military bases in several foreign countries. In l983, the name was changed to "World Marriage Day", designated to be celebrated each year on the second Sunday in February. In 1993, his Holiness, Pope John Paul II, imparted his Apostolic Blessings on World Marriage Day. WMD celebrations continue to grow and spread to more countries and faith expressions every year.

Wedding Anniversary Celebrations
The Archdiocese of Newark is once again holding their Wedding Anniversary Masses at the Cathedral Basilica of the Sacred Heart in Newark as follows:
5th & 25th Wedding Anniversary
April 7, 2002 at 4:30 p.m.
50th Wedding Anniversary
April 14, 2002 at 4:30 p.m.
* Deadline for April 7 reservations: March 27th * Deadline for April 14 reservations: April 3rd
Please go to rectory to fill out form. There is no fee involved.

CCS Disaster Relief Fund
Catholic Community Services has received donations from dioceses and individuals within the Archdiocese of Newark as a result of the disaster that struck New York on September 11, 2001. Many of the disaster victims within our Parish Community may have already accessed the Federal and State emergency assistance funds and may still be left with unmet needs. The Parish Access Center staff will assist parishioners with unmet needs in the stewardship of these limited funds.
If you, or anyone you know in our parish community, who was affected by the WTC disaster, please contact St. Anne's rectory at 201-656-2490. A form needs to be filled out by February 20th. Each identified individual and/or family will be processed for a fair distribution of the limited funds.

Conferral of the Pallium on Archbishop Myers
All Parishioners are welcome to come on the trip to Rome to witness the conferral of the Pallium on Archbishop Myers.
For more information, Sister Thomas Mary may be contacted at 973-497-4009 or contact Great Experiences at 201-261-8484.

An Evening With Joe Finn
On Saturday, February 16th at 6:30 p.m., Marist High School will host an evening with Joe Finn, a popular singer, performer, and graduate of the Class of 1959. The evening will include a cocktail hour, dinner, and entertainment at the cost of $35 per person. The proceeds of this event will support Marist's academic programs.
We invite all to join us for what promises to be a very enjoyable evening. If you would like to purchase tickets, please call Nancy Lynch at Marist High School - 201-437-4544, ext. 21.

WORLD YOUTH DAY 2002
Registration Due This Month
If you or someone in your family are between the ages of 16 and 39, please take special note of the following information. World Youth Day is an international bi-annual gathering of Catholic young people (between the ages of 16 and 39) with Pope John Paul II. This year, the event will be held in Toronto from July 21-30. Cost is between $829 and $1099 plus fees. Registration and cash deposit are due Friday, January 25th, so act quickly! For more information, or a registration form, please contact your parish youth or young adult minister, or call the Office of Youth & Young Adult Ministry at 973-497-4500. The registration form and information can also be found online at www.cyoalive.org.

Attention Bingo Players!

THERE WILL BE A SUNDAY BINGO ON FEBRUARY 10TH, 2002 AT 1:30 P.M. DOORS OPEN AT NOON. HOPE TO SEE YOU THERE!

Page 8
A Night at the Races
Coming soon - Saturday, February 23rd in the auditorium. Tickets are $10 which includes sandwich, salad, soda, dessert, coffee. More details to follow.

Senior Meeting
The next St. Anne's Senior Meeting will take place on Monday, February 11th at 1 p.m. in the auditorium. New members are welcome. Come and join our social.

Stations
During the Lenten Season there will be Stations of the Cross in Church on Fridays at 1 P.M. and 7 P.M. beginning February 15th and ending March 22nd.

Catholic Women of Zion - Chapter III
Day Retreat, Saturday, Feb. 9th, with Catholic Women of Zion-Chapter III from 9:45 a.m.-2 p.m. at San Carlo Restaurant in Lyndhurst, NJ. The day consists of Mass, lunch, talk by our guest speaker and prayers for healing. This month Kathryn "Kate" Chambers will speak to us about "The Courageous Heart". Advance registration is preferred by contacting Eileen Doherty 201-998-4770; Esther Giordano 201-997-7224 or Denise Cerullo 201-339-3956.

Tagalog Mass
Due to the First Penance Concert in Church at 2 p.m. on Sunday, February 10th, the scheduled Tagalog Mass at 1:30 p.m. will take place in the Chapel Hall.

CCD NEWS
* NO CLASSES TODAY, Feb. 3rd! Those families who responded will be attending Communion Breakfast in auditorium.
* Confirmation Enrollment Ceremony at 9 a.m. Mass on Sunday, February 10th. It's imperative that both parents and future candidates attend.
* First Penance Concert in church at 2 p.m. on Sunday, February 10th. All are welcome.
* NO CLASS on Sunday, February 17th.
* Penance Practice - February 18th, 20th and 21st from 3-4:30 p.m. in Church.
* First Penance Day - Saturday, February 23rd in church 11 A.M. SHARP!!

2002 Lenten Regulations

1. The days of both Fast and Abstinence during Lent are Ash Wednesday and Good Friday. The other Fridays of Lent are days of Abstinence.
- On a day of Fast, only one (1) full meal is permitted. Those between the ages of 18 and 59 are obliged to fast.
- On a day of Abstinence, no meat may be eaten. Those who have reached the age of 14 are obliged by the law of abstinence.
2. The obligation to observe the laws of Fast and Abstinence "substantially", or as a whole, is a serious obligation.
3. The Fridays of the year, outside of Lent, are designated as days of penance, but each individual may substitute for the traditional abstinence from meat some other practice of voluntary self-denial as penance.
4. The time for fulfilling the Paschal Precept (Easter Duty*) extends from the First Sunday of Lent, February 17, 2002 to the Solemnity of the Holy Trinity, May 26, 2002.
* Canon 920,§1. All the faithful, after they have been initiated into the Most Holy Eucharist, are bound by the obligation of receiving Communion at least once a year.

page 9
Personal Meditation
February 3rd, 2002
Fourth
Sunday in Ordinary Time
Mt 4:12-23
Reflections

Zephaniah 2:3; 3:12-13, Psalms 146:6-10, 1 Corinthians 1:26-31, Matthew 5:1-12
The Paradox of Poverty
During the Christmas season the parties of the rich were very good but the parties of the poor were just fantastic. At the parties of the rich people stood around sipping expensive drinks and eating expensive food and eyeing one another self-consciously. "Am I in the right company? Am I appropriately dressed? Do people notice me? How can I leave without being conspicuous? Do people think this is better/worse than the party I gave?" Thoughts like these are in many heads. But at the parties of the poor there are just shrieks of mirth as they throw themselves wholeheartedly into some parlor game. When the time for eating comes everyone just guzzles with glee. There is a totally unselfconscious presence to whatever is going on and one would think that these people did not have a trouble in the world. Maybe for this brief spell they do not have. For those who cannot enjoy good things all the time it is important to have at least peak moments of joy to remember. There is a co-relation between progress, poverty and winter. People who have a winter have learned through the centuries to store up in the summer so that they can live through the winter. This discipline establishes natural habits of foresight and insurance that lead to progress. In tropical climates, on the other hand, one may be poor but one will rarely starve or freeze to death. There is always a banana or some fruit in season that can be picked from your own or your neighbor's backyard. There is always a relative from whom shelter from the generally benign climate can be sought when necessary. This leads to the tendency to live in the present rather than provide for the future. Some call this underdevelopment and even dehumanizing, and in a sense it is. But discipline also has its darker side. It was only a disciplined race that could exterminate millions of Jews or have a Tiananmen Square massacre. We did not have massive bloodshed in EDSA in the Philippines in 1986 because the soldiers would not fire on the people. Thank God for that lack of discipline! The poor seldom commit suicide. They always hope that they will get rich some day and thus solve their problems. The rich know that money does not fill the inner emptiness and have much less to hope for. In the Gospels we generally have a biased balance. We have parables that urge us to provide for the future, to plant and reap, and to use the talents that we have been given. However there seem to be a bias in favor of a sense of joy and exultation in the present moment. Look at the flowers of the field, the birds of the air; they do not spin, they do not reap...but the Lord provides for them. Sufficient for the day is the evil thereof. This weekend we are told in the Beatitudes of Matthew "Blessed are the poor in Spirit, theirs is the kingdom of God." Another translation says, "Blessed are those who know their need for God." Poverty, a sense of trust in God's providence, would seem to be an essential Gospel message and therefore also an essential attitude in prayer. Unfortunately, a lot of what we call prayer expresses a desire for riches and unconsciously a distrust in God. What we ask for may be material riches or spiritual ones - like being the most humble or holy person around! The latter type of riches, according to St. John of the Cross, can be as destructive as the former. We pray, asking God for more things, or power or prestige. We have already mapped what God should do for us or give us. Obviously, we think that God must be very stupid to need such explicit instructions. If we think, as our way of praying tends to show, that God is stupid then who is really the stupid one? But there is another approach to prayer, the approach of poverty. It is what John Cassian in the 4th century called the "grand poverty" of the mantra. The Cloud of the Unknowing called it the poverty of the single verse. John of the Cross called it the seeking of the nada, nothing. God knows already what we need even if it is not what we want. God's Spirit is dwelling within us and will tell us what is right if only we can shut up and let God be God.