© copyright stannes4/2000
February 10th, 2002
5th Sunday in Ordinary Time


Schedule of Masses Week of February 11th -17th, 2002

Day

Time

Requested for

Requested by

Mon. Feb. 11th

7 A.M.

For the People of the Parish

9 A.M.

Edward Anderson, Sr.

Family

Tues. Feb. 12th

7 A.M.

Michael Capparelli

Frank & Gemma

9A.M.

Michael & Joseph Barbalinardo

Spazian & Maccini Families

Wed. Feb. 13th

7A.M.

Angie Carpenter

Capone Family

9A.M.

Liv. Frances Spazian

Frances M.

7 PM

Samuel Wilkins

Family

Thurs. Feb. 14th

7A.M.

Salvatore & Rose Capparelli

Roseann Capparelli

9A.M.

Liv. Therese Lattanzi

Frances M.

Fri. Feb. 15th

7A.M.

Douglas

Irene & Ed Castle

9A.M.

Mary Appleman

Fran & Anne

Sat. Feb. 16th

9 A.M.

Douglas Murray

Terry & Lou Carbone

6 P.M.

Special Thanksgiving

Lourdes Chua

7:30PM

Special Intention

Sun. Feb. 17th

7:30AM

Liv. & Dec Members of the Hanley Family

Family

9A.M.

Liv. Jewell Fiola

10:30AM

John Neumann Sr.

Wife & Family

12 Noon

James Bald

Joan, Dolores, & Mac
Sanctuary Gifts February 10-16th, 2002

Gift

In Memory Of

Requested By

Altar Wine

James Bald

Frank & Gemma Infante

Altar Bread

Beatrice Clark

Thomas Drennan

Sanctuary Lamp

Rosemary Maffei

Doris Sweeney

Altar Candles

Mary Applemen

Schade & Cuttingham Families
Let Us Pray For Those Seriously Ill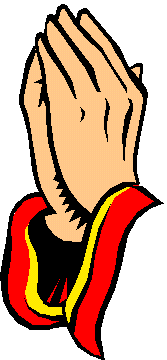 People will remain on sick list for 2 weeks unless otherwise notified:
Bridget Burke, Meghan Smith, Dorothy Ensmenger, Barbara Scocco, Corey Joseph Wood and Angelica Krajnik.

Vocation reflections

Jesus says that "your light must shine before others, that they may see your good deeds and glorify your heavenly Father." Is it possible that God wants your light to shine as His Priest, Religious or Deacon?
If you feel this call, "inquire within" and Please contact the Vocations Office the Vocations Office at (973) 497-4365 or by E-mail at kellyric@rcan.org. Or visit our web site at www.rcan.org.
Page 2

STEWARDSHIP THOUGHT FOR THE WEEK


COMMITMENT
The Gospel today reminds us that our lives and our deeds must serve as examples to others, pointing the way to the Father. Not for our own benefit do we labor, but so that others may see our good works and give glory to our Father in heaven.

OUR WEEKLY OFFERING
February 2002
February 2/3 $6,127.
Month's Total $6,127.
Month's Average $6,127.
Mailed in $243.

We thank you!

WEEKLY AVERAGE COMPARISONS:
Month '01 Monthly Avg. '02 Monthly Avg.
January $6,957. $5,657.
February $6,070



HOLY HOUR FOR PRIESTS


Every Tuesday the Blessed Sacrament is exposed in the church from 3PM to 4PM. It is an hour of prayer for the priests and religious men and women of the church. Prayers are also said for an increase of vocations to the priesthood and religious life. We invite you to come and spend time with the Lord for these intentions and for your personal requests. The Holy Hour closes with Benediction of the Blessed Sacrament. If you cannot join us in church, we ask you to join us from a quiet spot in your home and pray with us, asking the Lord to guide and protect our priests.




Bingo
THERE WILL BE A SUNDAY BINGO ON FEBRUARY 10TH, 2002 AT 1:30 P.M. DOORS OPEN AT NOON.


Stations
During the Lenten Season there will be Stations of the Cross in Church on Fridays at 1 P.M. and 7 P.M. beginning February 15th and ending March 22nd.

Bible Study

Every third Friday of the month, Father Jose Parcon and the Bible Study group meet in Parish Center #3 at 7p.m.. Please feel free to join them. The next meeting will be on Friday, February 15th.
Palms
We are requesting that your old Palm be dropped off at the rectory to be burned for Ash Wednesday, February 13th. This is the appropriate way to dispose of your old Palm and make it useful for the church.

Palms
We are requesting that your old Palm be dropped off at the rectory to be burned for Ash Wednesday, February 13th. This is the appropriate way to dispose of your old Palm and make it useful for the church.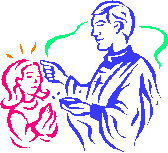 Ash Wednesday
FEBRUARY 13th - ASHES WILL BE DISTRIBUTED AT A SERVICE AT 3 P.M. AND AFTER THE 7 P.M. MASS.

Top
page 3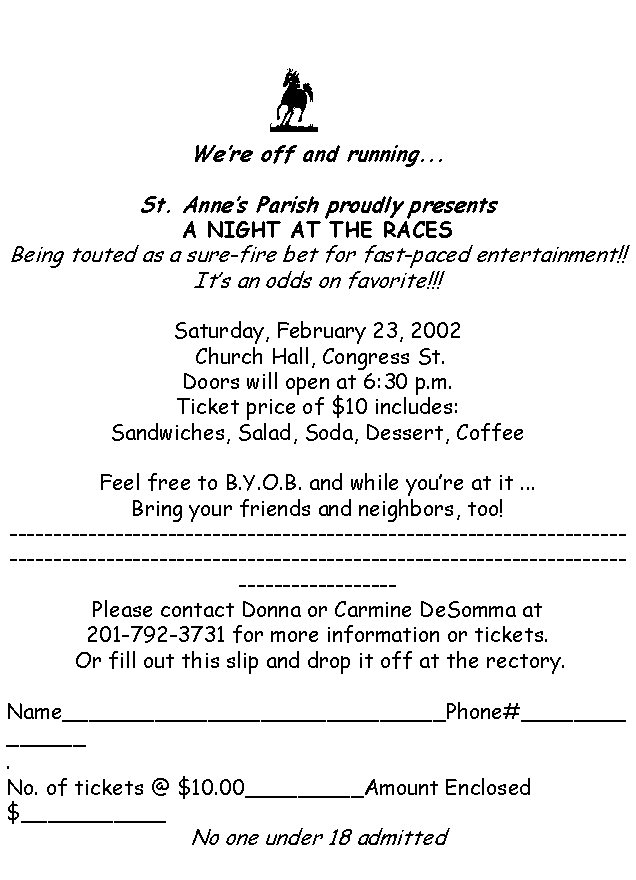 Top
page 4 Our Website
When you log on and browse around you'll see all kinds of information about our parish. Included, of course, will be the current activities for the many different organizations as well as an update as to what is going on with our parish family.
Do not let evil defeat you: Instead, conquer evil with good!!
By your wounded heart: teach us love, teach us love, teach us love..... -Daphne Fraser
Lenten Retreat
Lenten Weekend Retreat "Seek the Lord" sponsored by the Franciscan Retreat Team. Retreat is weekend of March 1-3 in Newton, New Jersey. For information call Father Tom Kelly, OFM at (201) 531-0741 or Deacon Milt at (973) 208-8430. A GREAT PREPARATION FOR EASTER!!!

Workshop
"Working from Poverty to Promise" - You are invited to participate in an Offering of Letters Workshop on Saturday, March 9th at the Archdiocesan Center in Newark from 9 a.m. to 2 p.m. At this workshop you will learn what has worked with regard to the Temporary Assistance to Needy Families (welfare reform) and what more needs to be done to:
- help families as they seek self-sufficiency
- ensure adequate benefits for those who need a safety net to feed their families
- help reduce poverty in our nation
At this workshop you will be equipped to join thousands of Christians across the United States in using the gifts of your faith and citizenship to build a more just society. For more information or to register, call the Archdiocesan Office of Human Concerns at 973-497-4341.

Lenten Lecture Series
Lent at St. Walburga Monastery in Elizabeth, New Jersey:
Lecture Series. "Living the Gospel in the Real World" February 17, March 3 & 17 from 3:30-5:30 p.m. Registration free. Open to all.
Lenten Weekend Retreat for Women: March 15-17, Fee $75.
Lenten Day Retreat for Men & Women: March 16th. Lunch included, Fee $20
Holy Week Retreat for Women: March 27-31, Fee $150.
Vocation Discernment Retreat: March 27-31, For Catholic women over 18 years of age.
For information on all of the above, please contact Sister Marita at 908-353-3028.

Top
page 5
MONDAY 1 Kgs 8:1-7,9-13 Ps 132:6-10 Mk 6:53-56
TUES. 1 Kgs 8:22-23,27-30 Ps 84:3-5,10-11 Mk 7:1-13
ASH WED. J1 2:12-18 Ps 51:3-6a,12-14,17 2 Cor 5:20-6:2 Mt 6:1-6,16-18
THURS. Dt 30:15-20 Ps 1:1-4,6 Lk 9:22-25
FRIDAY Is 58:1-9a Ps 51:3-6a,18-19
SATURDAY Is 58:9b-14 Ps 86:1-6 Lk 5:27-32
NEXT SUNDAY - FIRST SUNDAY OF LENT - Gn 2:7-9;3:1-7 Ps 51:3-6a,12-14,17 Rom 5:12-19 Mt 4:1-11


Cathedral Concert Series
The Cathedral Concert Series presents an All-Duruflé program of choral and organ music given by CONCORA on Sunday, February 10th at 4 p.m. in the Cathedral Basilica in Newark. Suggested donation is $10 - for more information call the Cathedral Music Office at 973-484-2400, www.cathedralbasilica.org.

World Marriage Day
Worldwide Marriage Encounter, Inc. sponsors World Marriage Day on Sunday, February 10th. WMDhonors husband and wife as head of the family, the basic unit of society. It salutes the beauty of their faithfulness, sacrifice and joy in daily married life.
The idea of celebrating marriage began in Baton Rouge, LA in 1981, when couples encouraged the mayor, the governor and the Bishop to proclaim St. Valentines Day as "We Believe in Marriage Day". The event was so successful, the idea was presented to and adopted by Worldwide Marriage Encounter's national leadership. By 1982, 43 Governors officially proclaimed the day and celebrations spread to U.S. military bases in several foreign countries. In l983, the name was changed to "World Marriage Day", designated to be celebrated each year on the second Sunday in February. In 1993, his Holiness, Pope John Paul II, imparted his Apostolic Blessings on World Marriage Day. WMD celebrations continue to grow and spread to more countries and faith expressions every year.

Wedding Anniversary Celebrations
The Archdiocese of Newark is once again holding their Wedding Anniversary Masses at the Cathedral Basilica of the Sacred Heart in Newark as follows:
5th & 25th Wedding Anniversary
April 7, 2002 at 4:30 p.m.
50th Wedding Anniversary
April 14, 2002 at 4:30 p.m.
* Deadline for April 7 reservations: March 27th * Deadline for April 14 reservations: April 3rd
Please go to rectory to fill out form. There is no fee involved.
CCS Disaster Relief Fund
Catholic Community Services has received donations from dioceses and individuals within the Archdiocese of Newark as a result of the disaster that struck New York on September 11, 2001. Many of the disaster victims within our Parish Community may have already accessed the Federal and State emergency assistance funds and may still be left with unmet needs. The Parish Access Center staff will assist parishioners with unmet needs in the stewardship of these limited funds.
If you, or anyone you know in our parish community, who was affected by the WTC disaster, please contact St. Anne's rectory at 201-656-2490. A form needs to be filled out by February 20th. Each identified individual and/or family will be processed for a fair distribution of the limited funds.

Top Page 6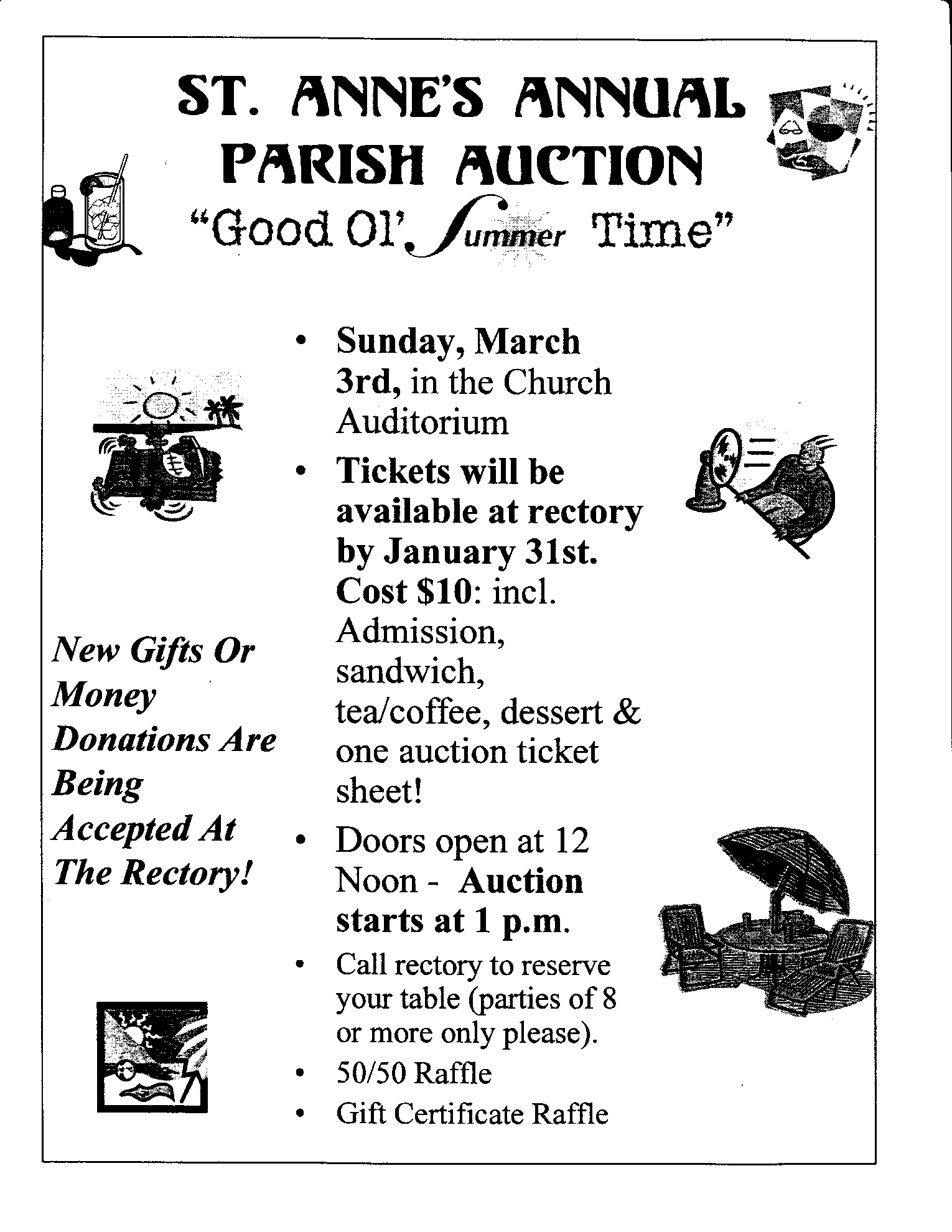 Top
page 7
Conferral of the Pallium on Archbishop Myers
All Parishioners are welcome to come on the trip to Rome on June 29, 2002 to witness the conferral of the Pallium on Archbishop Myers.
For more information, Sister Thomas Mary may be contacted at 973-497-4009 or contact Great Experiences at 201-261-8484.

Senior Meeting
The next St. Anne's Senior Meeting will take place on Monday, February 11th at 1 p.m. in the auditorium. New members are welcome. Come and join our social.


Tagalog Mass
Due to the First Penance Concert in Church at 2 p.m. on Sunday, February 10th, the scheduled Tagalog Mass at 1:30 p.m. will take place in the Chapel Hall.

Catholic Women of Zion - Chapter III
Day Retreat, Saturday, Feb. 9th, with Catholic Women of Zion-Chapter III from 9:45 a.m.-2 p.m. at San Carlo Restaurant in Lyndhurst, NJ. The day consists of Mass, lunch, talk by our guest speaker and prayers for healing. This month Kathryn "Kate" Chambers will speak to us about "The Courageous Heart". Advance registration is preferred by contacting Eileen Doherty 201-998-4770; Esther Giordano 201-997-7224 or Denise Cerullo 201-339-3956.
CCD NEWS
* For Confirmation Parents - Those who have missed both the Confirmation Meeting on January 20th and the make-up meeting on January 28th, MUST come to make up this meeting. Your child will not have material finished for February 17th as you did not receive packet given out at meeting!
* Confirmation Enrollment Ceremony TODAY Sunday, February 10th at the 9 a.m. Mass. This ceremony involves the Candidates for the Fall confirmation class and their parents. Please keep these candidates in your prayers as they begin their preparation.
* Penance Concert Sunday, February 10th at 2 p.m. in church. All parents and children are requested to attend. All parishioners are invited.
* Parent Club Meeting Sunday, February 10th from 10-11:15 a.m. Please use CCD entrance.
* NO CLASS on Sunday, February 17th.
* Penance Practice - February 18th, 20th and 21st from 3-4:30 p.m. in Church.
* First Penance Day - Saturday, February 23rd in church 11 A.M. SHARP!!

Aids Compassion Sunday
The weekend of February 9/10 the Archdiocese of Newark will again observe AIDS Compassion Sunday. As a community of faith, we focus our attention on those who are affected and infected by the HIV virus, asking the Lord to be with them and with us as we strive to meet their needs. Invite your family, friends and neighbors to this Mass for our commemoration, and extend a warm welcome to anyone you know living with AIDS.

Bereavement Support Group Facilitator Training
Are you interested in becoming part of the ministry to the bereaved at the parish? An eight-week training program is offered at the Archdiocesan Center and is now open for registration. Participants will explore the stages and tasks of grief and mourning and develop their communication and group facilitation skills. Sessions are offered on Tuesday mornings or on Thursday evenings and will begin at the end of February and continue through April. For registration and fee information, please contact the Office of Family Life Ministries of the Archdiocese of Newark at 973-497-4327. Pre-registration is required; class size is limited.

Page 8
Annual Mass & Brunch
The annual Mass and Brunch of the Academy of Saint Aloysius Alumnae Association will be held on Sunday, April 7th. Mass will be offered at 10:30 a.m. in the Xavier Center Chapel on the grounds of the College of Saint Elizabeth; brunch will follow at 12 Noon in the Madison Hotel, Convent Station. Tickets are $35. Reservations close on March 30th. For further information, please contact Margaret O'Neill at 201-451-1389.

Make A Bid For Student Success
The Felician College Alumni Association and Council of Regents invite you to come to the auction block and make a bid for student success at a live auction and dinner. Join us on Saturday, March 9th in the cafeteria on the Lodi Campus and bid on vacations, video equipment, sports memorabilia, a night on the town, and many other fabulous items. Preview begins at 5 p.m., dinner and live auction begins at 6:30 p.m. Tickets - including dinner, dessert, beer, wine, and soda - are $50 per person and are advance sale only. For reservations, please call 201-559-3315. Please reserve your space by February 18th. Proceeds benefit the Felician College Student Scholarship Fund.

$100 Raffle
On Saturday, March 2nd from 7 p.m. to 9 p.m., Marist High School in Bayonne will host its Eighth Annual $100 Raffle. The raffle will be drawn at a Dinner/Cocktail Party that evening. Each ticket entitles two people to be present at this event.
The raffle is limited to 300 tickets. If all 300 tickets are sold, Marist will give away $15,000 in prizes. The first prize, the last ticket drawn for the evening, will be worth $10,000; and there will be ten $500 prizes. The first ticket drawn is $500 and then every fiftieth number drawn, another $500 will be given.
If all 300 tickets are not sold, then 33 1/3% of the gross receipts will constitute the top prize and the 10 other prizes will constitute 16 2/3% of the gross receipts.
Only 300 tickets will be sold. Don't delay, purchase your ticket now. Proceeds from this event

2002 Lenten Regulations

1. The days of both Fast and Abstinence during Lent are Ash Wednesday and Good Friday. The other Fridays of Lent are days of Abstinence.
- On a day of Fast, only one (1) full meal is permitted. Those between the ages of 18 and 59 are obliged to fast.
- On a day of Abstinence, no meat may be eaten. Those who have reached the age of 14 are obliged by the law of abstinence.
2. The obligation to observe the laws of Fast and Abstinence "substantially", or as a whole, is a serious obligation.
3. The Fridays of the year, outside of Lent, are designated as days of penance, but each individual may substitute for the traditional abstinence from meat some other practice of voluntary self-denial as penance.
4. The time for fulfilling the Paschal Precept (Easter Duty*) extends from the First Sunday of Lent, February 17, 2002 to the Solemnity of the Holy Trinity, May 26, 2002.
* Canon 920,§1. All the faithful, after they have been initiated into the Most Holy Eucharist, are bound by the obligation of receiving Communion at least once a year.

page 9
Personal Meditation
February 10th, 2002
Reflections

Reflections
Mt 5:13-16
"You are the salt of the earth; but if salt has lost its taste, how can its saltiness be restored? It is no longer good for anything, but is thrown out and trampled under foot. "You are the light of the world. A city built on a hill cannot be hid. No one after lighting a lamp puts it under the bushel basket, but on the lamp stand, and it gives light to all in the house. In the same way, let your light shine before others, so that they may see your good works and give glory to your Father in heaven. Psalm 135:3
God Always Gives Good Gifts
A legend from the ancient Middle East tells of a Persian king who severely injured his ankle. Although he had access to the finest physicians, none could bring him relief from pain and healing from injury.
Then one of the king's advisors told him about an imprisoned slave who reportedly had unique insights into medicine and healing powers. Because he had exhausted all traditional means of help, the king sent for the imprisoned slave. The man was brought before the king in chains and wearing prison rags.
After examining the king, the slave made a careful diagnosis and recommended a remedy that resulted in relief and healing. The king was elated and justifiably grateful for the imprisoned slave's help. In gratitude, the king sent the slave an expensive, handcrafted gift--a new set of chains made of pure gold.
Today's verse reminds us that God is not like the Persian king whose "gift" continued to imprison and oppress. The psalmist, as well as people across the ages, praises God "because he is good." His gifts are not "gold chains" that confine and limit. Rather, the gifts of God are good. They lead to freedom, liberation, and redemption. We can be certain that something is wrong with us if our faith leads us to become intolerant, insular, or narrow-minded.

Ash Wednesday
Psalm 5:2
The Importance of Prayer
There are many prayers in the Psalms. In fact, the Psalms consist simply of one prayer after another. The men and women of Scripture knew the importance of prayer. Here are some reasons why the Bible urges us to engage in prayer as often as possible:• Prayer is a vital life force connecting human needs and aspirations with divine wisdom and love.
• Prayer heightens joys, deepens hopes, and lightens burdens.
• Prayer is a source of strength, stability, security, and safety.
• Prayer is an anchor in times of storm, a beacon in darkness, and a guide in the maze of life.
• Prayer makes us stronger morally and mentally, spiritually and socially.
• Prayer prepares us to receive God's guidance and to act accordingly.
• Prayer brings human will into conformity with the will of God. In thinking about prayer, let us resolve today to incorporate more time and ways of regular prayer into our lives.

Thought for the Day

I have not the courage
to search through books
for beautiful prayers….
Unable either to say them all
or choose between them,
I do as a child would do
who cannot read--
I say just what I want to say to God,
quite simply,
and He never fails to understand.