© copyright stannes4/2000
March 17th, 2002
Fifth Sunday of Lent


Schedule of Masses Week of March 18th -March 24th, 2002

Day

Time

Requested for

Requested by

Mon. March 18th

7 A.M.

For the People of the Parish

9 A.M.

Andrew Bellucci

Pearl

Tues. March 19th

7 A.M.

Goseppe Belfiore

Daughter-in-Law

9A.M.

Honor of St. Joseph

Frances Spazian

Wed. March 20th

7A.M.

Lillian Koska

Albert Koska

9A.M.

Frank & Catherine Infante

Frank & Gemma

7 PM

Esterina Stefani

Emilio Niece

Thurs. March 21st

7A.M.

Vicenza Infante

Maria Russo

9A.M.

Elaine Bozarth

Madeline Gerrity

Fri. March 22nd

7A.M.

Mary Koska

Albert Koska

9A.M.

Mary & Frank Lattanzi

Theresa

Sat.March 23rd

9 A.M.

Marcela Villanueva

Family

2 P.M.
For the Sick of the Parish
2 P.M.
Rosemary Maffei
Family
2 P.M.
Victor Pianese
Ruth & Bob Schulze

6 P.M.

Special Thanksgiving

Lourdes Chua & Family

7:30PM

Aida Rolon

Alba Martinez

Sun. March 24th

7:30AM

Angelo Tomeo

Granddaughter Claire

9A.M.

John Neumann Sr.

Angela & Peter Shufelts

10:30AM

Frank & Margaret Musarra

Family

12 Noon

Carol & Susan Johnston

Warren & Helen Ferris
Sanctuary Gifts March 17th -March 23rd, 2002

Gift

In Memory Of

Requested By

Altar Wine

John Hollingsworth

Rita Rinyak

Altar Bread

John Cliffor

Doris Hollingsworth

Sanctuary Lamp

Frank Tango

Mr. & Mrs. Angelo Tango

Altar Candles

Frank Tango

Rocco & Carmine Tango
Let Us Pray For Those Seriously Ill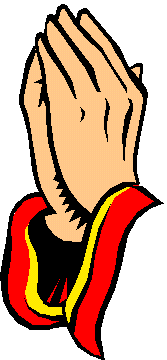 People will remain on sick list for 2 weeks unless otherwise notified:
Michelle Grace, Socorro Kennedy, Helen Dinicola, Suzanne Molinaro, Bridget Burke, Dorothy Ensmenger, Aida Ramos, Angel Ramos, Barbara Scocco, Joseph DeFonce, Cheryl Wood, and Corey Joseph Wood.

Vocation reflections

Jesus said, "I am the resurrection and the life: whoever believes in me, even if he dies, will live, and everyone who lives and believes in me will never die." Do you believe this? Can you, like Martha say, "Yes, Lord, I do believe?" Do you wish to bring others to life as well, helping them to believe in and know the Lord? If so, consider becoming a diocesan priest or a religious brother or sister.

If you feel this call, "inquire within" and Please contact the Vocations Office the Vocations Office at (973) 497-4365 or by E-mail at kellyric@rcan.org. Or visit our web site at www.rcan.org.
Page 2

STEWARDSHIP THOUGHT FOR THE WEEK


When Jesus heard about the illness of His friend Lazarus, He responded, "This illness is not to end in death; rather it is for God's glory, that through it the Son of God may be glorified." Every aspect of our lives - our gifts as well as our sufferings - can, if surrendered to Christ, lead to blessing for ourselves and others.

OUR WEEKLY OFFERING
March 2002
March 9/10 $5,461.
Month's Total $11,391
Month's Average $5,659.
Mailed in $506.

We thank you!

WEEKLY AVERAGE COMPARISONS:
Month '01 Monthly Avg. '02 Monthly Avg.
February $6,070 $5,842.
March $6,227.



HOLY HOUR FOR PRIESTS


Every Tuesday the Blessed Sacrament is exposed in the church from 3PM to 4PM. It is an hour of prayer for the priests and religious men and women of the church. Prayers are also said for an increase of vocations to the priesthood and religious life. We invite you to come and spend time with the Lord for these intentions and for your personal requests. The Holy Hour closes with Benediction of the Blessed Sacrament. If you cannot join us in church, we ask you to join us from a quiet spot in your home and pray with us, asking the Lord to guide and protect our priests.




Stations of the Cross for your Lenten Preparation
Click here to pray the Stations by St. Francis with the mosaics from St. Anne's, Jersey City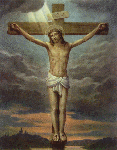 Easter Flowers


For your convenience, a "Flower" depository has been placed in the front of the church next to the altar. While beautifying the church for the Easter Season through the generosity of your donation, you will also be remembering your loved ones. On Easter Sunday in the church vestibule, there will be a "donor" list displayed. If you wish to have your loved one listed, kindly drop off your flower envelope by March 26th.

Easter Confession Schedule
Saturday, March 23rd 1-2 p.m. & 4:30-5:30 p.m.
Monday, March 25th 4-4:30 p.m. & 7-7:30 p.m.
Tuesday, March 26th 4-4:30 p.m.
Wednesday, March 27th 4-4:30 p.m. & 7-7:30 p.m.

No Confessions Are Scheduled During The Triduum (Holy Thursday, Good Friday, Holy Saturday)!!
Please plan your schedule accordingly to leave the Sacred Triduum for the priests to prepare spiritually for Easter. Thank you.


Top
page 3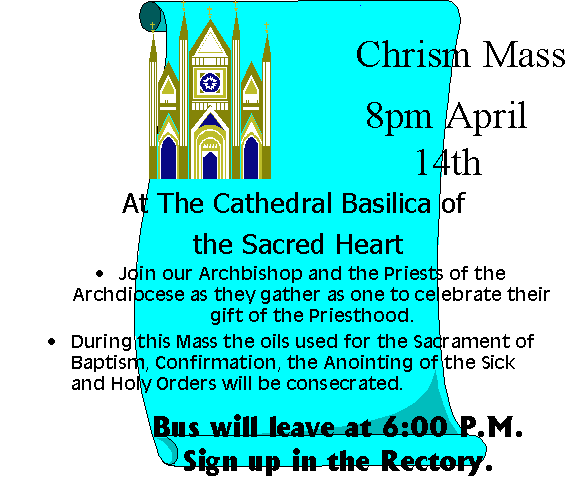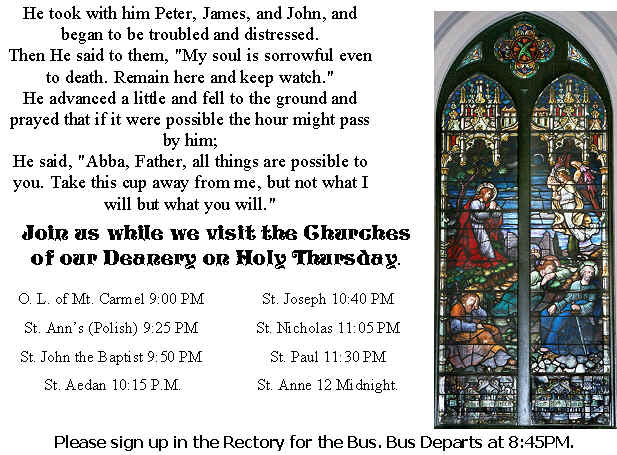 page 4
Any Easter Candy Donations Would Be Greatly Appreciated! Please Drop Off At Rectory. Thank You.
25th Anniversary
Mark your calendar! May 19, 2002 - Come join in our Parish celebration of Father Vic's 25th Anniversary in the Lord's Service. There will be a Mass of Thanksgiving at 4 p.m. in the church followed
by a reception at the Casino-in-the-Park at 6 p.m. For information please contact Marie Pianese 201-798-6534 or Jackie O'Donnell 201-798-8062.

Top page 5
MONDAY Dn 13:1-9,15-17,19-30,33-62 Ps 23:1-6 Jn 8:1-11
TUES. 2Sm 7:4-5a,12-14a,16 Ps 89:2-5,27,29 Rom 4:13,16-18,22 Mt 1:16,18-21,24a
WED. Dn 3:14-20,91-92,95 Ps Dn 3:52-56 Jn 8:31-42
THURS. Gn 17:3-9 Ps 105:4-9 Jn 8:51-59
FRIDAY Jer 20:10-13 Ps 18:2-7 Jn 10:31-42
SATURDAY Ez 37:21-28 Ps Jer 31:10-13 Jn 11:45-56
NEXT SUNDAY - PALM SUNDAY Is 50:4-7 Ps 22:8-9,17-18a,19-20,23-24 Phil 2:6-11 Mt 26:14-27:66



Deanery Lenten Penance Service


Tuesday, March 26th
St. John the Baptist
7:30 p.m.
Our Deanery will be having a Penance Service on the Tuesday during Holy Week. There will be individual confessions with many different Confessors and various languages. Transportation is up to the individual. Our host'

Baby Shower


The Padre Pio Group is proud to announce their plans for a baby shower to benefit the Precious Babies at Hudson Cradle. The babies at Hudson Cradle range from newborn to 18 months. This joyous event will be celebrated on Saturday, April 20th at 2 p.m. in St. Anne's auditorium (Congress Street entrance). Guest speaker will be Father Robert Langdon. Everyone is welcome. We ask that gifts remain unwrapped. The babies at Hudson Cradle range from newborn to 18 months. For more information, you can contact Fran at 201-653-1318 or Terry at 201-798-3394.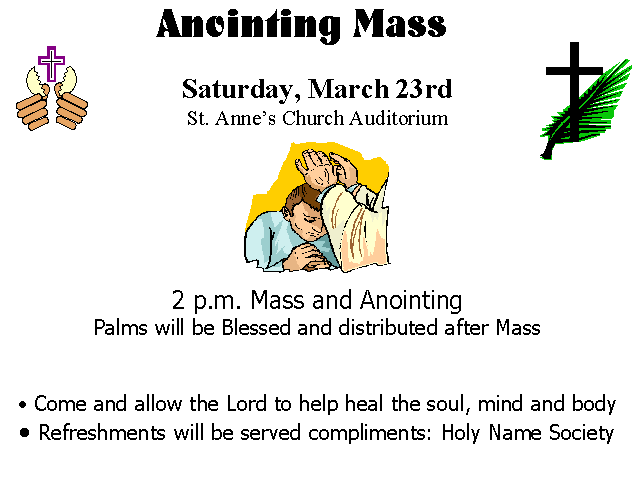 Top Page 6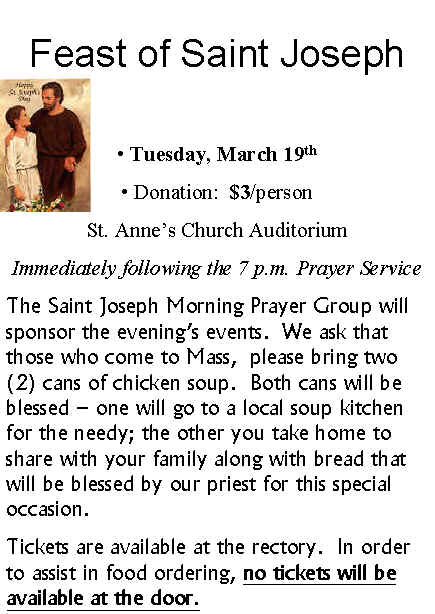 Top
page 7
Wedding Anniversary Celebrations
The Archdiocese of Newark is having their Wedding Anniversary Masses at the Cathedral Basilica in Newark as follows:
5th & 25th Wedding Anniversary
April 7, 2002 at 4:30 p.m.
50th Wedding Anniversary
April 14, 2002 at 4:30 p.m.
*Deadline for April 7 reservations: March 27th
*Deadline for April 14 reservations: April 3rd
Come to rectory to fill out form before deadline!

CCD NEWS
* Eucharistic Concert today in church at 2 p.m. for all First Communion children and their parents. All are welcome to attend.
* At the 9 a.m. Mass on Sundays during Communion preparation, First Communion children will be bringing up gifts and presenting worksheets to the celebrant. Different children will be chosen each Sunday before Mass begins.
* Our First Communicants will present the "Last Supper Presentation" on Tuesday, March 19th in Chapel Hall at 7:30 p.m. All are invited to attend.
* All parents of First Communicants, please bring in Communion fee and banners before Easter Holiday, as there is no CCD classes the week after Easter.
sheets to the celebrant. Different children will be chosen each Sunday before Mass begins.
* Our First Communicants will present the "Last Supper Presentation" on Tuesday, March 19th in Chapel Hall at 7:30 p.m. All are invited to attend.
* All parents of First Communicants, please bring in Communion fee and banners before Easter Holiday, as there is no CCD classes the week after Easter.



P A L M C R O S S E S

Place your orders now!

Sister Alberta will be selling Palm Crosses after all Masses the weekend of March 16/17 -
Or you can submit order form below TO Rectory.
Sister Alberta can be reached at 201-659-1794.

----------------------------------------------(Detach and return)-------------------------------------------------


NAME:_______________________________________PHONE:_________________ Qty:___________



Page 8
Our Website
When you log on and browse around you'll see all kinds of information about our parish. Included, of course, will be the current activities for the many different organizations as well as an update as to what is going on with our parish family.
Do not let evil defeat you: Instead, conquer evil with good!!
By your wounded heart: teach us love, teach us love, teach us love..... -Daphne Fraser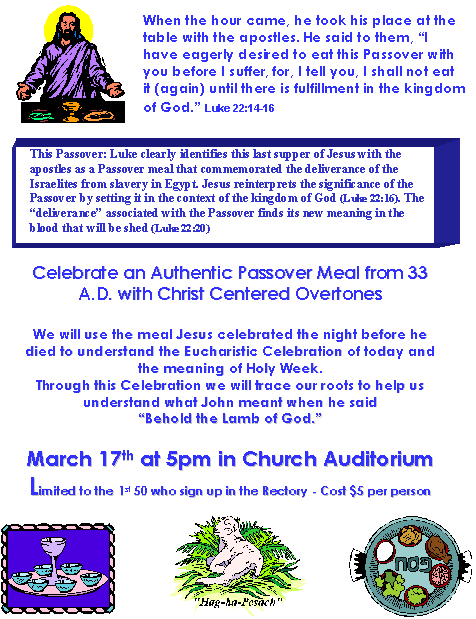 page 9
Personal Meditation
March 17, 2002
Reflections

Reflections
Psalm 36:11 God Disarms Our Adversaries
During the early 1960s, educator Robert Coles interviewed black children when their southern schools were being forcefully integrated. Dr. Coles was astonished by their courage in the face of daily threats from angry mobs of white adults.
One eight-year-old girl from North Carolina told of a time when she was "all alone, and those [segregationists] people were screaming, and suddenly I saw God smiling, and I smiled." The little girl went on to say that a woman in the crowd shouted at her, "Hey, you little nigger, what you smiling at?" The eight-year-old responded simply and sincerely, "At God." The white woman looked up into the sky, then looked at the little girl and stopped shouting and threatening her.
Those who wrote the Psalms often asked God to disarm and neutralize their enemies. We may not be facing a life-or-death situation or something of the magnitude of the struggle for integration. However, there are times when we face our own perils and dilemmas.
There are times when we find ourselves in the presence of an "enemy"--a threatening stranger who could hurt us physically, an employer who abuses us emotionally, or even a family member or friend who takes advantage of us in other ways. In those moments, we must remember to call on God for strength, protection, wisdom, safety, and security.

Thought for the Day
You need not cry very loud; he is nearer to us than we think.
* * *

Saint Patrick's Day - March 17
Born in Roman Britain around the end of the fourth century, Patrick died in Ireland about the middle of the fifth century. As a missionary bishop in Ireland, he faced hardship and opposition. Yet he preserved in his efforts to evangelize and to educate local chieftains and their families. He is remembered for his humble trust in God and his fearless preaching of the gospel to those who had enslaved him in his youth. He is specially honored in Australia because of the many Irish people who have settled in Australia, bringing with them the faith they received from Patrick.

Trivia
This saint had a dream--and it changed his life! When Patrick was only sixteen years old, he was captured in a raid and taken by ship to Ireland, where he was sold as a slave! He was put to work as a shepherd, and for seven lonely years on a desolate mountaintop, he cared for sheep and prayed and longed for home. Then one night he had a dream in which he was given "directions" about how to escape! It must have been a doozie of a dream because the next day, Patrick decided to set out on the long journey to freedom. He walked TWO HUNDRED miles before he came to the seashore and found a ship which would take him home. BUT once he got home, Patrick kept thinking about Ireland! He had liked the Irish people and felt sorry for them because they knew nothing about Jesus or his Church. Finally, Patrick returned to Ireland, taking twenty priests and deacons with him. Before long, so many people had been instructed and joined the Church that Ireland became known as a Catholic country.
Do you ever have funny dreams when you go to sleep at night? Well, what about the daytime--do you ever have "daydreams," wishes, hopes, goals, for the future? Most people don't get "instructions" in a dream; they have to make their own plans and schemes for the future. So, do some daydreaming today about your OWN goals and hopes. You know what they say--if you DON'T have a dream, then you'll never have a dream come true!