© copyright stannes4/2000
March 31st, 2002
Easter Sunday


Schedule of Masses Week of April 1st - 7th, 2002

Day

Time

Requested for

Requested by

Mon.April 1st

7 A.M.

For the People of the Parish

9 A.M.

Padre Pio Morning Prayer Group

Carmela & Louis Simone

Tues.April 2nd

7 A.M.

Truppi Family

9A.M.

Teresa Creazzo

Daughter

Wed.April 3rd

7A.M.

Arthur & Frank Salita

Salita Family

9A.M.

Mary Gallesich

Terry Lattanzi

7 PM

Arlene A. Kern

Campbell Family

Thurs.April 4th

7A.M.

James Mocarski

Family

9A.M.

Domenick Fossimo

Marian & Anthony

Fri. April 5th

7A.M.

Patrick Burke Sr.

Burke Family

9A.M.

Salvatore Lattanzi

Theresa Lattanzi

7P.M.

Lottie Jakubiec

Irene & Bill Pisciotta

Sat. April 6th

9 A.M.

Liv Theresa Lattanzi

Morning Prayer Group

6 P.M.

Special Thanksgiving

Lourdes Chua & Family

7:30PM

Nelson Pingol

Maria Mauricio

Sun. April 7th

7:30AM

Dec. Members of the Coyle Family

Mary Ann & Danny Coyle

9A.M.

Theresa & Salvatore Fontane

Daughter Virginia Rozzi

10:30AM

Liv/Dec Members of Hanley Family

Family

12 Noon

Alice Kilmer

Mr. & Mrs. Anthony Manzo
Sanctuary Gifts March 31st - April 6th, 2002

Gift

In Memory Of

Requested By

Altar Wine

Frances Thomas

Mr. & Mrs. Angelo Tango

Altar Bread

Frances Thomas

Tommasina Tango

Sanctuary Lamp

Frances Thomas

Mr. & Mrs. Gerardo Manzi

Altar Candles

Frances Thomas

Mr. & Mrs. Michael Makofka
Let Us Pray For Those Seriously Ill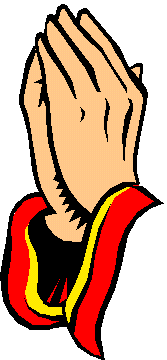 People will remain on sick list for 2 weeks unless otherwise notified:
John Mazzilli, Michele Mazzilli, Socorro Kennedy, Helen Dinicola, Bridget Burke, Angelica Krajnik and John O'Connor

Vocation reflections

On the first day of the week, Peter and the other disciples ran to the tomb. They went in, they saw, and they believed. They now understood. They knew that Jesus had risen from the dead. Many still do not believe. They have not experienced the truth. They need men and women who will share with them the joy of resurrection, who will teach them the faith and help them to believe. Are you one of these people? Will you do this as a priest, deacon or religious?
If you feel this call, "inquire within" and Please contact the Vocations Office the Vocations Office at (973) 497-4365 or by E-mail at kellyric@rcan.org. Or visit our web site at www.rcan.org.
Page 2

STEWARDSHIP THOUGHT FOR THE WEEK


The blind man was willing to let Jesus minister to him and willingly did all Jesus asked of him. The Pharisees were more resistant to His message, spending their time and energy to disprove the miracle. Which am I more like, the man born blind or the Pharisees

OUR WEEKLY OFFERING
March 2002
March23/24 $7,621.
Month's Total $24,922
Month's Average $6,230.
Mailed in $404.

We thank you!

WEEKLY AVERAGE COMPARISONS:
Month '01 Monthly Avg. '02 Monthly Avg.
February $6,070 $5,842.
March $6,227.



HOLY HOUR FOR PRIESTS


Every Tuesday the Blessed Sacrament is exposed in the church from 3PM to 4PM. It is an hour of prayer for the priests and religious men and women of the church. Prayers are also said for an increase of vocations to the priesthood and religious life. We invite you to come and spend time with the Lord for these intentions and for your personal requests. The Holy Hour closes with Benediction of the Blessed Sacrament. If you cannot join us in church, we ask you to join us from a quiet spot in your home and pray with us, asking the Lord to guide and protect our priests.





Thank you for your generous donations to help beautify our Church for this Easter Season. In the church vestibule, you will find the "donor" list displayed. These names were taken from the Easter Flower envelopes that were dropped off in the depository prior to March 26th.
Daylight Savings
REMEMBER TO MOVE YOUR CLOCKS AHEAD ONE HOUR NEXT SATURDAY BEFORE GOING TO BED. DAYLIGHT SAVINGS TIME BEGINS SUNDAY, APRIL 7TH!

Sunday Bingo
April 14th at 1:30 p.m. is our next Sunday Bingo. Doors open at 12 Noon!
Padre Pio
The Padre Pio Prayer Group will meet Saturday, April 13th at 2 p.m. in the church for prayers followed by their monthly meeting in the auditorium. All are welcome.

Festival 2002
The Festival Committee will be meeting on Tuesday, April 2nd at 7 p.m. in Parish Center #3.
Anyone willing to help out with this year's Festival in any way, please attend this meeting.


Top
page 3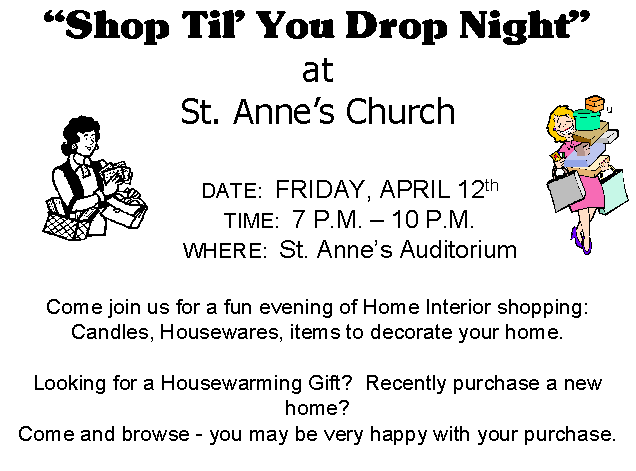 page 4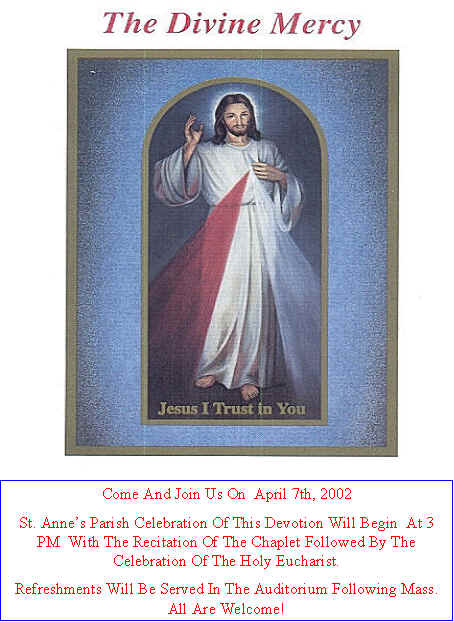 Top page 5
Our Website
When you log on and browse around you'll see all kinds of information about our parish. Included, of course, will be the current activities for the many different organizations as well as an update as to what is going on with our parish family.
Do not let evil defeat you: Instead, conquer evil with good!!
By your wounded heart: teach us love, teach us love, teach us love..... -Daphne Fraser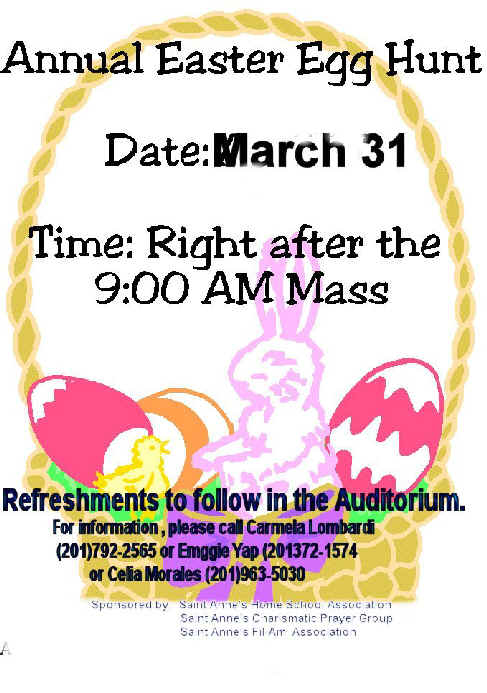 Top Page 6
25th Anniversary
Mark your calendar! May 19, 2002 - Come join in our Parish celebration of Father Vic's 25th Anniversary in the Lord's Service. There will be a Mass of Thanksgiving at 4 p.m. in the church followed by a reception at the Casino-in-the-Park at 6 p.m. For information please contact Marie Pianese 201-798-6534 or Jackie O'Donnell 201-798-8062. The Committee will not be available Easter weekend; they will resume the weekends in April.

Special Mass
A Mass for Parents Grieving the Death of a Child will be held at Holy Spirit R.C. Church, Morris Avenue and Suburban Road in Union on Saturday evening, April 6th at 7:30 p.m. For further information, please call Holy Spirit Church at 908-687-3327 or call the Office of Family Life Ministries at 973-497-4327. Pre-registration is not required. All who grieve the death of a child are invited to attend.

Luncheon
St. Joseph's Rosary Society is having a Spring Luncheon on Sunday, April 28th at 1 p.m. at the Casa Dante Restaurant on Newark Avenue in Jersey City. Tickets are $37.50 and must be purchased at the rectory in advance during regular office hours or by calling Ellen Richards at 201-653-0392.

Reunion
Benedictine Academy Grand Reunion: Are you a graduate of Benedictine Academy in Elizabeth or Paterson? If so, we invite you to a 'Grand' Reunion being planned for Saturday, April 27th, 2002. For more information, please call Sr. Germaine, Director of Development at 908-352-0670.

Top
page 7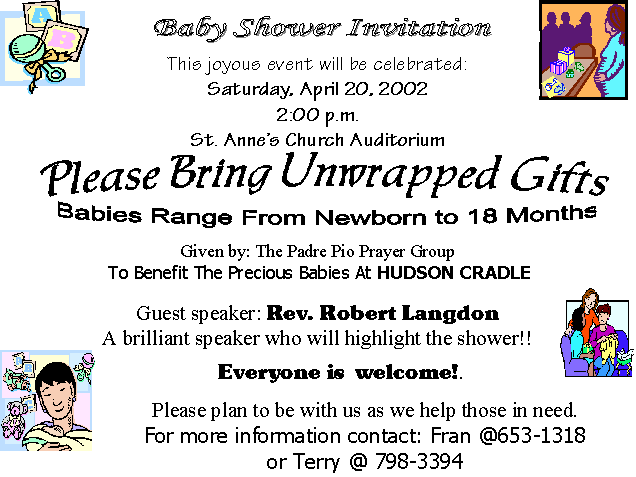 Cake Donations
The Padre Pio Group is accepting cake donations for the Baby Shower. They can be dropped off on the day of the event at 1 p.m. in the auditorium. However, a phone call to the rectory confirming your cake donation would be appreciated to allow the Group time to purchase cakes if necessary.
Gifts can be dropped off at the rectory ahead of time if you can't make it to the Shower on April 20th. Thank you in advance.

Page 8
MONDAY Acts 2:14,22-33 Ps 16:1-2a,5,7-11 Mt 28:8-15
TUES. Acts 2:36-41 Ps 33:4-5,18-20,22 Jn 20:11-18
WED. Acts 3:1-10 Ps 105:1-4,6-9 Lk 24:13-35
THURS. Acts 3:11-26 Ps 8:2a,5-9 Lk 24:35-48
FRIDAY Acts 4:1-12 Ps 118:1-2,4,22-27a Jn 21:1-14
SATURDAY Acts 4:13-21 Ps 118:1,14-15,16ab-21 Mk 16:9-15
NEXT SUNDAY - DIVINE MERCY SUNDAY Acts 2:42-47 Ps 118:2-4,13-15,22-24 1Pt 1:3-9 Jn 20:19-31



CCD NEWS
* Communicants receiving First Holy Communion on April 13/14 will have practice in church on April 8th, 10th and 11th (Monday, Wednesday, Thursday) from 3-4:30 p.m.
Communicants receiving First Holy Communion on April 20/21 will have practice in church on April 15th, 17th and 18th (Monday, Wednesday, Thursday) from 3-4:30 p.m.
Communicants are requested to arrive (20 minutes) early for Mass at which they are to receive First Holy Communion. This request comes from the Priest who will be celebrating the Mass. Thank you.
* NO CCD CLASSES TODAY AND NEXT WEEKEND DUE TO EASTER HOLIDAY!

Gift Shop

Attention Communion Parents: Communion sets for boys and girls are available in the rectory Gift Shop. These sets include prayer book, rosary, scapular and pin. We also have white ties for the boys and an assortment of other Communion and Baptismal gifts.
The Gift Shop is open Sunday 10 a.m.-1 p.m. or Monday thru Thursday until 5 p.m.

Scholarship Dinner
On Friday, April 19th, the Academy of Saint Aloysius will celebrate its First Annual Scholarship Dinner, "Sow the Seeds of Tomorrow". The Academy's Board of Trustees will host this event, which begins at 7 p.m. at Casino-in-the-Park in Jersey City. The event will include a cocktail hour with hors d'oeuvres, open bar, dinner and music. Tickets are $100 per person and the last day to make reservations is April 10th. Please call the Academy at 201-433-8877 for more information.

Annulment Information Evening
An Annulment Information Evening is scheduled for Wednesday, April 10th. A canon lawyer from the Archdiocese of Newark will discuss the most recent theology, guidelines and requirements for obtaining a Church annulment. The information will be presented in terms that all can understand. A question and answer period will conclude the session. Pre-registration is not necessary. This evening of information will be held at St. Michael's R.C. Church, 40 Alden Street, (Sarah Black Room), Cranford at 7:30 p.m. For additional information, please call the Office of Family Life Ministries at 973-497-4327.

50th Anniversary
The Church of the Ascension in New Milford, NJ will begin celebrating its 50th Anniversary in October 2002. If you or anyone you know attended Ascension School during the last 50 years, we are looking for you to help celebrate this joyous occasion. Please contact one of the following: Marguerite Morris: 201-385-0159/mmm47@earthlink.net; Camille Sommo:

page 9
Personal Meditation
Reflections
Easter Sunday: Resurrection of the Lord Jn 20:1-9

Early on the first day of the week, while it was still dark, Mary Magdalene came to the tomb and saw that the stone had been removed from the tomb. So she ran and went to Simon Peter and the other disciple, the one whom Jesus loved, and said to them, "They have taken the Lord out of the tomb, and we do not know where they have laid him." Then Peter and the other disciple set out and went toward the tomb. The two were running together, but the other disciple outran Peter and reached the tomb first. He bent down to look in and saw the linen wrappings lying there, but he did not go in. Then Simon Peter came, following him, and went into the tomb. He saw the linen wrappings lying there, and the cloth that had been on Jesus' head, not lying with the linen wrappings but rolled up in a place by itself. Then the other disciple, who reached the tomb first, also went in, and he saw and believed; for as yet they did not understand the scripture, that he must rise from the dead. Psalm 37:4
Dreaming Great Dreams for God
Many people today experience life as empty and shallow. Many feel their existence is devoid of meaning. Consequently, they simply drift along without plan or purpose. Yet God calls all of us to achieve our potential and contribute to the common good. God's intent is to "give you your heart's desire."
If you are having difficulty finding a focus for your life, here are some questions that can open up new directions. Ask yourself each question and pause to think before moving on to the next question.• What do I care about deeply?
• What brings a tear to my eye?
• What quickens my pulse?
• What brings me joy and pleasure?
• What did I want to be when I was a child?
• What makes me feel good about myself?
• What injustice makes me want to help others?
• As a child, what did I love to do?
• If I had only a few months to live, what would I do? After asking yourself these questions, listen carefully to your inner spirit. It has a wisdom all its own about what is and is not right for you. Your inner spirit will share its insights with you through signals of comfort and discomfort. The discomfort could be physical pain, emotional distress, or general malaise. The negative signals can be corrected by making a life adjustment. The positive signals should be followed and obeyed. They will lead to life in all of its fullness.

Thought for the Day
Eternal and glorious God, I affirm that your divine love inspires me to make wise choices, guides me to live wisely, energizes my daily life, sustains and upholds.