© copyright stannes4/2000
April 7th, 2002
Second Sunday of Easter


Schedule of Masses Week of April 8th-19th, 2002

Day

Time

Requested for

Requested by

Mon.April 8th

7 A.M.

For the People of the Parish

9 A.M.

Lyda & Doris Cullen

Ruth Cullen

Tues.April 9th

7 A.M.

Frank Michael Borden

Catherine Borden

9A.M.

Ann Estornel

Daughter

Wed.April 10th

7A.M.

Charles Fabre

Albert Koska

9A.M.

Mary Stefano

Michael Stefano

7 PM

Concepcion Samson

Samson Family

Thurs.April 11th

7A.M.

Edmund Hannon

Michael & Peg Madden

9A.M.

Mary Capparelli

Frank & Gemma

Fri. April 12th

7A.M.

John Mondanaro

Florence

9A.M.

Liv Gilda & Mark Spazian

Frances & Bruno Spazian

Sat. April 13th

9 A.M.

John Haggart

John & Marylou Seborowski

6 P.M.

Anthony & Josephine Juchnewich

Roselyn & George Juchnewich

7:30PM

Nelson Allen Pingol

Alfredo Pingol

Sun. April 14th

7:30AM

Liv Pat & Frank

Theresa

9A.M.

Mary & Joseph Vaccarella

Romilda Vaccarella

10:30AM

Antonina Grillo

Daughters

12 Noon

Monica Keenan

Keanan Family

1:30 PM

Cristobal Milipanpi

Milipanpi Family
Sanctuary Gifts April 7th - April 13th, 2002

Gift

In Memory Of

Requested By

Altar Wine

Mary Appleman

Delores DeLuise

Altar Bread

Mary Appleman

Delores DeLuise

Sanctuary Lamp

Mary Appleman

Delores DeLuise

Altar Candles

Mary Appleman

Delores DeLuise
Let Us Pray For Those Seriously Ill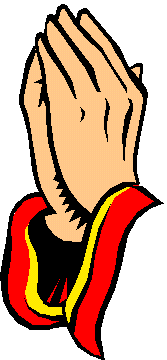 People will remain on sick list for 2 weeks unless otherwise notified:
John Mazzilli, Michele Mazzilli, Socorro Kennedy, Helen Dinicola, Bridget Burke, Angelica Krajnik and John O'Connor

Vocation reflections

On the evening of the first day of the week, Jesus appeared to his disciples. He said to them, "Peace be with you." He then offered them the Holy Spirit and sent them into the world to forgive sins and to share their faith. Today, Jesus offers peace to us, and sends us into the world. Is he sending you to do this as a priest or religious?
If you feel this call, "inquire within" and Please contact the Vocations Office the Vocations Office at (973) 497-4365 or by E-mail at kellyric@rcan.org. Or visit our web site at www.rcan.org.
Page 2

STEWARDSHIP THOUGHT FOR THE WEEK


THOUGHT FOR THE WEEK
Thomas believed because he saw the risen Jesus. Although we have never seen him, we believe in him. We give thanks to the Lord for this gift of faith, especially when we gather for the breaking of the bread and the prayers.

OUR WEEKLY OFFERING
March 2002
March30/21Easter Sunday $22,781.
Month's Total $24,922
Month's Average $6,230.
Mailed in $102.50.

We thank you!

WEEKLY AVERAGE COMPARISONS:
Month '01 Monthly Avg. '02 Monthly Avg.
February $6,070 $5,842.
March $6,227. $6,230.



HOLY HOUR FOR PRIESTS


Every Tuesday the Blessed Sacrament is exposed in the church from 3PM to 4PM. It is an hour of prayer for the priests and religious men and women of the church. Prayers are also said for an increase of vocations to the priesthood and religious life. We invite you to come and spend time with the Lord for these intentions and for your personal requests. The Holy Hour closes with Benediction of the Blessed Sacrament. If you cannot join us in church, we ask you to join us from a quiet spot in your home and pray with us, asking the Lord to guide and protect our priests.




Daylight Savings
REMEMBER TO MOVE YOUR CLOCKS AHEAD ONE HOUR NEXT SATURDAY BEFORE GOING TO BED. DAYLIGHT SAVINGS TIME BEGINS SUNDAY, APRIL 7TH!

Sunday Bingo
April 14th at 1:30 p.m. is our next Sunday Bingo. Doors open at 12 Noon!
Padre Pio
The Padre Pio Prayer Group will meet Saturday, April 13th at 2 p.m. in the church for prayers followed by their monthly meeting in the auditorium. All are welcome.

CCD NEWS
* Communicants receiving First Holy Communion on April 13/14 will have practice in church on April 8th, 10th and 11th (Monday, Wednesday, Thursday) from 3-4:30 p.m.
Communicants receiving First Holy Communion on April 20/21 will have practice in church on April 15th, 17th and 18th (Monday, Wednesday, Thursday) from 3-4:30 p.m.
Communicants are requested to arrive (20 minutes) early for Mass at which they are to receive First Holy Communion. This request comes from the Priest who will be celebrating the Mass. Thank you.
* NO CCD CLASSES TODAY DUE TO EASTER HOLIDAY!

Gift Shop
Attention Communion Parents: Communion sets for boys and girls are available in the rectory Gift Shop. These sets include prayer book, rosary, scapular and pin. We also have white ties for the boys and an assortment of other Communion and Baptismal gifts.
The Gift Shop is open Sunday 10 a.m.-1 p.m. or Monday thru Thursday until 5 p.m.

Top
page 3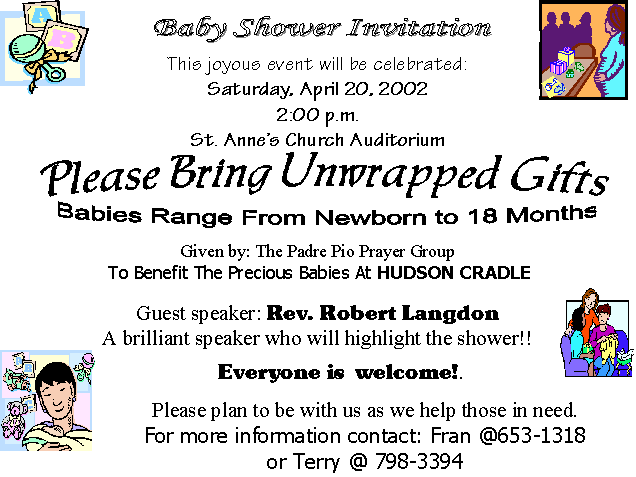 Cake Donations
The Padre Pio Group is accepting cake donations for the Baby Shower. They can be dropped off on the day of the event at 1 p.m. in the auditorium. However, a phone call to the rectory confirming your cake donation would be appreciated to allow the Group time to purchase cakes if necessary.
Gifts can be dropped off at the rectory ahead of time if you can't make it to the Shower on April 20th. Thank you in advance.
page 4
MONDAY Is 7:10-14;8:10 Ps 40:7-11 Heb 10:4-10 Lk 1:26-38
TUES. Acts 4:32-37 Ps 93:1-2,5 Jn 3:7b-15
WED. Acts 5:17-26 Ps 34:2-9 Jn 3:16-21
THURS. Acts 5:27-33 Ps 34:2,9,17-20 Jn 3:31-36
FRIDAY Acts 5:34-42 Ps 27:1,4,13-14 Jn 6:1-15
SATURDAY Acts 6:1-7 Ps 33:1-2,4-5,18-19 Jn 6:16-21
NEXT SUNDAY - THIRD SUNDAY OF EASTER Acts 2:14,22-33 Ps 16:1-2A,5,7-11 1Pt 1:17-21 Lk 24:13-35



Pastor's 25th Anniversary
Our Parish will be celebrating Father Vic's 25th Anniversary in the Lord's Service on May 19, 2002. There will be a Mass of Thanksgiving at 4 p.m. in the church followed by a reception at the Casino-in-the-Park at 6 p.m. Reception includes dinner, live entertainment and local transportation to and from the Casino-in-the-Park, if needed. Seating arrangements can be coordinated for both small and large groups (max. 10 per table). For information, please contact Marie Pianese 201-798-6534 or Jackie O'Donnell 201-798-8062.

Annulment Information Evening
An Annulment Information Evening is scheduled for Wednesday, April 10th. A canon lawyer from the Archdiocese of Newark will discuss the most recent theology, guidelines and requirements for obtaining a Church annulment. The information will be presented in terms that all can understand. A question and answer period will conclude the session. Pre-registration is not necessary. This evening of information will be held at St. Michael's R.C. Church, 40 Alden Street, (Sarah Black Room), Cranford at 7:30 p.m. For additional information, please call the Office of Family Life Ministries at 973-497-4327.

50th Anniversary
The Church of the Ascension in New Milford, NJ will begin celebrating its 50th Anniversary in October 2002. If you or anyone you know attended Ascension School during the last 50 years, we are looking for you to help celebrate this joyous occasion. Please contact one of the following: Marguerite Morris: 201-385-0159/mmm47@earthlink.net; Camille Sommo:201-384-2037/ c.sommo@worldnet.att; Diane Wall: 201-261-6762 or register at The Ascension School Alumni website www.ascensionschoolalumni.net.

Luncheon
St. Joseph's Rosary Society is having a Spring Luncheon on Sunday, April 28th at 1 p.m. at the
Casa Dante Restaurant on Newark Avenue in Jersey City. Tickets are $37.50 and must be purchased at the rectory in advance during regular office hours or by calling Ellen Richards at 201-653-0392.

St. Anne's Rosary Society Bake Sale/Flea Market
We are excited to announce that our annual Bake Sale/Flea Market will be held on Saturday, April 27th (following 6 p.m. Mass) and Sunday, April 28th (following all masses). Anyone wishing to donate baked goods or items for the flea market may drop them off at the auditorium on Saturday, April 27th at 3 p.m. We appreciate your support. See you at the Sale!


Top page 5
Our Website
When you log on and browse around you'll see all kinds of information about our parish. Included, of course, will be the current activities for the many different organizations as well as an update as to what is going on with our parish family.
Do not let evil defeat you: Instead, conquer evil with good!!
By your wounded heart: teach us love, teach us love, teach us love..... -Daphne Fraser
Reunion
Benedictine Academy Grand Reunion: Are you a graduate of Benedictine Academy in Elizabeth or Paterson? If so, we invite you to a 'Grand' Reunion being planned for Saturday, April 27th, 2002. For more information, please call Sr. Germaine, Director of Development at 908-352-0670.

Teachers' Information Meeting Archdiocese of Newark Superintendent of Schools Office
Please plan to attend one of our Teachers' Information Meetings if you are considering pursuing the New Jersey Alternate Route to a career in teaching, or perhaps returning to the field after an absence of several years, but need some information about the Alternate Route and teaching in the Archdiocese of Newark. To register please call: 973-497-4260 or email KAVANAAN@RCAN.ORG . Please give your name, telephone number, number attending, and which session you plan to attend.
Place: Archdiocesan Center, 171 Clifton Ave., Newark
Date: Thursday, April 18, 2002
Time: Afternoon Session 2 p.m. OR Evening Session 7 p.m.

Couples Mark Silver & Gold Wedding Anniversaries
Archbishop John J. Myers will lead married Catholic couples in a Mass celebrating 5, 25 and 50 years of marriage in the Cathedral Basilica of the Sacred Heart, 89 Ridge St., Newark. The Archdiocese of Newark will also present couples with personalized certificates commemorating their anniversaries.
Couples in all four counties of the Archdiocese will celebrate Silver and Fifth Anniversaries on Sunday, April 7th at 4:30 p.m. The Mass for couples celebrating their Golden Anniversary will be Sunday, April 14th at 2:15 p.m. for Essex and Union County couples and 4:30 p.m. for Bergen and Hudson County couples.
"It is our desire that every couple in the Archdiocese, deserving of such recognition, be present. Their presence gives witness to the strength and stability of Christian marriages in our society today," said Judith Miller, Director of Family Life Ministries.
For more information, please call the Office of Family Life Ministries (973) 497-4325.

Grand Opening
Father Stan Fortuna will host the Grand Opening of "THE WELL", a Christian coffee house series for adults and youths of high school age. Join us on Thursday, April 25th from 7-9 p.m. at the Archdiocesan Youth Retreat Center, 499 Belgrove Drive in Kearny. Father Stan is a dynamic Christian music songwriter and performer. Gourmet coffee, food and beverages will be available. Cost is $5 at the door. For more information call 201-988-0088.

Spring Musical
On Sunday, April 21st at 3 p.m., St. Paul of the Cross will host the Park Players performance of their latest musical production "Once Upon A Slipper", an enchanting and light-hearted review of fairy tale tunes. Group rate (10 or more) tickets are: Adults $8, Seniors $6. Non-group rate tickets are: Adults $10, Seniors $8, Students $3. For tickets please call Gerry Osias at 201-963-6238 or Pat Roda at 201-792-5530.

Top Page 6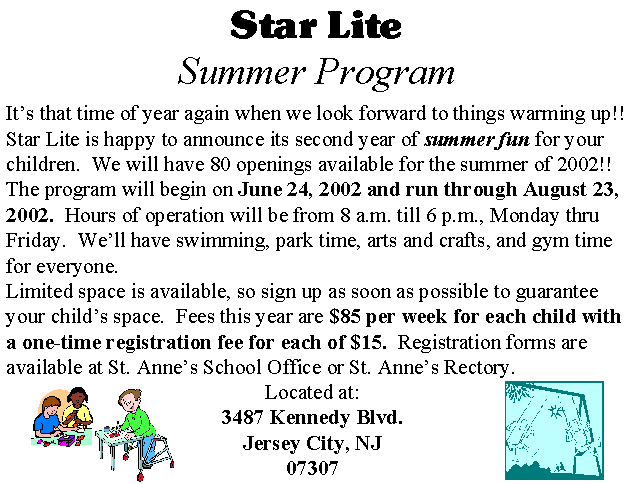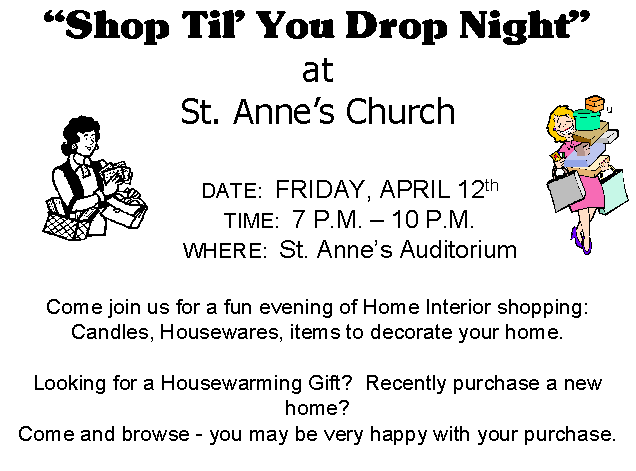 Top
page 7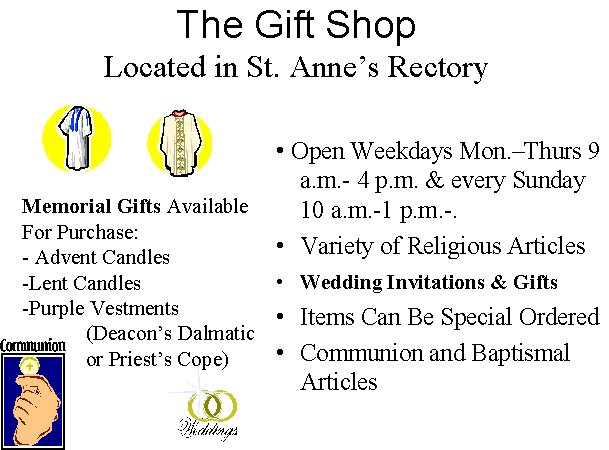 High School Information Nights
The Catholic High Schools of the Archdiocese of Newark present Spring 2002 High School Information Nights (all sessions 7-9 p.m.):
April 10th - Felician College, Student Center, 223 Montross Ave., Rutherford
April 16th - St. Helen's Parish, Parish Center, 1600 Rahway Ave.,Westfield
April 18th - Our Lady of Sorrows, School Gymnasium, 172 Academy St., South Orange
April 23rd - Annunciation Parish, Parish Center, 50 W. Midland Ave., Paramus
April 25th - Our Lady of Blessed Sacrament, Parish Auditorium, 28 Livingston Ave., Roseland
April 29th - St. Peter's College, Pavonia Dining Room, 2641 Kennedy Blvd., Jersey City
With just one visit, meet and speak with students and admissions personnel from numerous Catholic High Schools. For a brochure or information on participating schools, phone Pat Braun, Director of School Marketing for the Archdiocese, 973-497-4260.

Scholarship Dinner
On Friday, April 19th, the Academy of Saint Aloysius will celebrate its First Annual Scholarship Dinner, "Sow the Seeds of Tomorrow". The Academy's Board of Trustees will host this event, which begins at 7 p.m. at Casino-in-the-Park in Jersey City. The event will include a cocktail hour with hors d'oeuvres, open bar, dinner and music. Tickets are $100 per person and the last day to make reservations is April 10th. Please call the Academy at 201-433-8877 for more information.

Page 8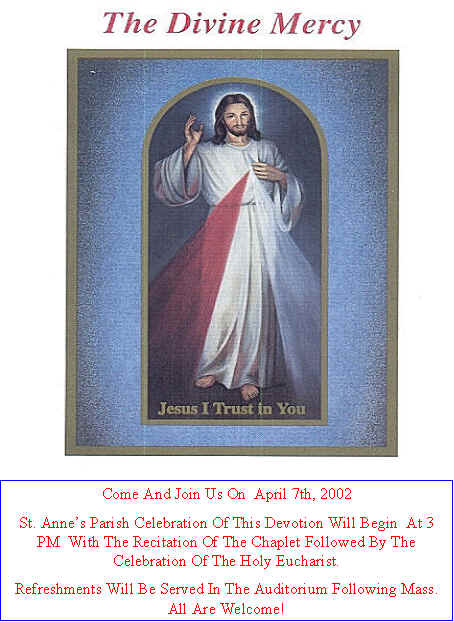 page 9
Personal Meditation
Reflections
Second Sunday of Easter
Jn 20:19-31
When it was evening on that day, the first day of the week, and the doors of the house where the disciples had met were locked for fear of the Jews, Jesus came and stood among them and said, "Peace be with you." After he said this, he showed them his hands and his side. Then the disciples rejoiced when they saw the Lord. Jesus said to them again, "Peace be with you. As the Father has sent me, so I send you." When he had said this, he breathed on them and said to them, "Receive the Holy Spirit. If you forgive the sins of any, they are forgiven them; if you retain the sins of any, they are retained." But Thomas (who was called the Twin), one of the twelve, was not with them when Jesus came. So the other disciples told him, "We have seen the Lord." But he said to them, "Unless I see the mark of the nails in his hands, and put my finger in the mark of the nails and my hand in his side, I will not believe." A week later his disciples were again in the house, and Thomas was with them. Although the doors were shut, Jesus came and stood among them and said, "Peace be with you." Then he said to Thomas, "Put your finger here and see my hands. Reach out your hand and put it in my side. Do not doubt but believe." Thomas answered him, "My Lord and my God!" Jesus said to him, "Have you believed because you have seen me? Blessed are those who have not seen and yet have come to believe." Now Jesus did many other signs in the presence of his disciples, which are not written in this book. But these are written so that you may come to believe that Jesus is the Messiah, the Son of God, and that through believing you may have life in his name.


Psalm 95:1
The Ingredients of Happiness
True happiness never comes from without but always from within. We are happy as a result of our own efforts. Here are some ingredients of happiness: a simple lifestyle and tastes courage in the face of fear, the desire to love and be loved, an ability to delay gratification some self-denial, accepting a challenge, overcoming a major problem, the gift of laughter especially at yourself, engaging in meaningful work, cultivating and maintaining friendships, accepting what cannot be changed, faith in God, a clear conscience.

Thought for the Day
When one door of happiness closes, another opens; but often we look so long at the closed door that we do not see the one which has been opened for us.