© copyright stannes4/2000
April 28th, 2002
Fifth Sunday of Easter


Schedule of Masses Week of April 29th - May 5th, 2002

Day

Time

Requested for

Requested by

Mon.April 29th

7 A.M.

For the People of the Parish

9 A.M.

Frank A. Lattanzi

Theresa Lattanzi

Tues.April 30th

7 A.M.

Elizabeth Atenucci

Thomas E Sheridan

9A.M.

Beartrice Grillo

Sisters

Wed.May 1st

7A.M.

Liv. Joseph Mocarski

Family

9A.M.

John & Klara Pekar

George & Nicholas

7 PM

Lady of Pompei

Salati Family

Thurs.May 2nd

7A.M.

Albert Peterson

April & Walter

9A.M.

Santa & Genevieve Pisani

Lynn & Michael Meloney

Fri. May 3rd

7A.M.

James V. Walsh

James V. Walsh Jr.

9A.M.

Anne Columbo

Michael Stefano

Sat. May 4th

9 A.M.

Special Intention

6 P.M.

Herbert Hartmann

Isabelle & Charlotte

7:30PM

Liv Rafael & Maria Melendez

Melendez Family

Sun. May 5th

7:30AM

James Mocarski

Family

9A.M.

Caroline Froivevaux

Family

10:30AM

Thomas Russo

Grace

12 Noon

Lester Magilion

James Magelion
Sanctuary Gifts April 28th - May 5th, 2002

Gift

In Memory Of

Requested By

Altar Wine

Frank Oterson

Susan Smith

Altar Bread

Frank Oterson

Bonnie Casser

Sanctuary Lamp

Frank Oterson

Barbara Sutcliffe

Altar Candles

Frank Oterson

Janet Eckert
Let Us Pray For Those Seriously Ill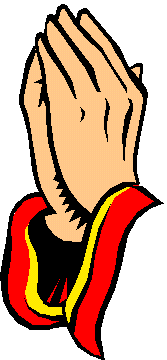 People will remain on sick list for 2 weeks unless otherwise notified:
Lester Infante, Angelica Krajnik, Florence Cirone, Frances Muzikar, Ann Palmieri, Bridget Burke, Dorothy Ensmenger, Barbara Scocco and James Doherty.

Vocation reflections

Jesus said, "I am the way and the truth and the life, whoever believes in me will do the works that I do." Are you willing to do the work that Jesus does? Do you desire to follow His way and to be led to His truth? Do you want to lead others as well? Consider doing this as a priest, deacon or religious.
If you feel this call, "inquire within" and Please contact the Vocations Office the Vocations Office at (973) 497-4365 or by E-mail at kellyric@rcan.org. Or visit our web site at www.rcan.org.
Page 2

STEWARDSHIP



STEWARDSHIP THOUGHT REFLECTION
"The one who has faith in me will do the works I do, and far greater than these," Jesus tells his disciples. That is quite an assignment for us as Christian stewards.

OUR WEEKLY OFFERING
April 2002
April 20/21 $5,486.
Month's Total $16,553.
Month's Average $5,517.
Mailed in $203.

We thank you!

WEEKLY AVERAGE COMPARISONS:
Month '01 Monthly Avg. '02 Monthly Avg.
March $6,227. $6,230.
April $6,234.



HOLY HOUR FOR PRIESTS


Every Tuesday the Blessed Sacrament is exposed in the church from 3PM to 4PM. It is an hour of prayer for the priests and religious men and women of the church. Prayers are also said for an increase of vocations to the priesthood and religious life. We invite you to come and spend time with the Lord for these intentions and for your personal requests. The Holy Hour closes with Benediction of the Blessed Sacrament. If you cannot join us in church, we ask you to join us from a quiet spot in your home and pray with us, asking the Lord to guide and protect our priests.




Rite of Christian Initiation of Adults
The RCIA Team of St.Anne's is now accepting registration for all who wish to become Catholic of for those who have been baptized Catholic and have not received their Sacraments of First Communion and/or Confirmation.
This formation is a gradual process consisting of weekly classes after the 10:30am Mass on Sundays. If you are aware of any person who is interested in becoming a Catholic or needs to receive their Sacraments, please contact Janice Fiorese at the rectory 201-656-2490.
Name: ___________________________________________________________
Address: _________________________________________________________
Phone: ____________________________________________
Upcoming Ordination
On the morning of Saturday, May 25th, Deacon Jorge Acosta will be newly ordained at the Cathedral Basilica in Newark. St. Anne's Church will be supplying transportation for anyone wishing to attend his ordination. Please sign up for the bus at the rectory ASAP. Bus will leave from in front of St. Anne's at 8 A.M. SHARP!
On Sunday, May 26th, Father Jorge will say his First Mass at St. Anne's at 12 Noon. A reception for him will follow in the auditorium.

Finance Meeting
Our final Finance Committee Meeting for this fiscal year will be held on Monday, May 13th at 7:30 p.m. in the rectory.

Top
page 3
Our Website
When you log on and browse around you'll see all kinds of information about our parish. Included, of course, will be the current activities for the many different organizations as well as an update as to what is going on with our parish family.
Do not let evil defeat you: Instead, conquer evil with good!!
By your wounded heart: teach us love, teach us love, teach us love..... -Daphne Fraser
Weekend Flea Market
V e n d o r s W a n t e d ! !
SATURDAY, MAY 18TH 9 A.M.-4 P.M.
SUNDAY, MAY 19TH 9 A.M.-2 P.M.
$20/TABLE $35 FOR 2 TABLES
SPECIAL - If you reserve for 2 days, $15 per table per day!
Call Sister Alberta at 201-659-1794
Sponsored by: St. Anne's Religious Education
Held at: St. Anne's Church Auditorium 3545 Kennedy Blvd (Congress St. Entrance), Jersey City

St. Anne's Rosary Society Bake Sale/Flea Market
We are excited to announce that our annual Bake Sale/Flea Market will be held on Saturday, April 27th (following 6 p.m. Mass) and Sunday, April 28th (following all masses).
Anyone wishing to donate baked goods or items for the flea market (Please...NO CLOTHES OR BOOKS) may drop them off at the auditorium on Saturday, April 27th after 3 p.m. We appreciate your support. See you at the Sale!
Coffee/Tea & rolls will be offered at our Bake Sale/Flea Market after each Mass.
page 4
MONDAY Acts 14:15-18 Ps 115:1-5,15-16 Jn 14:21-26
TUES. Acts 14:19-28 Ps 145:10-13ab,21 Jn 14:27-31a
WED. Acts 15:1-6 Ps 122:1-5 Jn 15:1-8
THURS. Acts 15:7-21 Ps 96:1-3,10 Jn 15:9-11
FRIDAY 1Cor 15:1-8 Ps 19:2-5 Jn 14:6-14
SATURDAY Acts 16:1-10 Ps 100:2,3,5 Jn 15:18-21
NEXT SUNDAY - SIXTH SUNDAY OF EASTER Acts 8:5-8,14-17 Ps 66:1-3a,4-7a 1Pt 3:15-18 Jn 14:15-21



High School Information Nights
The Catholic High Schools of the Archdiocese of Newark present Spring 2002 High School Information Nights (all sessions 7-9 p.m.):

April 29th - St. Peter's College, Pavonia Dining Room, 2641 Kennedy Blvd., Jersey City
With just one visit, meet and speak with students and admissions personnel from numerous Catholic High Schools. For a brochure or information on participating schools, phone Pat Braun, Director of School Marketing for the Archdiocese, 973-497-4260.

Celebrity Golf Tournament
The Office of CYO/Youth & Young Adult Ministries will hold its annual Celebrity Golf Classic Tournament on Monday, May 20th at the Edgewood Country Club in River Vale, New Jersey. The celebrity honoree at this year's fundraiser, dinner and auction of sports memorabilia will be Tiki Barber of the New York Giants. Golfers can register as individuals or foursomes. Corporate sponsorships and purchases of advertising space in the Commemorative Sports Journal are also available. For more information or registration information, call the office of Youth & Young Adult Ministries at 973-497-4512.


St. Dominic Academy
Attention 8th Grade Girls!! St. Dominic's has limited space available for qualified 8th grade girls entering Freshman year of high school this September. St. Dominic's is located at 2572 Kennedy Boulevard in Jersey City. Apply now!! Call (201) 434-5938 x35 or email stdominicacad@hotmail.com for more information. Tours available, "Freshman For A Day" program.

Softball Clinic
Attention 8th, 7th and 6th Grade Girls!!! You're invited to St. Dominic Academy's Softball Clinic/Camp Day on Saturday, May 4th from 10 a.m. to 2 p.m. in Lincoln Park in Jersey City. For more information or to sign up, please call the school at (201) 434-5938 or email stdominicacad@hotmail.com.

Second Collection
Next weekend, we will participate in a special collection for mission parishes in the United States and its dependencies. This appeal strengthens the Church at home by supporting Catholic communities in need. It assists dioceses that serve the pastoral needs of Hispanics and other ethnic groups. It enables Catholic parishes in poor and remote communities to provide Mass, the sacraments, and religious education for their people. The Catholic Home Missions

Meet the Leaders
Archbishop John J. Myers will be featured on Cablevision's interview show, Meet the Leaders,
in the upcoming weeks. The show can be viewed the following dates and times on Channel 70: Hudson/Bayonne areas - Sunday, May 12th 12:30 p.m.; Monday, May 13th 10 p.m.; Wednesday, May 15th 9 p.m.; Friday, May 16th 5 p.m. The show may also be aired on a later date on more local television channels throughout the state.


Top page 5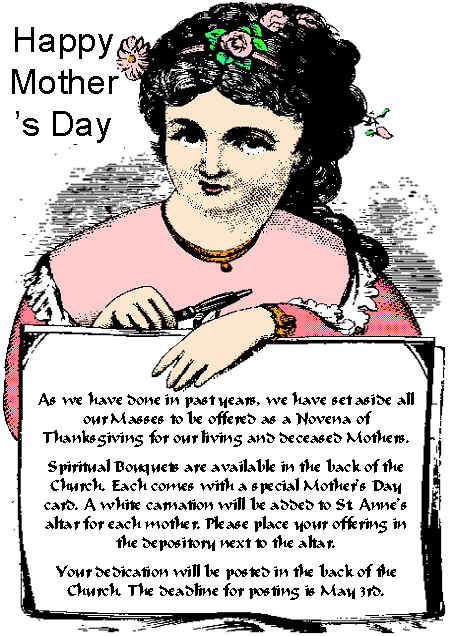 Night At The Races
On Friday, May 3rd at 7 p.m., Our Lady of Mount Carmel in Jersey City is sponsoring a Night At The Races. It will be held in their school gym, 95 Broadway (entrance on Giles Ave.). Donation $20 includes hot buffet. Come join the fun! Tickets available at Mount Carmel's school, rectory office or call 201-435-0209 to reserve ticket to pick up at door.

Annulment Information Evening
An Annulment Information Evening is scheduled for Wednesday, May 8th. A canon lawyer from the Archdiocese of Newark will discuss the most recent theology, guidelines and requirements for obtaining a Church annulment. The information will be presented in terms that all can understand. A question and answer period will conclude the session. Pre-registration is not necessary. This evening of information will be held at Our Lady of the Blessed Sacrament Church, (Founders' Hall), 28 Livingston Ave., Roseland at 7:30 p.m. For additional information, please call the Office of Family Life Ministries 973-497-4327.


Mother's Day Dance
Sponsored by
Our Lady of Guadalupe
May 11, 2002
8:30 p.m. Till -
St. Anne's Church Auditorium

Tickets purchased in advance: $10
Sold at door: $12

Food, Drink, Music And 50/50 To Be Sold


Top Page 6
Our Parish Celebrates


Our Pastor, Father Vic Kennedy, will be celebrating the 25th Anniversary of his Ordination to the Priesthood. As a parish family, we will celebrate with him! This very special event will begin with a Mass of Thanksgiving at 4 p.m., May 19th. Father Vic's family, many of his brother priests, and friends will join with us as we gather to thank the Lore for the gift of his priesthood.
If you have tickets for the dinner at the Casino-in-the-Park following the Mass and are in need of transportation, please call Clare Morse at 201-795-2877
For any other questions regarding the dinner for Father Vic, please call Jackie O'Donnell at 201-798-8062 or Marie Pianese at201-798-6534.



Top
page 7
Religious Education Application
Please enroll my child for the upcoming Religious Education classes which will begin in September. (Please use separate application for each child.)
Name of Child:________________________DOB:___________Grade:______School:____________
Catholic: Yes ( ) No ( ) If yes, Church baptized:____________________Date:_________ First Communion : Yes ( ) No ( ) If yes,Church_____________________Date:_________
Confirmation: Yes ( ) No ( ) If yes, Church________________________Date:_________
Name Parent/Guardian:______________________________________Home Phone:_______________
Address:____________________________________________________Work Phone:________________
In case of emergency, please call:
Name:_________________________Relationship to child:______Phone #____________

First Holy Communion
Children receiving First Holy Communion this weekend are: Sandra Bertone, Daniel Riccardi, Thomas Rutkowski, Katelyn Beam, Daniel Weir, Jace Colon, Adonis Rosario, Roman Rosario, Nicole Carbone, Rebecca Barrett, Alexis Giglio, Michael Turner. Congratulations!

CCD News
* Closing Social on Sunday, May 5th! Today is last day for tickets. All parents are asked to attend to show your child your support. Report cards and awards will be given out.
* If child is not re-registered by "Closing Social", you will be charged a late fee of $10.
* New registration will be taken May 6th. Payment is not necessary at time of registration. Please fill out form above, attach copy of baptismal certificate along with $40 fee and drop off at CCD Office. If you have a child in grades 1st or 5th, now is the time to register for the Sacraments. If you fail to register now and come in September, a late fee will be charged.
* There will be a First Communion Commemoration Mass on May 4th at 11 A.M. in church. Practice dates for this Group Communion will be April 29th, May 1st and 2nd in church from 3-5 p.m. Practice for the May Crowning will be done at this time also.
* Teacher's Meeting Wednesday, May 1st in Parish Center #3 at 7 p.m.

Gift Shop
Attention Communion Parents: Communion sets for boys and girls are available in the rectory Gift Shop. These sets include prayer book, rosary, scapular and pin. We also have white ties for the boys and an assortment of other Communion and Baptismal gifts.
The Gift Shop is open Sunday 10 a.m.-1 p.m. or Monday thru Thursday until 5 p.m.

Calendar Meeting
On Tuesday, June 11th at 7 p.m. in the auditorium, St. Anne's annual Calendar Meeting will take place. To all Organizations: Please plan your calendar for July 1, 2002-June 30, 2003.
Drop off a copy to the attention of "Georgene"at the rectory not later than May 31st! The purpose of this meeting is to discuss any conflicting dates for the Church facilities. Those who don't submit a calendar or don't attend the meeting, will have to accept what's available! Thank you.

Page 8
Top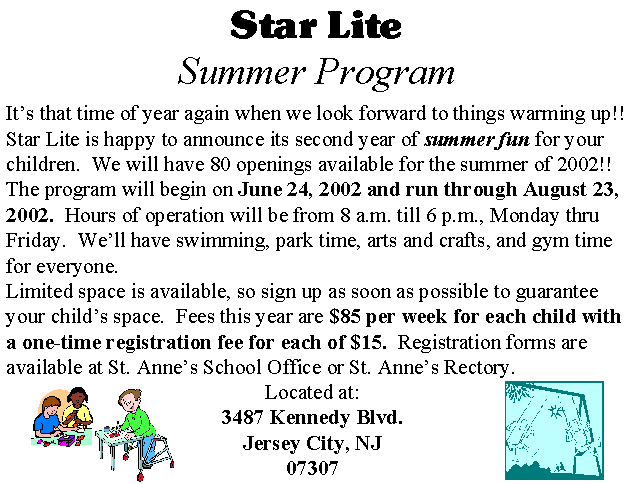 page 9
Personal Meditation
Reflections
April 28th

Fifth Sunday of Easter Jn 14:1-12
"Do not let your hearts be troubled. Believe in God, believe also in me. In my Father's house there are many dwelling places. If it were not so, would I have told you that I go to prepare a place for you? And if I go and prepare a place for you, I will come again and will take you to myself, so that where I am, there you may be also. And you know the way to the place where I am going." Thomas said to him, "Lord, we do not know where you are going. How can we know the way?" Jesus said to him, "I am the way, and the truth, and the life. No one comes to the Father except through me. If you know me, you will know my Father also. From now on you do know him and have seen him." Philip said to him, "Lord, show us the Father, and we will be satisfied." Jesus said to him, "Have I been with you all this time, Philip, and you still do not know me? Whoever has seen me has seen the Father. How can you say, 'Show us the Father'? Do you not believe that I am in the Father and the Father is in me? The words that I say to you I do not speak on my own; but the Father who dwells in me does his works. Believe me that I am in the Father and the Father is in me; but if you do not, then believe me because of the works themselves. Very truly, I tell you, the one who believes in me will also do the works that I do and, in fact, will do greater works than these, because I am going to the Father. Psalm 66:5
Compassion That Transcends Personal Need
Out of the Los Angeles earthquake of 1994 comes this remarkable, inspiring, and wonderful act of compassion.
When sixteen people were killed in an apartment building, a group of people in Michigan decided to help financially. Quickly, they raised money and sent two representatives to Los Angeles. They presented six checks for eight-hundred-fifty dollars each to those who had lost loved ones and three checks for one-hundred-fifty dollars each to other hard-hit residents.
Jim Enos was given an eight-hundred-fifty-dollar check. His wife, Darla, was killed in the quake. However, Enos quietly slipped his check into the hands of Hyun Sook Lee, another resident, whose husband and fourteen-year-old son were killed and whose twelve-year-old son was seriously injured. When asked about his outpouring of generosity, Enos replied simply, "She lost her entire family. I lost my wife, but she lost more."
We can take a lesson from Enos' remarkable act: we can be compassionate in spite of our own needs and hurts. We must not allow anything to dim our sense of compassion for others. As Christians, we must never take what Saint Ignatius of Antioch calls "a merely natural attitude" toward our neighbor.

Thought for the Day
Let none of you take a merely natural attitude toward his neighbor, but love one another continually in Christ.