© copyright stannes4/2000
June 16th, 2002
11th Sunday in Ordinary Time


Schedule of Masses Week of June 17th - 23rd, 2002

Day

Time

Requested for

Requested by

Mon.June 17th

7 A.M.

For the People of the Parish

9 A.M.

Gerardo Chiara

Teresa Fusco

Tues.June 18th

7 A.M.

Michael Glennon

Family

9A.M.

Thomas Browne

Wife & Family

Wed.June 19th

7A.M.

Carmine Creazzo

Tony Belfiore

9A.M.

Liv. Priest of St. Anne's

Morning Prayer Group

7 PM

Mary Leinas

Hogan Family

Thurs.June 20th

7A.M.

Giacomo Fioccola

Family

9A.M.

William Offerson

Mom

Fri. June21st

7A.M.

James Mocarski

Family

9A.M.

Deceased Priests of St. Anne's

Morning Prayer Group

Sat. June 22nd

9 A.M.

Msgr. Edward Larkin

6 P.M.

Dorothy Anderson

Family

7:30PM

Teresa Arce

Sun. June 23rd

7:30AM

Dec. Members of the Wadleigh Family

Family

9A.M.

Anna V. Fiore

Daughter

10:30AM

Anna Evangelista

Anthony Evangelista

12 Noon

Thomas DeStefano

Michael Stefano
Sanctuary Gifts June 16th -23rd, 2002

Gift

In Memory Of

Requested By

Altar Wine

Edmond Hannon

Rosary Society

Altar Bread

Raymond H. Spellmeyer

Lorraine Dewan

Sanctuary Lamp

Raymond H. Spellmeyer

Madeline Gerrity

Altar Candles

Robert Wojciechowicz

Kathleen Wong
Let Us Pray For Those Seriously Ill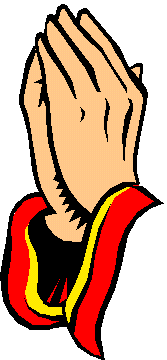 People will remain on sick list for 2 weeks unless otherwise notified:
Ron Lenahan, Barbara Scocco, John Wochna, Lester Infante, Rosie Renton, Michele Mazzile and Angelica Krajnik.

Vocation reflections

Jesus' heart was moved with pity at the sight of the crowds who he saw as "sheep without a shepherd." He then admonished his disciples to "Beg the harvest master to send our laborers to gather his harvest." It was then that he summoned his twelve disciples and sent them forth. Little has changed in the 2000 years since. We still need shepherds and we too are the ones called, as were the Twelve, to go forth and bear witness to the reign of God. Perhaps the Lord is calling you to do so as a priest, brother or religious?
If you feel this call, "inquire within" and Please contact the Vocations Office the Vocations Office at (973) 497-4365 or by E-mail at kellyric@rcan.org. Or visit our web site at www.rcan.org.
Page 2

STEWARDSHIP



STEWARDSHIP SCRIPTURE REFLECTION
In today's Gospel, Jesus sends out His disciples to meet the needs of others. His admonition to them is the same challenge He makes to us: "The gift you have received, give as a gift."

OUR WEEKLY OFFERING
June 2002
June 8/9 $4,777.
Month's Total $11,550.
Month's Average $5,774.
Mailed in $45.

We thank you!

WEEKLY AVERAGE COMPARISONS:
Month '01 Monthly Avg. '02 Monthly Avg.
May $5,629. $5,260.
June $6,659.



HOLY HOUR FOR PRIESTS


HOLY HOUR WILL BE SUSPENDED FOR THE SUMMER MONTHS OF JULY AND AUGUST. IT WILL RESUME IN SEPTEMBER. PLEASE PRAY FOR OUR PRIESTS FROM YOUR HOME DURING THIS TIME.
Every Tuesday the Blessed Sacrament is exposed in the church from 3PM to 4PM. Those who come dedicate an hour of prayer for the priests, DIVINE MERCY and religious men and women of the church. Prayers are also said for an increase of vocations to the priesthood and religious life. We invite you to come and spend time with the Lord for these intentions and for your personal requests. The Holy Hour closes with Benediction of the Blessed Sacrament. If you cannot join us in church, we ask you to join us from a quiet spot in your home and pray with us, asking the Lord to guide and protect our priests.





Rite of Christian Initiation of Adults
The RCIA Team of St.Anne's is now accepting registration for all who wish to become Catholic of for those who have been baptized Catholic and have not received their Sacraments of First Communion and/or Confirmation.
This formation is a gradual process consisting of weekly classes after the 10:30am Mass on Sundays. If you are aware of any person who is interested in becoming a Catholic or needs to receive their Sacraments, please contact Janice Fiorese at the rectory 201-656-2490.
Name: ___________________________________________________________
Address: _________________________________________________________
Phone: ____________________________________________
Bingo Canceled
In order to accommodate those volunteers who work and run St. Anne's Bingo, there will be NO Bingo for Tuesday, June 18th and Friday, June 21st.

Top
page 3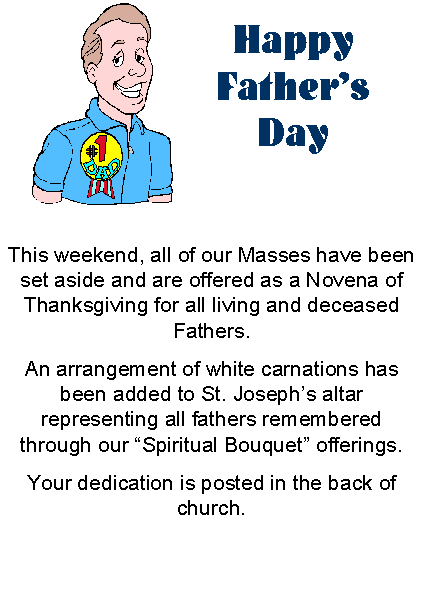 page 4
Our Website
When you log on and browse around you'll see all kinds of information about our parish. Included, of course, will be the current activities for the many different organizations as well as an update as to what is going on with our parish family.
Do not let evil defeat you: Instead, conquer evil with good!!
By your wounded heart: teach us love, teach us love, teach us love..... -Daphne Fraser
2002 Feast of St. Anne's
Work Schedule
(Please reply as soon as possible or call)
John Romano 201-420-8565 Caesar Tan 201-459-1285
Donna De Somma 201-792-3731 Janice Fiorese 201-656-2490
Name: _________________________________ Telephone: _____________________________
Address: __________________________________ City: ______________________ Zip _____________
Description of Positions
(Please check where you would like to work)
___ Indoor Games- You must be 18 years old
___ 50/50 (sell tickets) You must be 18 years old
___ Floater- willing to work where needed
___ Food Server- work in booths serving food
___ Set up & breakdown booths
___ Clean- up
Please check off the times when you are available to work
Friday July26th 5:00pm-7: 30pm ___ 7:45pm-11:00pm ____
Saturday July 27th 1:45pm-4:00pm____ 4:15pm-7:00pm ____
7:15pm-9:00pm ____ 9:15PM- 11:00pm ____
Sunday July28th 1:45pm-4:00pm___ 4:15pm- 7:00pm
7:15pm- 9:00pm ___ 9:15pm- 11:00pm
___ I am available to work anytime during the feast
If you would like to print out the form, click here
Top page 5
"St. Anne" Novena and Festival 2002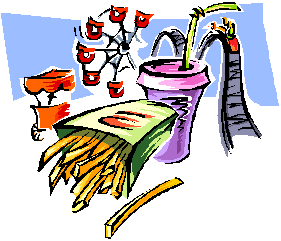 e Novena and Festival
St. Anne's Festival is set for the weekend of July 26th, 27th, 28th. There will be food, entertainment and games for both children and adults. Stop by for the activities.
Festival Meetings are held every Tuesday from now until the Festival in Parish Center #3 at 7 p.m. These meetings are open to anyone interested in helping out! Please pick up a Volunteer Form from the church vestibule. New faces are welcome!

Let's not forget our Novena to Saint Anne, our Patroness, July 18th-26th at 7 p.m. in Church, except on Saturday, July 20th - no evening Novena.


Gift Wheel

The Padre Pio and St. Joseph Prayer Groups will be sponsoring a booth at St. Anne's Festival. Donations of new/unused gifts will be gladly accepted. If you feel you do not have the time to shop, monetary donations will also be gladly accepted. Time is drawing near. Items or donations can be dropped off at the rectory marked "St. Joseph Prayer Group".

Summer Institute at the College of St. Elizabeth
Excellent programs in theology, spirituality, and scripture will be offered by the Center for Theological and Spiritual Development, July 7th-18th. Please call 973-290-4300/4364 for a brochure or visit the website at www.csespirit.org .

Programs in Theology, Spirituality and Scripture
The Center for Theological and Spiritual Development at the College of St. Elizabeth offers many excellent programs, i.e., certificate workshops, lectures, and special events throughout the year. Please call 973-290-4300/4364 for Pathways, a brochure giving all of the details about these events, or visit our website at www.csespirit.org .
Location of our Parish Center
For those who are unfamiliar with the location of St. Anne's Parish Center, it's the annex section of St. Anne's School. The entrance is located behind the rectory.
Directions: Take the pathway to the left of the rectory, proceed through brown gate on right. Door to Parish Center is right there. Ring the doorbell of the room meeting is in and someone from that meeting will answer the door.
Summer School Program
Saint Dominic Academy is offering a Summer School Program for female only high school students and those preparing to enter high school. Remedial Courses and Enrichment Courses namely, Introduction to Chemistry, Language Arts Workshop and Basic Math Skills are available. Also, this year SDA is offering a Summer Seminar to rising 7th and 8th graders. This program includes Pre-Algebra, Creative Writing, Visual Design, Developing Leadership, Study Skills and Film and Literary Criticism. This program runs Monday through Thursday from June 24th to August 1st, 2002. For further information, call 201-434-5938.

Top Page 6
MONDAY 1Kgs 21:1-16 Ps 5:2-3,5-7 Mt 5:38-42
TUES. 1Kgs 21:17-29 Ps 51:3-6,11-16 Mt 5:43-48
WED. 2Kgs 2:1,6-14 Ps 31:20-21,24 Mt 6:1-6,16-18
THURS. Sir 48:1-14 Ps 97:1-7 Mt 6:7-15
FRIDAY 2Kgs 11:1-4,9-18,20 Ps 132:11-14,17-18 Mt 6:19-23
SATURDAY 2Chr 24:17-25 Ps 89:4-5,29-34 Mt 6:24-34
NEXT SUNDAY - 12th SUNDAY IN ORDINARY TIME Jer 1:4-10 Ps 71:1-4a,5-6b,15ab,17 1Pt 1:8-12 Lk 1:5-17



Regarding Wills
"A Will is an important part of every estate plan". A person who dies without a Will (in testate) has an estate plan of sorts, but not his or her own plan. For more information, please call John McKenna at Planned Giving Office at 973-497-4125.
Finding Hope...
Many continue to grieve the personal losses of the September 11th tragedy. Others are direct survivors of the attack. All struggle with a grief that is unique. Finding Hope is a spiritually-based bereavement support group program for those directly affected by the events of September 11th. If you would like further information about this program, please call the Office of Family Life Ministries of the Archdiocese of Newark at 973-497-4327.


MASS SCHEDULE CHANGE
Due to Independence Day being a Holiday, on Thursday, JULY 4th, Mass will be concelebrated at 9:00 A.M. ONLY!!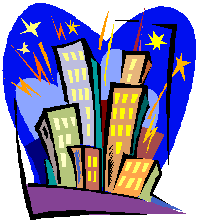 Felician College
Felician College's Virtual Campus now offers Online:
• 33 credit Master of Art in Religious Education
• 18 credit Graduate Certificate in Religious Education
• 18 credit Post-Masters Certificate in Religious Education
• Discounts of up to 50% to clergy, vowed religious, and qualified lay persons in either paid or volunteer ministry.
Visit our web site at www.felician.edu or call the Office of Adult & Graduate Admissions at 201-559-6055.
* * * * *
Lodi/Rutherford, NJ - Beginning this summer Felician College will be offering multi-level English as a Second Language (ESL) classes for adult learners. Classes are for literacy/survival level to intermediate level students. Class sessions will be held on Monday and Wednesday evenings from 7 p.m. to 9 p.m. Beginning on July 29th and ending October 7th. Each session consists of 40 hours of class time. At the time of registration, all students will be tested to determine their English proficiency level. The cost for a 40-hour session is $225 plus materials. For more information on registration, contact the Felician College Office of International Student Services at 201-559-6131.

Top
page 7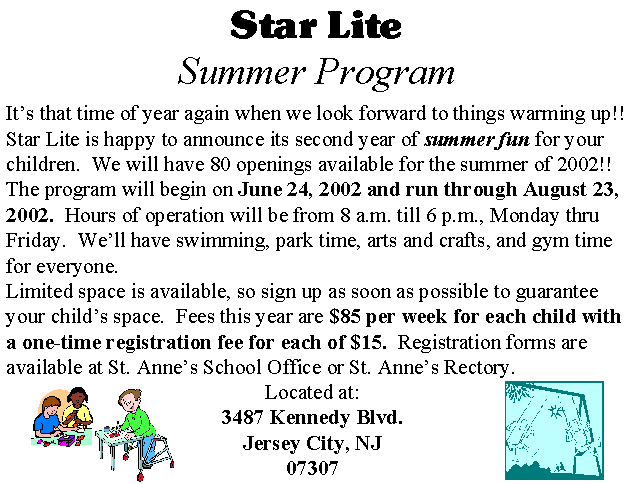 Page 8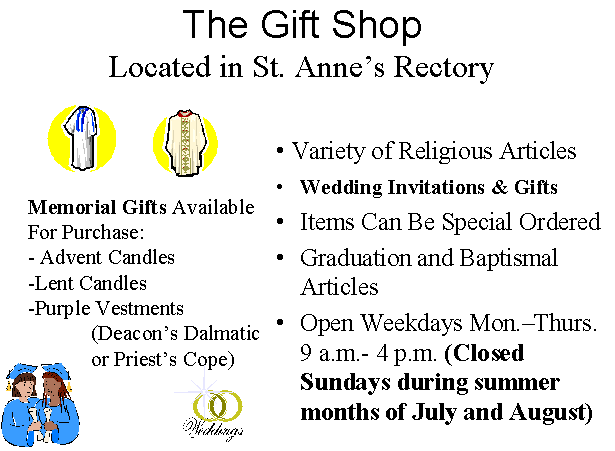 Interviews of Archbishop Myers
Perhaps some of our parishioners were lucky enough to catch this...
On Wednesday, June 12th, NBC's TODAY SHOW and CNN had carried interviews of Archbishop Myers about the Charter for the Protection of Children and Young People, the document that the Bishops of the United States had taken up at their meeting in Dallas on June 13th-15th. Archbishop Myers had also appeared live on CNN with Paula Zahn on Friday, June 14th at 9 a.m. Other local and national interviews also had aired as well during the days of the meeting.
The Archbishop is a member of the US Bishops' Ad Hoc Committee on Sexual Abuse, which developed the Charter.

page 9
Personal Meditation
Sunday
June 16th 11th Sunday in Ordinary Time
Reflections
Mt 9:36—10:8
When he saw the crowds, he had compassion for them, because they were harassed and helpless, like sheep without a shepherd. Cure the sick, raise the dead, cleanse the lepers, cast out demons. You received without payment; give without payment.
Psalm 33:13
God Knows When the Water Is Rising
In South America, an immense dam was constructed across a valley, forming one of the world's largest human made lakes.
As the water gradually rose, it created many temporary islands, which grew smaller and smaller as the water level continued to climb.
Various jungle animals took refuge on those small pinnacles of land. However, their safety was in jeopardy because the water continued to rise. Kind people organized a small fleet of motorboats equipped with ropes, snares, nets, and cages and tried to save the endangered animals.
While some creatures were rescued, many resisted and fought against their rescuers. Unable to understand, the animals were afraid to trust the people who came to save them, and they perished.
God sometimes deals with us in a similar manner. We feel safe and secure on our small islands. When we are called to move off our comfortable, familiar islands, however, let us realize that it may be because the water is rising.


Affirmations for the Day
I am guided to my good by
by the power of God's love.
My life is abundantly blessed
by the power of God's love.
live in peace and confidence
by the power of God's love.

HappyFather's Day