© copyright stannes4/2000
June 23rd, 2002
12th Sunday in Ordinary Time


Schedule of Masses Week of June 24th to 30th, 2002

Day

Time

Requested for

Requested by

Mon.June 24th

7 A.M.

For the People of the Parish

9A.M.

Dominick Palmieri

Wife

Tues.June 25th

7 A.M.

Rose Nadolny

Son

9A.M.

Dominick Palmieri

Wife

Wed.June 26th

7A.M.

Marie Wilkins

Family

9A.M.

Liv. Angela Maccini

Fran Muzikar

7 PM

Albert Peterson

Kohrherr Family

Thurs.June 27th

7A.M.

John Bolger

Mary Bolger

9A.M.

Liv Richard Muzikar & Family

Mom

Fri. June28th

7A.M.

Grace Angelo

Dan Lafferty

9A.M.

Anthony DeLuise

Wife

Sat. June 29th

9 A.M.

Anita D'Amico

Family

6 P.M.

Special Thanksgiving

Lourdes Chua & Family

7:30PM

Omar Barrezuta

Martha Salgado

Sun. June 30th

7:30AM

Rosalie Torre

Torre Family

9A.M.

Ubaldo Granucci

Wife Rosina

10:30AM

Liv Angela & Ennio Maccini

Frances & Bruno Spazian

12 Noon

Liv/Dec Members of Hanley Family

Family
Sanctuary Gifts June 23rdto 29th, 2002

Gift

In Memory Of

Requested By

Altar Wine

Catherine Wojciechowicz

Kathleen Wong

Altar Bread

Raymond H. Spellmeyer

Lombardi Family

Sanctuary Lamp

Mary O'Brien

Madeline & Barbara Gerrity

Altar Candles

Walter Wojciechowicz

Kathleen Wong
Let Us Pray For Those Seriously Ill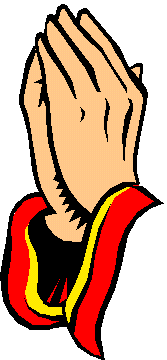 People will remain on sick list for 2 weeks unless otherwise notified:
Eugene Smarth, Lucy Decio, Barbara Scocco, Lester Infante, Angelica Krajnik, Gladys Connelly, Leeanne McGrath, and Vi Corring.

Vocation reflections

Since we have been saved by the grace of God in the person of Jesus Christ, we have no need to dear. Jesus says,."...do not be afraid of anything." This is the consoling and faith filled message of the Church. This message needs messengers so as to calm the fear of all. Perhaps the Lord is calling you to be that messenger as a priest, brother or sister?
If you feel this call, "inquire within" and Please contact the Vocations Office the Vocations Office at (973) 497-4365 or by E-mail at kellyric@rcan.org. Or visit our web site at www.rcan.org.
Page 2

STEWARDSHIP



STEWARDSHIP SCRIPTURE REFLECTION
The Psalmist assures us that "the Lord hears the poor," and often answers their need through the generosity of faithful stewards."

OUR WEEKLY OFFERING
June 2002
June 15/16 $5,711
Month's Total $17,260
Month's Average $5,753.
Mailed in $785.

We thank you!

WEEKLY AVERAGE COMPARISONS:
Month '01 Monthly Avg. '02 Monthly Avg.
May $5,629. $5,260.
June $6,659.



HOLY HOUR FOR PRIESTS


HOLY HOUR WILL BE SUSPENDED FOR THE SUMMER MONTHS OF JULY AND AUGUST. IT WILL RESUME IN SEPTEMBER. PLEASE PRAY FOR OUR PRIESTS FROM YOUR HOME DURING THIS TIME.
Every Tuesday the Blessed Sacrament is exposed in the church from 3PM to 4PM. Those who come dedicate an hour of prayer for the priests, DIVINE MERCY and religious men and women of the church. Prayers are also said for an increase of vocations to the priesthood and religious life. We invite you to come and spend time with the Lord for these intentions and for your personal requests. The Holy Hour closes with Benediction of the Blessed Sacrament. If you cannot join us in church, we ask you to join us from a quiet spot in your home and pray with us, asking the Lord to guide and protect our priests.





Rite of Christian Initiation of Adults
The RCIA Team of St.Anne's is now accepting registration for all who wish to become Catholic of for those who have been baptized Catholic and have not received their Sacraments of First Communion and/or Confirmation.
This formation is a gradual process consisting of weekly classes after the 10:30am Mass on Sundays. If you are aware of any person who is interested in becoming a Catholic or needs to receive their Sacraments, please contact Janice Fiorese at the rectory 201-656-2490.
Name: ___________________________________________________________
Address: _________________________________________________________
Phone: ____________________________________________
Summer Institute at the College of St. Elizabeth
Excellent programs in theology, spirituality, and scripture will be offered by the Center for Theological and Spiritual Development, July 7th-18th. Please call 973-290-4300/4364 for a brochure or visit the website at www.csespirit.org .

Top
page 3
"St. Anne" Novena and Festival 2002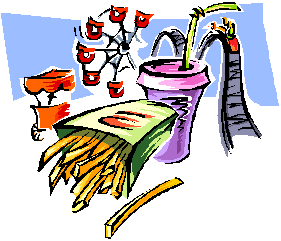 e Novena and Festival
St. Anne's Festival is set for the weekend of July 26th, 27th, 28th. There will be food, entertainment and games for both children and adults. Stop by for the activities.
Festival Meetings are held every Tuesday from now until the Festival in Parish Center #3 at 7 p.m. These meetings are open to anyone interested in helping out! Please pick up a Volunteer Form from the church vestibule. New faces are welcome!

Let's not forget our Novena to Saint Anne, our Patroness, July 18th-26th at 7 p.m. in Church, except on Saturday, July 20th - no evening Novena.

Location of our Parish Center
For those who are unfamiliar with the location of St. Anne's Parish Center, it's the annex section of St. Anne's School. The entrance is located behind the rectory.
Directions: Take the pathway to the left of the rectory, proceed through brown gate on right. Door to Parish Center is right there. Ring the doorbell of the room meeting is in and someone from that meeting will answer the door.
Regarding Wills
"A Will is an important part of every estate plan". A person who dies without a Will (in testate) has an estate plan of sorts, but not his or her own plan. For more information, please call John McKenna at Planned Giving Office at 973-497-4125.

Gift Wheel

The Padre Pio and St. Joseph Prayer Groups will be sponsoring a booth at St. Anne's Festival. Donations of new/unused gifts will be gladly accepted. If you feel you do not have the time to shop, monetary donations will also be gladly accepted. Time is drawing near. Items or donations can be dropped off at the rectory marked "St. Joseph Prayer Group".

Programs in Theology, Spirituality and Scripture
The Center for Theological and Spiritual Development at the College of St. Elizabeth offers many excellent programs, i.e., certificate workshops, lectures, and special events throughout the year. Please call 973-290-4300/4364 for Pathways, a brochure giving all of the details about these events, or visit our website at www.csespirit.org .
Summer School Program
Saint Dominic Academy is offering a Summer School Program for female only high school students and those preparing to enter high school. Remedial Courses and Enrichment Courses namely, Introduction to Chemistry, Language Arts Workshop and Basic Math Skills are available. Also, this year SDA is offering a Summer Seminar to rising 7th and 8th graders. This program includes Pre-Algebra, Creative Writing, Visual Design, Developing Leadership, Study Skills and Film and Literary Criticism. This program runs Monday through Thursday from June 24th to August 1st, 2002. For further information, call 201-434-5938.

Top page 4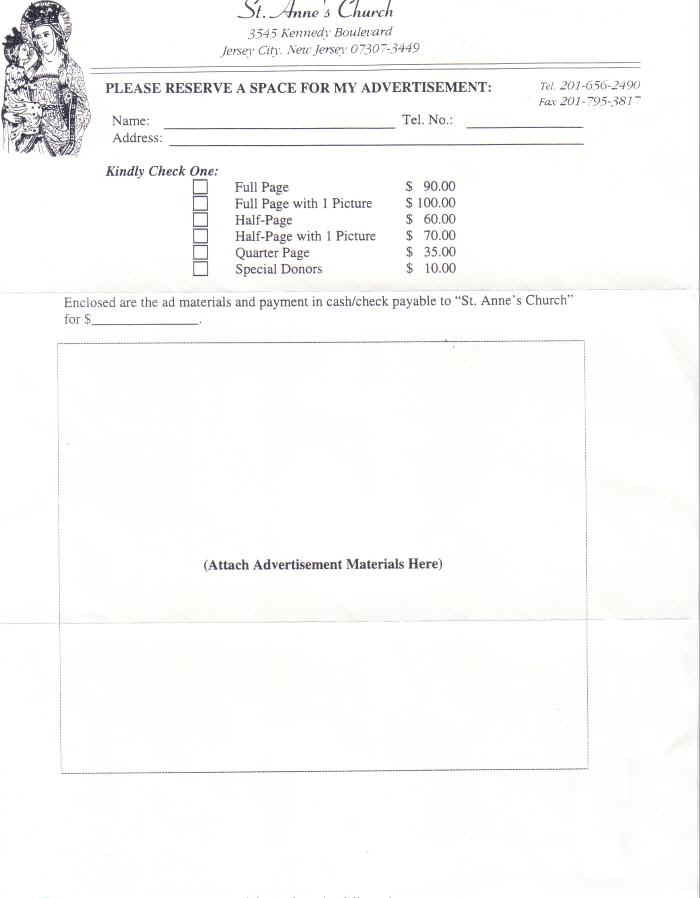 Top page 5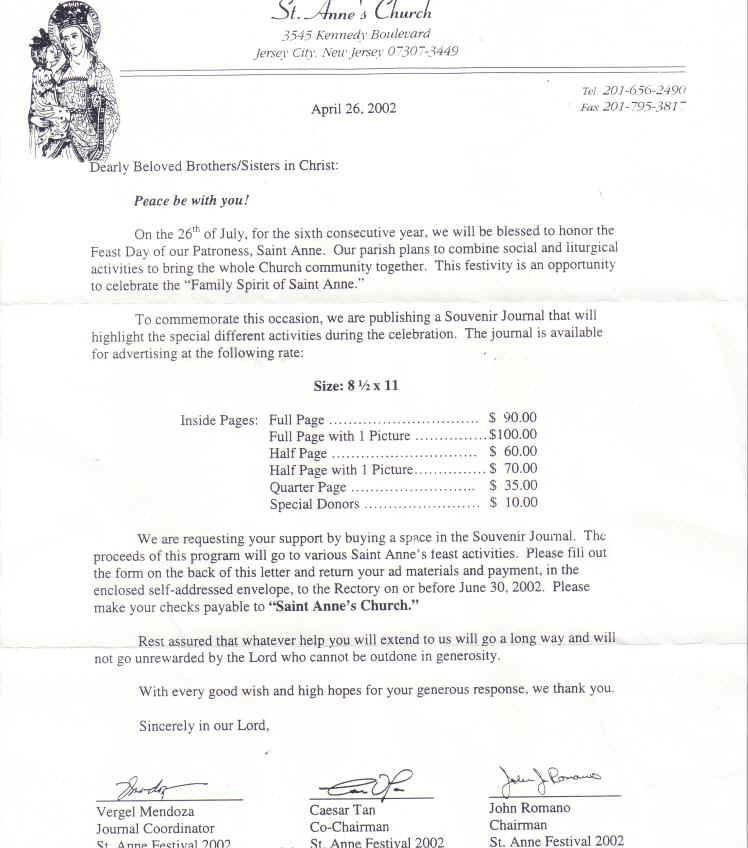 Top Page 6
Our Website
When you log on and browse around you'll see all kinds of information about our parish. Included, of course, will be the current activities for the many different organizations as well as an update as to what is going on with our parish family.
Do not let evil defeat you: Instead, conquer evil with good!!
By your wounded heart: teach us love, teach us love, teach us love..... -Daphne Fraser
Vocation Programs
Vocation Discernment Weekend Retreat: July 5th-7th. Have you ever considered becoming a Benedictine Sister? A vocation discernment weekend is being conducted for Catholic women over 18 at St. Walburga Monastery in Elizabeth, NJ on July 5th-7th. This retreat may be for you. Take time to pray and to meet with the sisters. For information and registration, call 908-353-3028.


MONASTIC LIVE-IN: July 5th-12th. Looking for peace and balance in your life? Benedictine Sisters at Saint Walburga Monastery in Elizabeth, NJ invite Catholic women over 18 to live, work an pray with the monastic community for a week beginning on Friday, July 5th. For information and registration, call 908-353-3028. Donation $150.

Prayerful Marches
On Good Friday, Archbishop John J. Myers took part in joining pro-life Catholics in Englewood in an annual Stations of the Cross for Life procession and recitation of the Rosary. The annual procession passed on abortion clinic in Englewood, where they gave witness to the sanctity of human life.
This event caused a great deal of interest on the part of many pro-life committees, and we have received suggestions to imitate him by going to pray the Rosary at abortion facilities while mothers are counseled to save their babies.
There are several places where this occurs: At Englewood, on Saturdays at 10 a.m. and Tuesdays from 8:30 a.m. At Hackensack, on Monday, Friday and Saturday arrive between 8:30 a.m. and 9:30 a.m. Call Annette (201)569-3246 or Ana Maria (201)652-4938 for information.

Future School Leaders Program
Teachers! Are you interested in Catholic school leadership? Do you feel called to accept the challenge of leading a Catholic school? The Future School Leaders Program of the Archdiocese of Newark seeks to form Catholic school leaders in the three foundational roles of spiritual, educational and managerial leadership. Applications are being accepted for the new cohort beginning in September 2002.
Pre-requisites include: practicing Roman Catholic; a minimum 5 years teaching in a Catholic school; recommendation of both pastor and current principal; and willingness to pursue a Master's degree and certification in administration.
For further information and application contact: Sister Elizabeth Scully, CND at 973-497-4260 or e-mail scullyel@rcan.org or 171 Clifton Avenue, Newark, NJ 07104.

CCD News
There are CCD Parents who still have not re-registered. It is most important that you do so before end of June or your child's name will be removed from the register. New registration will be held on June 23rd & 24th from 10 a.m. to 12 noon; 1 p.m. to 4 p.m. and in the evening from 7 p.m. to 8 p.m. Baptismal Certificate and $40 registration fee will be needed at time of registration.
A letter was sent home from the Feast Committee, Sister Alberta (CCD Director) and Mrs. Bartram (Principal of St. Anne's School) involving children to sponsor a booth of paper goods, cleaning materials and baby items (NO FOOD). If you haven't donated anything as yet, would you please consider helping out. If you have any baskets you don't need, we can use them. Parishioners are welcome to help out.

Top
page 7
2002 Feast of St. Anne's
Work Schedule
(Please reply as soon as possible or call)
John Romano 201-420-8565 Caesar Tan 201-459-1285
Donna De Somma 201-792-3731 Janice Fiorese 201-656-2490
Name: _________________________________ Telephone: _____________________________
Address: __________________________________ City: ______________________ Zip _____________
Description of Positions
(Please check where you would like to work)
___ Indoor Games- You must be 18 years old
___ 50/50 (sell tickets) You must be 18 years old
___ Floater- willing to work where needed
___ Set up & breakdown booths
Please check off the times when you are available to work
Friday July26th 5:00pm-7: 30pm ___ 7:45pm-11:00pm ____
Saturday July 27th 1:45pm-4:00pm____ 4:15pm-7:00pm ____
7:15pm-9:00pm ____ 9:15PM- 11:00pm ____
Sunday July28th 1:45pm-4:00pm___ 4:15pm- 7:00pm
7:15pm- 9:00pm ___ 9:15pm- 11:00pm
___ I am available to work anytime during the feast
If you would like to print out the form, click here
Page 8
MONDAY Is 49:1-6 Ps 139:1-3,13-15 Acts 13:22-26 Lk 1:57-66,80
TUES. 2Kgs 19:9b-11,14-21,31-35a,36 Ps 48:2-4,10-11 Mt 7:6,12-14
WED. 2Kgs 22:8-13;23:1-3 Ps 119:33-37,40 Mt 7:15-20
THURS. 2Kgs 24:8-17 Ps 79:1-5,8-9 Mt 7:21-29
FRIDAY 2Kgs 25:1-12 Ps 137:1-6 Mt 8:1-4
SATURDAY Acts 12:1-11 Ps 34:2-9 2Tm 4:6-8,17-18 Mt 16:13-19
NEXT SUNDAY - 13th SUNDAY IN ORDINARY TIME 2Kgs 4:8-11,14-16a Ps 89:2-3,16-19 Rom 6:3-4,8-11 Mt 10:37-42



MASS SCHEDULE CHANGE
Due to Independence Day being a Holiday, on Thursday, JULY

4th, Mass will be concelebrated at 9:00 A.M. ONLY!!

Felician College
Felician College's Virtual Campus now offers Online:
• 33 credit Master of Art in Religious Education
• 18 credit Graduate Certificate in Religious Education
• 18 credit Post-Masters Certificate in Religious Education
• Discounts of up to 50% to clergy, vowed religious, and qualified lay persons in either paid or volunteer ministry.
Visit our web site at www.felician.edu or call the Office of Adult & Graduate Admissions at 201-559-6055.
* * * * *
Lodi/Rutherford, NJ - Beginning this summer Felician College will be offering multi-level English as a Second Language (ESL) classes for adult learners. Classes are for literacy/survival level to intermediate level students. Class sessions will be held on Monday and Wednesday evenings from 7 p.m. to 9 p.m. Beginning on July 29th and ending October 7th. Each session consists of 40 hours of class time. At the time of registration, all students will be tested to determine their English proficiency level. The cost for a 40-hour session is $225 plus materials. For more information on registration, contact the Felician College Office of International Student Services at 201-559-6131.

Finding Hope...
Many continue to grieve the personal losses of the September 11th tragedy. Others are direct survivors of the attack. All struggle with a grief that is unique. Finding Hope is a spiritually-based bereavement support group program for those directly affected by the events of September 11th. If you would like further information about this program, please call the Office of Family Life Ministries of the Archdiocese of Newark at 973-497-4327.

The Gift Shop
St. Anne's Gift Shop is located in the rectory. Hours of operation are Monday thru Thursday 9 a.m.- 4 p.m. For the months of July and August it will be closed on Sundays.

page 9
Personal Meditation
Sunday
June 23rd 12th Sunday in Ordinary Time
Reflections
Mt 10:26-33
"So have no fear of them; for nothing is covered up that will not be uncovered, and nothing secret that will not become known. What I say to you in the dark, tell in the light; and what you hear whispered, proclaim from the housetops. Do not fear those who kill the body but cannot kill the soul; rather fear him who can destroy both soul and body in hell. Are not two sparrows sold for a penny? Yet not one of them will fall to the ground apart from your Father. And even the hairs of your head are all counted. So do not be afraid; you are of more value than many sparrows. "Everyone therefore who acknowledges me before others, I also will acknowledge before my Father in heaven; but whoever denies me before others, I also will deny before my Father in heaven.
Psalm 71:20
Healthy Dependence
A Boston executive has been through so many personal and professional crises that she refers to herself as "Calamity Jane." "I've been spared nothing," she says. "Getting fired, running out of money, having my computer stolen, taking on work I could not handle."
Initially, when trouble came her way, the woman maintained a fierce independence and determination to manage her problems alone, refusing to let anyone know of her struggles. "I put a lot of energy into keeping up a facade of being in control and completely successful," she says. "Nobody ever knew I was in trouble."
Then one day she lost an important consulting contract and was devastated. The burden was so great, she finally allowed herself to confide in friends. Immediately, they organized a breakfast to brainstorm ways the executive could network and obtain new contracts. "That got me charged up again to take action," she recalls.
This woman's experience taught her the value of healthy dependence. At times, we must be willing to admit we have problems. When we confide in another person, we open ourselves to their insight, support, and assistance. It is often through the help of a friend that God restores our strength.

Thought for the Day
A friend should bear his friend's infirmities.
Our Lady of Perpetual Help
The Feast of Our Lady of Perpetual Help will be celebrated with a Triduum Celebration. It will be Wednesday, June 26th, Thursday, June 27 and Friday, June 28th. Novena Mass will begin at 7 p.m. On June 28th (Friday), a potluck will be held in the auditorium following the Novena Mass to conclude the Triduum.