© copyright stannes4/2000
June 30th, 2002
13th Sunday in Ordinary Time


Schedule of Masses Week of July 1st-July 7th, 2002

Day

Time

Requested for

Requested by

Mon.July 1st

7 A.M.

For the People of the Parish

9A.M.

Joseph Carpenter

Capone Family

Tues.July 2nd

7 A.M.

Honor of Our Lady of Grace

Teresa Fusco

9A.M.

Edward & Butch

Ruth Cullen

Wed.July 3rd

7A.M.

James Mocarski

Family

9A.M.

Sal Favazzi

Family

7 PM

Kathleen & Joseph Flatley

Daughters

Thurs.July 4th

9A.M.

James Mocarski

Family

9A.M.

Salvatore & Rose Capparelli

Frank & Gemma

Fri. July 5th

7A.M.

Donald Wilkins

Family

9A.M.

Barbara Sarao

Jonathan Vicari

Sat. July 6th

9 A.M.

Beatrice Grillo

Frances & Angela

6 P.M.

Special Thanksgiving

Lourdes Chua & Family

7:30PM

In Thanksgiving

Veronica Reilly

Sun. July 7th

7:30AM

Frank Oterson

Wife

9A.M.

St. Joseph Prayer Group

Burke Family

10:30AM

John & Klara Pekar

George & Nicholas

12 Noon

Jean Stefano

Michael Stefano
Sanctuary Gifts June 30th - July 6th, 2002

Gift

In Memory Of

Requested By

Altar Wine

Grace Angelo

Lacey Family

Altar Bread

Grace Angelo

Lacey Family

Sanctuary Lamp

John Clifford

Doris Hollingsworth

Altar Candles

Grace Angelo

Lacey Family
Let Us Pray For Those Seriously Ill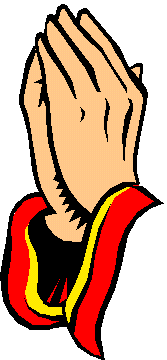 People will remain on sick list for 2 weeks unless otherwise notified:
Eugene Smarth, Lucy Decio, Barbara Scocco, Lester Infante, Angelica Krajnik, Gladys Connelly, Leeanne McGrath, and Vi Corring.

Vocation reflections

Since we have been saved by the grace of God in the person of Jesus Christ, we have no need to dear. Jesus says,."...do not be afraid of anything." This is the consoling and faith filled message of the Church. This message needs messengers so as to calm the fear of all. Perhaps the Lord is calling you to be that messenger as a priest, brother or sister?
If you feel this call, "inquire within" and Please contact the Vocations Office the Vocations Office at (973) 497-4365 or by E-mail at kellyric@rcan.org. Or visit our web site at www.rcan.org.
Page 2

STEWARDSHIP



STEWARDSHIP SCRIPTURE REFLECTION
The scriptures today speak of hospitality and welcoming Ministers of hospitality are a visible example of using one's time and talents to welcome the people of God. But the Gospel assures us that all who give even just "a cup of cold water" to one of His lowliest ones will be rewarded.

OUR WEEKLY OFFERING
June 2002
June 22/23 $5,113.
Month's Total $22,374
Month's Average $5,593.
Mailed in $380.

We thank you!

WEEKLY AVERAGE COMPARISONS:
Month '01 Monthly Avg. '02 Monthly Avg.
May $5,629. $5,260.
June $6,659.



HOLY HOUR FOR PRIESTS


HOLY HOUR WILL BE SUSPENDED FOR THE SUMMER MONTHS OF JULY AND AUGUST. IT WILL RESUME IN SEPTEMBER. PLEASE PRAY FOR OUR PRIESTS FROM YOUR HOME DURING THIS TIME.
Every Tuesday the Blessed Sacrament is exposed in the church from 3PM to 4PM. Those who come dedicate an hour of prayer for the priests, DIVINE MERCY and religious men and women of the church. Prayers are also said for an increase of vocations to the priesthood and religious life. We invite you to come and spend time with the Lord for these intentions and for your personal requests. The Holy Hour closes with Benediction of the Blessed Sacrament. If you cannot join us in church, we ask you to join us from a quiet spot in your home and pray with us, asking the Lord to guide and protect our priests.





Rite of Christian Initiation of Adults
The RCIA Team of St.Anne's is now accepting registration for all who wish to become Catholic of for those who have been baptized Catholic and have not received their Sacraments of First Communion and/or Confirmation.
This formation is a gradual process consisting of weekly classes after the 10:30am Mass on Sundays. If you are aware of any person who is interested in becoming a Catholic or needs to receive their Sacraments, please contact Janice Fiorese at the rectory 201-656-2490.
Name: ___________________________________________________________
Address: _________________________________________________________
Phone: ____________________________________________
Cursillo Movement
The Newark Archdiocese Cursillo Movement will be having an Ultreya on Friday, July 19th at the Youth Center in Kearny, NJ. Please join us for prayer and sharing at 7:30 p.m. Hope to see you there! Decolores! Post Cursillo Committee 201-863-5787 or access www.mycursillo.com .

Top
page 3
"St. Anne" Novena and Festival 2002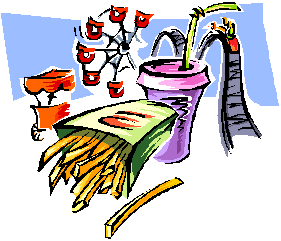 St. Anne's Festival is set for the weekend of July 26th, 27th, 28th. There will be food, entertainment and games for both children and adults. Stop by for the activities.
Festival Meetings are held every Tuesday from now until the Festival in Parish Center #3 at 7 p.m. These meetings are open to anyone interested in helping out! Please pick up a Volunteer Form from the church vestibule. New faces are welcome!

Let's not forget our Novena to Saint Anne, our Patroness, July 18th-26th at 7 p.m. in Church, except on Saturday, July 20th - no evening Novena.


Gift Wheel

The Padre Pio and St. Joseph Prayer Groups will be sponsoring a booth at St. Anne's Festival. Donations of new/unused gifts will be gladly accepted. If you feel you do not have the time to shop, monetary donations will also be gladly accepted. Time is drawing near. Items or donations can be dropped off at the rectory marked "St. Joseph Prayer Group".

Regarding Wills
"A Will is an important part of every estate plan". A person who dies without a Will (in testate) has an estate plan of sorts, but not his or her own plan. For more information, please call John McKenna at Planned Giving Office at 973-497-4125.
Programs in Theology, Spirituality and Scripture
The Center for Theological and Spiritual Development at the College of St. Elizabeth offers many excellent programs, i.e., certificate workshops, lectures, and special events throughout the year. Please call 973-290-4300/4364 for Pathways, a brochure giving all of the details about these events, or visit our website at www.csespirit.org .

How Sweet It Is!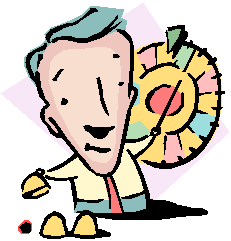 Good-bye Basket Wheel...Hello Candy Wheel!
Jackie O. and the group who organized their great Basket Wheel in past years are planning a Candy Wheel for this year's festival.
The Basket Wheel was a success because our parishioners donated such beautiful items for the baskets. This year, instead of gifts, monetary donations would be appreciated so Jackie O and her group can purchase the candy themselves.
Donations can be dropped off at the rectory, marked "Jackie O/Candy Wheel". Thanks!

Summer Institute at the College of St. Elizabeth
Excellent programs in theology, spirituality, and scripture will be offered by the Center for Theological and Spiritual Development, July 7th-18th. Please call 973-290-4300/4364 for a brochure or visit the website at www.csespirit.org .

The Gift Shop
St. Anne's Gift Shop is located in the rectory. Hours of operation are Monday thru Thursday 9 a.m.- 4 p.m.
For the months of July and August it will be closed on Sundays.

Top page 4
Our Website
When you log on and browse around you'll see all kinds of information about our parish. Included, of course, will be the current activities for the many different organizations as well as an update as to what is going on with our parish family.
Do not let evil defeat you: Instead, conquer evil with good!!
By your wounded heart: teach us love, teach us love, teach us love..... -Daphne Fraser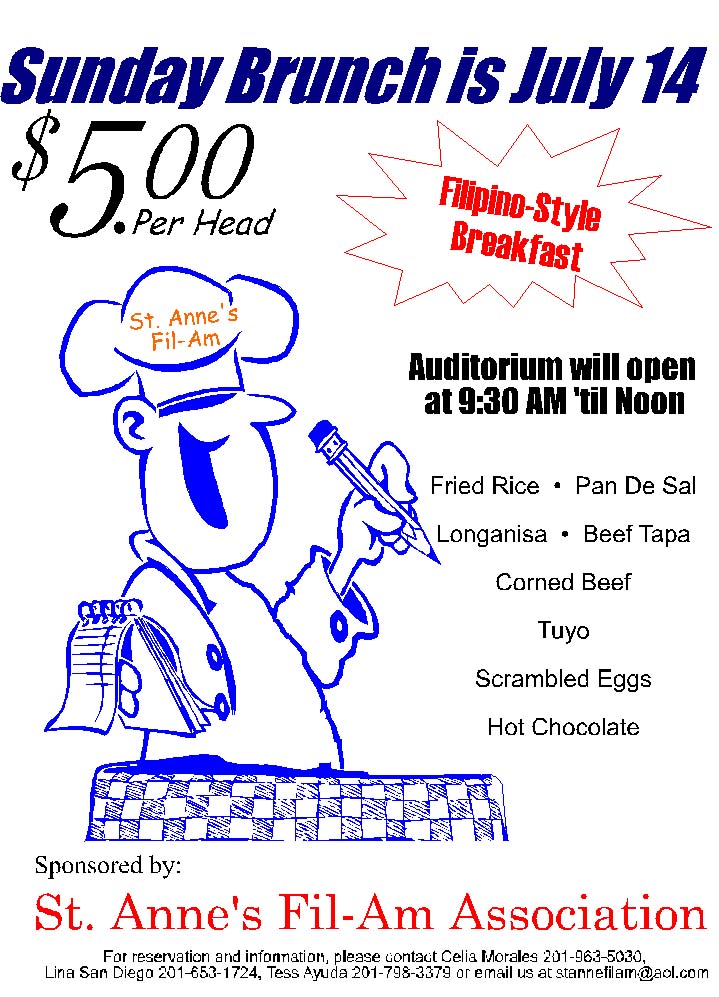 Top page 5
St. Anne's on the Boulevard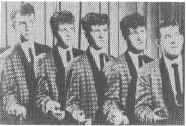 Festival 2002
3545 Kennedy Boulevard, Jersey City, New Jersey
Presents
Vito Piccone and the Elegants
Date: July 27th (Saturday)
8:00PM
Come and share with us!!
Top Page 6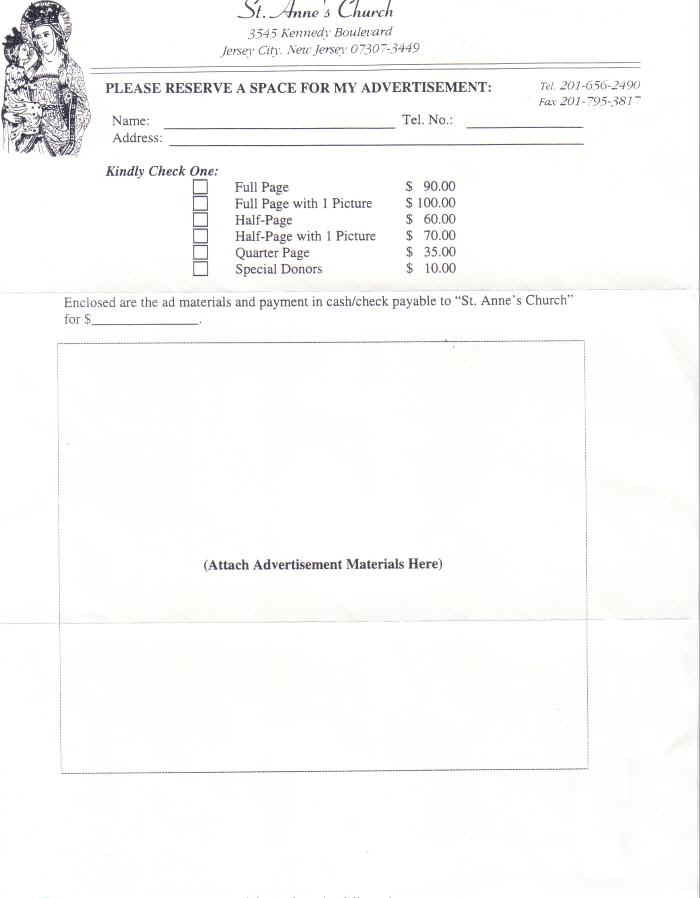 Top
page 7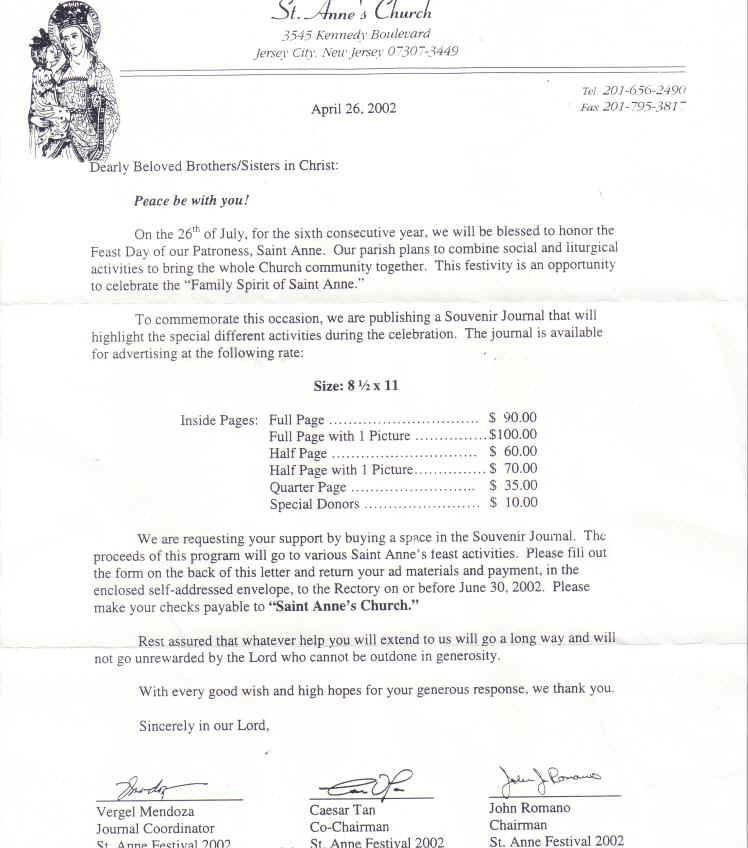 Page 8
MONDAY Am 2:6-10,13-16 Ps 50:16-23 Mt 8:18-22
TUES. Am 3:1-8;4:11-12 Ps 5:4-8 Mt 8:23-27
WED. Eph 2:19-22 Ps 117:1-2 Jn 20:24-29
THURS. Am 7:10-17 Ps 19:8-11 Mt 9:1-8
FRIDAY Am 8:4-6,9-12 Ps 119:2,10,20,30,40,131 Mt 9:9-13
SATURDAY Am 9:11-15 Ps 85:9,11-14 Mt 9:14-17
NEXT SUNDAY - 14th SUNDAY IN ORDINARY TIME Zec 9:9-10 Ps 145:1-2,8-11,13-14 Rom 8:9,11-13 Mt 11:25-30



Location of our Parish Center
For those who are unfamiliar with the location of St. Anne's Parish Center, it's the annex section of St. Anne's School. The entrance is located behind the rectory.
Directions: Take the pathway to the left of the rectory, proceed through brown gate on right. Door to Parish Center is right there. Ring the doorbell of the room meeting is in and someone from that meeting will answer the door.
Annual Young Adult Mass and Barbecue
Attention men & women, ages 18-39! The Archdiocese of Newark is planning a party for you on the afternoon of August 11th at Schmidt's Woods in Secaucus. The Annual Young Adult Mass & BBQ will begin at 12 p.m. with the Sacrament of Reconciliation, followed by a vibrant Mass at 1 p.m. celebrated by our new shepherd, Archbishop John J. Myers. Dynamic music for the Mass will be provided by Grace Notes. After Mass, join the Archbishop and your peers for an afternoon of fellowship and fun, including an all-you-can-eat BBQ, live entertainment, volleyball, horseshoes, other games & prizes, as well as access to the Secaucus town pool (extra fee). Cost is $15 before July 26, or $25 after. For more info, contact the Office of Young Adult Ministry at 973-497-4502 or visit www.NewarkOYM.org . Don't miss out on this great day of faith, friendship, and fun!

Finding Hope...
Many continue to grieve the personal losses of the September 11th tragedy. Others are direct survivors of the attack. All struggle with a grief that is unique. Finding Hope is a spiritually-based bereavement support group program for those directly affected by the events of September 11th. If you would like further information about this program, please call the Office of Family Life Ministries of the Archdiocese of Newark at 973-497-4327.

Vocation Programs
Vocation Discernment Weekend Retreat: July 5th-7th. Have you ever considered becoming a Benedictine Sister? A vocation discernment weekend is being conducted for Catholic women over 18 at St. Walburga Monastery in Elizabeth, NJ on July 5th-7th. This retreat may be for you. Take time to pray and to meet with the sisters. For information and registration, call 908-353-3028.
MONASTIC LIVE-IN: July 5th-12th. Looking for peace and balance in your life? Benedictine Sisters at Saint Walburga Monastery in Elizabeth, NJ invite Catholic women over 18 to live, work an pray with the monastic community for a week beginning on Friday, July 5th. For information and registration, call 908-353-3028. Donation $150.


page 9
Personal Meditation

June 30th 13th Sunday in Ordinary Time
Reflections
Mt 10:37-42
Whoever loves father or mother more than me is not worthy of me; and whoever loves son or daughter more than me is not worthy of me; and whoever does not take up the cross and follow me is not worthy of me. Those who find their life will lose it, and those who lose their life for my sake will find it. "Whoever welcomes you welcomes me, and whoever welcomes me welcomes the one who sent me. Whoever welcomes a prophet in the name of a prophet will receive a prophet's reward; and whoever welcomes a righteous person in the name of a righteous person will receive the reward of the righteous; and whoever gives even a cup of cold water to one of these little ones in the name of a disciple—truly I tell you, none of these will lose their reward."

Psalm 119:28
It Is Courage That Counts
When the first locomotive was invented, several "experts" agreed that if a train went at the frightful speed of fifteen miles an hour, the passengers would suffer from nosebleed. They also cautioned that people could suffocate when the train went through a tunnel.
In 1881 the New York YWCA announced typing lessons for women. Protests were made on the grounds that the female constitution would break down under the strain.
Shortly after the telephone was invented, Joshua Coppersmith was arrested in Boston for trying to sell stock in the company that would produce telephones. Authorities said that all well informed people knew it was impossible to transmit the human voice over a wire.
If you are struggling over an impossible-looking task, don't give up just because others say it cannot be done. Continue on. Act on your convictions. Exercise courage and persistence in the face of resistance and opposition. Ask God to deepen your determination.
Remember that almost every great idea or invention faced fierce resistance from authorities and experts who said it couldn't be done.

Thought for the Day
Success is never final. Failure is never fatal. It is courage that counts.

Independence Day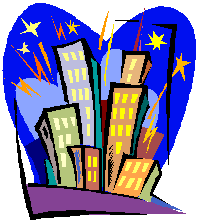 JULY 4TH
REMINDER: Due to Independence Day being a Holiday (JULY 4th), Mass will be concelebrated at 9:00 A.M. ONLY!!