© copyright stannes4/2000
July 14th, 2002
15th Sunday in Ordinary Time


Schedule of Masses Week of July 15th-21st, 2002

Day

Time

Requested for

Requested by

Mon.July 15th

7 A.M.

For the People of the Parish

9A.M.

Carmen Principe

Daughter Toni Belfiore

Tues.July 17th

7 A.M.

Honor of Our Lady of Mt.Carmel

Assunta Fusco

9A.M.

Catherine Gourhan

Gourhan Family

Wed.July 18th

7A.M.

(Liv) Joseph Mocarski

Family

9A.M.

Mary Gallesich

Theresa Lattanzi

7 PM

(Liv) Joan & Lester Kosca

Mom

Thurs.July 19th

7A.M.

Sara McHale

Anna Evangelista

9A.M.

(Liv) Robert Mastrant

Theresa Lattanzi

Fri. July 20th

7A.M.

James Mocarski

Family

9A.M.

(Liv) Adeline & Jack Moorehead

Adeline & Jack Moorehead

Sat. July 21st

9 A.M.

William Ziolko

Family

6 P.M.

Lillian Amabile

Roselyn & George Juchnewich

7:30PM

In Thanksgiving

Veronica Reilly

Sun. July 22nd

7:30AM

Edmund Hannon

Pop & Sekelsky Families

9A.M.

Susan Fickert

Robert Fickert

10:30AM

Anthony DeLuise

Wife Dolores

12 Noon

Monica Keenan

Keenan Family
Sanctuary Gifts July14th - July 20th, 2002

Gift

In Memory Of

Requested By

Altar Wine

Richard Fox

Patricia Hogan

Altar Bread

Patricia Walsh

Evelyn &Cathy Walsh

Sanctuary Lamp

Mary Leinas

Donaway Family
Let Us Pray For Those Seriously Ill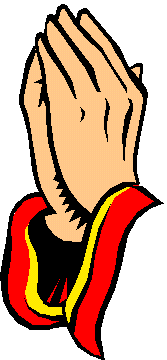 People will remain on sick list for 2 weeks unless otherwise notified:
Ethel Melocco, Dorothy Ensmenger, Florence Cirone, John Wochna, Eugene Smarth, Barbara Scocco, Lester Infante.


Vocation reflections

Some of us hear the Word of God without truly understanding it, and so it is easily taken away. Others hear the Word of God and accept it with joy, but then, it is easily lost. Still others hear the Word of God, but worldly anxiety and the lure of riches do not allow it to bear fruit. But blessed are those among us who hear the Word of God, take it to heart and allow it to bear fruit in the world.
If you feel this call, "inquire within" and Please contact the Vocations Office the Vocations Office at (973) 497-4365 or by E-mail at kellyric@rcan.org. Or visit our web site at www.rcan.org.
Page 2

STEWARDSHIP



STEWARDSHIP SCRIPTURE REFLECTION
True worship is expressed by love of justice and concern for the poor. True discipleship may entail alienation, even rejection, by loved ones.

OUR WEEKLY OFFERING
July 2002
July 6/7 $5,437.
Month's Total $5,437.
Month's Average $5,437.
Mailed in $367.

We thank you!

WEEKLY AVERAGE COMPARISONS:
Month '01 Monthly Avg. '02 Monthly Avg.
June $6,659. $5,368
July $6,658.




Location of our Parish Center
For those who are unfamiliar with the location of St. Anne's Parish Center, it's the annex section of St. Anne's School. The entrance is located behind the rectory.
Directions: Take the pathway to the left of the rectory, proceed through brown gate on right. Door to Parish Center is right there. Ring the doorbell of the room meeting is in and someone from that meeting will answer the door.
Rite of Christian Initiation of Adults
The RCIA Team of St.Anne's is now accepting registration for all who wish to become Catholic of for those who have been baptized Catholic and have not received their Sacraments of First Communion and/or Confirmation.
This formation is a gradual process consisting of weekly classes after the 10:30am Mass on Sundays. If you are aware of any person who is interested in becoming a Catholic or needs to receive their Sacraments, please contact Janice Fiorese at the rectory 201-656-2490.
Name: ___________________________________________________________
Address: _________________________________________________________
Phone: ____________________________________________
HOLY HOUR FOR PRIESTS


HOLY HOUR WILL BE SUSPENDED FOR THE SUMMER MONTHS OF JULY AND AUGUST. IT WILL RESUME IN SEPTEMBER. PLEASE PRAY FOR OUR PRIESTS FROM YOUR HOME DURING THIS TIME.





NO BINGO
Bingo games for Tuesday and Friday have been TEMPORARILY CANCELLED due to late filing of Bingo License Application!

Bingo will resume on Tuesday, July 8th!


Top
page 3
MONDAY Is 1:10-17 Ps 50:8-9,16-17,21,23 Mt 10:34-11:1
TUES. Is 7:1-9 Ps 48:2-8 Mt 11:20-24
WED. Is 10:5-7,13-16 Ps 94:5-10,14-15 Mt 11:25-27
THURS. Is 26:7-9,12,16-19 Ps 102:13-21 Mt 11:28-30
FRIDAY Is 38:1-6,21-22,7-8 Ps Is 38:10-12,16 Mt 12:1-8
SATURDAY Mi 2:1-5 Ps 10:1-4,7-8,14 Mt 12:14-21
NEXT SUNDAY - 16th SUNDAY IN ORDINARY TIME Wis 12:13,16-19 Ps 86:5-6,9-10,15-16 Rom 8:26-27 Mt 13:24-43



Annual Young Adult Annual Young Adult Mass and Barbecue
Attention men & women, ages 18-39! The Archdiocese of Newark is planning a party for you on the afternoon of August 11th at Schmidt's Woods in Secaucus. The Annual Young Adult Mass & BBQ will begin at 12 p.m. with the Sacrament of Reconciliation, followed by a vibrant Mass at 1 p.m. celebrated by our new shepherd, Archbishop John J. Myers. Dynamic music for the Mass will be provided by Grace Notes. After Mass, join the Archbishop and your peers for an afternoon of fellowship and fun, including an all-you-can-eat BBQ, live entertainment, volleyball, horseshoes, other games & prizes, as well as access to the Secaucus town pool (extra fee). Cost is $15 before July 26, or $25 after. For more info, contact the Office of Young Adult Ministry at 973-497-4502 or visit www.NewarkOYM.org . Don't miss out on this great day of faith, friendship, and fun!

Free Screening
On Saturday, July 27th, the North Hudson Community Action Corporation Health Center located at 324 Palisade Avenue in Jersey City will be giving FREE SCREENING FOR EYE, FOOT AND BLOOD PRESSURE FOR INDIVIDUALS WITH DIABETES. Screening will include a brief history, visual acuity, non-contact tonometry, dilated Fundus Examination, foot screening, blood pressure check, follow up and referral. Registration is desired by calling 201-459-8888. Participants under the age of 18 must be accompanied by a parent/guardian.

Midsummer Night
Schola Cantorum on Hudson will host the Fourth Annual Midsummer Night's Open Sing featuring Mozart's Requiem on Wednesday, July 17th at 7:30 p.m. at Sts. Peter & Paul Church, 404 Hudson Street, Hoboken. Tickets available at the door: general admission $10/Seniors & Students $6. For more information call 201-333-8429. (An Open Sing is an informal reading and rehearsal ending in a "performance" of a major and beloved choral work by all who attend.) This is your chance to sing!

The Gift Shop
St. Anne's Gift Shop is located in the rectory. Hours of operation are Monday thru Thursday 9 a.m.- 4 p.m.
For the months of July and August it will be closed on Sundays.

Top page 4

Top
page 7
Our Website
When you log on and browse around you'll see all kinds of information about our parish. Included, of course, will be the current activities for the many different organizations as well as an update as to what is going on with our parish family.
Do not let evil defeat you: Instead, conquer evil with good!!
By your wounded heart: teach us love, teach us love, teach us love..... -Daphne Fraser
CCD News
To parents of children in St. Anne's School and St. Anne's Religious Education Program and Parishioners: Items are still being collected such as cleaning products and baby items for the booth (in participation with the Gift Wheel) at St. Anne's Festival. Please leave items at the rectory you wish to donate. Thank you - Sr. Alberta

Saint Anne Festival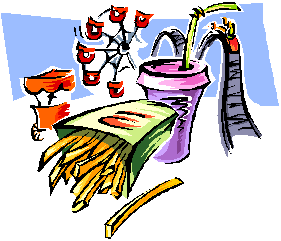 St. Anne's Festival is set for the weekend of July 26th, 27th, 28th. There will be food, entertainment and games for both children and adults.
Festival Meetings are held every Tuesday from now until the Festival in Parish Center #3 at 7 p.m. These meetings are open to anyone interested in helping out! Please pick up a Volunteer Form from the church vestibule.


Gift Wheel

The Padre Pio and St. Joseph Prayer Groups will be sponsoring a booth at St. Anne's Festival. Donations of new/unused gifts will be gladly accepted. If you feel you do not have the time to shop, monetary donations will also be gladly accepted. Time is drawing near. Items or donations can be dropped off at the rectory marked "St. Joseph Prayer Group".

Homemade Delights


If you like to bake...cookies, brownies, or a cake, happy faces you would make, for our Parish Name Sake! To make a donation to the Pastry, Dessert and Homemade Delights Booth at St. Anne's Festival, please contact Pat Roda at 201-792-5530.


How Sweet It Is?

Good-bye Basket Wheel...Hello Candy Wheel!
Jackie O. and the group who organized their great Basket Wheel in past years are planning a Candy Wheel for this year's festival.
The Basket Wheel was a success because our parishioners donated such beautiful items for the baskets. This year, instead of gifts, monetary donations would be appreciated so Jackie O and her group can purchase the candy themselves.
Donations can be dropped off at the rectory, marked "Jackie O/Candy Wheel". Thanks!


Summer Luncheon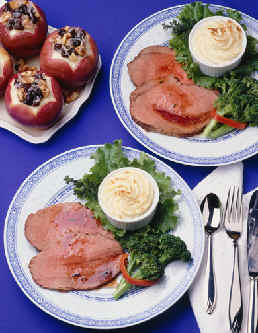 The Alumnae Association of St. Dominic Academy will hold a summer luncheon at the Shore Casino in Atlantic Highlands, New Jersey on Saturday, July 27th from 12 noon to 4:30 p.m. All alumnae, alumnae mothers and their lady friends are welcome. Proceeds from the fundraising event will benefit the Academy's Scholarship Program. An advertising journal will be published and tickets are $35. For more information on tickets and program advertising, please call Jane Albert at 201-434-5938 ext. 42.

Page 8

page 9
Personal Meditation

July 14th 15th Sunday in Ordinary Time
Reflections
Mt 13:1-23
That same day Jesus went out of the house and sat beside the sea. Such great crowds gathered around him that he got into a boat and sat there, while the whole crowd stood on the beach. And he told them many things in parables, saying: "Listen! A sower went out to sow. And as he sowed, some seeds fell on the path, and the birds came and ate them up. Other seeds fell on rocky ground, where they did not have much soil, and they sprang up quickly, since they had no depth of soil. But when the sun rose, they were scorched; and since they had no root, they withered away. Other seeds fell among thorns, and the thorns grew up and choked them. Other seeds fell on good soil and brought forth grain, some a hundredfold, some sixty, some thirty. Let anyone with ears listen!" Then the disciples came and asked him, "Why do you speak to them in parables? "He answered, "To you it has been given to know the secrets of the kingdom of heaven, but to them it has not been given. For to those who have, more will be given, and they will have an abundance; but from those who have nothing, even what they have will be taken away. The reason I speak to them in parables is that 'seeing they do not perceive, and hearing they do not listen, nor do they understand. 'With them indeed is fulfilled the prophecy of Isaiah that says: 'You will indeed listen, but never understand, and you will indeed look, but never perceive. For this people's heart has grown dull, and their ears are hard of hearing, and they have shut their eyes; so that they might not look with their eyes, and listen with their ears, and understand with their heart and turn— and I would heal them. 'But blessed are your eyes, for they see, and your ears, for they hear. Truly I tell you, many prophets and righteous people longed to see what you see, but did not see it, and to hear what you hear, but did not hear it. "Hear then the parable of the sower. When anyone hears the word of the kingdom and does not understand it, the evil one comes and snatches away what is sown in the heart; this is what was sown on the path. As for what was sown on rocky ground, this is the one who hears the word and immediately receives it with joy; yet such a person has no root, but endures only for a while, and when trouble or persecution arises on account of the word, that person immediately falls away. As for what was sown among thorns, this is the one who hears the word, but the cares of the world and the lure of wealth choke the word, and it yields nothing. But as for what was sown on good soil, this is the one who hears the word and understands it, who indeed bears fruit and yields, in one case a hundredfold, in another sixty, and in another thirty."

Psalm 131:2
A Day to Be a Child
Too often we forget that we are children of God. That means we should live and enjoy life like a child does. When was the last time you experienced the joyous spontaneity of a child? When was the last time you
• enjoyed poetry
• read a story to a child
• listened to a child read a story
• recited a nursery rhyme all the way through
• walked barefoot along a beach
• sang out loud
• harmonized with others around a piano
• threw a Frisbee
• tossed a softball
• played a board game with a child
• picked flowers and gave them as a gift
• rested contentedly in the arms of God

Thought for the Day
Children have not mastered our fine art of deception. They have not acquired the obstructions to faith that come with education; they possess instead unrefined wisdom, a gift from God.