© copyright stannes4/2000
July 21st, 2002
16th Sunday in Ordinary Time


Schedule of Masses Week of July 22nd-28th, 2002

Day

Time

Requested for

Requested by

Mon.July 22nd

7 A.M.

For the People of the Parish

9A.M.

Mary Zenzius

Family

Tues.July 23rd

7 A.M.

Raymond Spellmeyer

6th Gr. Class of St. Anne's School

9A.M.

Natale Stefano

Michael Stefano

Wed.July 24th

7A.M.

Lisa Altomonte

Grace & Carmine Salvemini

9A.M.

Ernest Meyer

Albert Koska

Thurs.July 25th

7A.M.

James Mocarski

Family

9A.M.

Felice Ruggiero

Fioccola Family

Fri. July 26th

7A.M.

Anna Vispo Fiore

Daughter Toni Belfiore

9A.M.

Special Thanksgiving

Lourdes Chua & Family

Sat. July 27th

9 A.M.

St. Anne

Gemma

6 P.M.

Tim Guy

7:30PM

In Thanksgiving

Veronica Reilly
Sanctuary Gifts July21st-27th, 2002

Gift

In Memory Of

Requested By

Altar Wine

Glenn Guntner

Gail Guntner

Altar Bread

Jennifer Hulings

Rita Rinyak

Sanctuary Lamp

Patricia Walsh

Evelyn Walsh
Let Us Pray For Those Seriously Ill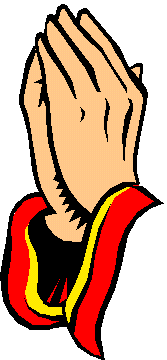 People will remain on sick list for 2 weeks unless otherwise notified:
Dorothy Ensmenger, Ethel Melocco, Dorothy Ensmenger, Eugene Smarth, Angelica Krajnik, and Arthur Fabian.

Vocation reflections

The Master allowed the weeds to grow with the wheat. At the harvest, however, the weeds were collected and burned, while the wheat was gathered in the barn. Does the Harvest Master want you to help turn weeds into the finest of wheat? Is the Harvest Master calling you to gather His wheat? Does the Master want you to do this as a Priest or Religious Sister or Brother?
If you feel this call, "inquire within" and Please contact the Vocations Office the Vocations Office at (973) 497-4365 or by E-mail at kellyric@rcan.org. Or visit our web site at www.rcan.org.
Page 2

STEWARDSHIP



STEWARDSHIP SCRIPTURE REFLECTION
In his patience, the Lord allows both weeds and wheat to grow together, both saints and sinners to respond to salvation in the Kingdom. This Lord is good and forgiving, lenient to all, desiring repentance for our sins. May the Spirit assist us in our weakness..

OUR WEEKLY OFFERING
July 2002
July 13/14 $5,126.
Month's Total $10,536.
Month's Average $5,281.
Mailed in $265.

We thank you!

WEEKLY AVERAGE COMPARISONS:
Month '01 Monthly Avg. '02 Monthly Avg.
June $6,659. $5,368
July $6,658.




Location of our Parish Center
For those who are unfamiliar with the location of St. Anne's Parish Center, it's the annex section of St. Anne's School. The entrance is located behind the rectory.
Directions: Take the pathway to the left of the rectory, proceed through brown gate on right. Door to Parish Center is right there. Ring the doorbell of the room meeting is in and someone from that meeting will answer the door.
Rite of Christian Initiation of Adults
The RCIA Team of St.Anne's is now accepting registration for all who wish to become Catholic of for those who have been baptized Catholic and have not received their Sacraments of First Communion and/or Confirmation.
This formation is a gradual process consisting of weekly classes after the 10:30am Mass on Sundays. If you are aware of any person who is interested in becoming a Catholic or needs to receive their Sacraments, please contact Janice Fiorese at the rectory 201-656-2490.
Name: ___________________________________________________________
Address: _________________________________________________________
Phone: ____________________________________________
HOLY HOUR FOR PRIESTS


HOLY HOUR WILL BE SUSPENDED FOR THE SUMMER MONTHS OF JULY AND AUGUST. IT WILL RESUME IN SEPTEMBER. PLEASE PRAY FOR OUR PRIESTS FROM YOUR HOME DURING THIS TIME.





NO BINGO
Bingo games for Tuesday and Friday have been TEMPORARILY CANCELLED due to late filing of Bingo License Application!

Bingo will resume on Tuesday, July 8th!


Top
page 3
MONDAY Mi 6:1-4,6-8 Ps 50:5-6,8-9,16-17,21,23 Jn 20:1-2,11-18
TUES. Mi 7:14-15,18-20 Ps 85:2-8 Mt 12:46-50
WED.Jer 1:1,4-10 Ps 71:1-6,15,17 Mt 13:1-9
THURS. 2Cor 4:7-15 Ps 126:1-6 Mt 20:20-28
FRIDAY Jer 3:14-17 Ps Jer 31:10-13 Mt 13:18-23
SATURDAY Jer 7:1-11 Ps 84:3-6,8,11 Mt 13:24-30
NEXT SUNDAY - 17th SUNDAY IN ORDINARY TIME 1Kgs 3:5,7-12 Ps 119:57,72,76-77,127-130 Rom 8:28-30 Mt 13:44-52`


Adult Annual Young Adult Mass and Barbecue
Attention men & women, ages 18-39! The Archdiocese of Newark is planning a party for you on the afternoon of August 11th at Schmidt's Woods in Secaucus. The Annual Young Adult Mass & BBQ will begin at 12 p.m. with the Sacrament of Reconciliation, followed by Mass at 1 p.m. celebrated by our new shepherd, Archbishop John J. Myers. Music for the Mass will be provided by Grace Notes. After Mass, join the Archbishop and your peers for an afternoon of fellowship and fun, including an all-you-can-eat BBQ, live entertainment, volleyball, horseshoes, other games & prizes, as well as access to the Secaucus town pool (extra fee). Cost is $15 before July 26, or $25 after. For more info, contact the Office of Young Adult Ministry at 973-497-4502.. Don't miss out on this great day of faith, friendship, and fun!

Art Auction
The Sisters of Charity of Saint Elizabeth, Convent Station, NJ, will be hosting a benefit art auction on Friday evening, July 26th at Saint Mary's Parish Center in Manahawkin, NJ. The proceeds will enable the sisters to continue to provide recreational and retreat opportunities for their sisters and sisters of other congregations at Harvey Cedars, Long Beach Island.
The art auction will feature beautiful collectible works of art provided by Avatar Galleries, of well known artists, and will be available at a variety of prices. The preview hour, from 7-8 p.m. will allow guests to browse and enjoy wine and gourmet delights. The fast moving auction will begin at 8 p.m. Tickets for the evening are $10 per person. For more information contact Sr. Maria Magdalena 609-494-0499.

The Gift Shop
St. Anne's Gift Shop is located in the rectory. Hours of operation are Monday thru Thursday 9 a.m.- 4 p.m.
For the months of July and August it will be closed on Sundays.

Top page 4

Top
page 7
Our Website
When you log on and browse around you'll see all kinds of information about our parish. Included, of course, will be the current activities for the many different organizations as well as an update as to what is going on with our parish family.
Do not let evil defeat you: Instead, conquer evil with good!!
By your wounded heart: teach us love, teach us love, teach us love..... -Daphne Fraser
CCD News
To parents of children in St. Anne's School and St. Anne's Religious Education Program and Parishioners: Items are still being collected such as cleaning products and baby items for the booth (in participation with the Gift Wheel) at St. Anne's Festival. Please leave items at the rectory you wish to donate. Thank you - Sr. Alberta
Saint Anne Festival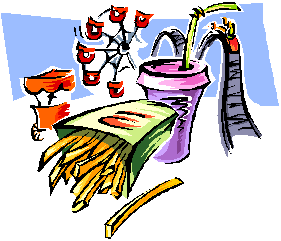 St. Anne's Festival is set for the weekend of July 26th, 27th, 28th. There will be food, entertainment and games for both children and adults.
Festival Meetings are held every Tuesday from now until the Festival in Parish Center #3 at 7 p.m. These meetings are open to anyone interested in helping out! Please pick up a Volunteer Form from the church vestibule.


Gift Wheel

The Padre Pio and St. Joseph Prayer Groups will be sponsoring a booth at St. Anne's Festival. Donations of new/unused gifts will be gladly accepted. If you feel you do not have the time to shop, monetary donations will also be gladly accepted. Time is drawing near. Items or donations can be dropped off at the rectory marked "St. Joseph Prayer Group".

Homemade Delights


If you like to bake...cookies, brownies, or a cake, happy faces you would make, for our Parish Name Sake! To make a donation to the Pastry, Dessert and Homemade Delights Booth at St. Anne's Festival, please contact Pat Roda at 201-792-5530.


How Sweet It Is?

Good-bye Basket Wheel...Hello Candy Wheel!
Jackie O. and the group who organized their great Basket Wheel in past years are planning a Candy Wheel for this year's festival.
The Basket Wheel was a success because our parishioners donated such beautiful items for the baskets. This year, instead of gifts, monetary donations would be appreciated so Jackie O and her group can purchase the candy themselves.
Donations can be dropped off at the rectory, marked "Jackie O/Candy Wheel". Thanks!


Summer Luncheon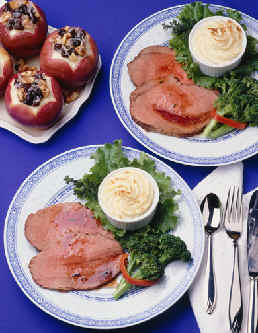 The Alumnae Association of St. Dominic Academy will hold a summer luncheon at the Shore Casino in Atlantic Highlands, New Jersey on Saturday, July 27th from 12 noon to 4:30 p.m. All alumnae, alumnae mothers and their lady friends are welcome. Proceeds from the fundraising event will benefit the Academy's Scholarship Program. An advertising journal will be published and tickets are $35. For more information on tickets and program advertising, please call Jane Albert at 201-434-5938 ext. 42.

Page 8

page 9
Personal Meditation

July 21st 16th Sunday in Ordinary Time
Reflections
Mt 13:24-30
He put before them another parable: "The kingdom of heaven may be compared to someone who sowed good seed in his field; but while everybody was asleep, an enemy came and sowed weeds among the wheat, and then went away. So when the plants came up and bore grain, then the weeds appeared as well. And the slaves of the householder came and said to him, 'Master, did you not sow good seed in your field? Where, then, did these weeds come from?' He answered, 'An enemy has done this.' The slaves said to him, 'Then do you want us to go and gather them?' But he replied, 'No; for in gathering the weeds you would uproot the wheat along with them. Let both of them grow together until the harvest; and at harvest time I will tell the reapers, Collect the weeds first and bind them in bundles to be burned, but gather the wheat into my barn.'" Psalm 10:14
Another Look at the Healing Power of Prayer
Yesterday we considered the healing power of prayer based upon a scientific experiment. Today we take a second look at the relationship between healing and prayer.
One week before her son's wedding, Joan discovered a lump in her abdomen. Thinking it was simply a hernia, Joan was shocked when her physician told her she had a malignant tumor.
Surgery was immediately scheduled. Although the doctors removed a cancerous tumor the size of a grapefruit, other cancerous tissues were discovered which could not be removed. Joan was told she had ovarian cancer and that most women in her condition died within twenty-four months.
Despairing, Joan turned to Scripture for comfort and began reading those passages that encourage all troubled people to trust God and pray. "I began to truly believe that my life was in God's loving hands and that he would take care of me," she says.
Family members and friends from her church committed themselves to visit Joan once a week in order to pray for her. In spite of the prayer support, however; there were times when Joan found it hard to hope because her doctors were convinced it was only a question of months before the cancer would end her life.
Family and friends continued to pray while Joan followed through with various medical procedures. Her story has a happy ending. Two years after surgery and chemotherapy, a liver scan revealed no sign of cancer. Today, fourteen years later, Joan is still cancer-free and living a healthy, happy life.

Thought for the Day
On all my expeditions, prayer made me stronger, morally and mentally, than any of my non-praying companions.