© copyright stannes4/2000
Page 1
August 25th, 2002
21st Sunday in Ordinary Time


Schedule of Masses Week of August 26th - September 1st , 2002

Day

Time

Requested for

Requested by

Mon.Aug 26th

7 A.M.

For the People of the Parish

9A.M.

Rosemary Maffei

Family

Tues.Aug 27th

7 A.M.

John L. Yori

Mother & Sister

9A.M.

Jack Reynolds

Frances Muzikar

Wed.Aug 28th

7A.M.

James Mocarski

Family

9A.M.

Angela Apa

Attilo Apa

7 P.M.

Raymond Spellmeyer

Brian Kenny

Thurs.Aug. 29th

7A.M.

In Appreciation of St. Joseph Morning Prayer Group

Parish Friend

9A.M.

Dec. Members of Mahoney Family

Family

Fri. Aug. 30th

7A.M.

Elizabeth McHugh

Joseph McHugh

9A.M.

Rosemary Maffei

Family

Sat. Aug. 31st

9 A.M.

Aniello Russo

Lorenzo Russo

6 P.M.

Lyda & Doris Cullen

Ruth Cullen

7:30PM

Lester Infante

Ed Anderson

Sun. Sep. 1st

7:30AM

Wallace Pelletreau
Wife & Daughter
9 AM
Douglas O'Neill
Frank & Gemma Infante & Son

10:30AM

Jennie & Charles Reilly
Reilly Family

12 PM

Monica Keenan
Keenan Family
Sanctuary Gifts August 25th -31st, 2002

Gift

In Memory Of

Requested By

Altar Wine

Bridget Mulkeen

Wiszowaty & Smizaski Families

Altar Bread

Harry Van Breda

Madeline Gerrity

Sanctuary Lamp

Frank J. Handlowitch

Mary Freck

Altar Candles

Frank J. Handlowitch

Mary Freck
Let Us Pray For Those Seriously Ill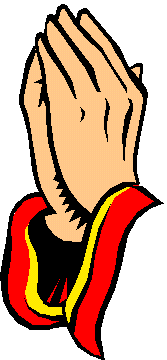 People will remain on sick list for 2 weeks unless otherwise notified: Eugene Smarth, Lucille Cherry, Michele Mazzilli, John O'Connor, Angelica Krajnik, John Lanigan, and Arthur Fabian and Dorothy Ensmenger.



Vocation reflections

Jesus asked his disciples to answer a question. Only Simon Peter got the answer correct. He knew that Jesus was the Christ, the Son of the Living God. For this answer Jesus declared Peter the rock on which he would build His Church. Is God calling you to continue building His church today? Does the Lord want you to do this as a Priest or Religious Brother of Sister?
If you feel this call, "inquire within" and Please contact the Vocations Office the Vocations Office at (973) 497-4365 or by E-mail at kellyric@rcan.org. Or visit our web site at www.rcan.org.
Page 2 Top

STEWARDSHIP



STEWARDSHIP SCRIPTURE REFLECTION
In today's second reading, St. Paul reminds the Romans, that all things come from God. Good stewards share generously their gifts of time, talent, and treasure with which they've been blessed.

OUR WEEKLY OFFERING
August 2002
August 17/18 $5,404.
Month's Total $14,864.
Month's Average $4,954.
Mailed in $339.

We thank you!

WEEKLY AVERAGE COMPARISONS:
Month '01 Monthly Avg. '02 Monthly Avg.
July $6,658. $4900.
August




Rite of Christian Initiation of Adults
The RCIA Team of St.Anne's is now accepting registration for all who wish to become Catholic of for those who have been baptized Catholic and have not received their Sacraments of First Communion and/or Confirmation.
This formation is a gradual process consisting of weekly classes after the 10:30am Mass on Sundays. If you are aware of any person who is interested in becoming a Catholic or needs to receive their Sacraments, please contact Janice Fiorese at the rectory 201-656-2490.
Name: ___________________________________________________________
Address: _________________________________________________________
Phone: ____________________________________________
HOLY HOUR FOR PRIESTS


HOLY HOUR WILL BE SUSPENDED FOR THE SUMMER MONTHS OF JULY AND AUGUST. IT WILL RESUME IN SEPTEMBER. PLEASE PRAY FOR OUR PRIESTS FROM YOUR HOME DURING THIS TIME.






St. Anne's School News
St. Anne's School will reopen for students in grades K-8 on September 4, 2002. There will be a noon dismissal for students on September 4th, 5th & 6th.
Pre-K classes will begin on September 9th.
Registration for new students will be taken the week of August 19th. Please bring all medical records, birth certificate, baptismal certificate, and copy of report card plus registration fee of $100.
The office will be open from 9 a.m. to 2 p.m.


Top
page 3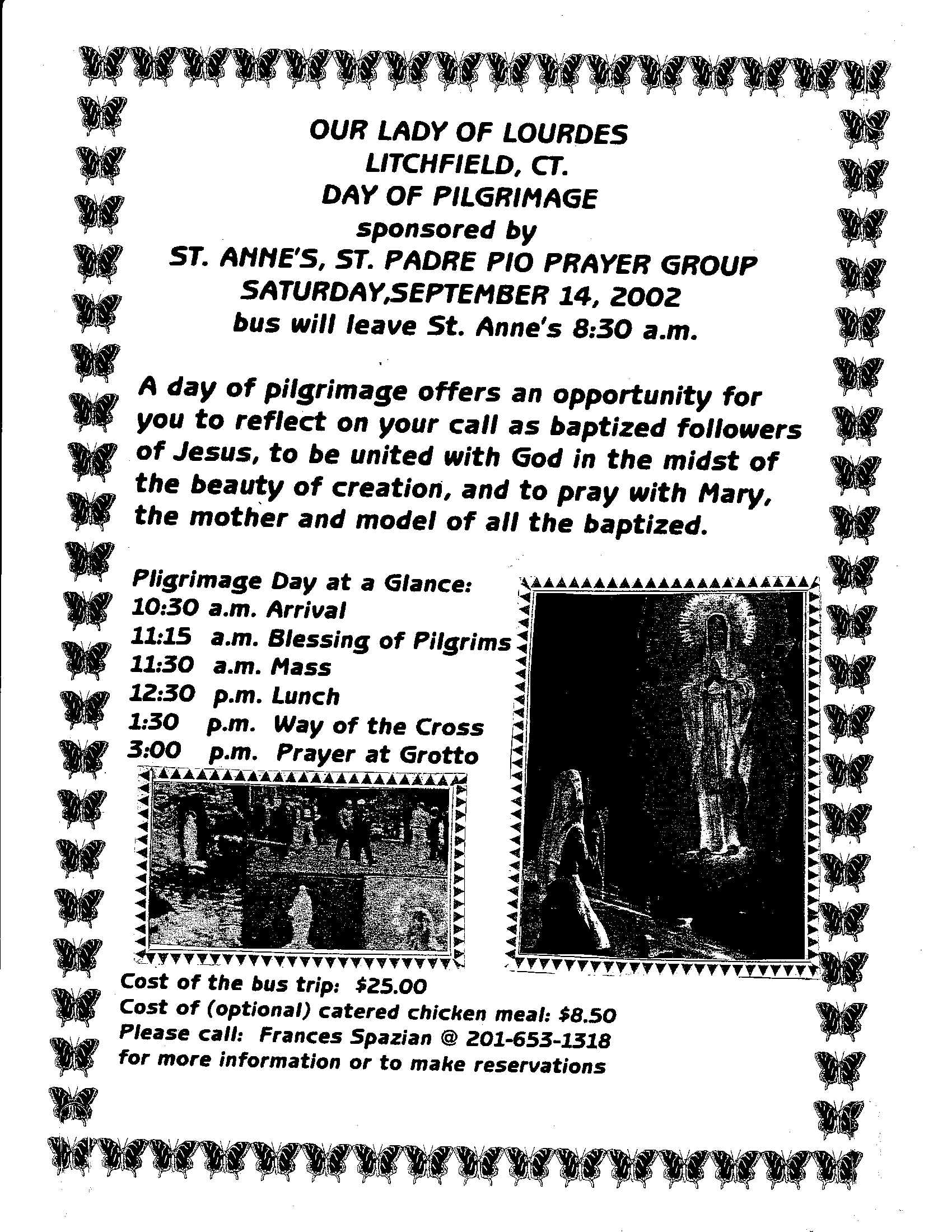 Top page 4
MONDAY 2Thes 1:1-5,11b-12 Ps 96:1-5 Mt 23:13-22
TUES. 2Thes 2:1-3a,14-17 Ps 96:10-13 Mt 22:23-26
WED. 2Thes 3:6-10,16-18 Ps 128:1-2,4-5 Mt 23:27-32
THURS. 1Cor 1:1-9 Ps 145:2-7 Mk 6:17-29
FRIDAY 1Cor 1:17-25 Ps 33:1-2,4-5,10-11 Mt 25:1-13
SATURDAY 1Cor 1:26-31 Ps 33:12-13,18-21 Mt 25:14-30
NEXT SUNDAY - 22nd SUNDAY IN ORDINARY TIME Jer 20:7-9 Ps 63:2-6,8-9 Rom 12:1-2 Mt 16:21-27


CCD News
CCD News
Registration - Sept. 3,4,5 - 10 a.m.-12 noon & 1-4 p.m.; Sunday, Sept. 8th 10-11 a.m.; Monday, Sept. 9th 7-8 p.m. All registration will take place in the CCD Office.
All parents who have registered - Class cards can be picked up and fee paid (if didn't already) during dates and times mentioned above.
Classes begin on Sunday, September 22nd. All children should attend the family Mass at 9 a.m. Class time is from 10-11:30 a.m.
The Commissioning of Teachers will also be on September 22nd at the 9 am. Mass. Come and support your child's teacher.
Teachers' Orientation Meeting will be on September 11th at 7 p.m. in Parish Center #3.

9/11 Anniversary Commemoration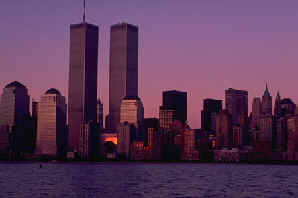 The Most Reverend John J. Myers, Archbishop of Newark, extends an invitation to a celebration of evening prayer in the Roman Catholic Tradition on Sunday, September 8th at 6 p.m. in the Cathedral Basilica in Newark. An inter-religious gathering of remembrance, support, healing, reconciliation and hope to remember those whose lives were taken, to support families still dealing with the loss of loved ones, and to gratefully acknowledge those who gave selflessly of themselves in the recovery effort. Everyone is welcome! Plan now to participate. Members of communions other than Roman Catholic are cordially invited.
1st Annual Catholic Women's Rally
Good News International and Catholic Women of Zion present a day of praise, worship and reflection exclusively for women. Speakers include Johnette Benkovic and Rosalind Moss from televison's EWTN, and Dr. Adriane Gullota-Gsell, founder of "The Healing Power of Prayer Ministry". Fr. Brendan Williams will celebrate the closing Liturgy. The day begins at 8:30 a.m. On September 28th at Christian Brothers Academy, 850 Newman Springs Rd., Lincroft, NJ. Cost is $35, includes boxed lunch. For a registration form or more information call 1-800-430-0586.

Annulment Information Evening
An Annulment Information Evening is scheduled for Wednesday, September 18th. A Canon lawyer from the Archdiocese of Newark will discuss the most recent theology, guidelines and requirements for obtaining a Church annulment. The information will be presented in terms that all can understand. A question and answer period will conclude the session. Pre-registration is not necessary. This evening of information will be held at the Archdiocesan Center, Auditorium A, 171 Clifton Ave., Newark at 7:30 p.m.. For additional information, please call the Office of Family Life Ministries at 973-497-4327.


Top page 5
Parish Ministry Fair The College of St. Elizabeth is sponsoring a day for all involved in parish ministries (eucharistic ministers, lectors, RCIA teams, catechists, youth ministers, teachers, bereavement groups, etc.). This Parish Ministry Fair will be held on Saturday, September 21st and will include prayer, excellent presentations, and book exhibits. For further information, please call 973-290-4300/4364 or visit our website at www.csespirit.com .
Spirituality, Theology and Lay Ministry Programs
The College of St. Elizabeth offers a variety of certificate programs for lay ministry as well as a variety of spirituality and theology programs throughout the year. Please call 973-290-4300/4364 for a copy of Pathways, a brochure describing these offerings.
Retreat for Separated/Divorced
A weekend retreat for separated or divorced people will be given o September 13,14,15 in Newton, New Jersey by a Franciscan Retreat Team. For more information, call Father Tom Kelly, OFM (201) 531-0741 or Deacon Milt (973) 208-8430.

Bereavement Support Group Facilitator Training



Are you interested in becoming part of the ministry to the bereaved in your parish? An eight-week training program is offered at the Archdiocesan Center and is now open for registration. Participants will explore the stages and tasks of grief and mourning and develop their communication and group facilitation skills. Sessions are offered on Tuesday mornings or on Thursday evenings and will begin at the end of September and continue through November. For registration and fee information, please contact the Office of Family Life Ministries of the Archdiocese of Newark at 973-497-4327. Pre-registration is required; class size is limited.

High School Admissions Exams
For 8th Grade students applying for Fall 2003 admission to Catholic high schools in the Archdiocese of Newark, Diocese of Metuchen, or Diocese of Paterson. Below is where/when exam will be administered:
Archdiocese of Newark (Bergen, Essex, Hudson and Union counties): Friday, November 8th
Diocese of Metuchen (Middlesex, Somerset, Warren, and Hunterdon counties): Saturday, November 9th
Diocese of Paterson (Passaic, Morris, and Sussex counties): Friday, November 8th
Beginning September 3rd, you may obtain an application and handbook from a Catholic elementary or high school. Examination fee of $30 will include reporting scores to three high schools of your choice. The test is designed to measure scholastic aptitude in verbal and non-verbal abilities, and achievement in reading, mathematics, and language. Applications and fees will be processed from September 3rd through October 18th. By applying early, you will have a much better chance of being assigned to a test site of your choice. For further information beginning September 9th, you can contact: Cooperative Admissions Examination Office, CTB/McGraw-Hill, 20 Ryan Ranch Rd.,Monterey, CA 93940 - email COOP2002@ctb.com - (800) 569-2667.

Americorps
AmeriCorps, the domestic Peace Corps, is seeking recent college graduates or other mature young people to assist people in need throughout northern New Jersey. AmeriCorps members earn a generous living allowance, health benefits, and a grant of $4725 to pay off student loans or pay tuition. The program runs from September of 2002 through August of 2003. For information, please call Julie at 973-225-0555.

Top Page 6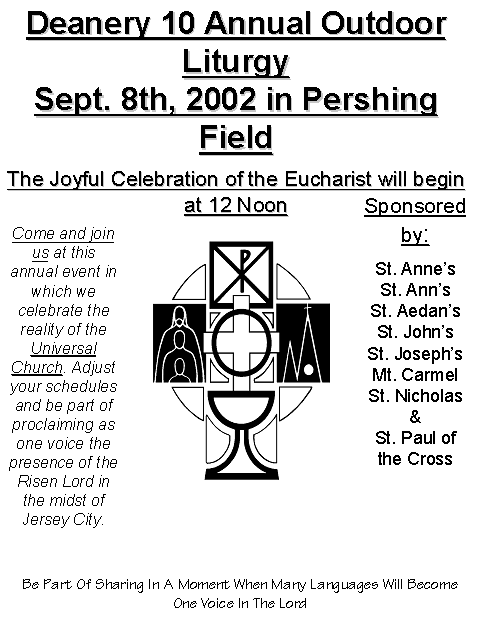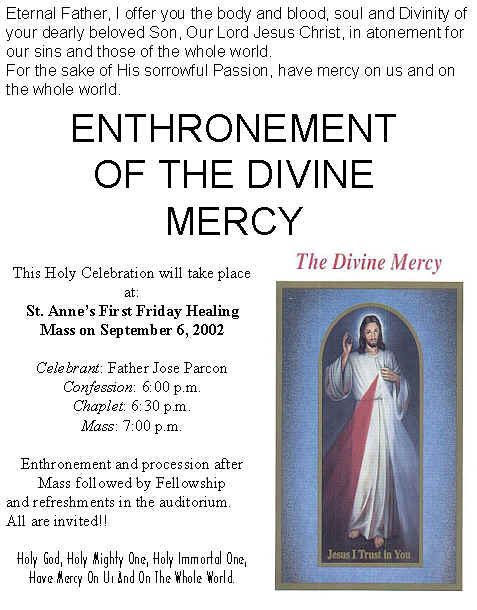 Top Page 7
Our Web Site
When you log on and browse around you'll see all kinds of information about our parish. Included, of course, will be the current activities for the many different organizations as well as an update as to what is going on with our parish family.
Do not let evil defeat you: Instead, conquer evil with good!!
By your wounded heart: teach us love, teach us love, teach us love..... -Daphne Fraser
Labor Day Mass Schedule


Due to Monday (September 2nd) being a Holiday (LABOR DAY), there will be only one Mass which will be concelebrated at 9 A.M.

Padre Pio
The September meeting for the Padre Pio Group has been changed to Saturday, September 7th ( instead of Sept. 14th) due to the trip to Our Lady of Lourdes in Connecticut on September 14th.
Gathering begins with prayers in church from 2-3 p.m. and meeting follows in auditorium. All are welcome!

Mission Coop Appeal
It is through the Archdiocesan Missionary Cooperation Plan that there will be a second collection this weekend. Father Horacio Zuluaga from The Consolata Missionaries was assigned to our parish this year.
The Consolata Missionaries are a religious society for foreign missions, composed of priests, brothers and sisters who devote their lives to the evangelization of people everywhere. They work primarily among the people of the developing countries of Africa and South America. They also have a presence in the USA, Canada, England, Italy, Portugal, Spain and South Korea. The Society takes its name from the Shrine of Our Lady of Consolation in Turin, Northern Italy, and was founded by Blessed Joseph Allamano in 1901.

Become A Pilgrim For A Day!

The Archdiocese of Newark is sponsoring a one-day pilgrimage to the Basilica of the National Shrine of the Immaculate Conception, Washington, DC on Saturday, October 26, 2002. The pilgrimage will take place under the leadership of Archbishop John J. Myers. Buses will leave from local parish churches and return on the same day. The feature of the day will be a rosary devotion and concelebrated Mass in the Basilica of the National Shrine. Plan now to be part of this archdiocesan act of love and devotion in honor of the Mother of God as the Archdiocese of Newark also looks forward to observing its Sesquicentennial and Golden Jubilee of the Dedication of its Cathedral.
A Coach bus (with bathroom facilities) will be leaving from St. Anne's Church for this Pilgrimage. Cost will be determined on how many sign up (Maximum 47 people; approx. $40/person) and it includes a box meal for the return trip. We may be sharing the bus with St. Paul of the Cross people. Seating will be on a first-come-first-serve basis. Seat MUST be paid for at time of reservation. Sign-up deadline is September 1st. Please sign up NOW at the rectory.

Welcome Committee
St. Anne's will be organizing a new committee that will be geared towards new parishioners and existing parishioners here at St. Anne's Parish. The first meeting will be held on Tuesday, August 20th at 7 p.m. in the Parish Center. For more information, please contact Caesar Tan at 201-459-1285.

Top Page 8
Registration for the RAINBOW PROGRAM


This is an excellent program designed to help children who had a death in the family or come from a one parent home.
Parent meeting September 9, 2002 Monday 7 PM
For more information, please contact sister alberta
Parish center #3
Any questions call sr. Alberta 656-2490

Page 9 Top
Personal Meditation

August 25th 21st Sunday in Ordinary Time
Reflections


Mt 16:13-20
Now when Jesus came into the district of Caesarea Philippi, he asked his disciples, "Who do people say that the Son of Man is?" And they said, "Some say John the Baptist, but others Elijah, and still others Jeremiah or one of the prophets." He said to them, "But who do you say that I am?" Simon Peter answered, "You are the Messiah, the Son of the living God." And Jesus answered him, "Blessed are you, Simon son of Jonah! For flesh and blood has not revealed this to you, but my Father in heaven. And I tell you, you are Peter, and on this rock I will build my church, and the gates of Hades will not prevail against it. I will give you the keys of the kingdom of heaven, and whatever you bind on earth will be bound in heaven, and whatever you loose on earth will be loosed in heaven." Then he sternly ordered the disciples not to tell anyone that he was the Messiah.
Psalm 140:5
God Can Turn on the Lights
A group of tourists was being shown through Carlsbad Caverns in New Mexico, an underground wonderland of connecting passageways. When the group reached the deepest part of the cave, all the lights were turned out so that the group might experience the deep, dense darkness of the cave.
The darkness was so overpowering that a seven year old girl began to cry. Her eleven-year old brother placed his arm around her and whispered, "Don't cry. There is a man down here who can turn the lights on."
That is also true of God. Whenever we are in darkness, our God can turn on the lights. No matter
• how complicated the problem• how dreary the journey• how stormy the weather• how treacherous the path• how confusing the events• how disturbing the issue
our God sees, hears, and answers prayers.

Thought for the Day
It is but right that our hearts should be on God, when the heart of