© copyright stannes4/2000
Page 1
September 1st, 2002
22nd Sunday in Ordinary Time


Schedule of Masses Week of September 2nd - 8th, 2002

Day

Time

Requested for

Requested by

Mon.Sep 2nd

7 A.M.

For the People of the Parish

9A.M.

James Mocarski

Family

Tues.Sep 3rd

7 A.M.

Michael Engelhardt

Engelhardt Family

9A.M.

Albert Muzikar

Kathy & Al Muzikar

Wed.Sep 4th

7A.M.

James Mocarski 13th Anniversary

Family

9A.M.

Sal Favazzi

Family

7 P.M.

Nevenka Martinov

Stefa Ivin

Thurs.Sep 5th

7A.M.

Goseppe Belfioire

Daughter-in-law Toni Belfiore

9A.M.

Concepcion Samson

Samson Family

Fri. Sep 6th

7A.M.

Madelena Salvamini

Mr. & Mrs. Aniello Russo

9A.M.

Edmund Hannon

Alicea Valentin

Sat. Sep 7th

9 A.M.

Bridget Kennedy

Alicea Valentin

6 P.M.

Louis Mosca

Grace Mosca

7:30PM

Special Intention

Sun. Sep. 8th

7:30AM

Liv. Frances Muzikar
Angela
9 AM
Liv/Dec Members Hanley Family
Family

10:30AM

Katherine Foy & Nalewaiski
Ann Hightower

12 PM

For the People of the Parish
Sanctuary Gifts September 1-7, 2002

Gift

In Memory Of

Requested By

Altar Wine

Bridget Healy

Thomas Mulkeen

Altar Bread

Giuseppe Infante

Mr. & Mrs. P. Scalia & Family

Sanctuary Lamp

Anthony Buchicchio

Hogan Family

Altar Candles

Gerard Pignata Sr.

Mezzina Family
Let Us Pray For Those Seriously Ill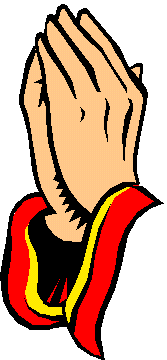 People will remain on sick list for 2 weeks unless otherwise notified: Eugene Smarth, James Dewan, Agnes Lawrence, Lucille Cherry, Thomas Quinn, Angelica Krajnik, John Lanigan, and Arthur Fabian.

Vocation reflections

Jeremiah knows that he cannot hold in the Word of the Lord, he speaks this Word even though it brings him derision and reproach. Holding it in is worse, for the Word burns in his heart. Does the Word of the Lord burn in your heart? Do you have a desire to share this Word? Is the Lord calling you to do this as a Priest?

If you feel this call, "inquire within" and Please contact the Vocations Office the Vocations Office at (973) 497-4365 or by E-mail at kellyric@rcan.org. Or visit our web site at www.rcan.org.
Page 2 Top

STEWARDSHIP



STEWARDSHIP SCRIPTURE REFLECTION
In today's gospel Jesus challenges us with a different understanding of the world that involves self-denial and a clear focus on the model of servant hood and selfless love.

OUR WEEKLY OFFERING
August 2002
August 24/25 $4,744.
Month's Total $19,608.
Month's Average $4,902.
Mailed in $78.50.

We thank you!

WEEKLY AVERAGE COMPARISONS:
Month '01 Monthly Avg. '02 Monthly Avg.
August $5,315 $4,902
September $6,139.




Rite of Christian Initiation of Adults
The RCIA Team of St.Anne's is now accepting registration for all who wish to become Catholic of for those who have been baptized Catholic and have not received their Sacraments of First Communion and/or Confirmation.
This formation is a gradual process consisting of weekly classes after the 10:30am Mass on Sundays. If you are aware of any person who is interested in becoming a Catholic or needs to receive their Sacraments, please contact Janice Fiorese at the rectory 201-656-2490.
Name: ___________________________________________________________
Address: _________________________________________________________
Phone: ____________________________________________
HOLY HOUR FOR PRIESTS


HOLY HOUR WILL BE SUSPENDED FOR THE SUMMER MONTHS OF JULY AND AUGUST. IT WILL RESUME IN SEPTEMBER. PLEASE PRAY FOR OUR PRIESTS FROM YOUR HOME DURING THIS TIME.






School Bells
St. Anne's School will reopen for the 2002-03 school year on Wednesday, September 4th for students in grades K-8. There will be a noon dismissal on September 4th, 5th, 6th.
Pre-K classes will begin on September 9th.

Top
page 3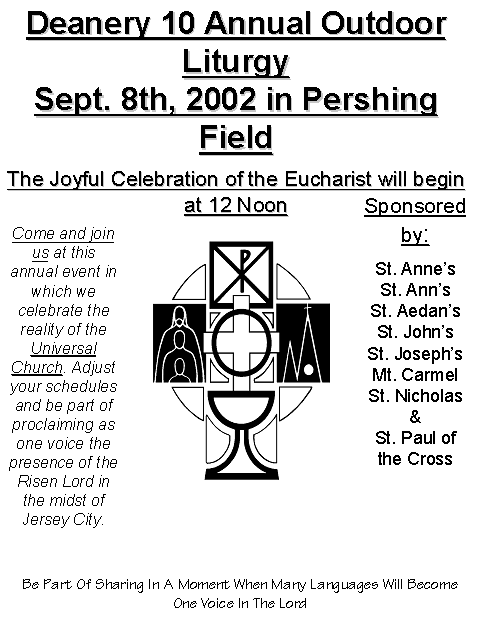 Top page 4
Heights Community Meeting
The Heights Community Relations Council begins its 32nd consecutive year of existence with its next meeting on Tuesday, September 3rd at 7:30 p.m. In the Second Floor Academy Room of the North District Police Station House at Hutton Street. This large community organization meets each month and brings together the residents and community leaders from the area covered by the north district police. They meet with their police commander and discuss various situations in their area as well as other items and issues of interest and importance to this area.
At this meeting, the guest speaker will be Mayor Glenn Cunningham who will address issues of importance to the city and to The Heights area. He will also present the annual "Heights Pride Awards", presented annually each Fall to those citizens of the Heights who have made long and significant contributions to the life of The Heights. The highlight of the evening will be the presentation of the "Heights Pride Citizen of the Year" Award. All residents of the area are invited to attend.

Retreat
Attention men and women, married and single, ages 21-39!!
You are invited to attend a retreat designed specifically to your age group. "Living the Lord's Prayer" is a powerful weekend retreat experience that offers you an opportunity to deepen your relationship with God through personal reflection on the Lord's Prayer. You will be challenged to imagine your life in terms of the words Jesus taught us, and consider it as a foundation for every day living.
This retreat is scheduled to take place September 20-22 at the Claremount Retreat Center in beautiful Mount Arlington, New Jersey, on the bank of Lake Hopatcong. The weekend cost of $100 per person includes food, housing and all materials. A registration form, including directions, is located online at the new Web site for the Office of Youth & Young Adult Ministry: www.NewarkOYM.org . Print and send the form by September 8th. If you would like to receive a form by mail, call 973-497-4502.

Christian Coffee House Series
Ragamuffins at THE WELL. Announcing a new season of 'THE WELL", a Christian coffee house series for adults and youth of high school age. The season premier on Thursday, September 12 from 7-9:30 p.m. will feature Rick Elias, founding member of Rich Mullins' Ragamuffin Band, whose hits include Awesome God and Step by Step. Rick Elias, ranked among the top 100 Christian artists of all time by CCM (Contemporary Christian Music) Magazine, also wrote and produced the soundtrack for the movie "That Thing You Do" with Tom Hanks.
Join us at the Archdiocesan Youth Retreat Center, 499 Belgrove Drive in Kearny, NJ for great music, Christian fellowship and gourmet coffee, espresso and cappuccino. Admission for this special event will be $10 for adults and $5 for youth under 18. THE WELL is held the second Thursday of every month. For more information call 201-998-0088.



Day of Prayer
With the faith-filled support of His Excellency, Most Reverend John J. Myers, Archbishop of Newark, a Day of Prayer will be held in honor of Our Blessed Mother under the title of The Lady of All Nations on Saturday, September 28th from 9 a.m. to 4 p.m. at St. John the Apostle Church in Linden, NJ. Most Reverend Arthur J. Serratelli will offer Mass at 11 a.m.
Fr. Paul Maria Sigl, founder of the Family of Mary Coredemptrix, along with members of his missionary community will conduct the day. Father's conferences will explain the urgency for our times of the apparitions of the Blessed Mother in Amsterdam. These apparitions have the approval of the local bishop, His Excellency, Most Reverend Jozef Maria Punt.

Our Web Site
When you log on and browse around you'll see all kinds of information about our parish. Included, of course, will be the current activities for the many different organizations as well as an update as to what is going on with our parish family.
Do not let evil defeat you: Instead, conquer evil with good!!
By your wounded heart: teach us love, teach us love, teach us love..... -Daphne Fraser
Labor Day Mass Schedule


Due to Monday (September 2nd) being a Holiday (LABOR DAY), there will be only one Mass which will be concelebrated at 9 A.M.

Padre Pio
The September meeting for the Padre Pio Group has been changed to Saturday, September 7th ( instead of Sept. 14th) due to the trip to Our Lady of Lourdes in Connecticut on September 14th.
Gathering begins with prayers in church from 2-3 p.m. and meeting follows in auditorium. All are welcome!

CCD News
Registration - Sept. 3,4,5 - 10 a.m.-12 noon & 1-4 p.m.; Sunday, Sept. 8th 10-11 a.m.; Monday, Sept. 9th 7-8 p.m. All registration will take place in the CCD Office.
All parents who have registered - Class cards can be picked up and fee paid (if didn't already) during dates and times mentioned above.
Classes begin on Sunday, September 22nd. All children should attend the family Mass at 9 a.m. Class time is from 10-11:30 a.m.
The Commissioning of Teachers will also be on September 22nd at the 9 am. Mass. Come and support your child's teacher.
Teachers' Orientation Meeting will be on September 11th at 7 p.m. in Parish Center #3.


9/11 Anniversary Commemoration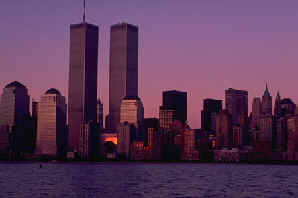 The Most Reverend John J. Myers, Archbishop of Newark, extends an invitation to a celebration of evening prayer in the Roman Catholic Tradition on Sunday, September 8th at 6 p.m. in the Cathedral Basilica in Newark. An inter-religious gathering of remembrance, support, healing, reconciliation and hope to remember those whose lives were taken, to support families still dealing with the loss of loved ones, and to gratefully acknowledge those who gave selflessly of themselves in the recovery effort. Everyone is welcome! Plan now to participate. Members of communions other than Roman Catholic are cordially invited.
Parish Festival
St. Joseph Parish in Jersey City celebrates 146 years as the Catholic Church on the Hilltop of Jersey City with its 25th Annual Parish Festival beginning Tuesday, September 10th at 6 p.m. The Festival extends each night from 6-11 p.m. (Except Sunday-4-9 p.m.). The Festival concludes Sunday, September 15th at 9 p.m. with a 50/50 drawing.
We feature nightly live entertainment: Friday, Sept. 13th "Alumni Night with Baby Parade"; Sat., Sept. 14th is Spanish Night; Sun., Sept. 15th is Filipino Night.

Retreat for Separated/Divorced
A weekend retreat for separated or divorced people will be given o September 13,14,15 in Newton, New Jersey by a Franciscan Retreat Team. For more information, call Father Tom Kelly, OFM (201) 531-0741 or Deacon Milt (973) 208-8430.

Top Page 6
MONDAY 1Cor 2:1-5 Ps 119:97-102 Lk 4:16-30
TUES. 1Cor 2:10b-16 Ps 145:8-14 Lk 4:31-37
WED. 1Cor 3:1-9 Ps 33:12-15,20-21 Lk 4:38-44
THURS. 1Cor 3:18-23 Ps 24:1-6 Lk 5:1-11
FRIDAY 1Cor 4:1-5 Ps 37:3-6,27-28,37-40 Lk 5:33-39
SATURDAY 1Cor 4:6b-15 Ps 145:17-21 Lk 6:1-5
NEXT SUNDAY - 23rd SUNDAY IN ORDINARY TIME Ez 33:7-9 Ps 95:1-2,6-9 Rom 13:8-10 Mt 18:15-20


High School Admissions Exams
For 8th Grade students applying for Fall 2003 admission to Catholic high schools in the Archdiocese of Newark, Diocese of Metuchen, or Diocese of Paterson. Below is where/when exam will be administered:
Archdiocese of Newark (Bergen, Essex, Hudson and Union counties): Friday, November 8th
Diocese of Metuchen (Middlesex, Somerset, Warren, and Hunterdon counties): Saturday, November 9th
Diocese of Paterson (Passaic, Morris, and Sussex counties): Friday, November 8th
Beginning September 3rd, you may obtain an application and handbook from a Catholic elementary or high school. Examination fee of $30 will include reporting scores to three high schools of your choice. The test is designed to measure scholastic aptitude in verbal and non-verbal abilities, and achievement in reading, mathematics, and language. Applications and fees will be processed from September 3rd through October 18th. By applying early, you will have a much better chance of being assigned to a test site of your choice. For further information beginning September 9th, you can contact: Cooperative Admissions Examination Office, CTB/McGraw-Hill, 20 Ryan Ranch Rd., Monterey, CA 93940 - email COOP2002@ctb.com - (800) 569-2667.
Parish Ministry Fair The College of St. Elizabeth is sponsoring a day for all involved in parish ministries (eucharistic ministers, lectors, RCIA teams, catechists, youth ministers, teachers, bereavement groups, etc.). This Parish Ministry Fair will be held on Saturday, September 21st and will include prayer, excellent presentations, and book exhibits. For further information, please call 973-290-4300/4364 or visit our website at www.csespirit.com .
Bereavement Support Group Facilitator Training



Are you interested in becoming part of the ministry to the bereaved in your parish? An eight-week training program is offered at the Archdiocesan Center and is now open for registration. Participants will explore the stages and tasks of grief and mourning and develop their communication and group facilitation skills. Sessions are offered on Tuesday mornings or on Thursday evenings and will begin at the end of September and continue through November. For registration and fee information, please contact the Office of Family Life Ministries of the Archdiocese of Newark at 973-497-4327. Pre-registration is required; class size is limited.
Free Check Up
North Hudson Community Action Corporation will participate in free check ups for individuals with Diabetes on Thursday, September 12th from 5-9 p.m. at the North Hudson Community Action Health Center, 5301 Broadway in West New York. Free check up for the eyes, feet, kidney, blood pressure and blood test for cholesterol and hemoglobin Al C. For registration call 201-866-9320x163.

Top Page 7

Pilgrimage to Washington, DC
St. Anne's Church/Archdiocese of Newark
is sponsoring a one-day pilgrimage to the Basilica of the National Shrine of the Immaculate Conception, Washington, DC
Saturday, October 26, 2002

The feature of the day will be a rosary devotion and concelebrated Mass in the Basilica of the National Shrine.

A Coach bus (with bathroom facilities) will be leaving from St. Anne's Church for this Pilgrimage. Cost will be determined on how many sign up (Maximum 47 people; approx. $40/person) and it includes a box meal for the return trip. Seating will be on a first-come-first-serve basis.

This is the last week to sign up. Deadline is September 1st. If we don't have enough people, this trip will be canceled due to a lack of participation.


Registration for the RAINBOW PROGRAM

THIS IS AN EXCELLENT PROGRAM DESIGNED TO HELP CHILDREN WHO HAD A DEATH IN THE FAMILY OR WHO COME FROM A ONE-PARENT HOME.

PARENT MEETING
MONDAY, SEPTEMBER 9, 2002
PARISH CENTER #3
7 P.M.

FOR MORE INFORMATION, PLEASE CONTACT SISTER ALBERTA AT 201-659-1794.

Top Page 8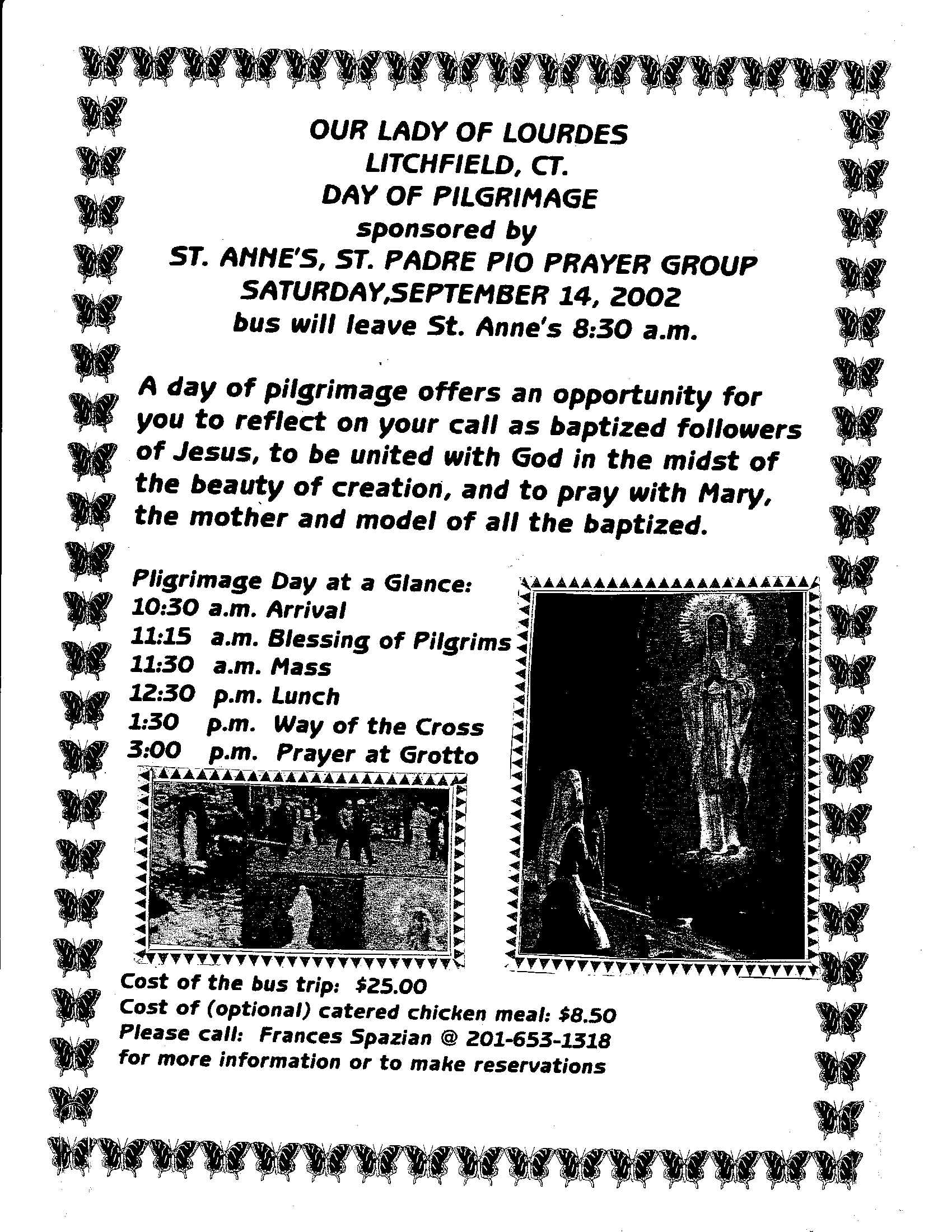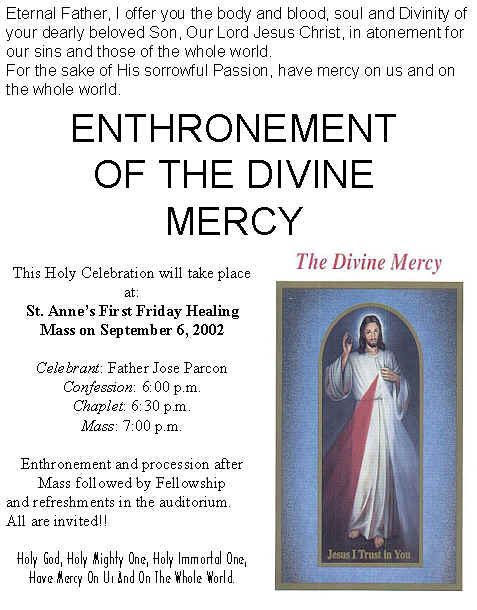 Page 9 Top
Personal Meditation

Personal Meditation September 1st, 2002
Gospel Reflections Jeremiah 20:7-9, Psalm 63, Romans 12:1-2, Matthew 16:21-27 (124)

Why Was Peter Bald?
When you see a representation of the twelve apostles how do you know which one of them is Peter? Is it not that Peter is usually the bald one? And why was Peter bald? Here I would like to offer a theory that comes, not from Scriptural scholarship, but from personal reflection. According to my theory Peter was bald because he used to tear his hair out in exasperation at having to live with Jesus. Maybe the expression in English 'tearing one's hair out' as meaning to be exasperated or frustrated goes back to Peter and his experience with Jesus. For example, one day Jesus and the disciples went to the temple to pray. A Pharisee came in and prayed like this in front of everyone, "Thanks be to you God that I am not like other people around here. I pray regularly. I am not a thief or a liar or a womanizer like so many others around here that I might mention. You are lucky, God, to have good people like me around. How do you tolerate sinners like that tax collector there in the corner?" In the corner the poor tax collector was ashamed to even raise his eyes but just said quietly from his heart "Lord, have mercy on me a sinner." For Peter there was no doubt who was the best man around, it was the Pharisee. So when Jesus said that it was the humble tax collector that went home justified and not the self-righteous Pharisee Peter just could not get it, so chkk!, he started to pull his hair out!
And then a very rich man came in and put two large notes on the collection plate. "Boy, oh Boy, look at that," Peter said. "No," Jesus said, but look at that as they heard a little "clonk, clonk." S poor widow had dropped two coins into the collection box. "You judge by the amount given. I judge by what is left over when the person has given. The rich man still had his millions after he gave his donation but the poor woman gave everything she had." This was too much for Peter and so, chkk! he lost another tuft of hair.
The same thing happened when Jesus told stories that made the hated Samaritans the virtuous heroes. And then there was the father who had two sons, one obedient and one a useless waster. But when the useless sinful one came home the father embraced him and had a party. Who could live with someone who so exasperatingly turns normal expectations upside down?
But it was especially on the matter of suffering that Peter tore his hair out. In the Gospel last Sunday Jesus had asked, "Who do you say that I am?" Peter had got it right, "You are the Messiah," he had answered. And Jesus had answered, "Terrific! Because you are so smart I will make you the head of the Apostles!" Shortly afterwards, while Peter was still glowing over his promotion, Jesus began to talk about going up to Jerusalem and suffering there. This was too much for Peter. He took Jesus aside and said "Look here, Jesus. You are the boss and now you have made me the boss. The boss does not suffer. He pushes the dirty jobs on to others. You have got it all wrong. You and I should not have to suffer!" Then Jesus said, "Get behind me, Satan. You are still getting it wrong. The values are those of the people of this world and not those of God." and all poor Peter could do was sit down and tear his hair out!
And to this day we are still getting it wrong. Each of us feels somewhere deep down that, while it is alright and normal for others to suffer, we should be exempt. We want to be elite. We cultivate the Lord with our devotions and offerings trying to bribe the privilege of exemption from suffering from him. But he will not be bribed. In fact, he showed us by his own life that suffering is not to be avoided but rather must be faced.