© copyright stannes4/2000
Page 1
September 8th, 2002
23rd Sunday in Ordinary Time


Schedule of Masses Week of September 9th-15th, 2002

Day

Time

Requested for

Requested by

Mon.Sep 9th

7 A.M.

For the People of the Parish

9A.M.

Liv. Frances Muzikar

Frances Spazian

Tues.Sep 10th

7 A.M.

Madelena Salvemini

Lina Creazzo & Family

9A.M.

Liv. Frances Muzikar

Terry

Wed.Sep 11th

7A.M.

Nelso Allen Pingol

Alfredo Pingol

9A.M.

Helen Wilkins

Family

7 P.M.

Karen DelGiorno

Paul Donnelly & Family

Thurs.Sep 12th

7A.M.

Theresa Wright

Grandchildren

9A.M.

James & Helen Starz

Fri. Sep 13th

7A.M.

Liv. Josephine Tornabe

Sister Agnes

9A.M.

Edward & Butch

Ruth Cullen

Sat. Sep 14th

9 A.M.

Carol Johnston

Dorothy Lee

6 P.M.

Charles T. Schaadt Sr.

Family

7:30PM

For the People of the Parish

Sun. Sep. 15th

7:30AM

James Mocarski
Family
9 AM
Helen and Joe Smith
John Nadolny

10:30AM

John Neumann Jr.
Family

12 PM

John Mondanaro
Florence
Sanctuary Gifts September 8th - 14th, 2002

Gift

In Memory Of

Requested By

Altar Wine

Joseph Wares

Hogan Family

Altar Bread

Natale D'Elisus

Stephen Zadroga Family

Sanctuary Lamp

Ann Palmieri

Grace Mosca

Altar Candles

Anthony Buchicchio

Marie Pianese
Let Us Pray For Those Seriously Ill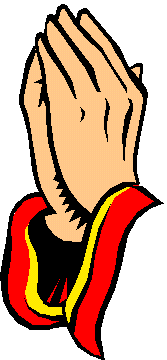 People will remain on sick list for 2 weeks unless otherwise notified: ugene Smarth, James Dewan, Agnes Lawrence, Lucille Cherry, Thomas Quinn, Angelica Krajnik, John Lanigan, and Arthur Fabian.

Vocation reflections

In today's Responsorial Psalm we sing: "If today you hear his voice, harden not your hearts." Hearing the voice of the Lord - and responding to it - is the challenge of every Christian. We hear and listen for the purpose of making a response. For some that response will mean following Jesus as Priests, Sisters, Brothers or Deacons. Are you hearing the voice of the Lord calling you to be a Priest, Religious Sister or Brother, or Deacon?
If you feel this call, "inquire within" and Please contact the Vocations Office the Vocations Office at (973) 497-4365 or by E-mail at kellyric@rcan.org. Or visit our web site at www.rcan.org.
Page 2 Top

STEWARDSHIP



STEWARDSHIP SCRIPTURE REFLECTION
St. Paul tells the Romans that the only thing we owe each other is love. Living as a faithful steward and sharing who we are and what we have is surely a way in which we love one another.

OUR WEEKLY OFFERING
August 2002
August 30/Sept.1 $5,856.
Month's Total $5,856.
Month's Average $5,856.
Mailed in $291.

We thank you!

WEEKLY AVERAGE COMPARISONS:
Month '01 Monthly Avg. '02 Monthly Avg.
August $5,315 $4,902
September $6,139.




Rite of Christian Initiation of Adults
The RCIA Team of St.Anne's is now accepting registration for all who wish to become Catholic of for those who have been baptized Catholic and have not received their Sacraments of First Communion and/or Confirmation.
This formation is a gradual process consisting of weekly classes after the 10:30am Mass on Sundays. If you are aware of any person who is interested in becoming a Catholic or needs to receive their Sacraments, please contact Janice Fiorese at the rectory 201-656-2490.
Name: ___________________________________________________________
Address: _________________________________________________________
Phone: ____________________________________________
HOLY HOUR FOR PRIESTS


HOLY HOUR WILL BE SUSPENDED FOR THE SUMMER MONTHS OF JULY AND AUGUST. IT WILL RESUME IN SEPTEMBER. PLEASE PRAY FOR OUR PRIESTS FROM YOUR HOME DURING THIS TIME.






Christian Coffee House Series
Ragamuffins at THE WELL. Announcing a new season of 'THE WELL", a Christian coffee house series for adults and youth of high school age. The season premier on Thursday, September 12 from 7-9:30 p.m. will feature Rick Elias, founding member of Rich Mullins' Ragamuffin Band, whose hits include Awesome God and Step by Step. Rick Elias, ranked among the top 100 Christian artists of all time by CCM (Contemporary Christian Music) Magazine, also wrote and produced the soundtrack for the movie "That Thing You Do" with Tom Hanks.
Join us at the Archdiocesan Youth Retreat Center, 499 Belgrove Drive in Kearny, NJ for great music, Christian fellowship and gourmet coffee, espresso and cappuccino. Admission for this special event will be $10 for adults and $5 for youth under 18. THE WELL is held the second Thursday of every month. For more information call 201-998-0088.


Top
page 3
Our Web Site
When you log on and browse around you'll see all kinds of information about our parish. Included, of course, will be the current activities for the many different organizations as well as an update as to what is going on with our parish family.
Do not let evil defeat you: Instead, conquer evil with good!!
By your wounded heart: teach us love, teach us love, teach us love..... -Daphne Fraser
CCD News
Registration - Sunday, Sept. 8th 10-11 a.m.; Monday, Sept. 9th 7-8 p.m. All registration will take place in the CCD Office.
All parents who have registered - Class cards can be picked up and fee paid (if didn't already) during dates and times mentioned above.
Teacher Orientation meeting changed from September 11th to September 12th due to unforeseen cicumstances.
Meeting for Teacher Aides Program will be on September 17th in CCD Office at 7 P.M.
Catechetical Sunday will be celebrated nationwide on September 15th. This annual celebration recognizes those who share in the formal teaching ministry of the church. This year's theme is "Living for the Lord". Our parish will observe Catechetical Sunday with a Rite of Commissioning for all teachers and Aides of the program on September 22nd at the 9 am. Mass. Come and support your child's teacher.
Classes begin on Sunday, September 22nd. All children should attend the family Mass at 9 a.m.


9/11 Anniversary Commemoration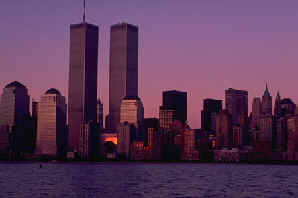 The Most Reverend John J. Myers, Archbishop of Newark, extends an invitation to a celebration of evening prayer in the Roman Catholic Tradition on Sunday, September 8th at 6 p.m. in the Cathedral Basilica in Newark. An inter-religious gathering of remembrance, support, healing, reconciliation and hope to remember those whose lives were taken, to support families still dealing with the loss of loved ones, and to gratefully acknowledge those who gave selflessly of themselves in the recovery effort. Everyone is welcome! Plan now to participate. Members of communions other than Roman Catholic are cordially invited.
Second Collection
Next week the second collection will go to aid the Church in Central and Eastern Europe. In this part of the world the Church, emerging from 70 years of communist rule, is vigorously involved in rebuilding the faith of its people. Proceeds from the collection, sponsored by the Bishops of the United States, are used for:
· Supporting religious education programs
· Training seminarians
· Expanding social ministries and
· Rebuilding churches, convents and schools.
Your generosity can help provide the resources to grow and nourish the faith in this section of the world.

St. Anne's Track Team


Registration for the Fall Cross Country Track Season will be in person on September 12th & 13th only at Star Lite from 6:30-8 p.m. All runners MUST be accompanied by a parent/guardian.
Practice starts Monday, Sept. 16 and will be held Mondays, Wednesdays and Thursdays at Pershing Field from 6-6:45 p.m.
We're looking forward to seeing everyone again for another great track season!

Top page 4
Registration for the RAINBOW PROGRAM

THIS IS AN EXCELLENT PROGRAM DESIGNED TO HELP CHILDREN WHO HAD A DEATH IN THE FAMILY OR WHO COME FROM A ONE-PARENT HOME.

PARENT MEETING
MONDAY, SEPTEMBER 9, 2002
PARISH CENTER #3
7 P.M.

FOR MORE INFORMATION, PLEASE CONTACT SISTER ALBERTA AT 201-659-1794.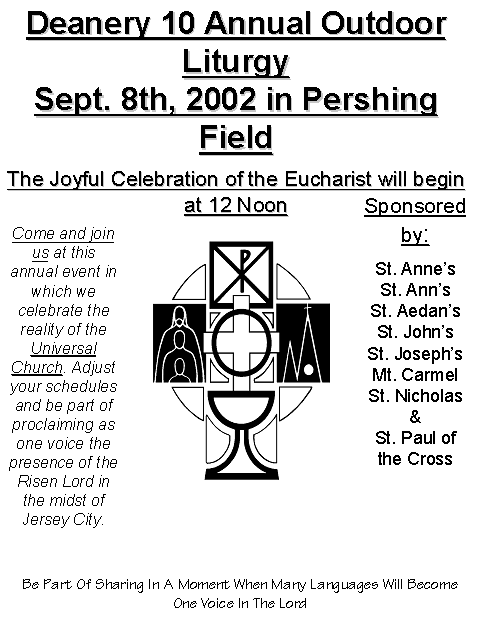 Top Page 6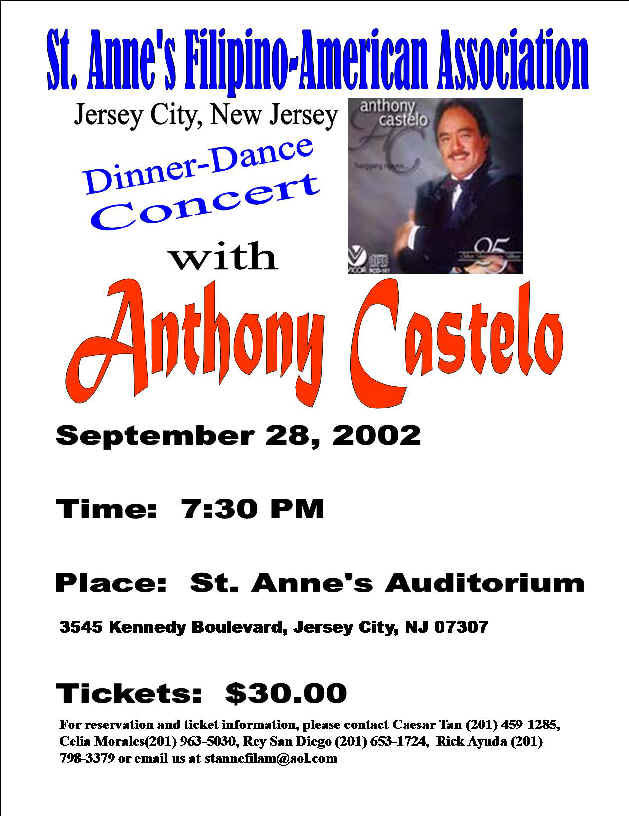 Top Page 7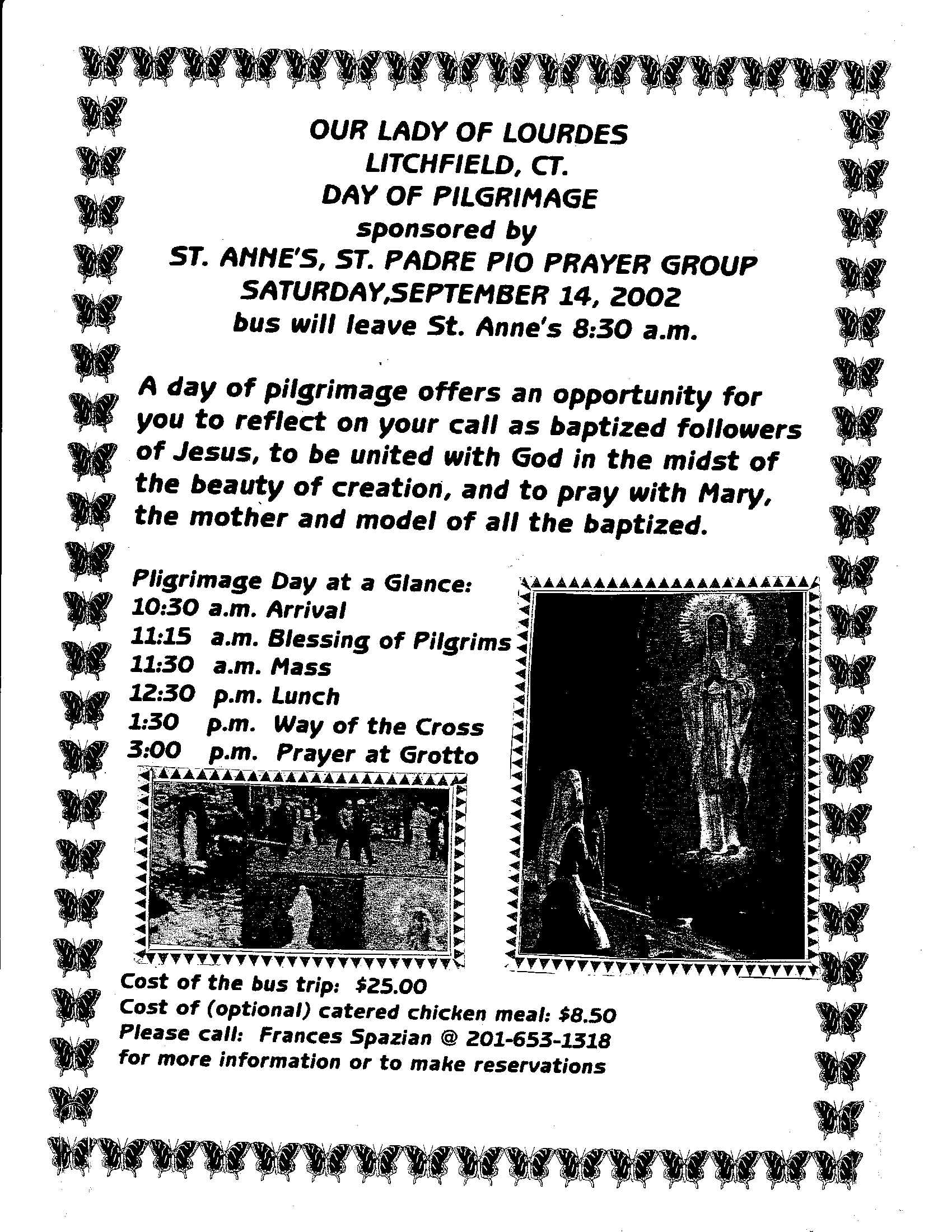 Top Page 8
MONDAY 1Cor 5:1-8 Ps 5:5-6,7,12 Lk 6:6-11
TUES. 1Cor 6:1-11 Ps 149:1-6,9 Lk 6:12-19
WED. 1Cor 7:25-31 Ps 45:11-12,14-17 Lk 6:20-26
THURS. 1Cor 8:1b-7,11-13 Ps 139:1-3,13-14 Lk 6:27-38
FRIDAY 1Cor 9:16-19,22b-27 Ps 84:3-6,8,12 Lk 6:39-42
SATURDAY Nm 21:4b-9 Ps 78:1-2,34-38 Phil 2:6-11 Jn 3:13-17
NEXT SUNDAY - 24th SUNDAY IN ORDINARY TIME Sir 27:30-28:9 Ps 103:1-4,9-12 Rom 14:7-9 Mt 18:21-35



High School Admissions Exams
For 8th Grade students applying for Fall 2003 admission to Catholic high schools in the Archdiocese of Newark, Diocese of Metuchen, or Diocese of Paterson. Below is where/when exam will be administered:
Archdiocese of Newark (Bergen, Essex, Hudson and Union counties): Friday, November 8th
Diocese of Metuchen (Middlesex, Somerset, Warren, and Hunterdon counties): Saturday, November 9th
Diocese of Paterson (Passaic, Morris, and Sussex counties): Friday, November 8th
Beginning September 3rd, you may obtain an application and handbook from a Catholic elementary or high school. Examination fee of $30 will include reporting scores to three high schools of your choice. The test is designed to measure scholastic aptitude in verbal and non-verbal abilities, and achievement in reading, mathematics, and language. Applications and fees will be processed from September 3rd through October 18th. By applying early, you will have a much better chance of being assigned to a test site of your choice. For further information beginning September 9th, you can contact: Cooperative Admissions Examination Office, CTB/McGraw-Hill, 20 Ryan Ranch Rd., Monterey, CA 93940 - email COOP2002@ctb.com - (800) 569-2667.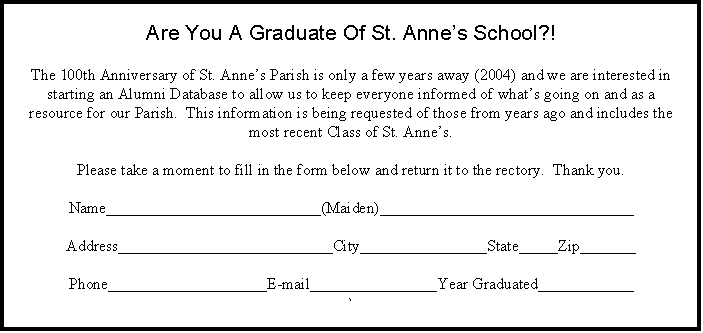 Page 9 Top
Personal Meditation

Personal Meditation September 8th, 2002
Gospel Reflections
Mt 18:15-20
"If another member of the church sins against you, go and point out the fault when the two of you are alone. If the member listens to you, you have regained that one. But if you are not listened to, take one or two others along with you, so that every word may be confirmed by the evidence of two or three witnesses. If the member refuses to listen to them, tell it to the church; and if the offender refuses to listen even to the church, let such a one be to you as a Gentile and a tax collector. Truly I tell you, whatever you bind on earth will be bound in heaven, and whatever you loose on earth will be loosed in heaven. Again, truly I tell you, if two of you agree on earth about anything you ask, it will be done for you by my Father in heaven. For where two or three are gathered in my name, I am there among them."
Psalm 37:5
Rejecting Rejection
G. Campbell Morgan, a prominent and popular English clergyman, served large churches where massive crowds came each Sunday to hear him preach. Morgan's literary output of sermons and books was immense.
However, before he began his ministry, he was twice rejected as unfit for the ministry by ecclesiastical authorities. One rejection was particularly difficult for him. In 1888, he was one of one-hundred-fifty young men who sought ordination. Although he passed the doctrinal examinations, he had to preach a trial sermon. In a huge auditorium that seated more than a thousand, three ministers and seven hundred fifty-six others came to listen to the candidates. Two weeks later, Morgan's name appeared among the one hundred five rejected for the ministry.
Jill Morgan, his daughter-in-law, wrote in her book A Man of the Word, "He wired to his father the one word, 'Rejected' and sat down to write in his diary: 'Very dark everything seems. Still, He knoweth best.'"
After taking time to recover from the rejection, Morgan rejected the verdict, reapplied for ordination, and was accepted. He went on to become one of England's most outstanding clergymen.
Let us not be defeated by rejection. Rather let us, like Morgan, reject rejection. Let us trust in God to help us move forward and closer to our dreams.

Thought for the Day
God governs the world, and we have only to do our duty wisely and leave the issue to him.