© copyright stannes4/2000
Page 1
September 15th, 2002
24th Sunday in Ordinary Time


Schedule of Masses Week of September 16 - 22nd, 2002

Day

Time

Requested for

Requested by

Mon.Sep 16th

7 A.M.

For the People of the Parish

9A.M.

Dec. members of McMahon Family

Mary Fisher

Tues.Sep 17th

7 A.M.

Grace Puliafico

Bill Pisciotto

9A.M.

Edmund Hannon

John & Margaret Hanley

Wed.Sep 18th

7A.M.

Catherine Gourhan

Gourhan family

9A.M.

Bridget Kennedy

Nora Browne & Family

7 P.M.

Krist Dunic

Stefa Ivin

Thurs.Sep 19th

7A.M.

Robert Anderson

Rae Slezak

9A.M.

Bridget Kennedy

Joan & Frank

Fri. Sep 20th

7A.M.

Gertrude Zirk

Michael Maresca

9A.M.

Annunziata & Ceasar Grieco

Salati Family

Sat. Sep 21st

9 A.M.

George & Frank

Fran & Ann

6 P.M.

Anita D'Amico

Family

7:30PM

Special Intention

Sun. Sep. 22nd

7:30AM

Hugo Bacigalupo
Helen, Mary, and John
9 AM
Ruth Weber
Nancy, Jim, & Pop

10:30AM

Carmela DiSalvo
Manzo Family

12 PM

Jean & Antonio Manzo
Children
Sanctuary Gifts September 15th - 21st, 2002

Gift

In Memory Of

Requested By

Altar Wine

Michael J. Curly

Chris Burke

Altar Bread

Michael J. Curly

Bridget Burke

Sanctuary Lamp

Michael J. Curly

Catherine Burke

Altar Candles

Thanksgiving

Anonymous
Let Us Pray For Those Seriously Ill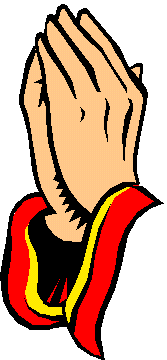 People will remain on sick list for 2 weeks unless otherwise notified:
Eugene Smarth, Thomas Quinn, Angelica Krajnik, John Lanigan, and Arthur Fabian.


Vocation reflections

Today's liturgy presents Christian forgiveness as the human counterpart of God's forgiveness. We are called to be instruments of God's forgiveness to each other. Is God calling you in a deeper way to be an instrument of forgiveness and healing to his people as a Priest, Religious Sister or Brother or Deacon?
If you feel this call, "inquire within" and Please contact the Vocations Office the Vocations Office at (973) 497-4365 or by E-mail at kellyric@rcan.org. Or visit our web site at www.rcan.org.
Page 2 Top

STEWARDSHIP



STEWARDSHIP SCRIPTURE REFLECTION
Stewardship is not optional! "None of us lives as his own master and none of us dies as his own master," says St. Paul. "While we live we are responsible to the Lord, and when we die we die as His servants."

.

OUR WEEKLY OFFERING
September 2002
September7/8 $4,280.
Month's Total $10,136.
Month's Average $5,068.
Mailed in

We thank you!




WEEKLY AVERAGE COMPARISONS:
Month '01 Monthly Avg. '02 Monthly Avg.
August $5,315 $4,902
September $6,139.





Do you want to learn more about the Catholic faith?
Are you interested in becoming Catholic?
Do you need to be Baptized, Confirmed or receive First Communion?

St. Anne's Church RCIA Program can help answer your questions. To find out more...Call Janice Fiorese in our Rectory at 201-656-2490.
HOLY HOUR FOR PRIESTS


Every Tuesday the Blessed Sacrament is exposed in the church from 3-4 P.M. Those who come dedicate an hour of prayer for the priests, DIVINE MERCY and Religious men and women of the Church.

Prayers are also said for an increase of vocations to the priesthood and religious life. We invite you to come and spend time with the Lord for these intentions and for your personal requests. The Holy Hour closes with Benediction of the Blessed Sacrament.







CCD News
No registration or picking up of class cards on first day of class which is

September 22nd

.

I will be available on Friday evening September 20th from 6-8 p.m. in the CCD Office for those who need to register or pick up class cards.

New registrants are to bring in Baptismal Certificate and $40 fee.
Any students from the Religious Education Program in grades 4 thru 8 who would like to be an Altar Server, should attend a meeting on
Saturday, September 28th at 10 a.m. in St. Anne's Church Auditorium (Bingo Hall).

-
Beginning in October, there will be Children's Choir Practice in church from 11:15-11:45 a.m. for all those who would like to be in the children's choir.
Children will be dismissed from their classes and go to church until 11:45.

Parents are to pick children up from church.

Any questions, please call Sister Alberta at 659-1794.
Catechetical Sunday will be celebrated nationwide on September 15th.

This annual celebration recognizes those who share in the formal teaching ministry of the church.

This year's theme is "Living for the Lord".

Our parish will observe Catechetical Sunday with a Rite of Commissioning for all teachers and Aides of the program on

September 22nd at the 9 a.m. Mass

.

Come and support your child's teacher.

Top
page 3
Second Collection
Next week the second collection will go to aid the Church in Central and Eastern Europe. In this part of the world the Church, emerging from 70 years of communist rule, is vigorously involved in rebuilding the faith of its people. Proceeds from the collection, sponsored by the Bishops of the United States, are used for:
· Supporting religious education programs
· Training seminarians
· Expanding social ministries and
· Rebuilding churches, convents and schools.
Your generosity can help provide the resources to grow and nourish the faith in this section of the world.

St. Anne's Track Team


Registration for the Fall Cross Country Track Season will be in person on September 12th & 13th only at Star Lite from 6:30-8 p.m. All runners MUST be accompanied by a parent/guardian.
Practice starts Monday, Sept. 16 and will be held Mondays, Wednesdays and Thursdays at Pershing Field from 6-6:45 p.m.
We're looking forward to seeing everyone again for another great track season!
High School Admissions Exams
For 8th Grade students applying for Fall 2003 admission to Catholic high schools in the Archdiocese of Newark, Diocese of Metuchen, or Diocese of Paterson. Below is where/when exam will be administered:
Archdiocese of Newark (Bergen, Essex, Hudson and Union counties): Friday, November 8th
Diocese of Metuchen (Middlesex, Somerset, Warren, and Hunterdon counties): Saturday, November 9th
Diocese of Paterson (Passaic, Morris, and Sussex counties): Friday, November 8th
Beginning September 3rd, you may obtain an application and handbook from a Catholic elementary or high school. Examination fee of $30 will include reporting scores to three high schools of your choice. The test is designed to measure scholastic aptitude in verbal and non-verbal abilities, and achievement in reading, mathematics, and language. Applications and fees will be processed from September 3rd through October 18th. By applying early, you will have a much better chance of being assigned to a test site of your choice. For further information beginning September 9th, you can contact: Cooperative Admissions Examination Office, CTB/McGraw-Hill, 20 Ryan Ranch Rd., Monterey, CA 93940 - email COOP2002@ctb.com - (800) 569-2667.

Altar Servers
Any boy or girl in grades 4th and up from CCD or St. Anne's School interested in assisting the priest at Mass by becoming an Altar Server, should attend the meeting on

Saturday, September 28th

at 10 a.m. in the Church Auditorium (Bingo Hall).

Please come and join us.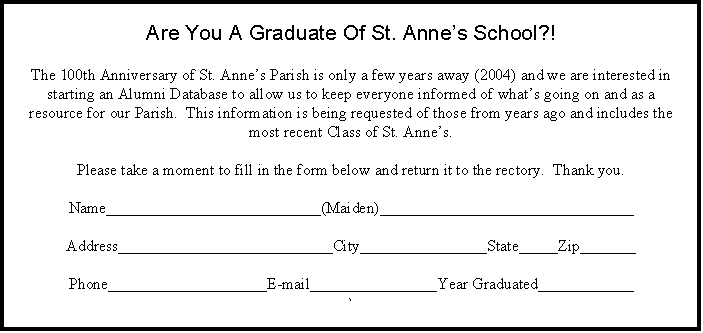 Top page 4

Our Web Site
When you log on and browse around you'll see all kinds of information about our parish. Included, of course, will be the current activities for the many different organizations as well as an update as to what is going on with our parish family.
Do not let evil defeat you: Instead, conquer evil with good!!
By your wounded heart: teach us love, teach us love, teach us love..... -Daphne Fraser

Academy of the Sacred Heart (ASH) located at 713 Washington St., Hoboken is scheduled to have an Open House on Saturday, September 21st 10:30 a.m. to 12 Noon. All 8th graders (GIRLS) and their parents are invited. Come and meet their faculty and students; see the school. For more information, contact Sister Maureen Mahan, Admissions Director at 201-659-7139.
The Academy of Saint Aloysius (ASA), 2495 Kennedy Blvd., Jersey City, sponsored by the Sister's of Charity of Saint Elizabeth, has been preparing young woman for college and a successful future since 1865. Provide your daughter with a wonderful high school education and experience. Attend the Academy's Open House on either Sunday, September 29th from 1-3 p.m. OR Monday, September 30th from 6-8 p.m.. Meet their students and staff and tour their spacious facility which includes new science and computer labs. For more information, call 201-433-8877.
Hudson Catholic Regional High School will host an Open House on Sunday, September 29th from 1-3 p.m. Boys in the 6th, 7th and 8th grades are welcomed with their families to visit with administration, teachers, coaches and current students. For further information, please call Mr. Terence Matthews at 201-332-3429. The school is located at 790 Bergen Avenue in Jersey City.
* * * *
Charitable Gift Annuities
Receive "peace of mind" knowing that you can count on a steady stream of payments for life and support your parish or Archdiocesan Ministry by purchasing in a Charitable Gift Annuity with the Archdiocese of Newark. For personalized proposals, please call Deacon John J. McKenna at the Office of Planned Giving: 973-497-4125.
Retreat
The Capuchin Franciscan Friars are conducting a vocation retreat for single Catholic men 18-39 years who are seeking their calling in life and considering the possibility of Priesthood and Religious Life. Come learn more about St. Francis of Assisi and what it means to be a priest and brother in this Religious Order. September 27th-29th, 2002, Our Lady of the Angels Friary, Paterson, New Jersey. For more information, please call Brother Miguel Ramirez, O.F.M. Cap. at (201) 863-3871 or cell phone (813) 857-5902.
Felician Festival 2002—Something For Everyone
Felician College will host its annual Fall Festival on Sunday, September 29, 2002 on the grounds of its Rutherford campus located at 223 Montross Avenue. The festival grounds and all attractions will be open from 11 a.m.—4:30 pm. with boardwalk games, international food stations and over 50 craft and merchandise vendors for festival-goers to enjoy rain or shine. The day will begin with a walkathon at 8:30 a.m. to raise funds for the Rutherford Community Pantry and the Rutherford Social Services Department. Mass will be celebrated at 10:30 a.m. in the Student Center, followed by the Alumni Hall of Fame Awards and the Alumni Scholarship presentation. Admissions to the Festival is free, but participants are encouraged to bring a non-perishable food item for the Rutherford Community Pantry. Food donations may be dropped off throughout the day at the Alumni Tent.
Top Page 6
MONDAY 1Cor 11:17-26,33 Ps 40:7-10,17 Lk 7:1-10
TUES. 1Cor 12:12-14,27-31a Ps 100:1-5 Lk 7:11-17
WED. 1Cor 12:31-13:13 Ps 33:2-5,12,22 Lk 7:31-35
THURS.1Cor 15:1-11 Ps 118:1-2,16-17,28 Lk 7:36-50
FRIDAY 1Cor 15:12-20 Ps 49:6-10,17-20 Lk 8:1-3
SATURDAY Eph 4:1-7,11-13 Ps 19:2-5 Mt 9:9-13
NEXT SUNDAY - 25th SUNDAY IN ORDINARY TIME Is 55:6-9 Ps 145:2-3,8-9,17-18 Phil 1:20c-24,27a Mt 20:1-16a


Father Frank Becomes A Pastor
You have shared with me in my journey of priesthood, now come celebrate with me as I am installed as pastor of Immaculate Heart of Mary Church, 280 Parker Avenue, Maplewood. The installation will take place on Sunday, October 6, 2002 at the 12 noon Parish Mass. A "light" reception will follow in the school auditorium. Looking forward to seeing you.
Rev. Frank J. Rocchi
Lectors and Eucharistic Ministers
Summer is over and it is time for us to renew our Stewardship way of Life. Once again we will be holding a Workshop on September 21st, 2002 after the 9 a.m. Mass in the auditorium for all Lectors and Eucharistic Ministers. Looking forward to seeing all of you there. Father Julio
Liturgy Committee
There will be a Liturgy Committee Meeting on Monday, September 16th at 7:30 p.m. in the rectory meeting room.
Separated/Divorced Support

Group

The Office of Family Life Ministries has scheduled a support group facilitator training course uniquely designed for those who wish to minister to the needs of the separated and divorced. This one-session course will be held at the Archdiocesan Center, 171 Clifton Ave., Newark at the end of October. For registration and fee information, please call the Office of Family Life Ministries at 973-497-4327. Pre-registration is required; class size is limited.
Welcome To Our Family
We recently received eight new members into our St. Anne's Parish Family through the Sacrament of Baptism. As they begin their new life of grace, we ask that you remember them in your prayers.
They are: Benjamin Hernandez, Skylar Skorski, Georgette Caballero, Daniel Colon, James Conlon, Branden Dhurpat, Brian Gomez, Mackenzie Greeley.
For The Homebound...
Vacation time is over and this is the time to think about work, school, babysitting, etc. It is also the time to help the sick members of our family. If you have anyone at home or in your family who cannot get to church and would like to receive communion, please let us know. We have dedicated Eucharistic Ministers who have volunteered their time and kindness to help the homebound. Let the sick be a vital part of our Church Community by participating in the Sacraments.
If you have any questions regarding this matter, please call Sister Celeste at 201-792-5128.
Keep October 26th open. This will be our next Anointing Mass for the Sick and homebound.
Top Page 7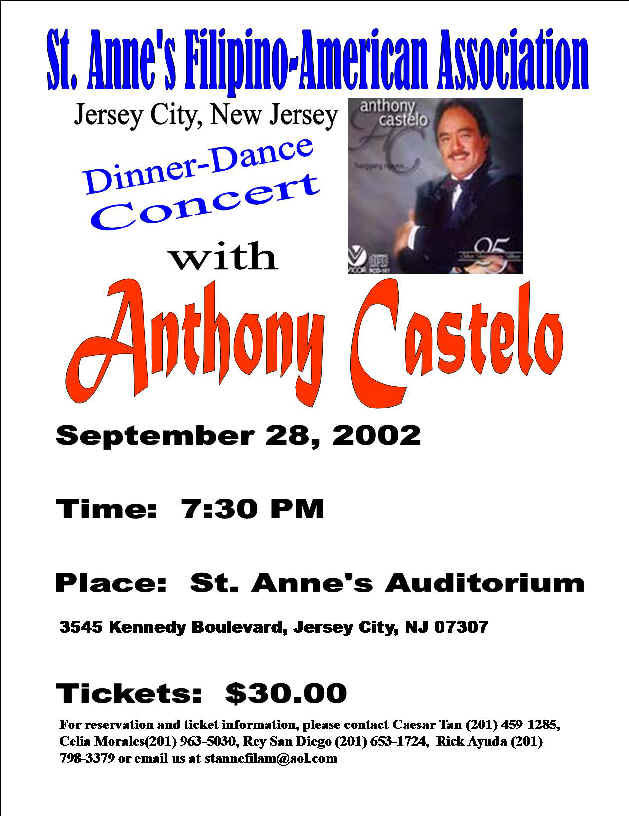 Top Page 8

Page 9 Top
Personal Meditation

Personal Meditation September 15th, 2002
Gospel Reflections
Mt 18:21-35
Then Peter came and said to him, "Lord, if another member of the church sins against me, how often should I forgive? As many as seven times?" Jesus said to him, "Not seven times, but, I tell you, seventy- seven times. "For this reason the kingdom of heaven may be compared to a king who wished to settle accounts with his slaves. When he began the reckoning, one who owed him ten thousand talents was brought to him; and, as he could not pay, his lord ordered him to be sold, together with his wife and children and all his possessions, and payment to be made. So the slave fell on his knees before him, saying, 'Have patience with me, and I will pay you everything.' And out of pity for him, the lord of that slave released him and forgave him the debt. But that same slave, as he went out, came upon one of his fellow slaves who owed him a hundred denarii; and seizing him by the throat, he said, 'Pay what you owe. Then his fellow slave fell down and pleaded with him, 'Have patience with me, and I will pay you. But he refused; then he went and threw him into prison until he would pay the debt. When his fellow slaves saw what had happened, they were greatly distressed, and they went and reported to their lord all that had taken place. Then his lord summoned him and said to him, 'You wicked slave! I forgave you all that debt because you pleaded with me. Should you not have had mercy on your fellow slave, as I had mercy on you? And in anger his lord handed him over to be tortured until he would pay his entire debt. So my heavenly Father will also do to every one of you, if you do not forgive your brother or sister from your heart."
Psalm 91:14
God's Protecting Power
A Wisconsin woman bears testimony to the reality of God's protecting power. Tuesday was chicken night at the restaurant where Debbie worked as a waitress, but few customers ordered chicken on one particular evening. As a result, the manager invited Debbie to take some chicken home, and she put several pieces into a paper bag.
Because the last customers lingered, the restaurant was late in closing, and Debbie missed her bus. Unable to afford a cab, she began walking home on the dark Milwaukee streets, praying and singing a hymn to relieve her fears.
Suddenly, a man with a knife leaped out of the shadows and pushed and dragged her down a dark side street. As she was being dragged, the woman heard four words come from out of nowhere. It was an odd message but very clear and very firm: "Debbie, eat your chicken."
The woman thought she was losing her mind to hear a message like that in such a desperate, dangerous moment. As she was being dragged farther into the darkness, however, she struggled to pull a piece of chicken from the bag. Just as she had managed to get a hold of a piece to bring to her mouth, her attacker stopped. Suddenly, two large dogs that were rummaging in spilled trash cans perked up their ears, sniffed the air, and began growling. With teeth bared, they approached the two and began to charge. The attacker fled, but the dogs did not chase him. Nor did they lunge at Debbie. They merely fixed their eyes on the chicken that she still held in her hand. Debbie tore a piece of meat off and threw it down, where they fought hungrily for it. Dropping pieces every few yards, Debbie got the stray dogs to follow her home. By the time she was safely inside, she understood the message: "Debbie, eat the chicken." It was God's protecting power.
Thought for the Day
The Lord my pasture shall prepare,
And feed me with a shepherd's care;
His presence shall my wants supply,
And guard me with a watchful eye.