© copyright stannes4/2000
Page 1
September 22nd, 2002
25th Sunday in Ordinary Time


Schedule of Masses Week of September 23rd-29th, 2002

Day

Time

Requested for

Requested by

Mon.Sep 23rd

7 A.M.

For the People of the Parish

9A.M.

Padre Pio

Toni Belfiore

Tues.Sep 24th

7 A.M.

Susan Fickett

Robert Fickett

9A.M.

Honor of Padre Pio

Frances Spazian

Wed.Sep 25th

7A.M.

James Mocarski

Family

9A.M.

Agnes Diego

Family

7 P.M.

Marion Schweiger

Patricia O'Connell & Family

Thurs.Sep 26th

7A.M.

Frank Oterseon

Family

9A.M.

Gail Burke

Amanda Bowman

7 P.M.

Mrs. DiGregorio

Vincent Iemma

Fri. Sep 27th

7A.M.

Michael & Mary Capparelli

Roseann Capparelli

9A.M.

John Delgado

Wife

7 P.M.

Maria Racchio

Vincent Iemma

Sat. Sep 28th

9 A.M.

Edmund Hannon

Mr. & Mrs. Dennis Cronin Sr.

6 P.M.

Pompei angelcchio

Salati Family

7:30PM

Special Intention

Sun. Sep. 29th

7:30AM

James Mocarski
Family
9 AM
Mary Dufay
Marge & Steve Lypen

10:30AM

Anthony DeLuise
Wife Delores

12 PM

Agnes Diego
Family
Sanctuary Gifts September 22nd-28th, 2002

Gift

In Memory Of

Requested By

Altar Wine

Gertrude Zirk

Michael Maresca

Altar Bread

Gertrude Zirk

Michael Maresca

Sanctuary Lamp

Albert Hollingsworth

Doris Hollingsworth

Altar Candles

Frank Molita

Theresa Hogan & Paul Leinas
Let Us Pray For Those Seriously Ill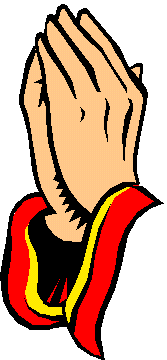 Socorro Kennedy, Anthony Barbalinardo, Thomas Quinn, Angelica Krajnik, John Lanigan, and John Romano Jr.


Vocation reflections

In today's readings we are reminded to walk the talk of Christian Life. God calls us to go beyond the ordinary, the normal, and the expected. His ways are not our ways. The task is to make our ways more like his. Is God calling you to walk the talk of Jesus with your life as a Priest, Religious Sister or Brother, or Deacon?
If you feel this call, "inquire within" and Please contact the Vocations Office the Vocations Office at (973) 497-4365 or by E-mail at kellyric@rcan.org. Or visit our web site at www.rcan.org.
Page 2 Top

STEWARDSHIP



STEWARDSHIP SCRIPTURE REFLECTION
In today's Gospel, the vineyard owner says, "I am free to do as I please with my money, am I not?" We are likewise free. Is a generous return to the Lord in thanksgiving for His many blessings among the choices we have made?

.

OUR WEEKLY OFFERING
September 2002
September14/15 $4,998.
Month's Total $15,134.
Month's Average $5,045.
Mailed in $278.

We thank you!




WEEKLY AVERAGE COMPARISONS:
Month '01 Monthly Avg. '02 Monthly Avg.
August $5,315 $4,902
September $6,139.





Do you want to learn more about the Catholic faith?
Are you interested in becoming Catholic?
Do you need to be Baptized, Confirmed or receive First Communion?

St. Anne's Church RCIA Program can help answer your questions. To find out more...Call Janice Fiorese in our Rectory at 201-656-2490.
HOLY HOUR FOR PRIESTS


Every Tuesday the Blessed Sacrament is exposed in the church from 3-4 P.M. Those who come dedicate an hour of prayer for the priests, DIVINE MERCY and Religious men and women of the Church.

Prayers are also said for an increase of vocations to the priesthood and religious life. We invite you to come and spend time with the Lord for these intentions and for your personal requests. The Holy Hour closes with Benediction of the Blessed Sacrament.







CCD News
- First day of CCD class is September 22nd. No registration or picking up of class cards on this day.
- Any students from the Religious Education Program in grades 4 thru 8 who would like to be an Altar Server, should attend a meeting on Saturday, September 28th at 10 a.m. in St. Anne's Church Auditorium (Bingo Hall).
- Beginning in October, there will be Children's Choir Practice in church from 11:15-11:45 a.m. for all those who would like to be in the children's choir. Children will be dismissed from their classes and go to church until 11:45. Parents are to pick children up from church. Any questions, please call Sister Alberta at 659-1794.
- Catechetical Sunday was celebrated nationwide last weekend. Our parish will observe Catechetical Sunday this weekend with a Rite of Commissioning for all teachers and Aides of the program on September 22nd at the 9 a.m. Mass. Come and support your child's teacher.
Top
page 3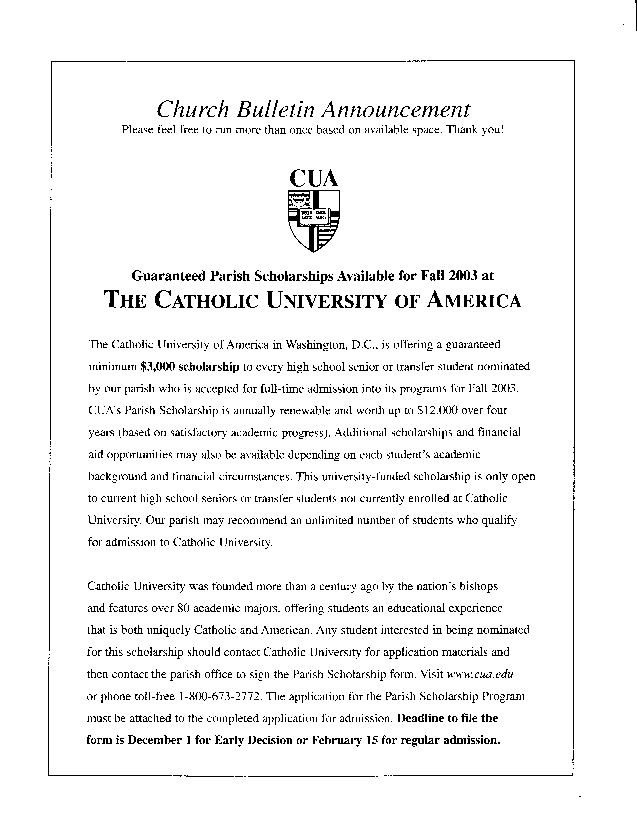 Top page 4
MONDAY Prv 3:27-34 Ps 15:2-5 Lk 8:16-18
TUES. Prv 21:1-6,10-13 Ps 119:1,27,30,34-35,44 Lk 8:19-21
WED. Prv 30:5-9 Ps 119:29,72,89,101,104,163 Lk 9:1-6
THURS. Eccl 1:2-11 Ps 90:3-6,12-14,17 Lk 9:7-9
FRIDAY Eccl 3:1-11 Ps 144:1-4 Lk 9:18-22
SATURDAY Eccl 11:9-12:8 Ps 90:3-6,12-14,17 Lk 9:43b-45
NEXT SUNDAY - 26th SUNDAY IN ORDINARY TIME Ez 18:25-28 Ps 125:4-9 Phl 2:1-11 Mt 21:28-32

Father Frank Becomes A Pastor
You have shared with me in my journey of priesthood, now come celebrate with me as I am installed as pastor of Immaculate Heart of Mary Church, 280 Parker Avenue, Maplewood. The installation will take place on Sunday, October 6, 2002 at the 12 noon Parish Mass. A "light" reception will follow in the school auditorium. Looking forward to seeing you.
Rev. Frank J. Rocchi
Altar Servers
Any boy or girl in grades 4th and up from CCD or St. Anne's School interested in assisting the priest at Mass by becoming an Altar Server, should attend the meeting on

Saturday, September 28th

at 10 a.m. in the Church Auditorium (Bingo Hall).

Please come and join us.
Separated/Divorced Support

Group

The Office of Family Life Ministries has scheduled a support group facilitator training course uniquely designed for those who wish to minister to the needs of the separated and divorced. This one-session course will be held at the Archdiocesan Center, 171 Clifton Ave., Newark at the end of October. For registration and fee information, please call the Office of Family Life Ministries at 973-497-4327. Pre-registration is required; class size is limited.
For The Homebound...
Vacation time is over and this is the time to think about work, school, babysitting, etc.
It is also the time to help the sick members of our family.

If you have anyone at home or in your family who cannot get to church and would like to receive communion, please let us know.

We have dedicated Eucharistic Ministers who have volunteered their time and kindness to help the homebound.

Let the sick be a vital part of our Church Community by participating in the Sacraments.

If you have any questions regarding this matter, please call Sister Celeste at 201-792-5128.

Keep October 26th open. This will be our next Anointing Mass for the Sick and homebound.

Helping Hands
Every Wednesday at 1 p.m. there is a group of ladies that gather in the convent to socialize and crochet lap robes for the nearby nursing homes. This project is called "Helping Hands". So far they have produced at least 50 or more lap robes of various designs and colors. These small afghans have been received with much enthusiasm by the many nursing homes in our area.
If anyone is interested in joining us, just stop at the convent on Wednesday at 1 p.m. and you will be very welcomed. We provide the wool which has been donated by very generous parishioners and friends of St. Anne's Church. For more information, please contact Sister Celeste at 201-792-5128.

High School Admissions Exams
For 8th Grade students applying for Fall 2003 admission to Catholic high schools in the Archdiocese of Newark, Diocese of Metuchen, or Diocese of Paterson. Below is where/when exam will be administered:
Archdiocese of Newark (Bergen, Essex, Hudson and Union counties): Friday, November 8th
Diocese of Metuchen (Middlesex, Somerset, Warren, and Hunterdon counties): Saturday, November 9th
Diocese of Paterson (Passaic, Morris, and Sussex counties): Friday, November 8th
Beginning September 3rd, you may obtain an application and handbook from a Catholic elementary or high school. Examination fee of $30 will include reporting scores to three high schools of your choice. The test is designed to measure scholastic aptitude in verbal and non-verbal abilities, and achievement in reading, mathematics, and language. Applications and fees will be processed from September 3rd through October 18th. By applying early, you will have a much better chance of being assigned to a test site of your choice. For further information beginning September 9th, you can contact: Cooperative Admissions Examination Office, CTB/McGraw-Hill, 20 Ryan Ranch Rd., Monterey, CA 93940 - email COOP2002@ctb.com - (800) 569-2667.

From Generation to Generation, We Share Our Faith
As the 100th Anniversary of our Parish approaches, the planning for this momentous occasion begins. Saint Anne's was established as a Mission Church in September 1903. In June of 1904, the Mission became the Incorporated Parish of Saint Anne. Our celebrations, therefore, will take place during the year 2004. We call upon the Family of Saint Anne to assist in the planning of our Parish Celebration.
1] We need suggestions. How can we best honor our God, our Patroness, and our Parish? If you have an idea for a spiritual or social event to commemorate our heritage, please place it in the Anniversary Suggestion Box located in the vestibule of the Church. Please sign all suggestions so that Committee members can contact you for needed details.
2] We need Memorabilia. If you have Newspaper Articles, Pictures, Journals, Parish Directories, etc. and are willing to share them, they can be left at the rectory. Arrangements can also be made to have them picked up by calling Marie Pianese 201-798-6534.
Let us pray that the Faith we have will continue to grow.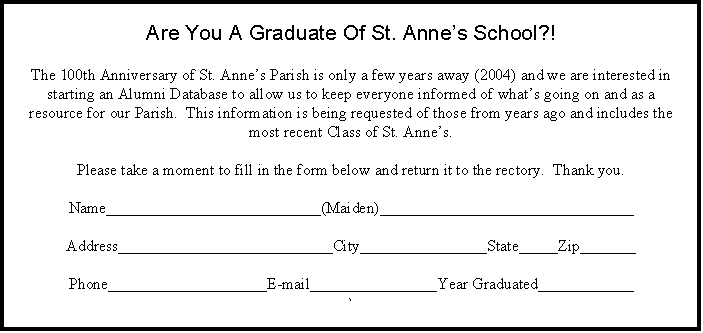 Top Page 6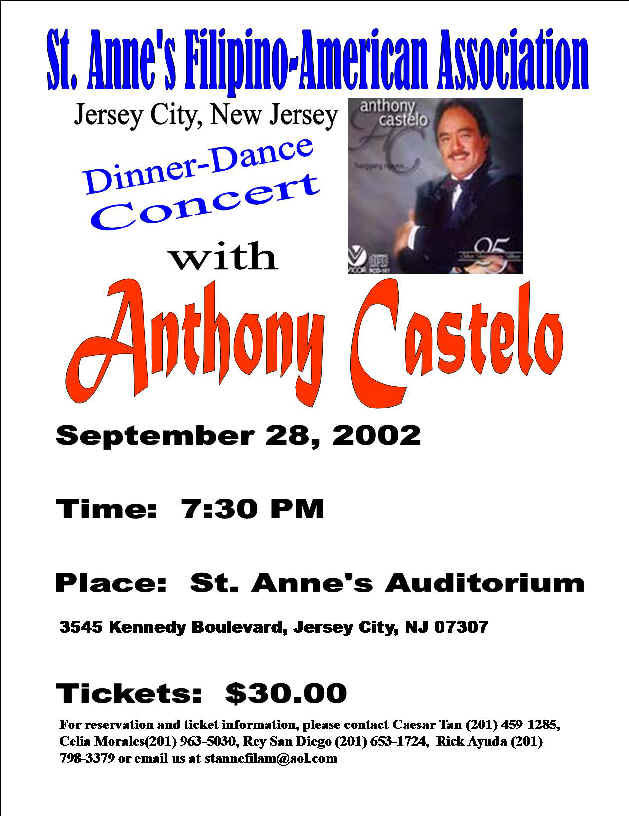 Top Page 7
Our Web Site
When you log on and browse around you'll see all kinds of information about our parish. Included, of course, will be the current activities for the many different organizations as well as an update as to what is going on with our parish family.
Do not let evil defeat you: Instead, conquer evil with good!!
By your wounded heart: teach us love, teach us love, teach us love..... -Daphne Fraser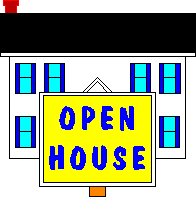 Charitable Gift Annuities
Receive "peace of mind" knowing that you can count on a steady stream of payments for life and support your parish or Archdiocesan Ministry by purchasing in a Charitable Gift Annuity with the Archdiocese of Newark. For personalized proposals, please call Deacon John J. McKenna at the Office of Planned Giving: 973-497-4125.
Parish Reunion
Sacred Heart Catholic Church, Vailsburg, Newark is trying to reach as many former pupils, graduates, parishioners as they can for their 110th Anniversary Year, 2002-2003. If you are formerly of this parish, or if you know of anyone else who is, please contact their rectory by phone at 973-373-9790, by fax at 973-374-4047 , by e-mail at shvailsburg@att.net , by regular mail at 481 Sanford Avenue, Newark 07106 or visit their website at http://www.sacredheartvailsburg.net/ . Please also visit the church at the corner of South Orange and Sanford Avenues. Opening ceremonies are on October 20th, 3 p.m. Mass followed by Chefs' Night.
Attention Ascension Alumni
Ascension School in New Milford, New Jersey is celebrating its GOLDEN ANNIVERSARY with a spectacular 50TH ANNIVERSARY WEEKEND on October 11-13, 2002—Friday: Wine and Cheese Party; Saturday: Dinner/Dance at the Hilton; Sunday: Alumni Mass and Open House. Don't miss this once-in-a-lifetime opportunity to relive the memories of those "Wonder Years". Call Marguerite Morris at 201-385-0159 or e-mail mmm47@earthlink.net or download your invitation at our website www.ascensionschoolalumni.net .
St. Anne's Rosary Auction
The theme for this year's annual Rosary Society Auction will be "Winter Wonderland". It will be held on Monday, October 28th at 6:30 p.m. Please help us...contributions of cash or unused merchandise for the auction (NO CLOTHING PLEASE!). Items may be dropped off at the rectory to the attention of Nora Browne. Thank you for your continued support.
Retirement Celebration
Bishop Dominic A. Marconi, who has served this Archdiocese faithfully for 49 years as a priest, and in particular as an auxiliary bishop since 1976, is celebrating his retirement on Sunday, November 17th at 4 p.m. with a special Mass and reception at his parish, St. Elizabeth of Hungary in Linden.
Please join with all of the people of the Church of Newark today in prayer to thank our Lord for the gift of Bishop Marconi as he begins this new dimension of his priesthood.
Top Page 8
Academy of the Sacred Heart (ASH) located at 713 Washington St., Hoboken is scheduled to have an Open House on Saturday, September 21st 10:30 a.m. to 12 Noon. All 8th graders (GIRLS) and their parents are invited. Come and meet their faculty and students; see the school. For more information, contact Sister Maureen Mahan, Admissions Director at 201-659-7139.
The Academy of Saint Aloysius (ASA), 2495 Kennedy Blvd., Jersey City, sponsored by the Sister's of Charity of Saint Elizabeth, has been preparing young woman for college and a successful future since 1865. Provide your daughter with a wonderful high school education and experience. Attend the Academy's Open House on either Sunday, September 29th from 1-3 p.m. OR Monday, September 30th from 6-8 p.m.. Meet their students and staff and tour their spacious facility which includes new science and computer labs. For more information, call 201-433-8877.
Hudson Catholic Regional High School will host an Open House on Sunday, September 29th from 1-3 p.m. Boys in the 6th, 7th and 8th grades are welcomed with their families to visit with administration, teachers, coaches and current students. For further information, please call Mr. Terence Matthews at 201-332-3429. The school is located at 790 Bergen Avenue in Jersey City.
* * * *
Retreat
The Capuchin Franciscan Friars are conducting a vocation retreat for single Catholic men 18-39 years who are seeking their calling in life and considering the possibility of Priesthood and Religious Life. Come learn more about St. Francis of Assisi and what it means to be a priest and brother in this Religious Order. September 27th-29th, 2002, Our Lady of the Angels Friary, Paterson, New Jersey. For more information, please call Brother Miguel Ramirez, O.F.M. Cap. at (201) 863-3871 or cell phone (813) 857-5902.
Felician Festival 2002—Something For Everyone
Felician College will host its annual Fall Festival on Sunday, September 29, 2002 on the grounds of its Rutherford campus located at 223 Montross Avenue. The festival grounds and all attractions will be open from 11 a.m.—4:30 pm. with boardwalk games, international food stations and over 50 craft and merchandise vendors for festival-goers to enjoy rain or shine. The day will begin with a walkathon at 8:30 a.m. to raise funds for the Rutherford Community Pantry and the Rutherford Social Services Department. Mass will be celebrated at 10:30 a.m. in the Student Center, followed by the Alumni Hall of Fame Awards and the Alumni Scholarship presentation. Admissions to the Festival is free, but participants are encouraged to bring a non-perishable food item for the Rutherford Community Pantry. Food donations may be dropped off throughout the day at the Alumni Tent.
Page 9 Top
Personal Meditation

Personal Meditation September 22nd, 2002
Gospel Reflections

Mt 20:1-16a
"For the kingdom of heaven is like a landowner who went out early in the morning to hire laborers for his vineyard. After agreeing with the laborers for the usual daily wage, he sent them into his vineyard. When he went out about nine o'clock, he saw others standing idle in the marketplace; and he said to them, 'You also go into the vineyard, and I will pay you whatever is right.' So they went. When he went out again about noon and about three o'clock, he did the same. And about five o'clock he went out and found others standing around; and he said to them, 'Why are you standing here idle all day?' They said to him, 'Because no one has hired us.' He said to them, 'You also go into the vineyard.' When evening came, the owner of the vineyard said to his manager, 'Call the laborers and give them their pay, beginning with the last and then going to the first.' When those hired about five o'clock came, each of them received the usual daily wage. Now when the first came, they thought they would receive more; but each of them also received the usual daily wage. And when they received it, they grumbled against the landowner, saying, 'These last worked only one hour, and you have made them equal to us who have borne the burden of the day and the scorching heat. But he replied to one of them, 'Friend, I am doing you no wrong; did you not agree with me for the usual daily wage? Take what belongs to you and go; I choose to give to this last the same as I give to you. Am I not allowed to do what I choose with what belongs to me? Or are you envious because I am generous?' So the last will be first, and the first will be last."
Psalm 128:4
Noticing and Responding
Many negative stories are reported about New York City, but the following lovely gesture, unfortunately, went unreported in the media. A rider on the New York subway system described the incident, which took place one bitterly cold winter night.
Very few people were riding the subway at that hour, but at one stop a woman who was obviously very poor, and just as obviously very drunk, boarded the car. As soon as she sat down, she fell sound asleep. As the train swayed and screamed along the tracks, she continued sleeping.
On the woman's hands were two tattered, worn-out gloves, so full of holes that it was difficult to believe they provided any warmth from the cold. The other passengers could hardly keep their eyes off the woman. Perhaps they were wondering, Why do people allow themselves to get like that?
Then, a young Puerto Rican youth rose to get off the train as it slowed down. He could have gone out a closer door, but he chose to walk by the sleeping woman. As he did so, he paused briefly and removed his gloves, laid them on the woman's lap, and got off the train. When she awakened, she had warm gloves to wear.
God expects us to be kind. God expects us to notice the needs of others and respond. Today's psalm is a simple reminder that "they will be blessed who fear the Lord."

Thought for the Day
You must be holy in the way God asks you to be holy.
God does not ask you
to be a Trappist monk or a hermit,
but wants you to sanctify the world
and your everyday life.