© copyright stannes4/2000
Page 1
*******************************************************************************************************************
October 20th, 2002
29th Sunday in Ordinary Time


Schedule of Masses Week of October 21st - October 27th , 2002

Day

Time

Requested for

Requested by

Mon Oct 21st

7 A.M.

Robert Wojciechowicz

Kathy Wong

9A.M.

Paul Grundling SR.

Pat & Paul

Tues .Oct. 22nd

7 A.M.

Bea Houlian

Hogan Family

9A.M.

Edmund Hannon

Theresa Bargone

Wed Oct. 23rd

7A.M.

David Kane

K. Castle

9A.M.

Chiara Ruggiero

Fioccola Family

7 P.M.

Peter Verile

CCD Teachers

Thurs .Oct 24th

7A.M.

George Johnston Sr.

Engleherdt Family

9A.M.

Dec. Members of Marano Family

Marie Pianese

Fri. Oct. 25th

7A.M.

James Mocarski

Family

9A.M.

Carmine Principe

Daughter Lina Creazzo

Sat. Oct. 26th

9 A.M.

Anthony DeLuise

Wife Delores

2 P.M.

For the Sick of the Parish

2 P.M.

Rosemary Maffei

Family

2 PM.

Victor Pianese

Marie

6 P.M.

Victor Tozzi

Wife Jean

7:30PM

For the People of the Parish

Sun. Oct. 27th

7:30AM

Carmine Infante
Marie Russo
9 AM
Liv/Dec Members of Hanley Family
Family

10:30AM

Anthony DeLuise

Wife Delores

12 PM

Honor of St. Jude
Frances Spazian
Sanctuary Gifts October 20th - October 26th, 2002

Gift

In Memory Of

Requested By

Altar Wine

Edith Sellers

Alesa & Jim Kerwin

Altar Bread

Rose Renton

Eileen & Mark Petrucelli

Sanctuary Lamp

Peter Prince

Bernadette Berger

Altar Candles

Rose Renton

Carol Donnelly
Let Us Pray For Those Seriously Ill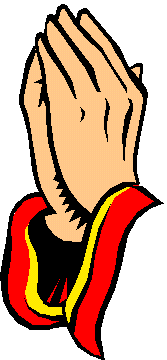 Angelica Krajnik, Kendell Riscoe and Helen Jane Lee.

Vocation reflections

Today's Gospel teaches us that anyone who aspires to greatness must serve the needs of others. Greatness lies not in worldly accomplishments and honors, but rather in following Jesus' example of loving service, which is the giving of self for others. Perhaps the Lord is calling you to serve as a Priest, Religious Sister or Brother, or Deacon.
If you feel this call, "inquire within" and Please contact the Vocations Office the Vocations Office at (973) 497-4365 or by E-mail at kellyric@rcan.org. Or visit our web site at www.rcan.org.
Page 2 Top

STEWARDSHIP



STEWARDSHIP SCRIPTURE REFLECTION
The Lord is King and there is no other. We are to render to God, therefore, fitting praise and service, as is God's due. God's word to us, in turn, is a matter of power and strength, to be lived with conviction of heart.

OUR WEEKLY OFFERING
October 2002
October 12/13 $5,105.
Month's Total $10,822.
Month's Average $5,411.
Mailed in $225.

We thank you!

WEEKLY AVERAGE COMPARISONS:
Month '01 Monthly Avg. '02 Monthly Avg.
September $6,139. $5,445.
October $6,200 $5,411.




HOLY HOUR FOR PRIESTS


Every Tuesday the Blessed Sacrament is exposed in the church from 3-4 P.M. Those who come dedicate an hour of prayer for the priests, DIVINE MERCY and Religious men and women of the Church.

Prayers are also said for an increase of vocations to the priesthood and religious life. We invite you to come and spend time with the Lord for these intentions and for your personal requests. The Holy Hour closes with Benediction of the Blessed Sacrament.







Holy Day of Obligation
The Mass schedule for All Saints Day (November 1st):
October 31st at 6:30 p.m. - Anticipated Mass
November 1st - 7 a.m., 9 a.m. & 6:30 p.m.
Top
page 3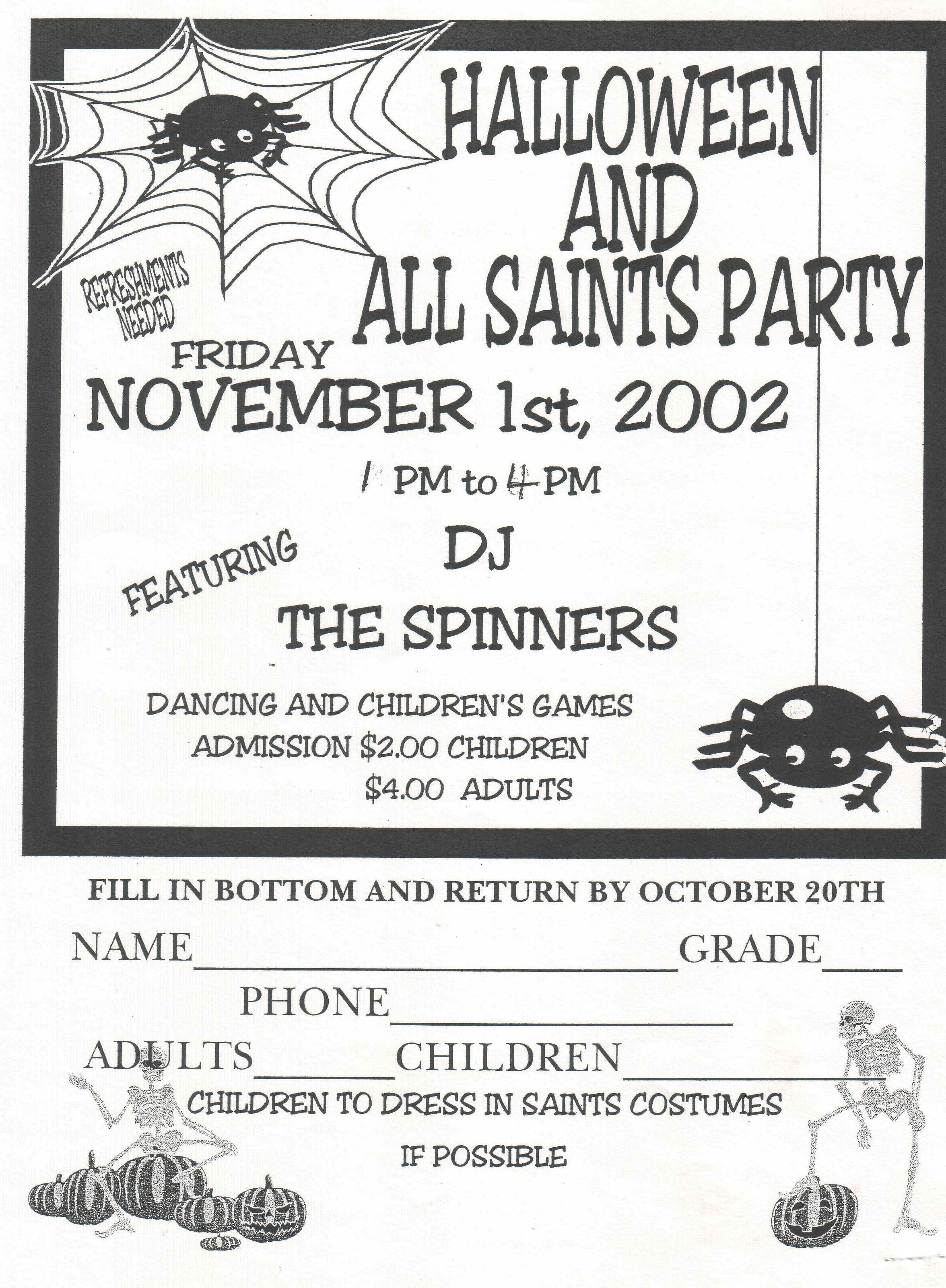 Top page 4
MONDAY Eph 2:1-10 Ps 100:2-5 Lk 12:13-21
TUES. Eph 2:12-22 Ps 85:9-14 Lk 12:35-38
WED. Eph 3:2-12 Ps Is 12:2-6 Lk 12:39-48
THURS. Eph 3:14-21 Ps 33:1-2,4-5,11-12,18-19 Lk 12:49-53
FRIDAY Eph 4:1-6 Ps 24:1-6 Lk 12:54-59
SATURDAY Eph 4:7-16 Ps 122:1-5 Lk 13:1-9
NEXT SUNDAY - 30th SUNDAY IN ORDINARY TIME Ex 22:20-26 Ps 18:2-4,47,51 1Thes 1:5c-10 Mt 22:34-40

Blood Drive
Holy Name Society is sponsoring a Blood Drive on Sunday, November 3rd in Chapel Hall 7:30 a.m.-1:30 p.m. BRING PICTURE ID!

Realizing Peace In The Lord
A week of prayer and reflection will take place in Resurrection Parish, at St. Michael's Church, 9th St. & Hamilton Park on October 20-27. This builds on the long standing tradition that St. Michael's inherited when St. Lucy's was closed years ago on an annual and ongoing novena to St. Jude. The theme chosen this year is not only timely but important for us as Catholics and Americans: "Realizing the Peace of Christ".
Evening services will begin with evening mass, followed by a holy hour and conference and end about 8:30 p.m. with benediction.

Separated/Divorced Support

Group

The Office of Family Life Ministries has scheduled a support group facilitator training course uniquely designed for those who wish to minister to the needs of the separated and divorced. This one-session course will be held at the Archdiocesan Center, 171 Clifton Ave., Newark at the end of October. For registration and fee information, please call the Office of Family Life Ministries at 973-497-4327. Pre-registration is required; class size is limited.
Nutcracker
On Dec. 7th 7 p.m. & Dec. 8th 3 p.m. at Felician College (John J. Breslin Jr. Theatre), 262 South Main St., Lodi. Tickets: $25 Orchestra; Adults $20; Children ten and under $17. For more info call 973-839-4031.
ALL Souls Day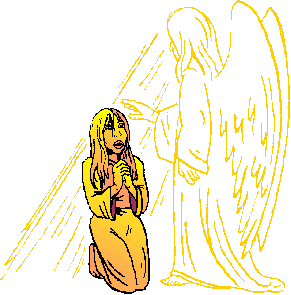 The month of November is dedicated to All Faithfully Departed with All Souls Day being celebrated on November 2nd. This day, especially, is a traditional time for visiting graves of loved ones. For this reason, we ask that you take the time to please remember to fill in the names of your dearly departed family members and friends whom you would like to have remembered during the Masses of the All Souls Novena as well as during the Masses offered over the balance of the month. These envelopes may be placed in the depository next to the altar marked "All Souls" or placed in the collection basket so they may be bundled and placed on the altar for the duration of the month.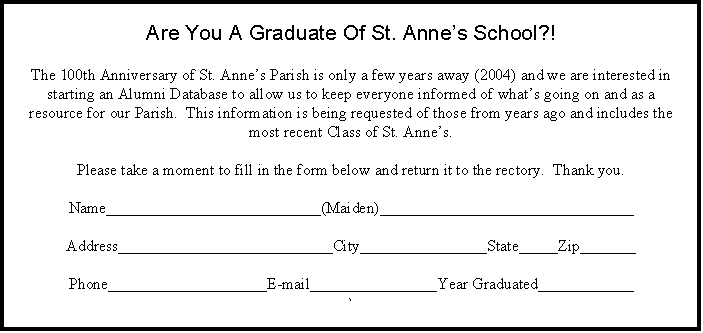 Second Collection
There will be a second collection next weekend (October 19/20) for World Mission Sunday. This collection is so central to the well being of the Church in over 1,100 mission dioceses. Countless sacramental, spiritual, educational, medical, and pastoral programs depend on it. Please give generously. Thank you.
CCD News
- Teachers' Meeting today after class.
- Choir practice for all those children who signed up. If you care in the choir, you must come to the 9 am. Mass to sign.
- Sponsor/Candidate meeting Sunday, October 27th in the Chapel Hall at 1 p.m. (NO PARENTS) There will be NO make up meeting. Bring red book with you.
- October 31st—Sign up for First Communion Class of 2003 in CCD Office from 6:30-8 p.m. If you do not come to sign up, your child will not be included in the 2003 class.
- Halloween/All Saints Dance form must be in today. If we don't get enough to attend, it will be cancelled. Remember to come dressed as Saint if possible. If you need help, call me at 659-1794. Children must be accompanied by parent from grades Pre-K to 6th.
- TEACHER FOR GRADE 4 IS NEEDED IN RELIGIOUS EDUCATION PROGRAM. I'M SURE THERE ARE MANY RETIRED SCHOOL TEACHERS WHO CAN HELP. PLEASE CALL SR. ALBERTA AT 659-1794. Pray to the Holy Spirit to guide you in this endeavor. If you hear his voice come forward and volunteer your service. We need you!

Final Note on St. Anne's Festival 2002
Although it's a bit overdue - this note comes with the heartfelt thanks of St. Anne's Festival 2002 Committee to the parish family of St. Anne's.
Due to the tremendous efforts, participation and, most of all, enjoyment shared by all during the festival, we had our most successful year ever - raising over $30,000. for St. Anne's Parish!
Many thanks and congratulations on a job well done by all. See you next year!!

Retirement Celebration
Bishop Dominic A. Marconi, who has served this Archdiocese faithfully for 49 years as a priest, and in particular as an auxiliary bishop since 1976, is celebrating his retirement on Sunday, November 17th at 4 p.m. with a special Mass and reception at his parish, St. Elizabeth of Hungary in Linden.
Please join with all of the people of the Church of Newark today in prayer to thank our Lord for the gift of Bishop Marconi as he begins this new dimension of his priesthood.

Do you want to learn more about the Catholic faith?
Are you interested in becoming Catholic?
Do you need to be Baptized, Confirmed or receive First Communion?

St. Anne's Church RCIA Program can help answer your questions. To find out more...Call Janice Fiorese in our Rectory at 201-656-2490.
Parish History
Thanks to all of our generous Parishioners who have already submitted Memorabilia. (Two Parishioners actually submitted complete scrapbooks with newspaper clippings, one dating as far back as 1909.) We're off to a great start.
Have you searched through your personal St. Anne Memorabilia? Sister Celeste has offered to scan all pictures and return the originals to the owners. Please note when you submit material, if you need this service.
Remember that arrangements can be made to have material picked up by calling Marie Pianese at 201-798-6534.
Let's continue to pray that the Faith we share will continue to grow.
Top Page 6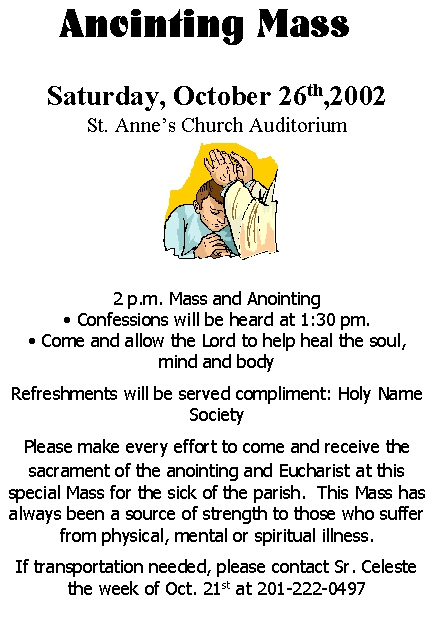 P
ari

sh Reunion

Sacred Heart Catholic Church, Vailsburg, Newark is trying to reach as many former pupils, graduates, parishioners as they can for their 110th Anniversary Year, 2002-2003. If you are formerly of this parish, or if you know of anyone else who is, please contact their rectory by phone at 973-373-9790, by fax at 973-374-4047 , by e-mail at shvailsburg@att.net , by regular mail at 481 Sanford Avenue, Newark 07106 or visit their website at http://www.sacredheartvailsburg.net/ . Please also visit the church at the corner of South Orange and Sanford Avenues. Opening ceremonies are on October 20th, 3 p.m. Mass followed by Chefs' Night.

Top Page 7

Our Web Site

When you log on and browse around you'll see all kinds of information about our parish. Included, of course, will be the current activities for the many different organizations as well as an update as to what is going on with our parish family.
Do not let evil defeat you: Instead, conquer evil with good!!

By your wounded heart: teach us love, teach us love, teach us love..... -Daphne Fraser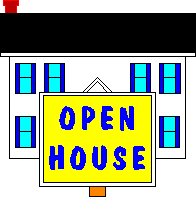 Mount St. Dominic located at 3 Ryerson Avenue, Caldwell (on the grounds of Caldwell College) is having an Open House for 7th and 8th grade girls and their families on Sunday, October 20th 1:30 p.m. and Wednesday, October 30th 6:30 p.m. For more information call 973-226-0660 ext. 22.
All Night Vigil
There will be an All Night Vigil of Reparation held at St. Anne's in honor of the Most Sacred Heart of Jesus and the Immaculate Heart of Mary beginning at 9 P.M. on Friday, November 1st and ending Saturday, November 2nd at 7 A.M.
This is a night with our Lord Jesus and His mother with confession, Masses, songs of worship, moments of adoration of the Blessed Sacrament and meditation. Refreshments will be served in Parish Center #4. For more information you may call Tina Edelman at 201-653-4785.
Natural Family Planning
The Archdiocese of Newark, in conjunction with Holy Name Hospital in Teaneck, is offering a program in Natural Family Planning to foster-responsible parenthood and marriage enrichment. The NFP series of four (4) classes applies sound biological knowledge to fertility control; no pills, no health risks.
A new course is scheduled to begin at St. John's Church in Linden on November 10th at 2 p.m. The classes are conducted by married couples. For additional information/registration, please call (201)833-3121.
Annual Luncheon
Hudson Catholic Mothers' Guild Annual Luncheon "Autumn Splendor" will be held on Sunday, November 3, 2002 at the Casino-in-the-Park, (Lincoln Park) in Jersey City at 12:00 noon. Cost is $40 a ticket or buy 4 raffle books and receive a complimentary luncheon ticket. For tickets or more information, please call Lois Malloy at the school—201-332-5970 ext. 16.

St. Joseph's Grammar School Reunion
St. Joseph's Grammar School in Jersey City will hold its annual alumni reunion on Sunday, October 27th at 12:00 p.m. in Church. A reception will follow at 2 p.m. at Casino in the Park in Jersey City. Cost is $40/person. All alumni, friends and family who have been affiliated with the school are invited to attend. For further details, please contact Kevin Lyons, 509 Pavonia Avenue, Jersey City, NJ 07306 or phone 201-653-0128.
Catechist Enrichment Day
A special day of spiritual enrichment designed especially for catechists, but also open to anyone who would like to come, will take place on November 9th from 9:30 am. to 12:30 pm. at the College of Saint Elizabeth. The presenter will be Sister Joan Curtin, Director of the Catechetical Office of the Archdiocese of New York. Please call the Center for Theological and Spiritual Development at the College for details and registration, 973-290-4300/4364. We also invite you to visit our website at www.csespirit.org .
Top Page 8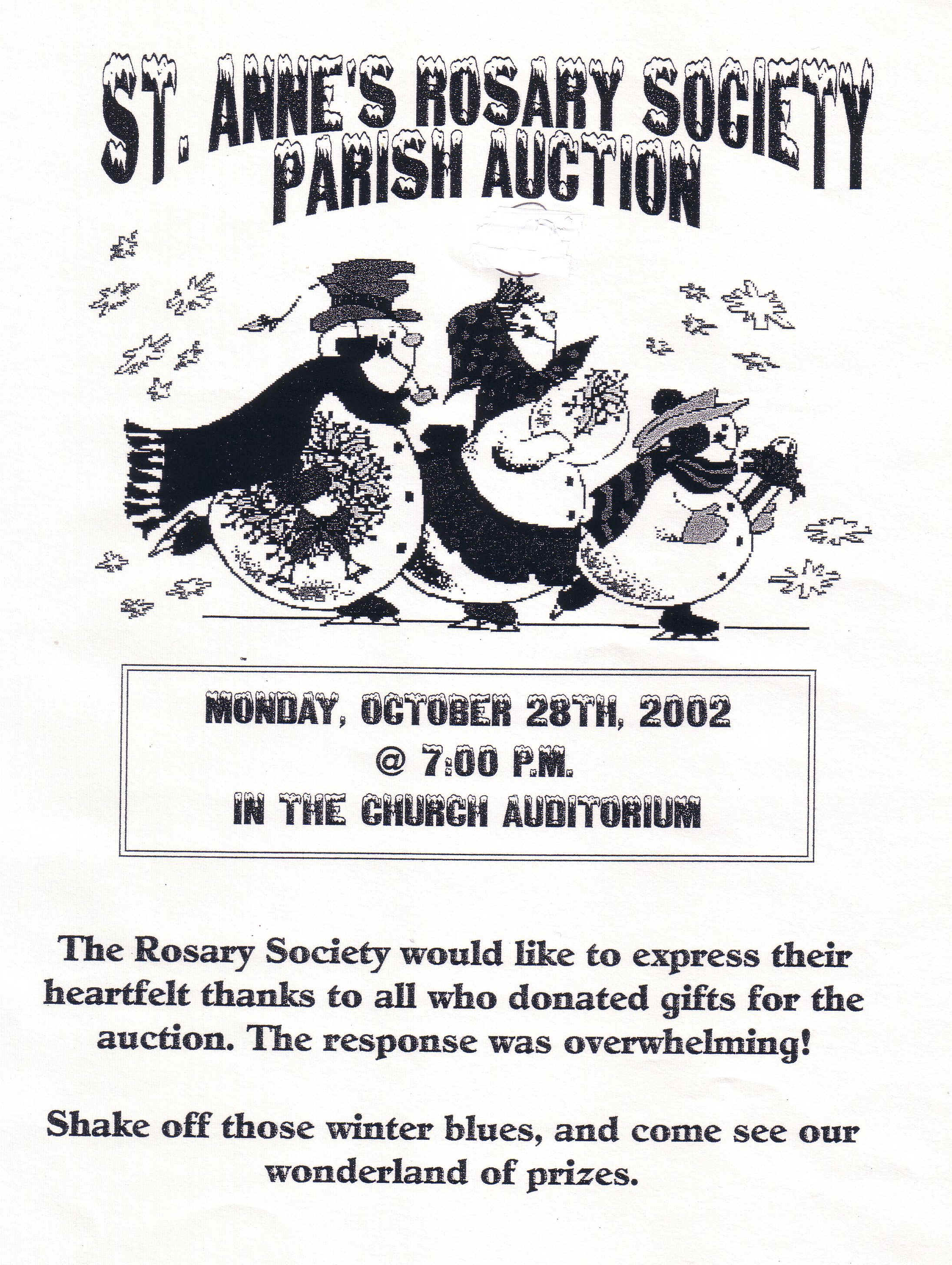 Annual Luncheon
Hudson Catholic Mothers' Guild Annual Luncheon "Autumn Splendor" will be held on Sunday, November 3, 2002 at the Casino-in-the-Park, (Lincoln Park) in Jersey City at 12:00 noon. Cost is $40 a ticket or buy 4 raffle books and receive a complimentary luncheon ticket. For tickets or more information, please call Lois Malloy at the school—201-332-5970 ext. 16.
Page 9 Top
Personal Meditation

Personal Meditation October 20th, 2002
Mt 22:15-21
Then the Pharisees went and plotted to entrap him in what he said. So they sent their disciples to him, along with the Herodians, saying, "Teacher, we know that you are sincere, and teach the way of God in accordance with truth, and show deference to no one; for you do not regard people with partiality. Tell us, then, what you think. Is it lawful to pay taxes to the emperor, or not?" But Jesus, aware of their malice, said, "Why are you putting me to the test, you hypocrites? Show me the coin used for the tax." And they brought him a denarius. Then he said to them, "Whose head is this, and whose title?" They answered, "The emperor's." Then he said to them, "Give therefore to the emperor the things that are the emperor's, and to God the things that are God's."

Psalm 84:7
Living With God's
Strength
When faced with an overwhelming challenge, problem, issue, or crisis, don't forget that God has promised to give you

• strength beyond your strength
• power beyond your power
• hope beyond your hopes
• love beyond your own love
• wisdom beyond your wisdom
• energy beyond your energies
• courage beyond your courage
• faith beyond your faith
• endurance beyond your endurance
• ability beyond your abilities

Remember today's psalm when you feel helpless or hopeless. God's people "go from strength to strength."
Affirmations for the Day
With God's help
I now transcend
all feelings and thoughts of weakness.
Because of God's help
I am strong and courageous.
Because of God's help
I am bold and willing
to take risks and accept challenges.