© copyright stannes4/2000
Page 1
*******************************************************************************************************************
October 27th, 2002
30th Sunday in Ordinary Time


Schedule of Masses Week of October 28th - November 3rd , 2002

Day

Time

Requested for

Requested by

Mon Oct 28th

7 A.M.

For the People of the Parish

9A.M.

In Honor of St. Jude

Tues .Oct. 29th

7 A.M.

Honor of St. Jude

Gerardo Fusco

9A.M.

Michael Glennon

Family

Wed Oct. 30th

7A.M.

Joann Bennett

Wadleigh Family

9A.M.

Joseph Wilkas

Wife Marian

7 P.M.

Salvatore Infante

Maria Russo

Thurs .Oct 31st

7A.M.

Joseph & Panfilo Volpe

Concetta & Frank Volpe

9A.M.

Douglas J. O"Neill

Madeline Gerrity

Fri. Nov. 1st

7A.M.

For the People of the Parish

9A.M.

Joseph & Maria DiSalvo

Manzo Family

6:30 P.M.

Barbara Sarao

Joseph Sarao

Sat. Nov. 2nd

9 A.M.

All Souls

6 P.M.

All Souls

7:30PM

All Souls

Sun. Nov. 3rd

7:30AM

All Souls
9 AM
Souls in Purgatory
Frances Muzikar

10:30AM

John R. Walsh

James V. Walsh Jr.

12 PM

For the People of the Parish
Sanctuary Gifts October 27th - November 2nd, 2002

Gift

In Memory Of

Requested By

Altar Wine

St. Anthony

Rodriguez Family

Altar Bread

Rose Renton

Rodriguez Family

Sanctuary Lamp

Anne Musella

Moran Quinn Family

Altar Candles

Jeanine Husein

Morales Family
Let Us Pray For Those Seriously Ill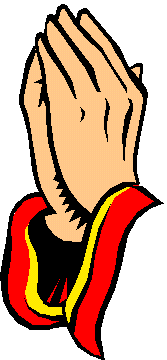 Angelica Krajnik, Kendell Riscoe, Catherine Wojciechowicz and Helen Jane Lee.
Vocation reflections

Jesus responded to the Pharisees in today's Gospel by teaching them that loving God and our neighbor sums up the entire law. Among the Pharisees who listened to Jesus were those whose hearts were closed to the spirit of the law. They left that day with new insight and faith. Could the Lord be calling you to a life of love as a Priest, Religious Sister or Brother, or Deacon? Is his love drawing you to consecrated service in the Church?
If you feel this call, "inquire within" and Please contact the Vocations Office the Vocations Office at (973) 497-4365 or by E-mail at kellyric@rcan.org. Or visit our web site at www.rcan.org.
Page 2 Top

STEWARDSHIP



STEWARDSHIP SCRIPTURE REFLECTION
We are to love the Lord with our whole heart, and our neighbor as ourself. By thus fulfilling these two great commandments, we hope to become models of faith and imitators of the Lord who gave himself totally for our sakes.

OUR WEEKLY OFFERING
October 2002
October 19/20 $5,315.
Month's Total $16,137.
Month's Average $4,035.
Mailed in $125.

We thank you!

WEEKLY AVERAGE COMPARISONS:
Month '01 Monthly Avg. '02 Monthly Avg.
September $6,139. $5,445.
October $6,200




HOLY HOUR FOR PRIESTS


Every Tuesday the Blessed Sacrament is exposed in the church from 3-4 P.M. Those who come dedicate an hour of prayer for the priests, DIVINE MERCY and Religious men and women of the Church.

Prayers are also said for an increase of vocations to the priesthood and religious life. We invite you to come and spend time with the Lord for these intentions and for your personal requests. The Holy Hour closes with Benediction of the Blessed Sacrament.







Holy Day of Obligation
The Mass schedule for All Saints Day (November 1st):
October 31st at 6:30 p.m. - Anticipated Mass
November 1st - 7 a.m., 9 a.m. & 6:30 p.m.
ALL SOULS DAY
The month of November is dedicated to All Faithfully Departed with All Souls Day being celebrated on November 2nd. This day, especially, is a traditional time for visiting graves of loved ones. For this reason, we ask that you take the time to please remember to fill in the names of your dearly departed family members and friends whom you would like to have remembered during the Masses of the All Souls Novena as well as during the Masses offered over the balance of the month. These envelopes may be placed in the depository next to the altar marked "All Souls" or placed in the collection basket so they may be bundled and placed on the altar for the duration of the month.
Daylight Savings
Ends
Sunday, October 27th Daylight Savings Time ends. Be sure to turn your clocks back one hour...before going to sleep Saturday night!
Top
page 3
100th Anniversary of
St. Anne's Parish

Thanks for all of the Memorabilia already submitted. Thanks also for the great suggestions on ways to celebrate the Parish Anniversary.

Reminders:

· If you have Memorabilia (Newspaper Clippings, Directories, First Communion Pictures, May Crownings, etc.), they can be left at the rectory - please note if you need the originals returned. For those unable to get to the rectory, arrangements can be made to have material picked up by calling Marie Pianese at 201-798-6534.

· Since we would like to have celebrations, both spiritual and social, throughout the year 2004, many ideas are needed. A Suggestion Box is in the vestibule of the Church. PLEASE SHARE YOUR IDEAS.

"Neglect not the Gift that is in thee"
CCD News
- Choir practice for all those children who signed up. If you care in the choir, you must come to the 9 am. Mass to sign.
- Sponsor/Candidate meeting Sunday, October 27th in the Chapel Hall at 1 p.m. (NO PARENTS) There will be NO make up meeting. Bring red book with you.
- October 31st—Sign up for First Communion Class of 2003 in CCD Office from 6:30-8 p.m. If you do not come to sign up, your child will not be included in the 2003 class.
- TEACHER FOR GRADE 4 IS NEEDED IN RELIGIOUS EDUCATION PROGRAM. I'M SURE THERE ARE MANY RETIRED SCHOOL TEACHERS WHO CAN HELP. PLEASE CALL SR. ALBERTA AT 659-1794. Pray to the Holy Spirit to guide you in this endeavor. If you hear his voice come forward and volunteer your service. We need you!


Do you want to learn more about the Catholic faith?
Are you interested in becoming Catholic?
Do you need to be Baptized, Confirmed or receive First Communion?

St. Anne's Church RCIA Program can help answer your questions. To find out more...Call Janice Fiorese in our Rectory at 201-656-2490.
Day of Recollection
JOY IS BEING FELICIAN FRANCISCAN: COME AND SEE FOR YOURSELF!
WHEN: Saturday, November 16th
WHERE: Heart of Mary Convent, 257 South Main Street, Lodi
WHO: Single Catholic Women, Ages 18-35
TIME: 9:00 A.M. - 3:00 P.M.
For more information, please contact Sister Marilyn Minter, CSSF 973-473-5923 or email CSSF@inet.felician.edu

Annulment Information Evening
An Annulment Information Evening is scheduled for Wednesday, November 13th. A canon lawyer from the Archdiocese of Newark will discuss the most recent theology, guidelines and requirements for obtaining a Church annulment. The information will be presented in terms that all can understand. A question and answer period will conclude the session. Pre-registration is not necessary. This evening of information will be held at Our Lady of Mercy R.C. Church (Farley Center), 40 Sullivan Drive, Jersey City at 7:30 p.m. For additional information, please call the Office of Family Life Ministries at 973-497-4327.
Top page 4
MONDAY Eph 2:19-22 Ps 19:2-5 Lk 6:12-16
TUES. Eph 5:21-33 Ps 128:1-5 Lk 13:18-21
WED. Eph 6:1-9 Ps 145:10-14 Lk 13:22-30
THURS. Eph 6:10-20 Ps 144:1-2,9-10 Lk 13:31-35
FRIDAY Rv 7:2-4,9-14 Ps 24:1-4ab,5-6 1Jn 3:1-3 Mt 5:1-12a
SATURDAY Dn 12:1-3 Ps 23:1-6 Rom 6:3-9 Jn 6:37-40
NEXT SUNDAY - 31st SUNDAY IN ORDINARY TIME Mal 1:14b-2:2b,8-10 Ps 131:1-3 1Thes 2:7b-9,13 Mt 23:1-12

Separated/Divorced Support

Group

The Office of Family Life Ministries has scheduled a support group facilitator training course uniquely designed for those who wish to minister to the needs of the separated and divorced. This one-session course will be held at the Archdiocesan Center, 171 Clifton Ave., Newark at the end of October. For registration and fee information, please call the Office of Family Life Ministries at 973-497-4327. Pre-registration is required; class size is limited.
Annual Luncheon
Hudson Catholic Mothers' Guild Annual Luncheon "Autumn Splendor" will be held on Sunday, November 3, 2002 at the Casino-in-the-Park, (Lincoln Park) in Jersey City at 12:00 noon. Cost is $40 a ticket or buy 4 raffle books and receive a complimentary luncheon ticket. For tickets or more information, please call Lois Malloy at the school—201-332-5970 ext. 16.

2003 Anniversary Liturgies
Archbishop John J. Myers has announced the following dates to honor couples in our Archdiocese who will be celebrating five, twenty-five or fifty years of Christian marriage in 2003:
March 23, 2003 - 3:00 p.m. 5 & 25 Years
April 6, 2003- 3:00 p.m. 50 Years
Registration will begin in January 2003 for couples wishing to attend their special liturgy.
Nutcracker
On Dec. 7th 7 p.m. & Dec. 8th 3 p.m. at Felician College (John J. Breslin Jr. Theatre), 262 South Main St., Lodi. Tickets: $25 Orchestra; Adults $20; Children ten and under $17. For more info call 973-839-4031.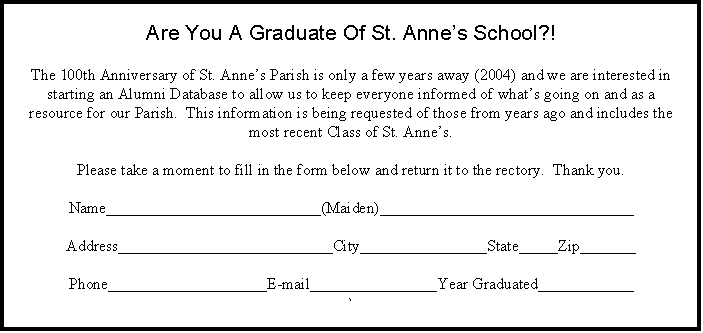 Rosary
Is

P

owerful

P

rayer

F

or

P

eace,

P

ope

S

ays

I

n

A

postolic

L

etter

. . .

By Cindy Wooden Catholic News Service

VATICAN CITY (CNS) -- The rosary is a powerful prayer for peace, for families and for contemplating the mysteries of Christ's life, Pope John Paul II said in a new apostolic letter.

While praising those who regularly pray the rosary in its traditional form, the pope also encouraged the addition of five "mysteries of light" -- moments from Jesus' public ministry -- to further underline the rosary's focus on Christ.

Pope John Paul marked the 24th anniversary of his election Oct. 16 by signing the apostolic letter, "Rosarium Virginis Mariae" ("The Rosary of the Virgin Mary"), during his weekly general audience.

The pope declared a Year of the Rosary through next October, asking everyone to recite it frequently, lovingly and with the knowledge that its prayers link them with Mary and lead them to Jesus.

He suggested the five new mysteries be:

-- Christ's baptism in the Jordan.

-- "His self-manifestation at the wedding of Cana."

-- "His proclamation of the kingdom of God with his call to conversion."

-- His Transfiguration.

-- His institution of the Eucharist.

Pope John Paul also shared his own special affection for the Marian prayer and offered suggestions for how people can pray the rosary better.

"The rosary has accompanied me in moments of joy and in moments of difficulty," he wrote. "In it I have always found comfort."

Just two weeks after his election to the papacy in 1978, he said, "I frankly admitted: 'The rosary is my favorite prayer.'"

And, he said, "thinking back over the difficulties which have also been part of my exercise of the Petrine ministry, I feel the need to say once more, as a warm invitation to everyone to experience it personally: The rosary does indeed 'mark the rhythm of human life,' bringing it into harmony with the 'rhythm' of God's own life."

The pope asked everyone's help in countering "a certain crisis of the rosary" marked by a failure to teach the prayer to children and by a suspicion -- supported by some theologians -- that it is outdated, superstitious or anti-ecumenical.

Especially after "the terrifying attacks" of Sept. 11, 2001, he said, the revival of the rosary can be a valuable

Top Page 6

part of Catholics' efforts for peace. Pope John Paul said the rosary has "a peaceful effect on those who pray it," it leads them to see the face of Christ in others, to recognize other's grief and suffering and to yearn to make the world "more beautiful, more just, more closely conformed to God's plan."

"Today I willingly entrust to the power of this prayer ... the cause of peace in the world and the cause of the family," he wrote.

The rosary, he said, is and always has been a prayer of and for the family.

Reciting the rosary draws families together with the Holy Family, bringing their hopes and concerns to God and focusing their attention on images from the life of Christ, rather than from television, he said.

Focusing on the practical, Pope John Paul said that while reciting the rosary involves repetition its goal is contemplation and concentration, not boredom.

First, he said, the beads must not be seen as "some kind of amulet or magical object," but as a means of marking "the unending path of contemplation and of Christian perfection."

The beads also can "remind us of our many relationships (and) of the bond of communion and fraternity which unites us with Christ."

The mysteries, while not a substitute for Bible reading, should draw the mind to Christ and to other events in his life, the pope said. Some people may find it helpful to have a picture or icon of the biblical scene of each mystery or, at least, to picture the scene in their minds.

Pope John Paul also suggested people read a Scripture passage related to each mystery, not as a way of recalling information "but of allowing God to speak."

Too often when reciting the rosary, he said, people forget that an essential part of contemplative prayer is silence; reciting the rosary alone or with a group of people, it is appropriate to pause silently after the reading of each mystery.

While the 10 Hail Marys of each decade are "the most substantial element" in the rosary, the pope asked people to pay more attention to the recitation of the Our Father and the Glory Be to the Father, prayers that draw people to God the Father and to the Trinity.

He suggested that when the rosary is recited in a group the Glory Be could be sung "as a way of giving proper emphasis to the essentially Trinitarian structure of all Christian prayer."

Pope John Paul also asked people to stop and look at the crucifix on their rosaries.

"The life and prayer of believers is centered upon Christ," he wrote. Like the rosary, "everything begins from him, everything leads toward him, everything, through him, in the Holy Spirit, attains to the Father."

The rosary is flexible, he said. Special prayer intentions can be recited after each mystery; parts can be sung; different age groups, cultures or ethnic groups might choose a different concluding Marian prayer or hymn.

Especially when looking for ways to bring the rosary alive for children, adaptations are possible, he said: "Why not try it?"

Top Page 7

Our Web Site

When you log on and browse around you'll see all kinds of information about our parish. Included, of course, will be the current activities for the many different organizations as well as an update as to what is going on with our parish family.
Do not let evil defeat you: Instead, conquer evil with good!!

By your wounded heart: teach us love, teach us love, teach us love..... -Daphne Fraser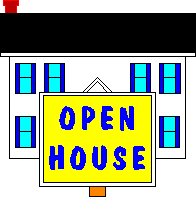 Mount St. Dominic located at 3 Ryerson Avenue, Caldwell (on the grounds of Caldwell College) is having an Open House for 7th and 8th grade girls and their families on Sunday, October 20th 1:30 p.m. and Wednesday, October 30th 6:30 p.m. For more information call 973-226-0660 ext. 22.
All Night Vigil
There will be an All Night Vigil of Reparation held at St. Anne's in honor of the Most Sacred Heart of Jesus and the Immaculate Heart of Mary beginning at 9 P.M. on Friday, November 1st and ending Saturday, November 2nd at 7 A.M.
This is a night with our Lord Jesus and His mother with confession, Masses, songs of worship, moments of adoration of the Blessed Sacrament and meditation. Refreshments will be served in Parish Center #4. For more information you may call Tina Edelman at 201-653-4785.
Natural Family Planning
The Archdiocese of Newark, in conjunction with Holy Name Hospital in Teaneck, is offering a program in Natural Family Planning to foster-responsible parenthood and marriage enrichment. The NFP series of four (4) classes applies sound biological knowledge to fertility control; no pills, no health risks.
A new course is scheduled to begin at St. John's Church in Linden on November 10th at 2 p.m. The classes are conducted by married couples. For additional information/registration, please call (201)833-3121.
Catechist Enrichment Day
A special day of spiritual enrichment designed especially for catechists, but also open to anyone who would like to come, will take place on November 9th from 9:30 am. to 12:30 pm. at the College of Saint Elizabeth. The presenter will be Sister Joan Curtin, Director of the Catechetical Office of the Archdiocese of New York. Please call the Center for Theological and Spiritual Development at the College for details and registration, 973-290-4300/4364. We also invite you to visit our website at www.csespirit.org .
Blood Drive
Holy Name Society is sponsoring a Blood Drive on Sunday, November 3rd in Chapel Hall 7:30 a.m.-1:30 p.m. BRING PICTURE ID!
Top Page 8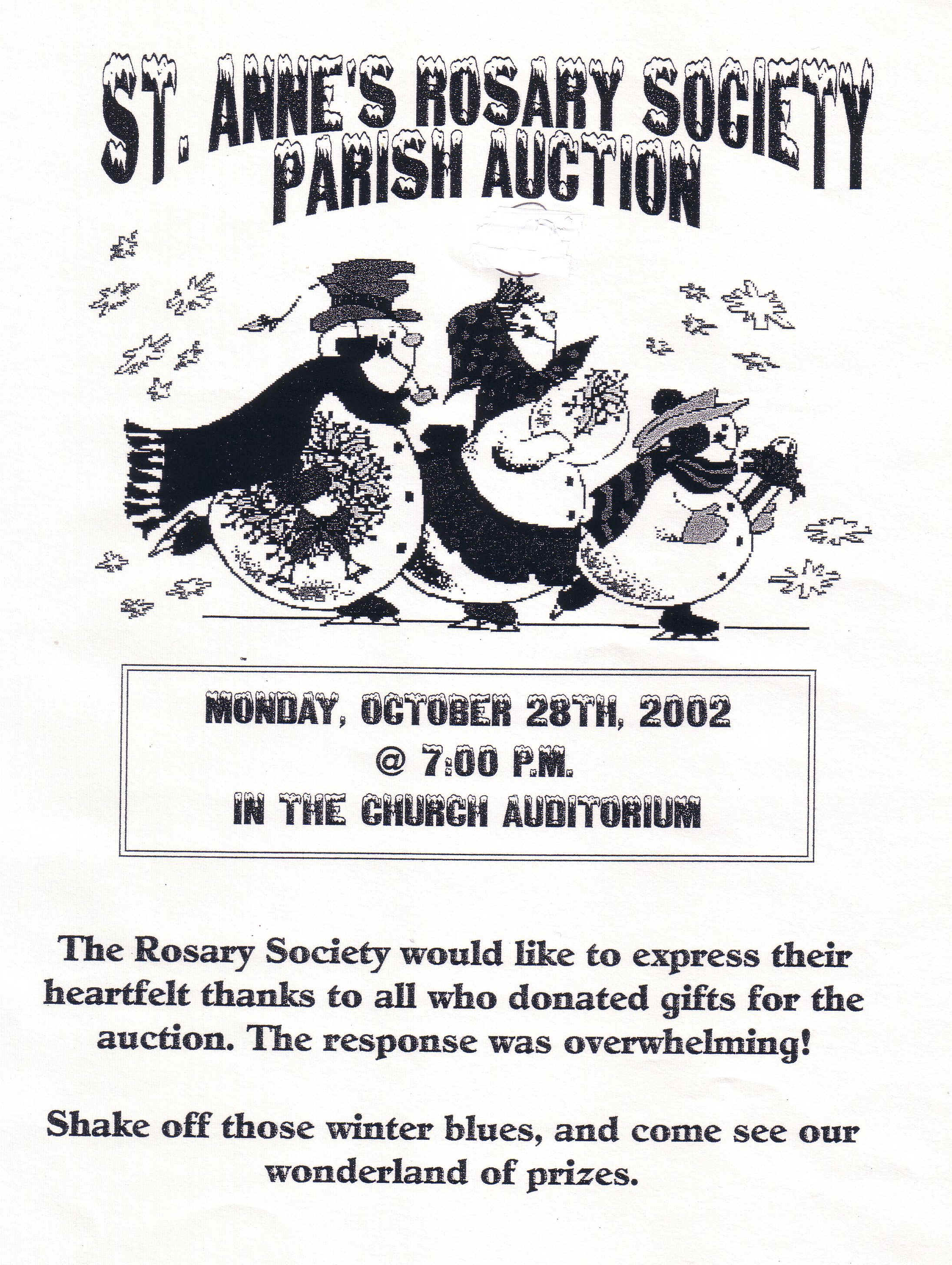 Page 9 Top
Personal Meditation

Personal Meditation October 27th, 2002
Mt 22:34-40
When the Pharisees heard that he had silenced the Sadducees, they gathered together, and one of them, a lawyer, asked him a question to test him. "Teacher, which commandment in the law is the greatest?" He said to him, "'You shall love the Lord your God with all your heart, and with all your soul, and with all your mind.' This is the greatest and first commandment. And a second is like it: 'You shall love your neighbor as yourself.' On these two commandments hang all the law and the prophets."

Psalm 145:14
What Can We Make Out
of What Is Left?
A little boy in kindergarten spent several class sessions working on a small ceramic dish to give to his father for Christmas. On the last day before the holidays, the boy was running down the hall and trying to put his coat on at the same time. In the process, he slipped and crushed the carefully wrapped gift he had worked on with dedication and love.
After a moment of silence, the child realized what had happened and broke into uncontrollable tears. In an effort to comfort him, the teacher said, "Don't cry. It really doesn't make any difference. You can buy something else."

Fortunately, the father, there to pick up his son, knew better. He swept the child into his arms and shed a discreet tear with him. "Let's pick up the pieces and see what we can make out of what is left," he whispered to his son. The little boy stopped crying and, with his dad, picked up the remains and went home.
This story is a parable of God in our lives. Perhaps we feel as though we have made a mess of our lives. Perhaps our lives feel as though they have been shattered by an event. God, who is like a father, comes to us, places a loving arm around our shoulders, and says, "Let's pick up the pieces and see what we can make out of what is left."

Thought for the Day
Trust the past to the mercy of God,
the present to his love,
and the future to his providence.