© copyright stannes4/2000
Page 1
*******************************************************************************************************************
November 10th, 2002
32nd Sunday in Ordinary Time


Schedule of Masses Week of November 11th - November 17th , 2002

Day

Time

Requested for

Requested by

Mon Nov. 11th

7 A.M.

Grace Chieffo

Iola DiLello

9A.M.

Louise Kropkowski

Sophie

Tues Nov. 12th

7 A.M.

George Boos

Burke Family

9A.M.

Anne Marie Simone-Alfano

Friends

Wed Nov. 13th

7A.M.

Thanksgiving St. Stephen

Kay & Agnes

9A.M.

Thomas Browne

Wife & Family

7 P.M.

Thomas Gore

Santiago Family

Thurs Nov. 14th

7A.M.

Liv Heddy Mocarski

Fran M. and Theresa

9A.M.

John Romano

Family

Fri. Nov. 15th

7A.M.

Edward

Family

9A.M.

Dec. Members of Pianese Family

Marie Pianese

Sat. Nov. 16th

9 A.M.

James Mocarski

Family

6 P.M.

Charles T. Schaadt Sr.

Family

7:30PM

For the People of the Parish

Sun. Nov. 17th

7:30AM

Eileen Baciagalupo
Helen, Mary & John
9 AM
Rosemary Maffei
Family

10:30AM

Mary Vaccarella

Romilda Vaccarella

12 PM

Carol & Susan Johnston
Warren & Helen Ferris
Sanctuary Gifts November 10th - November 16th 2002

Gift

In Memory Of

Requested By

Altar Wine

Elizabeth Ohl

Mildred Hoffman

Altar Bread

Gerald Cole

Mildred Hoffman

Sanctuary Lamp

Oscar Eccies

Kennedy Family

Altar Candles

Peter Cassadante

Standard Tile
Let Us Pray For Those Seriously Ill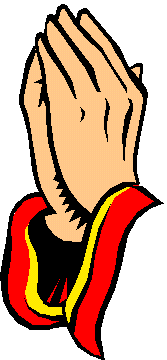 Dolores Becker, and Angelica Krajnik.
Vocation reflections

Today's psalm response is true of many of us- "my soul is thirsting for you, O Lord my God". Perhaps your soul is restless and thirsting for a fuller way to serve the church. Consider saying yes to God's call to the priesthood or religious life.?
If you feel this call, "inquire within" and Please contact the Vocations Office the Vocations Office at (973) 497-4365 or by E-mail at kellyric@rcan.org. Or visit our web site at www.rcan.org.
Page 2 Top

STEWARDSHIP



STEWARDSHIP SCRIPTURE REFLECTION
We seek many things in this life, but we should seek first the Lord and his wisdom. By so living, we will keep vigil for the Lord as we await his return in glory.

OUR WEEKLY OFFERING
November 2002
November2/3 $5,660.
Month's Total $5,660.
Month's Average $5,660.
Mailed in $289.

We thank you!

WEEKLY AVERAGE COMPARISONS:
Month '01 Monthly Avg. '02 Monthly Avg.
October $6,200 $5,439.
November $5,654.




HOLY HOUR FOR PRIESTS


Every Tuesday the Blessed Sacrament is exposed in the church from 3-4 P.M. Those who come dedicate an hour of prayer for the priests, DIVINE MERCY and Religious men and women of the Church.

Prayers are also said for an increase of vocations to the priesthood and religious life. We invite you to come and spend time with the Lord for these intentions and for your personal requests. The Holy Hour closes with Benediction of the Blessed Sacrament.







ALL SOULS DAY
The month of November is dedicated to All Faithfully Departed with All Souls Day having been celebrated on November 2nd. This day, especially, is a traditional time for visiting graves of loved ones. For this reason, we ask that you take the time to please remember to fill in the names of your dearly departed family members and friends whom you would like to have remembered during the Masses of the All Souls Novena as well as during the Masses offered over the balance of the month. These envelopes may be placed in the depository next to the altar marked "All Souls" or placed in the collection basket so they may be bundled and placed on the altar for the duration of the month.
Day of Recollection
JOY IS BEING FELICIAN FRANCISCAN: COME AND SEE FOR YOURSELF!
WHEN: Saturday, November 16th
WHERE: Heart of Mary Convent, 257 South Main Street, Lodi
WHO: Single Catholic Women, Ages 18-35
TIME: 9:00 A.M. - 3:00 P.M.
For more information, please contact Sister Marilyn Minter, CSSF 973-473-5923 or email CSSF@inet.felician.edu
Top
page 3
Thanksgiving
We will have a special Thanksgiving Mass on Tuesday, November 26th at 7 p.m. This is the time when we appeal to your generosity to support the St. Vincent DePaul Society of our parish, our source of financial assistance for those who are in need and approach us throughout the year for aid. We humbly request that you bring to this Thanksgiving Mass a non-perishable item (food) so that we may distribute them in food baskets for the needy of our area.
On Thanksgiving Day, November 28th, Mass will be concelebrated with one Mass at 9 A.M.
Food Pantry Needs Your Help
At the end of the school year, the first grade students of Miss Pisani's class raised over $75 to buy canned goods for the needy of our parish, which tells us that we are teaching our children to be good Stewards.
The canned goods we receive at Thanksgiving will help replenish our Food Pantry. Since the size of our Food Pantry is limited, money donations or Grocery Certificates will be used to purchase more food as we need it.
St. Anne's School has a Grocery Certificate Program as a yearly fundraiser, if you wish to purchase certificates. By donating your Grocery Certificates through the School (available any time), you would be helping the school and the needy of our Parish.
Any donations can be dropped off at the rectory at any time.
Home Blessing
The pilgrim statue of St. Joseph, sponsored by the St. Joseph Morning Prayer Group, is available to visit the home of our parish families. For more information, please call Pat Roda at 201-792-5530.

International Adoption
Catholic Community Services, the social services agency for the Archdiocese of Newark, will host an informational meeting about International Adoption on Thursday, November 21st at 7 p.m. The meeting will take place at New Jersey Boystown/Engelhard Hall, located at 499 Belgrove Drive in Kearny. Directions are available upon request. Please RSVP at 201-246-7378/7379.
Afternoon of Opera
Archdiocese of Newark Redemptoris Mater Missionary Seminary proudly presents an afternoon of opera on Sunday, December 15th at 4 p.m. at Kozlowski Hall, Seton Hall University with Marie Bertoline and Friends. Tickets are available at the rectory through Father Julio Roman. Suggested donation is $75.

Second Collection
How many poor people are too many in this the richest of nations? At the Masses next weekend, we will be asked to join in solidarity with the 34 million poor of the United States through the annual collection for the Catholic Campaign for Human Development. CCHD grants have supported self-help projects to provide affordable housing, create jobs, and improve communities here in our diocese and throughout our country. Help break the cycle of poverty by giving generously next weekend.

College Open House
Caldwell College will be holding their Spring 2003 Open Houses on Tuesday, November 19th and December 10th starting at 6:30 p.m. in the Theatre Building for the Adult Learner who wishes to return to college and earn a bachelor's degree. Our programs take into consideration the needs of busy adults and provides various options for the pursuit of a college education. Call 973-618-3343 for an admissions packet, or write Caldwell College, Adult Undergraduate Admissions, 9 Ryerson Avenue, Caldwell, NJ 07006.

Top page 4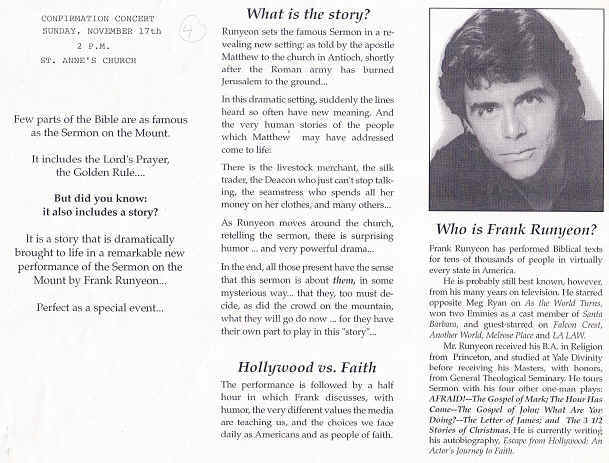 Our Web Site
When you log on and browse around you'll see all kinds of information about our parish. Included, of course, will be the current activities for the many different organizations as well as an update as to what is going on with our parish family.
Do not let evil defeat you: Instead, conquer evil with good!!
By your wounded heart: teach us love, teach us love, teach us love..... -Daphne Fraser
Nutcracker
The New Jersey Foundation for Dance and Theatre Arts, a NJ non-profit Corporation, (Artistic Director, Nancy King, of the King Centre for the Performing Arts) proudly presents their production of the "Nutcracker" performed by the American Youth Dance Company.
The award-winning American Youth Dance Company puts a twist on tradition in its production of the "Nutcracker", enthralling audiences with high flying acrobatic mice and tap dancing tin soldiers. There is beautiful classical ballet with the presentation of Snow and Flowers, plus an emphasis on jazz. With these different forms of dance put together, the result is dazzling. The show also features the famous rising Christmas tree and falling snow.
Performances are: Saturday, December 7th at 7 p.m. and Sunday, December 8th at 3 p.m. at Felician College (John J. Breslin Jr. Theatre), 262 South Main St., Lodi. Tickets: $25 Orchestra; Adults $20; Children 10 and under $17. Group sales are available. For more information, please call the New Jersey Foundation for Dance and Theatre Arts 973-839-4031 to order tickets. Special rates for non-profit groups of 25 and more.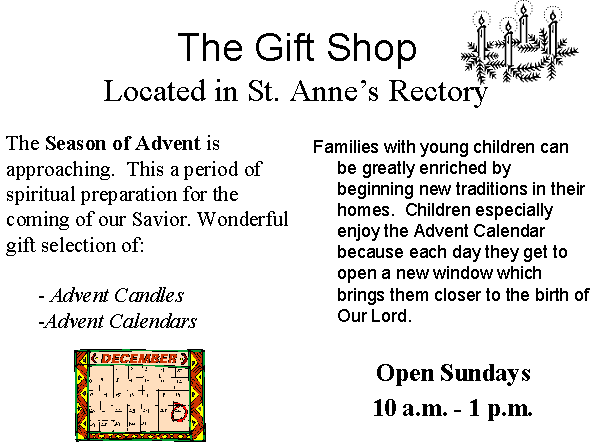 Top Page 6
MONDAY Ti 1:1-9 Ps 24:1-6 Lk 17:1-6
TUES. Ti 2:1-8,11-14 Ps 37:3-4,18,23,29 Lk 17:7-10
WED. Ti 3:1-7 Ps 23:1-6 Lk 17:11-19
THURS. Phlm 7-20 Ps 146:7-10 Lk 17:20-25
FRIDAY 2Jn 4-9 Ps 119:1-2,10-11,17-18 Lk 17:26-37
SATURDAY 3Jn 5-8 Ps 112:1-6 Lk 18:1-8
NEXT SUNDAY - 33rd SUNDAY IN ORDINARY TIME Prv 31:10-13,19-20,30-31 Ps 128:1-5 1Thes 5:1-6 Mt 25:14-30

CCD News
- The Sacrament of Confirmation will be administered in our Parish on Saturday, November 23rd at 2 p.m. In the church vestibule are pictures of the Candidates and a basket with their names in it. Please select a Candidate's name from the basket and be their Prayer Partner for the next few weeks, asking the Holy Spirit to enlighten them on their journey of Faith.
- Next weekend, our Confirmation Candidates, sponsors and parents will attend a Presentation of the Sermon on the Mount (Confirmation Concert) at 2 p.m. in church. All are invited to attend. A monetary donation at the door would be appreciated.
- Confirmation practice will take place in church on November 18th, 20th & 21st from 4-5:30 p.m. On the 21st class day candidates will have pizza for supper here and be ready to attend class at 7 p.m.
- There will be a Rock & Roll Valentine Dance on February 15th. There will be a meeting to plan this on November 12th. Anyone who would like to help out, please come to the meeting at 7 p.m. in P.C.#3.
- Grade 1 parent meeting on November 24th at 1 p.m. sharp in Chapel Hall. There will be no make-up meeting. Please attend this one.
- Flea Market November 30th 9 a.m.-5 p.m. See flyer.
Annulment Information Evening
An Annulment Information Evening is scheduled for Wednesday, November 13th. A canon lawyer from the Archdiocese of Newark will discuss the most recent theology, guidelines and requirements for obtaining a Church annulment. The information will be presented in terms that all can understand. A question and answer period will conclude the session. Pre-registration is not necessary. This evening of information will be held at Our Lady of Mercy R.C. Church (Farley Center), 40 Sullivan Drive, Jersey City at 7:30 p.m. For additional information, please call the Office of Family Life Ministries at 973-497-4327.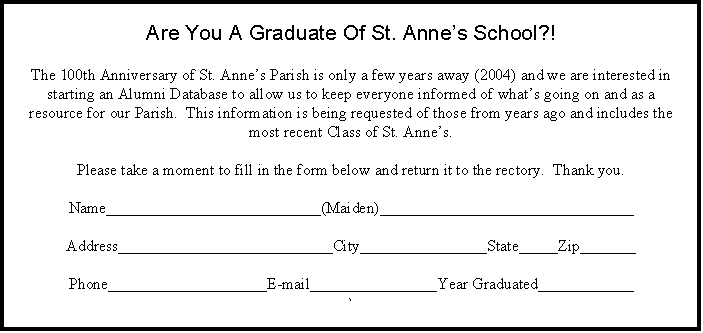 Top Page 7
From Generation To Generation, We Share Our Faith
DID YOU KNOW...The Golden Jubilee of Saint Anne's Parish occurred in the Marian Year, 1954, the 100th Anniversary of the Definition of the Doctrine of the Immaculate Conception, significant since Saint Anne was the Mother of Mary, the Mother of God.
DID YOU KNOW… On June 25, 1908, four children graduated from Saint Anne's School (3 girls and 1 boy). One of the girls, Theresa McMurren, became Sister Grace DePaul of the Sisters of Charity.
Do you have some information about Saint Anne's that you could share? One of our parishioners sent a great letter to Father Vic recalling her days as a student at Saint Anne's during the 1950's. This kind of information is invaluable as we gather material for the 100th Anniversary Journal/History.
Remember that the Suggestion Box is still in the vestibule of the church...if you have an idea for an event to celebrate the Anniversary of our Parish, please share it with the Committee.
Let us pray that the Faith we share will continue to grow.
2003 Anniversary Liturgies
Archbishop John J. Myers has announced the following dates to honor couples in our Archdiocese who will be celebrating five, twenty-five or fifty years of Christian marriage in 2003:
March 23, 2003 - 3:00 p.m. 5 & 25 Years
April 6, 2003- 3:00 p.m. 50 Years
Registration will begin in January 2003 for couples wishing to attend their special liturgy.

Do you want to learn more about the Catholic faith?
Are you interested in becoming Catholic?
Do you need to be Baptized, Confirmed or receive First Communion?

St. Anne's Church RCIA Program can help answer your questions. To find out more...Call Janice Fiorese in our Rectory at 201-656-2490.
Welcome to our Family
We recently received eight new members to our St. Anne's Parish Family through the Sacrament of Baptism. As they begin their new life of grace, we ask that you remember them in your prayers. They are:
Alyssa Aguila, Jessalyn Arellano, Isabella Fasani, Courtney Maglione, Johnathan Ortiz, Humberto Rodriguiz, Nancy Rodriguez, Madison Tredo
Retreat
November 15-17 - Retreat for Recovering Alcoholics given by Rev. William Smith at Cenacle Retreat House, 411 River Road, Highland Park, NJ. For more information, call 732-249-8100.
Top Page 8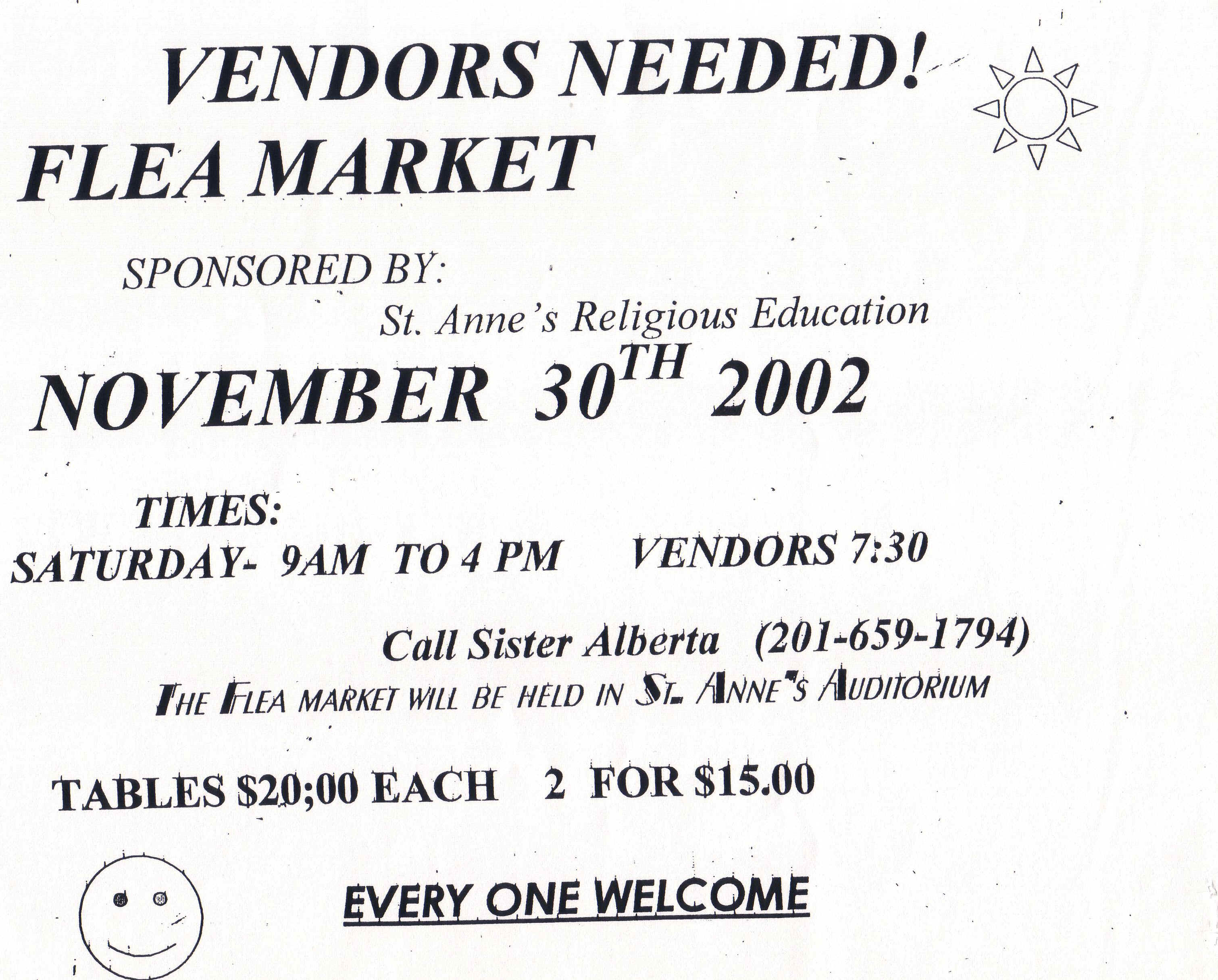 Page 9 Top
Personal Meditation

Personal Meditation November 10th, 2002
Mt 25:1-13
"Then the kingdom of heaven will be like this. Ten bridesmaids took their lamps and went to meet the bridegroom. Five of them were foolish, and five were wise. When the foolish took their lamps, they took no oil with them; but the wise took flasks of oil with their lamps. As the bridegroom was delayed, all of them became drowsy and slept. But at midnight there was a shout, 'Look! Here is the bridegroom! Come out to meet him.' Then all those bridesmaids got up and trimmed their lamps. The foolish said to the wise, 'Give us some of your oil, for our lamps are going out.' But the wise replied, 'No! there will not be enough for you and for us; you had better go to the dealers and buy some for yourselves.' And while they went to buy it, the bridegroom came, and those who were ready went with him into the wedding banquet; and the door was shut. Later the other bridesmaids came also, saying, 'Lord, lord, open to us.' But he replied, 'Truly I tell you, I do not know you.' Keep awake therefore, for you know neither the day nor the hour.
Psalm 150:4
Cherishing Play
Psychologists note that one essential mark of maturity is the ability to play, to dance, to make music, to take delight in life. The Psalms are filled with references to singing, dancing, and being joyful.
"Praise him with drums and dancing" is today's reading. Too many of us focus upon the serious, heavy, responsible side of living. We need to balance that view with biblical joy. This may be what Jesus had in mind when he taught that the kingdom of God must be received like a child (Mark 10:15).
Let us resolve to increase our capacity for joy by following these steps:

• Do more of what you want to do and less of what you should do.
• Break a self-imposed rule from time to time. This will add variety, spice, and interest to your life.
• Eat something that tastes very good occasionally.
• Stay up late one night doing something you enjoy.
• Sleep in one morning like you did when you were younger.
• Invite your friends or children or spouse to join you in some board games one evening.
Thought for the Day
Anyone who has the light to understand what I mean
and the grace to follow it
will experience, indeed,
the delight of the Lord's playfulness.
For like a father frolicking with his son,
he will hug and kiss the one
who comes to him
with a child's heart.