© copyright stannes4/2000
Page 1
*******************************************************************************************************************
December 15th, 2002
Third Sunday of Advent


Schedule of Masses Week of December 16th - December 22nd, 2002

Day

Time

Requested for

Requested by

Mon Dec. 16th

7 A.M.

Socorro Kennedy

St. Joseph Prayer Group

9A.M.

Liv. Francis Muzikar

Theresa Lattanzi

Tues Dec. 17th

7 A.M.

Mary Cohn

John Nadolny

9A.M.

Antoinette Lampo

Michael Stefano

Wed Dec. 18th

7A.M.

William & Frances Grieco

Salita Family

9A.M.

Liv. angela Maccini

Theresa Lattanzi

7 P.M.

Antonio & Caterina Stefani

Granddaughter Emilia

Thurs Dec. 19th

7A.M.

Helen Wilkins

Family

9A.M.

Liv. Frances Spazian

Theresa Lattanzi

Fri. Dec. 20th

7A.M.

Mildred Barry

Helmsdorfer Family

9A.M.

Liv. Frances Muzikar

Angela

Sat. Dec. 21st

9 A.M.

Liv. Frances Muzikar

Frances

6 P.M.

Walsh Family

James V. Walsh, Jr.

7:30PM

For the People of the Parish

Sun. Dec. 22nd

7:30AM

Bernadette R. Berger
Daughter
9 AM
John Flatley
Sisters

10:30AM

Mary, Joseph & Alex V.
Romilda Vaccarella

12 PM

Christopher
Sister Nicole
Sanctuary Gifts December 15th - December 21st 2002

Gift

In Memory Of

Requested By

Altar Wine

Gerard Guntner

Guntner Family

Altar Bread

Valente Family

Albert Peterson

Sanctuary Lamp

Monica Blacker

Alice, Bob & Colleen Kennedy

Altar Candles

Monica Blacker

Hogan Family
Let Us Pray For Those Seriously Ill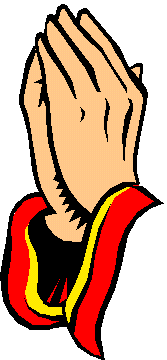 Marie Starz, Bruno Spazian, Angela Krajnik and Catherine Wojciechowicz, .
Vocation reflections

What a tremendous call to Christians everywhere - to bring glad tidings to the poor, to proclaim liberty to the captives, and to heal the broken hearted. Could the Lord be calling you to bring this gift of new life and hope to a waiting world as a Priest, Brother or Sister?
If you feel this call, "inquire within" and Please contact the Vocations Office the Vocations Office at (973) 497-4365 or by E-mail at kellyric@rcan.org. Or visit our web site at www.rcan.org.

Page 2 Top
STEWARDSHIP



STEWARDSHIP SCRIPTURE REFLECTION
John witnesses to one who is to come, one far mightier than he, one who will proclaim freedom and deliverance from sin and death. As we await his coming again in glory, let us join with Mary in singing the praises of God.

OUR WEEKLY OFFERING
December 2002
December7/8 $4,512.
Month's Total $10,065.
Month's Average $5,003.
Mailed in $452.

We thank you!

WEEKLY AVERAGE COMPARISONS:
Month '01 Monthly Avg. '02 Monthly Avg.
November $5,654. $5,281.
December $6,056.




HOLY HOUR FOR PRIESTS


Holy Hour will be cancelled for Thanksgiving and Christmas Holidays - beginning November 26th through the month of December. Holy Hour will resume on January 7th.
During this time of postponement, we invite you to continue praying at home for the priests, DIVINE MERCY and Religious men and women of the Church and for an increase of vocations to the priesthood and religious life.




Church Decorations

St. Anne's Church will be beautifully decorated for the Christmas Season with fresh trees and lovely Poinsettia Plants. If you would like to make a donation in memory of a loved one or a friend while also helping to defray the cost of the decorations, please put your donation in the "FLOWER" envelope and deposit it in the Christmas Decoration Depository located in front by the altar. If possible, please drop off your flower envelope by December 22nd in order to have our "donor list" posted in the church vestibule for Christmas Day. Thank you.
T'is the Season to Come Together
On Sunday, December 22nd at 3 pm in church, please come and join the Liturgy Committee on the last Sunday of Advent to decorate the church for Christmas.
We invite all of you to come and help make this a family affair by helping to decorate the Church. There will be hot chocolate and cookies.
Later that evening, we can all come together for Simbang Gabi which is another family tradition we celebrate with Mass and potluck dinner afterward. I hope you will be able to take time out of your busy schedule and give thanks for all that we share as a family, and to also pray for those who are less fortunate.
Please contact either Janice at the rectory (201-656-2490) or Celia Morales (201-963-5030) to let us know that you will join us so that we can prepare and don't forget to bring a potluck dish to share for dinner later.
Looking forward to sharing this time with you!!
Top
page 3
Our Web Site
When you log on and browse around you'll see all kinds of information about our parish. Included, of course, will be the current activities for the many different organizations as well as an update as to what is going on with our parish family.
Do not let evil defeat you: Instead, conquer evil with good!!
By your wounded heart: teach us love, teach us love, teach us love..... -Daphne Fraser
BINGO TEMPORARILY CANCELLED
Due to Christmas/ New Year Holidays and improvements in the Auditorium, there will be NO BINGO from December 24th through and including January 10th.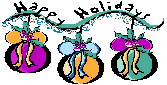 Share Your Joy At Christmas
Catholic Community Services (CCS) provides a unique and personal opportunity for an individual, family, church community, school or organization to help critically needy families in the Newark Archdiocese who wouldn't have Christmas without some outside support.
Through the CCS' Emergency Food and Nutrition Network (EFNN), food pantry coordinators in the four counties refer eligible families to the EFNN. These families are linked with a donor who receives a profile of the family situation, first names, ages, size, and wish list. Donors are asked to provide 2-3 age appropriate gifts and grocery store gift certificates for their selected family. They are also responsible for delivering the gifts to the food pantry which serves the family one week before Christmas. For more information, please call Rose Shannon, CCS EFNN at 973-596-5128.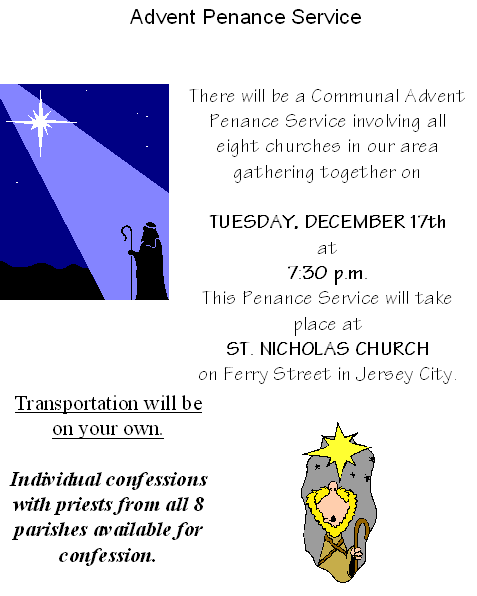 Top page 4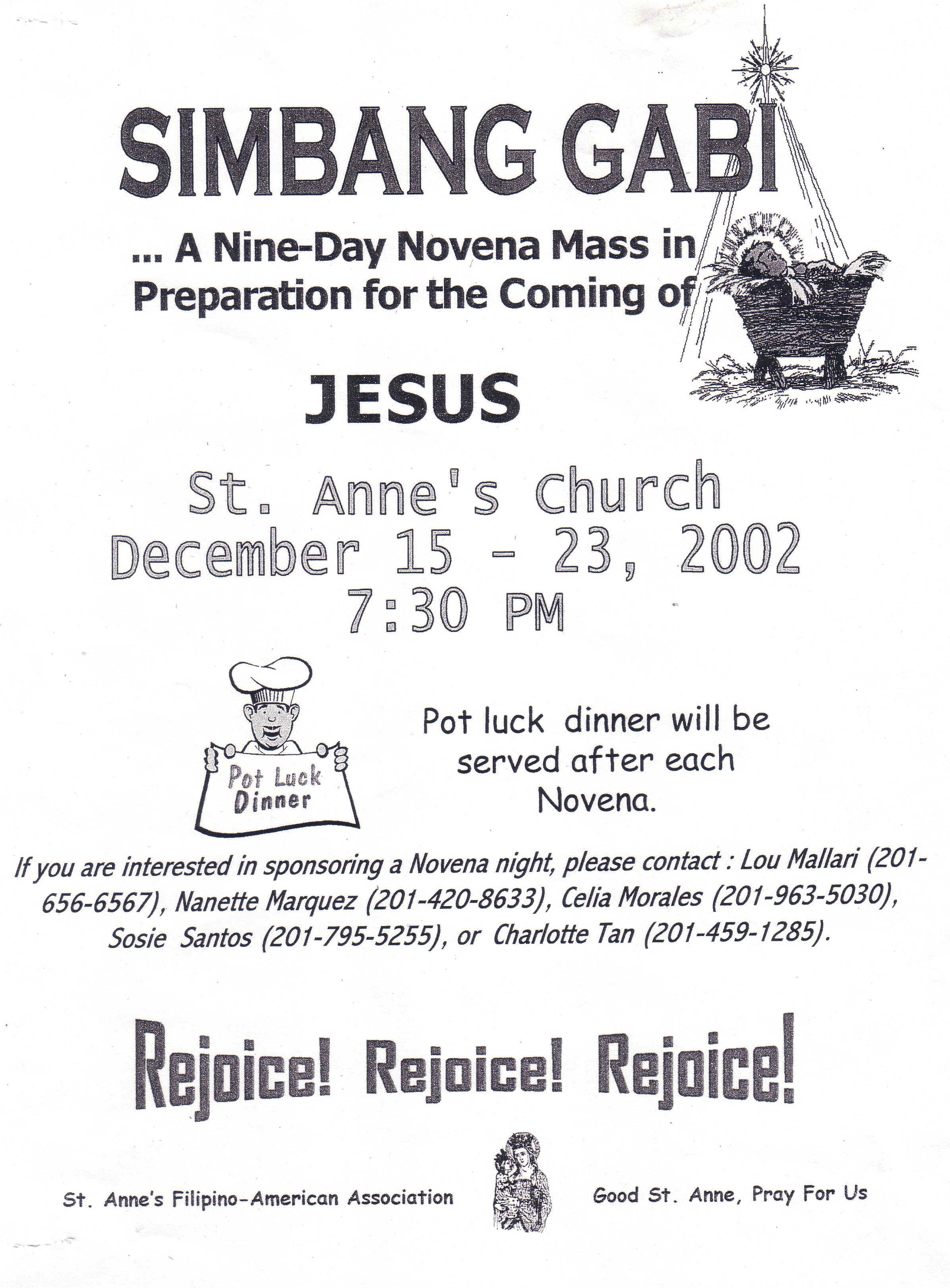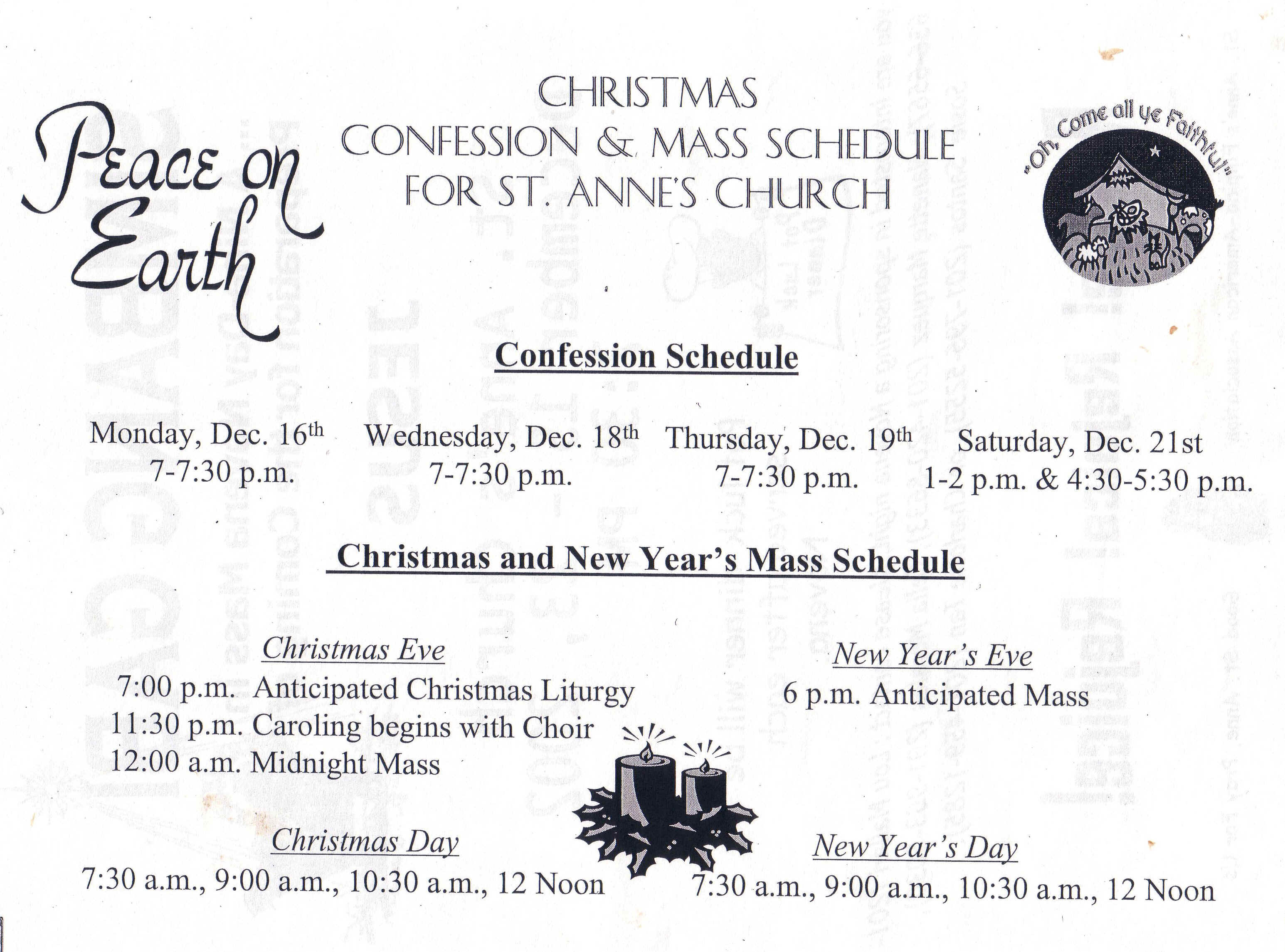 Top Page 6
MONDAY Nm 24:2-7,15-17a Ps 25:4-9 Mt 21:23-27
TUES. Gn 49:2,8-10 Ps 72:3-4,7-8,17 Mt 1:1-17
WED. Jer 23:5-8 Ps 72:1,12-13,18-19 Mt 1:18-25
THURS. Jgs 13:2-7,24-25a Ps 71:3-6,16-17 Lk 1:5-12
FRIDAY Is 7:10-14 Ps 24:1-6 Lk 1:26-38
SATURDAY Sg 2:8-14 Ps 33:2-3,11-12,20-21 Lk 1:39-45
NEXT SUNDAY - 4TH SUNDAY OF ADVENT 2Sm 7:1-5,8b-12,14a,16 Ps 89:2-5,27,29 Rom 16:25-27 Lk 1:26-38

CCD News
- Teachers' meeting today at 11:30 in P.C.#3
- Children's Christmas Party December 22nd in auditorium. Children will be dismissed at 12 noon.
- Parent club meeting today to plan Christmas Party. Please be here. If we don't get cooperation, there will be no party.
- December 22nd last day of class until January 6th when we return. Please don't forget to bring the children to Mass on these Sundays when there is no class.


St. Anne's Class of '85
There will be a Reunion for members of St. Anne's Class of 1985 on Thursday, December 26th held at Houlihan's Restaurant & Bar, 700 Plaza Drive, Secaucus. Arrival time between 5-6 p.m.
Please contact Frankie Poli at home 201-714-9875, work 201-395-1706 or email fpoli@pershing.com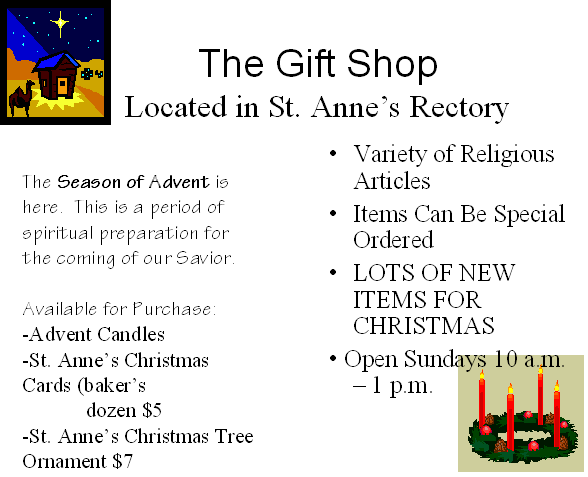 Top Page 7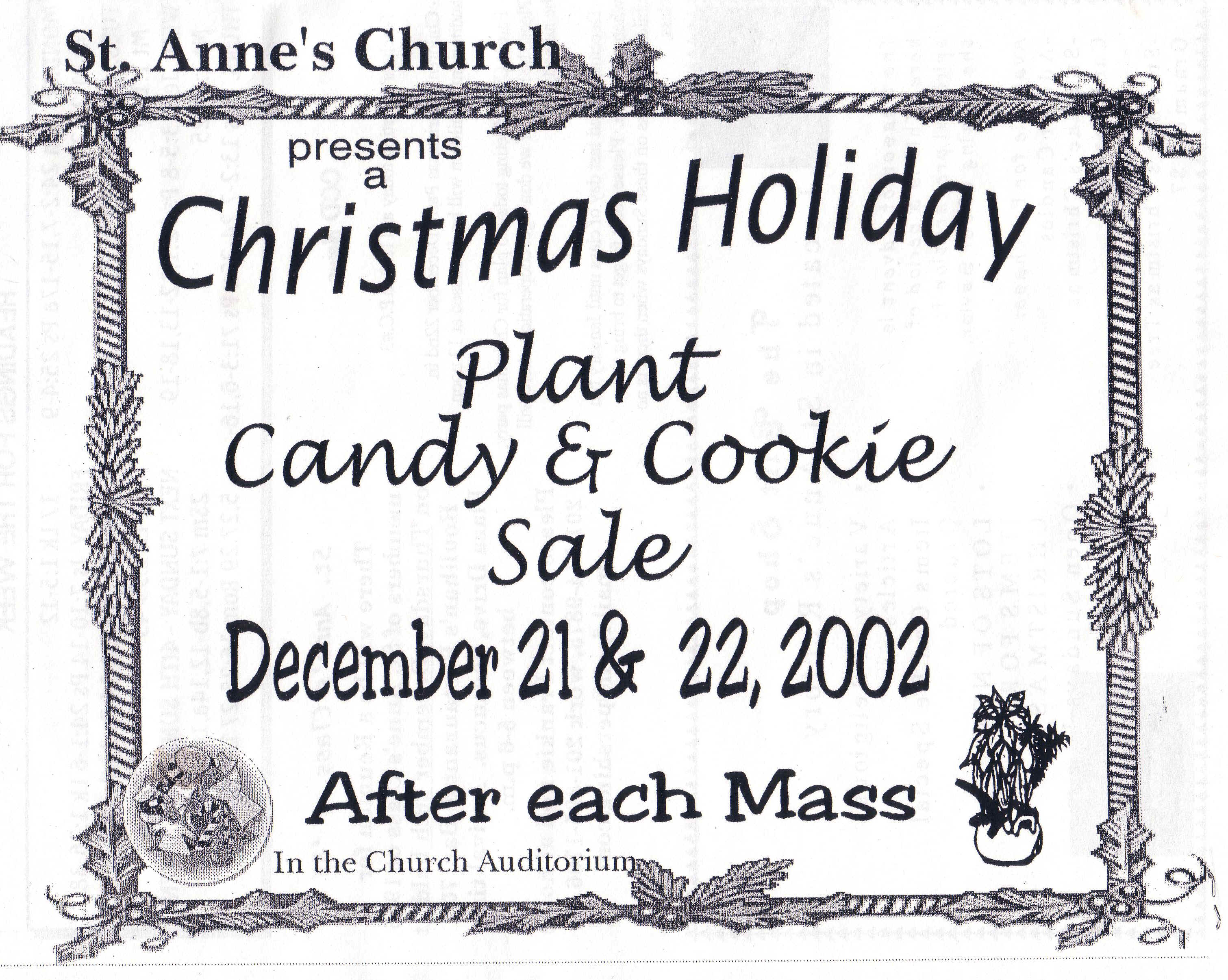 Top Page 8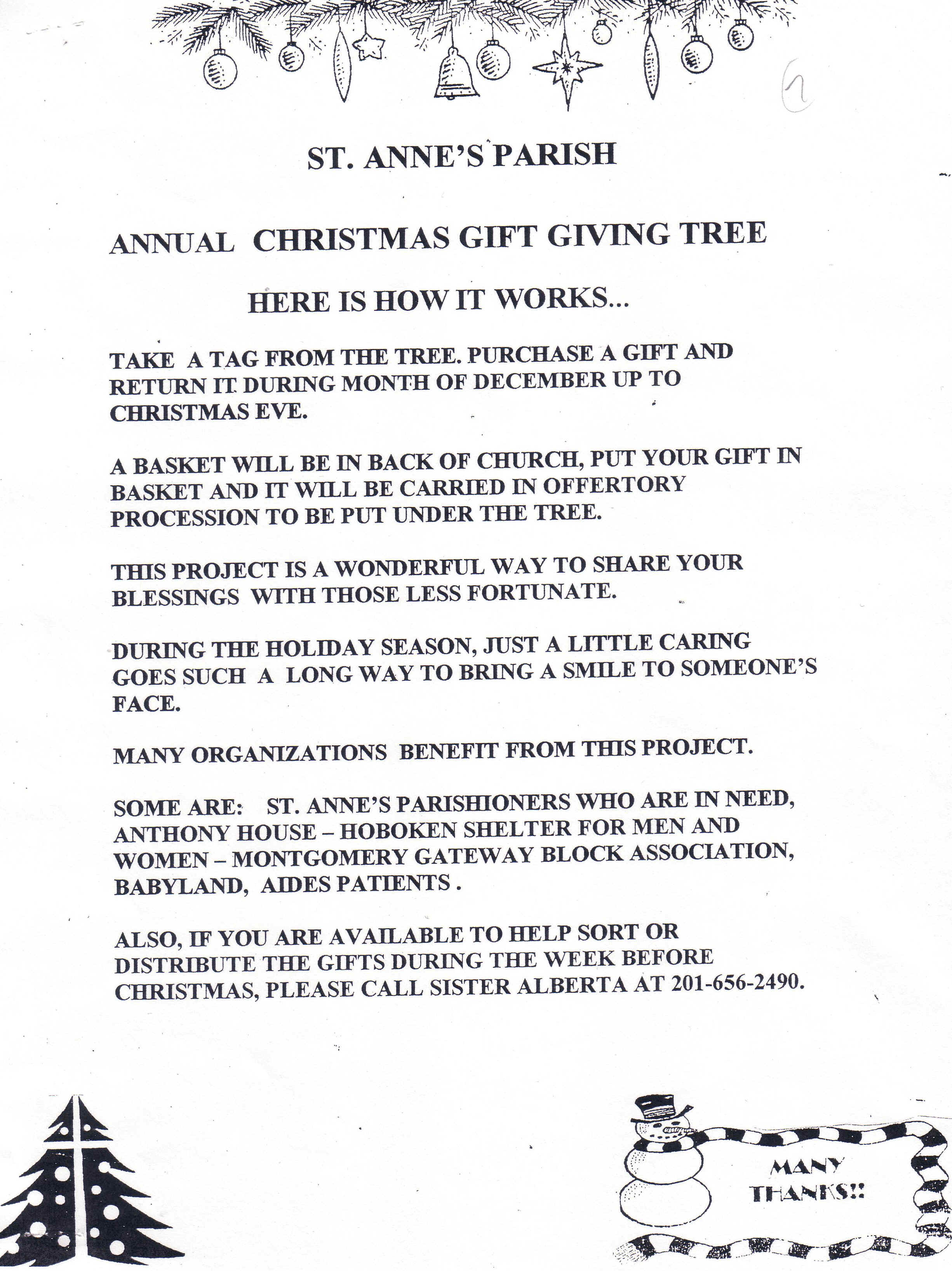 Page 9 Top

Personal Meditation
December 15th, 2002
Is 61:1-2, 10-11, Jn 1:6-8, 19-28
Gospel Reading
His name was John.
He came to bear witness,
as a witness to introduce the Light
so that all might believe through him.
He was not the Light but a witness to introduce the Light.
This was the testimony of John when the Jews sent priests and Levites to ask him, "Who are you?" John recognized the truth and did not deny it. He said, "I am not the Messiah."
And they asked him, "Then who are you? Elijah?" He answered, "I am not." They said, "Are you the Prophet?" And he answered, "No." Then they said to him, "Tell us who you are, so that we can give some answer to those who sent us. How do you see yourself?" And John said, quoting the prophet Isaiah, "I am the voice crying out in the wilderness: Make straight the way of the Lord."
Those who had been sent were Pharisees; so they put a further question to John: "Then why are you baptizing if you are not the Messiah, or Elijah, or the Prophet?" John answered, "I baptize you with water, but among you stands one whom you do not know; although he comes after me, I am not worthy to untie the strap of his sandal."
This happened in Bethabara beyond the Jordan, where John was baptizing.
Reflection
John the Baptist presents Jesus: "Among you stands one whom you do not know." This is not surprising, for we know that none of us really knows even our own selves, our desires, motivations and possibilities. Similarly, the people we are closest to may be familiar, but do we fully know them, their deepest thoughts and feelings? Jesus wants to be better known by us. We can know him better through meditating on the first reading, the words which Jesus himself chose as a mission statement (Luke 4). As his followers, it's our mission statement too. St. Paul encourages us: God has called us in Christ, and God's mission is always to form the mind and heart of Christ in us.


P
rayer During the Advent Season
Lord, move our hearts to prepare joyfully for the coming of Christ our Savior. Protect us from all dangers, and free our minds and hearts from the darkness that hinders your light. As we look forward to the feast of your Son's birth, increase our faith and trust in your love. We ask this through Christ our Lord. Amen.