© copyright stannes4/2000
Page 1
*******************************************************************************************************************
December 29th, 2002
Holy Family Sunday


Schedule of Masses Week of December 30th - January 5th, 2002

Day

Time

Requested for

Requested by

Mon Dec. 30th

7 A.M.

For the People of the Parish

9A.M.

Carmine Creazzo

Friends

Tues Dec. 31st

7 A.M.

Gertrude Zirk

Michael Maresca

9 A.M.

Carmine Creazzo

Mother

6 P.M.

Mary Anderson

Family

Wed Jan. 1st

7A.M.

For the People of the Parish

9A.M.

Thanksgiving

10:30 P.M.

Socorro Kennedy

Mr. & Mrs. Jersey

12 P.M.

Dorothy Ensmenger

St. Mary's High School Class '71

Thurs Jan. 2nd

7A.M.

Monica Blacker

All Lectors & Eucharistic Ministers

9A.M.

Liv. Eva, Pauline, & Helen

Frances

Fri. Jan. 3rd

7A.M.

Basilio Pinto

Daughter Mary

9A.M.

Daniel B. Lavecchia Sr.

Loving Family

7P.M.

Beth Ann Fallon

Jane & Lou Cecere

Sat. Jan. 4th

9 A.M.

Liv. Frances Spazian

Frances M.

6 P.M.

Dorothy Ensmenger

St. Anne's Rosary Society

7:30PM

Juan R. Duarte

Carmen & Jackie

Sun. Jan.5th

7:30AM

Susan Freda
Mary Ashe
9 AM
Esther Stecker
Son Ronald Clemente

10:30AM

Anthony DelLuise
Wife Dolores

12 PM

Sal Favazzi
Favazzi Family
Sanctuary Gifts December 29th - January 4th, 2002

Gift

In Memory Of

Requested By

Altar Wine

Monica Blacker

Seborowski

Altar Bread

Monica Blacker

Vincent Iemma

Sanctuary Lamp

Monica Blacker

Madeline Gerrity

Altar Candles

Monica Blacker

Carmella Lombardi & Family
Let Us Pray For Those Seriously Ill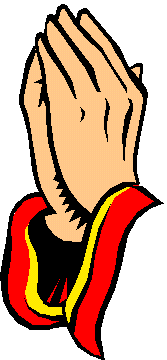 Marie Starz, Bruno Spazian, and Angela Krajnik.
Vocation reflections

Today we celebrate the Feast of the Holy Family. It is in the family that vocations are nourished and encouraged. Is there someone in your family who can put on Christ and answer a call to be a priest, religious sister or brother?
If you feel this call, "inquire within" and Please contact the Vocations Office the Vocations Office at (973) 497-4365 or by E-mail at kellyric@rcan.org. Or visit our web site at www.rcan.org.

Page 2 Top
STEWARDSHIP



STEWARDSHIP SCRIPTURE REFLECTION
Family life is rooted in the unconditional love of God as witnessed by the Holy Family. Mindful of his covenant, God blesses the faith of Abraham and Sarah in their son, Isaac. The child Jesus and his parents are blessed by Simeon.

OUR WEEKLY OFFERING
December 2002
December 21/22 $5,701.
Month's Total $21,681.
Month's Average $5,420.
Mailed in $630.

We thank you!

WEEKLY AVERAGE COMPARISONS:
Month '01 Monthly Avg. '02 Monthly Avg.
November $5,654. $5,281.
December $6,056.




HOLY HOUR FOR PRIESTS


HOLY HOUR WILL RESUME JANUARY 7TH!!
Every Tuesday the Blessed Sacrament is exposed in the church from 3 to 4 p.m. It is an hour of prayer for the priests, DIVINE MERCY and religious men and women of the church. Prayers are also said for an increase of vocations to the priesthood and religious life. We invite you to come and spend time with the Lord for these intentions and for your personal requests. The Holy Hour closes with Benediction of the Blessed Sacrament. If you cannot join us in church, we ask you to join us from a quiet spot in your home and pray with us, asking the Lord to guide and protect our priests.




BINGO TEMPORARILY CANCELLED
Due to Christmas/ New Year Holidays and improvements in the Auditorium, there will be NO BINGO from now through and including January 10th.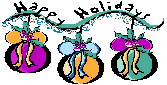 NEW YEAR'S Mass Schedule


New Year's Eve

6:00 p.m. Anticipated Mass

New Year's Day

7:30 a.m., 9:00 a.m., 10:30 a.m., 12 Noon

Happy New Year!!

Peace on Earth
Top
page 3
Our Web Site
When you log on and browse around you'll see all kinds of information about our parish. Included, of course, will be the current activities for the many different organizations as well as an update as to what is going on with our parish family.
Do not let evil defeat you: Instead, conquer evil with good!!
By your wounded heart: teach us love, teach us love, teach us love..... -Daphne Fraser
Auditorium Temporarily Closed
Attention!!
From January 6th to January 12th, the auditorium will be closed for floor repairs.
Any organizations that were scheduled to use the Auditorium have been moved to Chapel Hall. Those organizations involved have been contacted.
Adult Education
Caldwell College offers adult students a variety of programs to help complete a bachelor degree. Registration is open for Spring, Summer and Fall semesters for 2003. "On Campus" evening classes meet on a secure suburban campus; "External Degree" offers home study, no class attendance required. Call 973-618-3385, for appointment information and/or admission packet.

CCD News
· January 4th - Teachers' Christmas Party 2-7 p.m. Parish Center #4
· January 5th - CCD CLASSES RESUME!!
· January 12th - First Reconciliation parent meeting in Chapel Hall at 1 p.m. Please be on time. There will be no make-up meeting.
· January 19th - New Confirmation parent meeting in Chapel Hall at 1 p.m.. Please be on time. There will be no make-up meeting.
· January 26th - Open House 11:30 am.-12:30 p.m. Come and visit your child's teacher and receive report card. Pick up your child at 11:30 and return to visit classes.
· January 30th - New Confirmation classes begin for public school 6:30 to 8:30 p.m. in Parish Center #3.
· The Religious Education Program will be sponsoring a trip to Villa Roma in the Catskills in July. The purpose of this ad is to find out how many people would be interested. It is a family resort. The price includes accommodations, food, indoor/outdoor recreation, night entertainment and transportation. Children have their own daily programs while parents can enjoy the day. If you're interested, please contact Sister Alberta at 201-659-1794. If at least 25 to 30 people are interested, Sister Alberta will go ahead and get prices.

Seniors
St. Anne's Seniors' next meeting will be held on Monday, January 13th at 1 p.m. in the auditorium. All are welcome.

Don't Drink The Water
Saint Peter's Preparatory will present Woody Allens' Don't Drink The Water on Friday, January 3rd and Saturday, January 4th at 8 p.m. and Sunday, January 5th at 2 p.m. in The Roy Irving Theater at St. Peter's College. Student admission is $6.00; adult admission is $8.00. For further information call 201-547-6400.
Top page 4
MONDAY 1Jn 2:12-17 Ps 96:7-10 Lk 2:36-40
TUES. 1Jn 2:18-21 Ps 96:1-2,11-13 Jn 1:1-18
WED. Nm 6:22-27 Ps 67:2-3,5-6,8 Gal 4:4-7 Lk 2:16-21
THURS. 1Jn 2:22-28 Ps 98:1-4 Jn 1:19-28
FRIDAY 1Jn 2:29-3:6 Ps 98:1-3,6 Jn 1:29-34
SATURDAY 1Jn 3:7-10 Ps 98:1,7-9 Jn 1:35-42
NEXT SUNDAY - THE EPIPHANY OF THE LORD Is 60:1-6 Ps 72:2,7-8,10-13 Eph 3:2-3a,5-6 Mt 2:1-12


St. Anne's Church was beautifully decorated for Christmas as usual. We'd like to thank all who participated in the decorating and took time out of their busy schedules during this time of year.
We would especially like to thank those who financially decorated the church giving their generous donations in memory of their loved ones. A list of the living and deceased members of our parish (names taken from flower envelopes) is displayed in the church vestibule. Thank you, again.
Annulment Information Evening
An Annulment Information evening is scheduled for Wednesday, January 8, 2003. A canon lawyer from the Archdiocese of Newark will discuss the most recent theology, guidelines and requirements for obtaining a Church annulment. The information will be presented in terms that all can understand. A question and answer period will conclude the session. Pre-registration is not necessary. This evening of information will be held at St. Thomas the Apostle R.C. Church, (Parish Center), 60 Byrd Avenue, Bloomfield at 7:30 p.m. For additional information, please call the Office of Family Life Ministries at 973-497-4327.
Padre Pio
The next meeting for St. Anne's Padre Pio Prayer Group will be Saturday, January 13th with prayers in church at 2 p.m. followed by meeting in CHAPEL HALL. All are welcome.
Finance Committee Meeting
There will be a Finance Committee Meeting held on Monday, January 13th at 7:30 p.m. in the rectory. Please pick up your finance packet this weekend. Thank you.
Parish Auction
St. Anne's Annual Parish Auction is just around the corner. It will be on Sunday, March 2nd at 1 p.m. in the church auditorium from 1-6 p.m. Doors will open at 12 noon.
Contributions to buy the larger gifts and donations of new gifts would be very much appreciated. Any donations given can be dropped off at the rectory marked "Parish Auction". Thank you.
Spirituality, Theology and Scripture
The College of Saint Elizabeth will hold its Eleventh Annual Spirituality Convocation on April 4, 2003 and its Summer Institute in Theology, Spirituality and Scripture, July 13-24. These programs will feature excellent presenters, classes, workshops and opportunities for prayer and spiritual growth. Please call the Center for Theological and Spiritual Development at the College at 973-290-4300/4364 for detailed brochures or please visit our website at csespirit.org
Catholic International High School Students in Need of Catholic Families
Youth Exchange Services (YES), a non-profit international and educational organization fostering goodwill, love and friendship among nations, is in need of Catholic families all over the United States who would like to host during a second semester or one school year (9 months) well educated 15 to 18 years old Catholic high school students from Asia, Europe and Latin America. The students are carefully screened and oriented before arrival; they speak fairly good English, have excellent medical insurance and bring their own spending money.
Host families are asked to provide a bed, meals and to accept the student as their own son or daughter. This is a great, enriching and unforgettable experience for everyone in the family. For detailed information, please contact: (YES), 1600 Dove St., Suite 460, Newport Beach, CA 92660 or phone (800) 848-2121.
Discernment Weekend
Come as you are to listen, to reflect and to pray...Prayer, Quiet Time, Group and Individual Meetings. Discernment Retreat Weekend for Women from February 21st at 7:30 p.m. through February 22nd at 8 p.m. at Xavier Center in Convent Station, NJ. For more information, call Sister Maryanne Tracey at 973-290-5331 or e-mail MTracey611@aol.com - visit us at www.SCNJ.org. Free-will offering for the weekend.

2003 Anniversary Liturgies
Archbishop John J. Myers has announced the following dates to honor couples in our Archdiocese who will be celebrating five, twenty-five or fifty years of Christian marriage in 2003:
March 23, 2003 - 3:00 p.m. 5 & 25 Years
April 6, 2003 - 3:00 p.m. 50 Years
Registration will begin this month for couples wishing to attend their special liturgy.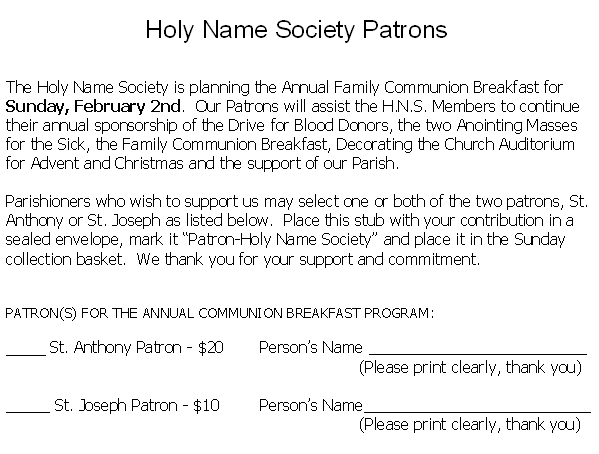 Top Page 6
Top Page 7
Vocation Retreat
Would you like to pray and reflect with others as you enter the eve of the Year 2002? Spend New Year's Eve at Saint Walburga Monastery in Elizabeth from 4 p.m. on Tuesday to 1:30 p.m. Wednesday. Donation $50. For more information, please contact Sister Marita Funke, OSB, 908-353-3028.

Dr. Martin Luther King
Our Lady Queen of Angels Ministers of Victory and the Archdiocesan Office of Black Catholic Affairs cordially invite you to our Seventh Annual Dr. Martin Luther King Celebration on Saturday, January 18th with Mass beginning at 10 a.m. at Our Lady of Queen of Angels Church, 44 Irvine Turner Boulevard in Newark. Main Celebrant and Homilist: The Most Reverend Moses B. Anderson, S.S.E.,D.D., Auxiliary Bishop of Detroit. For additional information, please call 973-497-4340.
Perennial Productions
Perennial Productions is proud to announce its 2nd season at the beautiful Tides Estate in North Haledon. The company's 2003 offerings will include: "The Odd Couple", "Swingtime Canteen", "I Love You, You're Perfect, Now Change", and "She Love Me".
The individual ticket price of $42.00 will remain the same, as will the group rate of $39.00 for any group of 10 or more. In addition to individual and group ticket sales, we will now be offering a subscription rate of $151.00 (a discount of 10%) when you purchase tickets for all four shows.
To become a subscriber, or for any other questions you may have about season offerings, call 1-800-414-9721.
"The Odd Couple" - February 19 to March 27, 2003
"Swingtime Canteen" - April 2 to May 29, 2003
"I Love You, You're Perfect, Now Change" - September 9 to October 30, 2003
"She Loves Me" - November 7 to December 17, 2003.
Gift Certificates available for both subscriptions and individual show tickets. Give us a call at 800-414-9721!

Holy Name Communion Breakfast
On Sunday, February 2nd, St. Anne's Holy Name Society will be sponsoring their annual Family Communion Breakfast immediately following the 9 a.m. Mass
There will be further information, such as the cost, published in the bulletin after the holidays.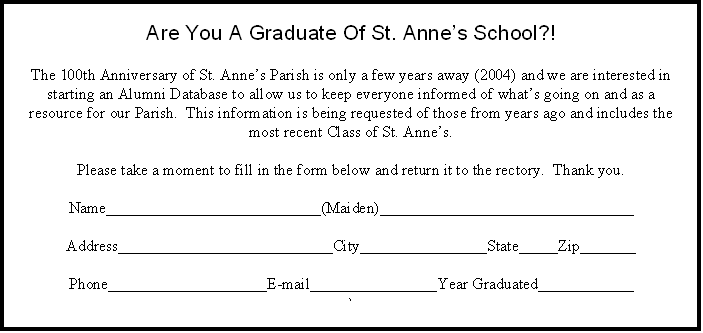 Top Page 8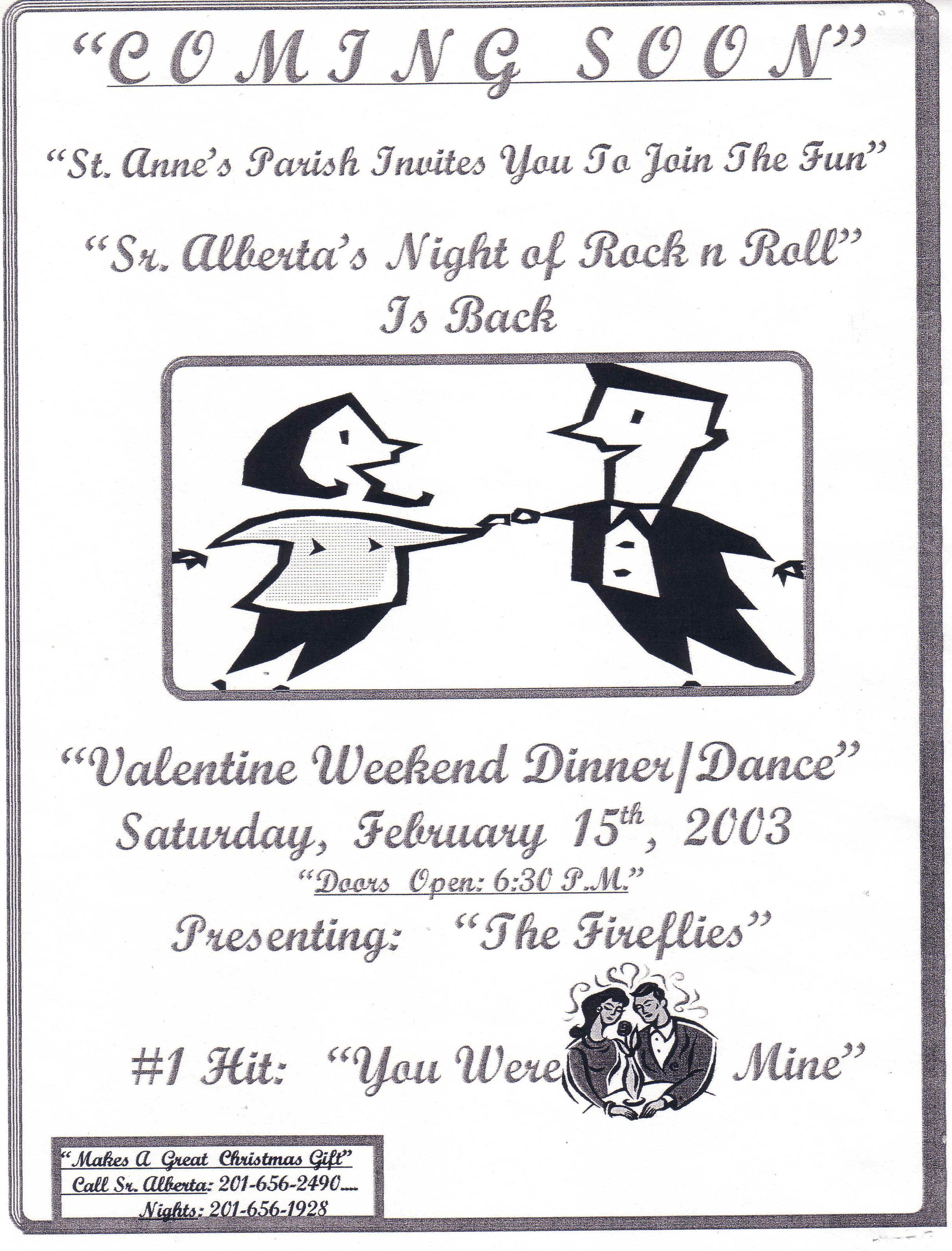 Page 9 Top

Personal Meditation
December 29th, 2002
Sir 3:2-6, 12-14 Col 3:12-21 Lk 2:22-40
Gospel Reading
When the day came for the purification according to the law of Moses, they brought the baby up to Jerusalem to present him to the Lord, as it is written in the law of the Lord: Every firstborn male shall be consecrated to God. And they offered a sacrifice as ordered in the law of the Lord: a pair of turtledoves or two young pigeons.
There lived in Jerusalem at this time a very upright and devout man named Simeon; the Holy Spirit was in him. He looked forward to the time when the Lord would comfort Israel, and he had been assured by the Holy Spirit that he would not die before seeing the Messiah of the Lord. So he was led into the Temple by the Holy Spirit at the time the parents brought the child Jesus, to do for him according to the custom of the Law.
Simeon took the child in his arms and blessed God, saying,
"Now, O Lord, you can dismiss your servant in peace, for you have fulfilled your word and my eyes have seen your salvation, which you display for all the people to see. Here is the light you will reveal to the nations and the glory of your people Israel."
His father and mother wondered at what was said about the child. Simeon blessed them and said to Mary, his mother, "See him; he will be for the rise or fall of the multitudes of Israel. He shall stand as a sign of contradiction, while a sword will pierce your own soul. Then the secret thoughts of many may be brought to light."
There was also a prophetess named Anna, daughter of Phanuel, of the tribe of Asher. After leaving her father's home, she had been seven years with her husband, and since then she had been continually about the Temple, serving God as a widow night and day in fasting and prayer. She was now eighty-four. Coming up at that time, she gave praise to God and spoke of the child to all who looked forward to the deliverance of Jerusalem.
When the parents had fulfilled all that was required by the law of the Lord, they returned to their town, Nazareth in Galilee. There the child grew in stature and strength and was filled with wisdom: the grace of God was upon him.
Reflection
A day to pray for families, as we remember Mary and Joseph carrying Jesus to the Temple to present him to God as their first-born. Who is the child they carry? This time it is through Simeon and Anna that the revelation is given. People of wisdom, prayer and faith, God enlightened them to see in this simple child God's anointed one. Like Elizabeth, John the Baptist, the shepherds, even Stephen, Simeon is filled with joy. "Lord, you have been faithful to your promise, and now you can let your servant go in peace, for my eyes have seen your salvation." Jesus is the light for all nations, and the glory of his own people. The cross cannot be forgotten: a sword will pierce his mother's soul. Yet, through his wounds we shall be healed.