© copyright stannes4/2000
Page 1
*******************************************************************************************************************
January 5th, 2003
Epiphany of the Lord


Schedule of Masses Week of January 6th - January 12th, 2002

Day

Time

Requested for

Requested by

Mon Jan. 6th

7 A.M.

Cologero & Carmela Tagliarent

Roseann Capparelli

9A.M.

Charles & Helen

Fran & Anne

Tues Jan. 7tht

7 A.M.

Socorro Kennedy

Jalandoni Family

9 A.M.

Santa Marini

Frances & Bruno

Wed Jan. 8th

7A.M.

John Romano Sr.

Carmine Creazzo

9A.M.

Raymond Fisher

Mary Fisher

7 P.M.

Socorro Kennedy

Bingo Workers

Thurs Jan. 9th

7A.M.

Frank Ferrara

Wife & Children

9A.M.

Liv. Frances Spazian

Theresa Lattanzi

Fri. Jan. 10th

7A.M.

Karolina Grant

Lenore & Murray Greiman

9A.M.

Eugene Smarth

Larry Weber & Family

Sat. Jan. 11th

9 A.M.

Socorro Kennedy

Frances & Angela

6 P.M.

Herbert Hartmann

Isabelle & Charlotte

7:30PM

David Jacobs

Susan Weir

Sun. Jan.12th

7:30AM

Socorro Kennedy
Colleen & Robert Eick
9 AM
Liv./Dec. Members of Hanley Family

10:30AM

Dorothy Ensmenger
Marie & Tom Dolan

12 PM

Susan Freda
Elizabeth Ashe
1:30PM
For the People of the Parish
Sanctuary Gifts January 5th - January 12th, 2002

Gift

In Memory Of

Requested By

Altar Wine

Dorothy Ensmenger

Sharon Oakley

Altar Bread

Monica Blacker

Nancy McGrath

Sanctuary Lamp

Socorro Kennedy

Bagnato Family

Altar Candles

Glida Mauriello

Glida Mauriello
Let Us Pray For Those Seriously Ill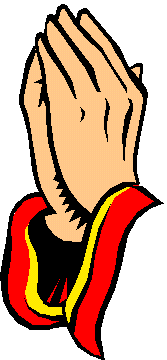 Marie Starz, Bruno Spazian, and Angela Krajnik.
Vocation reflections

In Epiphany we celebrate that "the light has come and the glory of the Lord shines upon us". Rise up in splendor and share the light of Jesus present in you. Say yes to the call of the Lord to the diocesan priesthood or religious life.
If you feel this call, "inquire within" and Please contact the Vocations Office the Vocations Office at (973) 497-4365 or by E-mail at kellyric@rcan.org. Or visit our web site at www.rcan.org.

Page 2 Top
STEWARDSHIP



STEWARDSHIP SCRIPTURE REFLECTION
All nations are invited to sing the Lord's praises for they have been called to hear the good news and worship the long awaited Messiah and King with the gift of their lives.

OUR WEEKLY OFFERING
December 2002
December 28/29 N/A.
Month's Total N/A.
Month's Average N/A
Mailed in N/A

We thank you!

WEEKLY AVERAGE COMPARISONS:
Month '01 Monthly Avg. '02 Monthly Avg.
December $6,056. N/A
January $5,657.




HOLY HOUR FOR PRIESTS


HOLY HOUR WILL RESUME JANUARY 7TH!!
Every Tuesday the Blessed Sacrament is exposed in the church from 3 to 4 p.m. It is an hour of prayer for the priests, DIVINE MERCY and religious men and women of the church. Prayers are also said for an increase of vocations to the priesthood and religious life. We invite you to come and spend time with the Lord for these intentions and for your personal requests. The Holy Hour closes with Benediction of the Blessed Sacrament. If you cannot join us in church, we ask you to join us from a quiet spot in your home and pray with us, asking the Lord to guide and protect our priests.




BINGO TEMPORARILY CANCELLED
Due to improvements being made in the Auditorium, there will be NO BINGO from now through and including January 10th. The next BINGO will be on Tuesday, January 14th.
We welcome you all back!!
Adult Education
Caldwell College offers adult students a variety of programs to help complete a bachelor degree. Registration is open for Spring, Summer and Fall semesters for 2003. "On Campus" evening classes meet on a secure suburban campus; "External Degree" offers home study, no class attendance required. Call 973-618-3385, for appointment information and/or admission packet.

Seniors
St. Anne's Seniors' next meeting will be held on Monday, January 13th at 1 p.m. in the auditorium. All are welcome.
Top
page 3
Our Web Site
When you log on and browse around you'll see all kinds of information about our parish. Included, of course, will be the current activities for the many different organizations as well as an update as to what is going on with our parish family.
Do not let evil defeat you: Instead, conquer evil with good!!
By your wounded heart: teach us love, teach us love, teach us love..... -Daphne Fraser
Auditorium Temporarily Closed
Attention!!
From January 6th to January 12th, the auditorium will be closed for floor repairs.
Any organizations that were scheduled to use the Auditorium have been moved to Chapel Hall. Those organizations involved have been contacted.
CCD News
· January 12th - First Reconciliation parent meeting in Chapel Hall at 1 p.m. Please be on time. There will be no make-up meeting.
· January 19th - New Confirmation parent meeting in Chapel Hall at 1 p.m.. Please be on time. There will be no make-up meeting.
· January 26th - Open House 11:30 am.-12:30 p.m. Come and visit your child's teacher and receive report card. Pick up your child at 11:30 and return to visit classes.
· January 30th - New Confirmation classes begin for public school 6:30 to 8:30 p.m. in Parish Center #3.
· The Religious Education Program will be sponsoring a trip to Villa Roma in the Catskills in July. The purpose of this ad is to find out how many people would be interested. It is a family resort. The price includes accommodations, food, indoor/outdoor recreation, night entertainment and transportation. Children have their own daily programs while parents can enjoy the day. If you're interested, please contact Sister Alberta at 201-659-1794. If at least 25 to 30 people are interested, Sister Alberta will go ahead and get prices.

Don't Drink The Water
Saint Peter's Preparatory will present Woody Allens' Don't Drink The Water on Friday, January 3rd and Saturday, January 4th at 8 p.m. and Sunday, January 5th at 2 p.m. in The Roy Irving Theater at St. Peter's College. Student admission is $6.00; adult admission is $8.00. For further information call 201-547-6400.
Discernment Weekend
Come as you are to listen, to reflect and to pray...Prayer, Quiet Time, Group and Individual Meetings. Discernment Retreat Weekend for Women from February 21st at 7:30 p.m. through February 22nd at 8 p.m. at Xavier Center in Convent Station, NJ. For more information, call Sister Maryanne Tracey at 973-290-5331 or e-mail MTracey611@aol.com - visit us at www.SCNJ.org. Free-will offering for the weekend.
Padre Pio
The next meeting for St. Anne's Padre Pio Prayer Group will be Saturday, January 13th with prayers in church at 2 p.m. followed by meeting in CHAPEL HALL. All are welcome.
Top page 4
MONDAY 1Jn 3:22-4:6 Ps 2:7-8,10-11 Mt 4:12-17,23-25
TUES. 1Jn 4:7-10 Ps 72:2-4ab,7-8 Mk 6:34-44
WED. 1Jn 4:11-18 Ps 72:2,10-13 Mk 6:45-52
THURS. 1Jn 4:19-5:4 Ps 72:2,14,15bc,17 Lk 4:14-22a
FRIDAY 1Jn 5:5-13 Ps 147:12-15,19-20 Lk 5:12-16
SATURDAY 1Jn 5:14-21 Ps 149:1-6a,9b Jn 3:22-30
NEXT SUNDAY - THE BAPTISM OF THE LORD Is 42:1-4,6-7 Ps 29:1a,2,3ac-4,3b,9b-10 Acts 10:34-38

Finance Committee Meeting
There will be a Finance Committee Meeting held on Monday, January 13th at 7:30 p.m. in the rectory. Please pick up your finance packet this weekend. Thank you.
Parish Auction
St. Anne's Annual Parish Auction is just around the corner. It will be on Sunday, March 2nd at 1 p.m. in the church auditorium from 1-6 p.m. Doors will open at 12 noon. Contributions to buy the larger gifts and donations of new gifts would be very much appreciated. Any donations given can be dropped off at the rectory marked "Parish Auction". Thank you.
Catholic International High School Students in Need of Catholic Families
Youth Exchange Services (YES), a non-profit international and educational organization fostering goodwill, love and friendship among nations, is in need of Catholic families all over the United States who would like to host during a second semester or one school year (9 months) well educated 15 to 18 years old Catholic high school students from Asia, Europe and Latin America. The students are carefully screened and oriented before arrival; they speak fairly good English, have excellent medical insurance and bring their own spending money.
Host families are asked to provide a bed, meals and to accept the student as their own son or daughter. This is a great, enriching and unforgettable experience for everyone in the family. For detailed information, please contact: (YES), 1600 Dove St., Suite 460, Newport Beach, CA 92660 or phone (800) 848-2121.
2003 Anniversary Liturgies
Archbishop John J. Myers has announced the following dates to honor couples in our Archdiocese who will be celebrating five, twenty-five or fifty years of Christian marriage in 2003:
March 23, 2003 - 3:00 p.m. 5 & 25 Years
April 6, 2003 - 3:00 p.m. 50 Years
Registration will begin this month for couples wishing to attend their special liturgy.
Annulment Information Evening
An Annulment Information evening is scheduled for Wednesday, January 8, 2003. A canon lawyer from the Archdiocese of Newark will discuss the most recent theology, guidelines and requirements for obtaining a Church annulment. The information will be presented in terms that all can understand. A question and answer period will conclude the session. Pre-registration is not necessary. This evening of information will be held at St. Thomas the Apostle R.C. Church, (Parish Center), 60 Byrd Avenue, Bloomfield at 7:30 p.m. For additional information, please call the Office of Family Life Ministries at 973-497-4327.
Spirituality, Theology and Scripture
The College of Saint Elizabeth will hold its Eleventh Annual Spirituality Convocation on April 4, 2003 and its Summer Institute in Theology, Spirituality and Scripture, July 13-24. These programs will feature excellent presenters, classes, workshops and opportunities for prayer and spiritual growth. Please call the Center for Theological and Spiritual Development at the College at 973-290-4300/4364 for detailed brochures or please visit our website at csespirit.org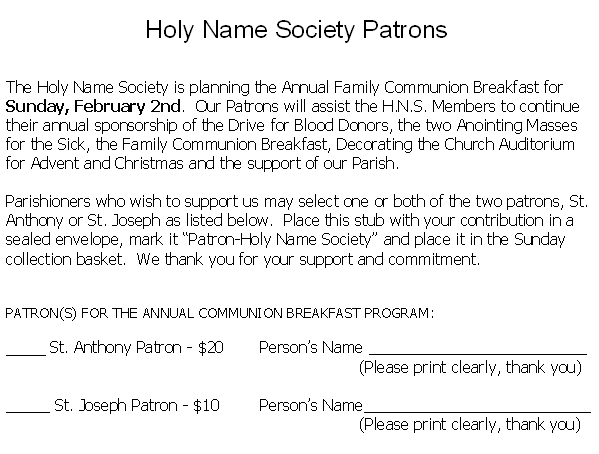 Top Page 6
Top Page 7
Vocation Retreat
Would you like to pray and reflect with others as you enter the eve of the Year 2002? Spend New Year's Eve at Saint Walburga Monastery in Elizabeth from 4 p.m. on Tuesday to 1:30 p.m. Wednesday. Donation $50. For more information, please contact Sister Marita Funke, OSB, 908-353-3028.

Dr. Martin Luther King
Our Lady Queen of Angels Ministers of Victory and the Archdiocesan Office of Black Catholic Affairs cordially invite you to our Seventh Annual Dr. Martin Luther King Celebration on Saturday, January 18th with Mass beginning at 10 a.m. at Our Lady of Queen of Angels Church, 44 Irvine Turner Boulevard in Newark. Main Celebrant and Homilist: The Most Reverend Moses B. Anderson, S.S.E.,D.D., Auxiliary Bishop of Detroit. For additional information, please call 973-497-4340.
Perennial Productions
Perennial Productions is proud to announce its 2nd season at the beautiful Tides Estate in North Haledon. The company's 2003 offerings will include: "The Odd Couple", "Swingtime Canteen", "I Love You, You're Perfect, Now Change", and "She Love Me".
The individual ticket price of $42.00 will remain the same, as will the group rate of $39.00 for any group of 10 or more. In addition to individual and group ticket sales, we will now be offering a subscription rate of $151.00 (a discount of 10%) when you purchase tickets for all four shows.
To become a subscriber, or for any other questions you may have about season offerings, call 1-800-414-9721.
"The Odd Couple" - February 19 to March 27, 2003
"Swingtime Canteen" - April 2 to May 29, 2003
"I Love You, You're Perfect, Now Change" - September 9 to October 30, 2003
"She Loves Me" - November 7 to December 17, 2003.
Gift Certificates available for both subscriptions and individual show tickets. Give us a call at 800-414-9721!

Holy Name Communion Breakfast
On Sunday, February 2nd, St. Anne's Holy Name Society will be sponsoring their annual Family Communion Breakfast immediately following the 9 a.m. Mass
There will be further information, such as the cost, published in the bulletin after the holidays.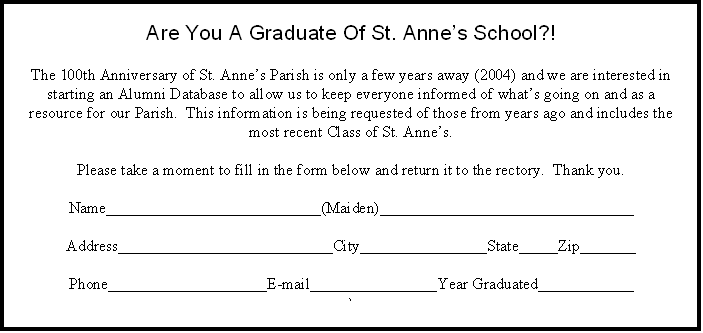 Top Page 8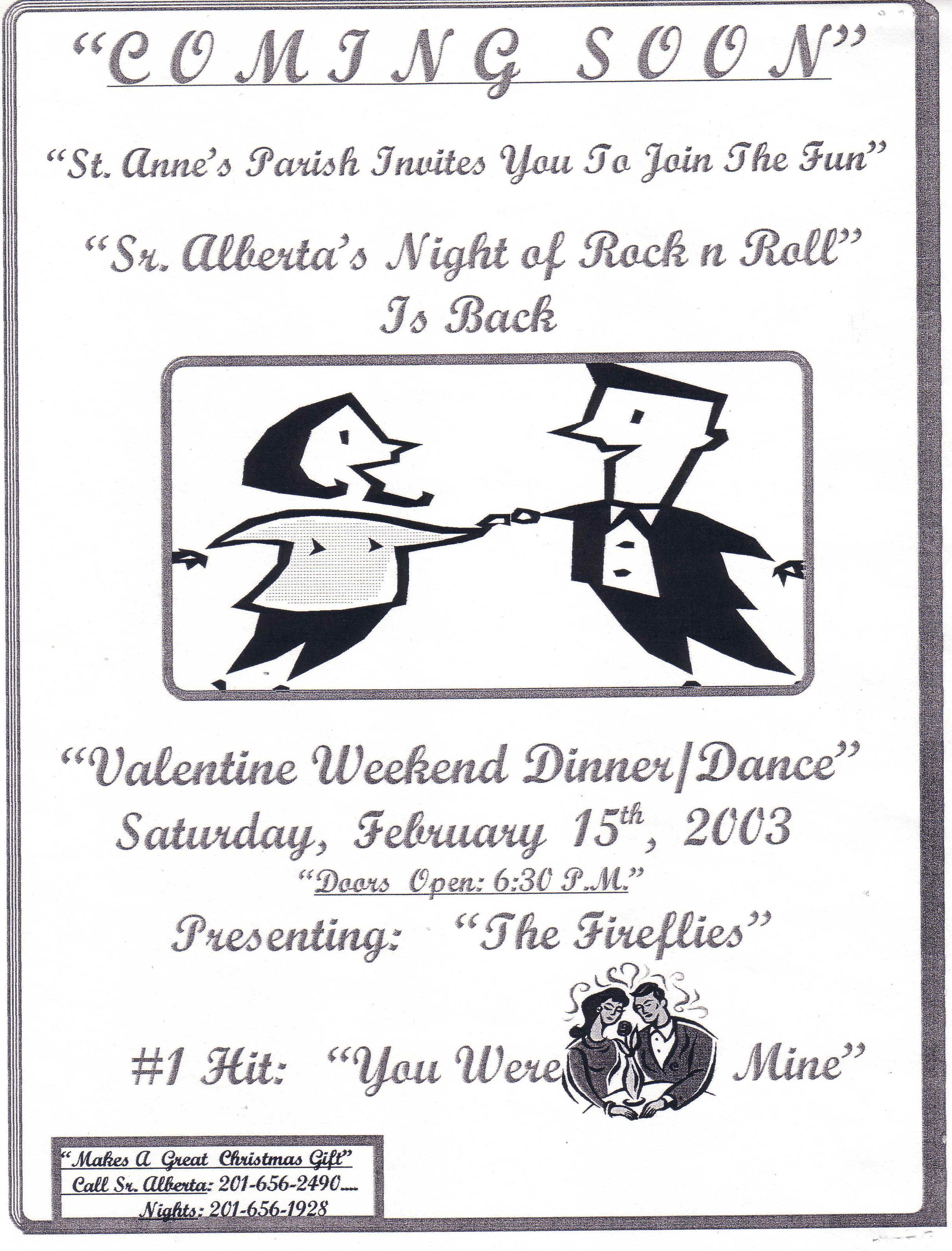 Page 9 Top

Personal Meditation
January 5th, 2003
Isaiah 60:1-6, Psalm 72:1-2, 7-8, 10-13, Ephesians 3:2-3, 5-6, Matthew 2:1-12 (20)
Believers are first and foremost recipients of the light who are challenged to penetrate darkness. Today's readings understand community members as the bearers of gifts to others. To share one's gift is to overcome the darkness and usher in the light.
During the gloomy days after the exile, the prophet we call Third Isaiah sought to energize his Judean community. In this world of despair the one point of light is Jerusalem because God's presence illuminates it. The intensity of this light attracts foreign nations. They not only see God's glory but become Yahweh's missionaries carrying the message to distant peoples, opening up the treasures of Israel's faith to others.
The author of Ephesians speaks of Paul as a steward who was entrusted with God's great plan for all of humanity. The Gentiles have received the Spirit and are partners with Israel in the covenant responses. As a steward, Paul is compelled to share this divine insight with others.
Matthew writes at a critical moment in the life of the community. Many Gentiles were entering the community, but many Jews were leaving (see Matthew 21:42-43). Matthew tells the story of the astrologers in order to show that the admission of the Gentiles is part of God's plan. The pagan astrologers are the first to come and pay homage to the newborn King of the Jews. The Jewish leadership rejects this king. The story eases community tensions.
The celebration of Epiphany demands that the Christian raise the question: Who experiences darkness and needs light? Instead of formulating a grandiose scheme to evangelize the atheists, the modern believer is well advised to search closer to home. If there are members of the family who suffer economic hardship, light takes the form of financial and emotional support. If there are people at work who suffer from chemical dependency, light takes the shape of encouragement to seek professional help. If there are persons in our faith community who have doubts, light takes the appearance of sharing their pain and attempting to aid them through the crisis. In these and similar situations the message of Epiphany is clear: Share the light.