© copyright stannes4/2000
Page 1
*******************************************************************************************************************
January 19th, 2003
2nd Sunday in Ordinary Time


Schedule of Masses Week of January 20th - January 26th, 2002

Day

Time

Requested for

Requested by

Mon Jan. 20th

7 A.M.

Socorro Kennedy

Madeline Gerrity

9A.M.

Mae Malafarina

Dorothy Lee

Tues Jan. 21st

7 A.M.

Alfred Tirelli

Mr. & Mrs. W. Pisciotta

9 A.M.

Socorro Kennedy

Staranka Family

Wed Jan. 22nd

7A.M.

Carmela Bevacque

Teresa Fusco

9A.M.

Liv Priests of St. Anne's Parish

St. Joseph Morning Prayer Group

7 P.M.

Liv Joseph & Lori Prestimonico

Thurs Jan. 23rd

7A.M.

Mark Carlin

Helen Siegert & Family

9A.M.

Liv Sisters of St. Anne's Parish

St. Joseph Morning Prayer Group

Fri. Jan. 24th

7A.M.

Carmela Bevacque

John Gonelli

9A.M.

Socorro Kennedy

Staranka Family

Sat. Jan. 25th

9 A.M.

Liv Thanksgiving for Pope's Intentions

St. Joseph Morning Prayer Group

6 P.M.

Charles Schaadt Sr.

Family

7:30PM

For the People of the Parish

Sun. Jan.26th

7:30AM

Socorro Kennedy
Alice, Bob & Colleen Kennedy
9 AM
Salvatore Lattanzi
Theresa Lattanzi

10:30AM

Thomas Russo
Grace

12 PM

Tim Guy
Family
Sanctuary Gifts January 19th - January 25th, 2002

Gift

In Memory Of

Requested By

Altar Wine

William Gleason Sr.

Wm. & Mary Anne Gleason & Sons

Altar Bread

William Gleason Sr.

Wm. & Mary Anne Gleason & Sons

Sanctuary Lamp

William Gleason Sr.

Wm. & Mary Anne Gleason & Sons

Altar Candles

William Gleason Sr.

Wm. & Mary Anne Gleason & Sons
Let Us Pray For Those Seriously Ill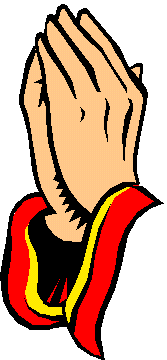 Frank Plantamura, Marie Starz, Bruno Spazian, and Angela Krajnik.
Vocation reflections

The readings today remind us that we have been joined to Christ and called to be his disciples. Like Samuel in the Old Testament, we are called to be attentive to the Lord's voice and open to doing his will. Is the Lord calling you to serve the Church as a priest, brother or sister? Are you open to his call?
If you feel this call, "inquire within" and Please contact the Vocations Office the Vocations Office at (973) 497-4365 or by E-mail at kellyric@rcan.org. Or visit our web site at www.rcan.org.

Page 2 Top
STEWARDSHIP



STEWARDSHIP SCRIPTURE REFLECTION
Through baptism we have been joined to the Lord who calls us to be his disciples. How well do we listen to his voice? How willing are we to do his will?
Our Weekly Offering
January 2003
January 11/12 $ 4,767.
Month's Total $10,801.
Month's Average $ 5,400.
Mailed in, thank you $ 143.

WEEKLY AVERAGE COMPARISONS:
Month '01 Monthly Avg. '02 Monthly Avg.
December $6,056. $5,330.
January $5,657. $6,034.




HOLY HOUR FOR PRIESTS


DUE TO FATHER JULIO ROMAN'S ABSENCE, HOLY HOUR WILL BE CANCELLED FOR JANUARY AND WILL RESUME ON MARCH 4TH!
Every Tuesday the Blessed Sacrament is exposed in the church from 3 to 4 p.m. It is an hour of prayer for the priests, DIVINE MERCY and religious men and women of the church. Prayers are also said for an increase of vocations to the priesthood and religious life.
We invite you to come and spend time with the Lord for these intentions and for your personal requests. The Holy Hour closes with Benediction of the Blessed Sacrament. If you cannot join us in church, we ask you to join us from a quiet spot in your home and pray with us, asking the Lord to guide and protect our priests.




2003 Anniversary Liturgies
Archbishop John J. Myers has announced the following dates to honor couples in our Archdiocese who will be celebrating five, twenty-five or fifty years of Christian marriage in 2003: (Please come to the rectory to register.)
March 23, 2003 - 3:00 p.m. 5 & 25 Years Deadline to register: March 12th
April 6, 2003 - 3:00 p.m. 50 Years Deadline to register: March 26th
Souper Bowl of Caring
On Sunday, January 26th, St. Anne's will again participate in the annual "Souper Bowl of Caring". After each Mass, Kelly Ann Lillis and her classmates will be in the church vestibule with their "soup pots" to accept your $1 donations for St. Lucy's Shelter.
The Souper Bowl of Caring began in 1990 in a single South Carolina church. Since that time, more than $16.6 million has been donated to fight hunger and poverty. None of the money collected goes to Souper Bowl organizers. Thanks to your past generosity, more than $1,000 has been donated to St. Lucy's Homeless Shelter since St. Anne's began participating in this event three years ago.
Thank you in advance for your donations.
Top
page 3

Top page 4
MONDAY Heb 5:1-10 Ps 110:1-4 Mk 2:18-22
TUES. Heb 6:10-20 Ps 111:1-2,4-5,9,10c Mk 2:23-28
WED. Heb 7:1-3,15-17 Ps 110:1-4 Mk 3:1-6
THURS. Heb 7:25-8:6 Ps 40:7-10,17 Mk 3:7-12
FRIDAY Heb 8:6-13 Ps 85:8,10-14 Mk 3:13-19
SATURDAY Acts 22:3-16 Ps 117:1-2 Mk 16:15-18
NEXT SUNDAY - 3RD SUNDAY IN ORDINARY TIME Jon 3:1-5,10 Ps 25:4-9 1Cor 7:29-31 Mk 1:14-20

Annulment Information
An Annulment information Evening is scheduled for Wednesday, February 12th. A canon lawyer from the Archdiocese of Newark will discuss the most recent theology, guidelines and requirements for obtaining a Church annulment. The information will be presented in terms that all can understand. A question and answer period will conclude the session. Pre-registration is not necessary. This evening of information will be held at The Archdiocesan Center, Auditorium A, 171 Clifton Avenue, Newark at 7:30 p.m. For additional information, please call the Office of Family Life Ministries at 973-497-4327.
Oratory Preparatory School: Come live the Oratory experience at our OPEN HOUSE on Sunday, February 2nd from 3-5 p.m. Oratory is a Catholic college preparatory day school for boys in grades 7-12. The main school building is located at One Beverly Road, Summit, New Jersey, off Morris Avenue. For further information call 908-273-5771, ext. 11 or visit us at www.oratoryprep.org .
CCD News
· Confirmation parent meeting TODAY in Chapel Hall at 1 p.m.. Please be on time. All must attend this meeting. There will be no make-up meeting. Candidates do not come.
· Next Sunday is Open House. Come meet your child's teacher and receive report cards. Parents are to be here at 11 a.m. At 11:30 a.m. you will be sent to classrooms.
· Appointment of Parent Conferences for First Penance have been sent home. Please check with your child. Please keep your appointment. It was given according to time given to me.
January 30th - New Confirmation classes begin for public school 6:30 to 8:30 p.m. in Parish Center #3. Parents, please make sure candidates are here on time and attend every week. If they miss 3 classes, they will have to wait for next group.
Second Collection
St. Anne's School will be celebrating Catholic Schools' Week January 27th –31st. Throughout the week students and teachers will participate in special activities and invite parents/guardians to observe.
We will have a second collection the weekend of January 25/26 for St. Anne's Education Fund to kick off Catholic Schools' Week. This fund was established a few years ago to assist with the education of St. Anne's School children.
Night at the Races
Mark your calendar!! Only $10 for entry, dinner and FUN! St. Aloysius Elementary School (West Side and Kensington Aves.) in Jersey City on Saturday, February 1st. Doors open after 5:30 p.m. Mass - Post-time 7:30 p.m. - School cafeteria entrance from West Side Avenue. For information/reservations call St. Al's Rectory at 201-433-6365.
This event is sponsored by the Holy Name Society and Filipino American Association of St. Aloysius Parish.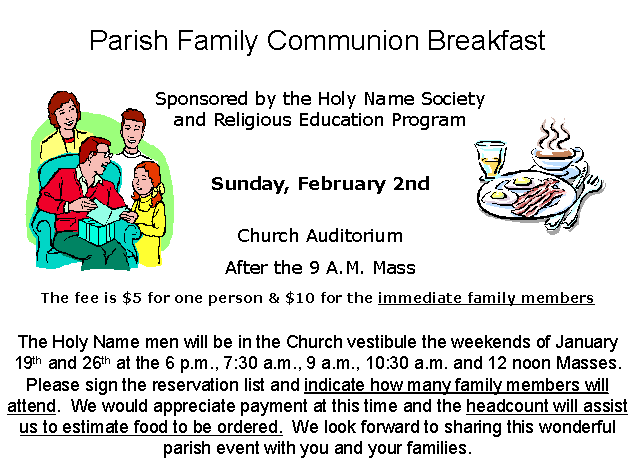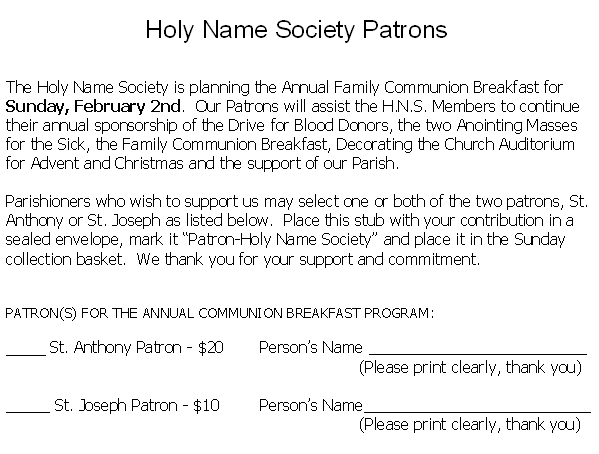 Top Page 6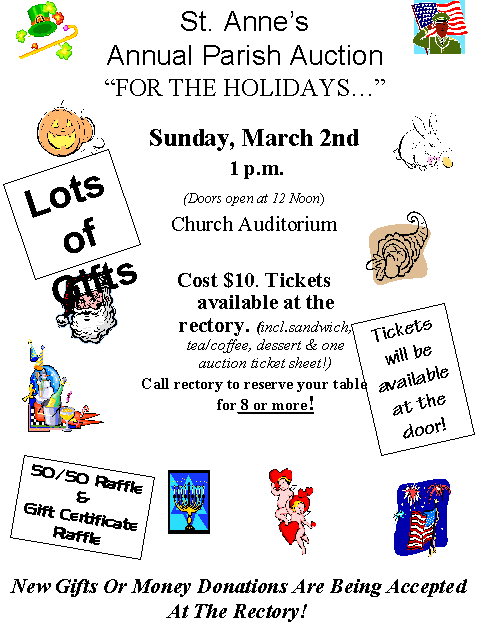 Top Page 7
Our Web Site
When you log on and browse around you'll see all kinds of information about our parish. Included, of course, will be the current activities for the many different organizations as well as an update as to what is going on with our parish family.
Do not let evil defeat you: Instead, conquer evil with good!!
By your wounded heart: teach us love, teach us love, teach us love..... -Daphne Fraser
From Generation to Generation, We Share Our Faith
The 100th Anniversary of our Parish is fast approaching. We will be celebrating this once in a lifetime event during the year 2004. Special events, both spiritual and social, are being planned. Preliminary plans regarding the Centennial Celebrations will be discussed at all the Masses the weekend of January 25th/26th.
If you have not yet submitted your suggestions, or memorabilia, it is not too late. The Suggestion Box is in the vestibule of the Church. Memorabilia can be left at the rectory marked "Centennial Committee". Pictures will be scanned and originals will be returned to you.
Let us pray that the Faith we share will continue to grow.
Marriage Enrichment Experience
Wouldn't it be nice if we could keep the Christmas spirit going all year round? All too often it seems to melt away right after New Year's Day. Sometimes the magic in our relationship melts away with the holiday cheer. Don't want this to happen to you? You can enrich your marriage during a winter weekend experience January 31st-February 2nd, 2003. In the comfortable surroundings of Summerfield Suites, you and your spouse can rediscover the joy and magic of your marriage through a Marriage Encounter Weekend. For more information and to register, please contact Jim & Pat Detura at 201-384-8497 or call 1-800-823-4683.
Auditorium Face-Lift
St. Anne's auditorium has been out-of-service for a few weeks to enable a new floor to be laid down. Stop by and look at the beautiful enlightened improvement. Continued improvements (painting) will hopefully be happening soon.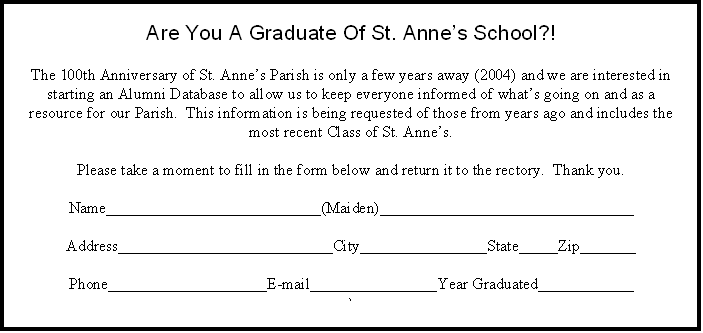 Top Page 8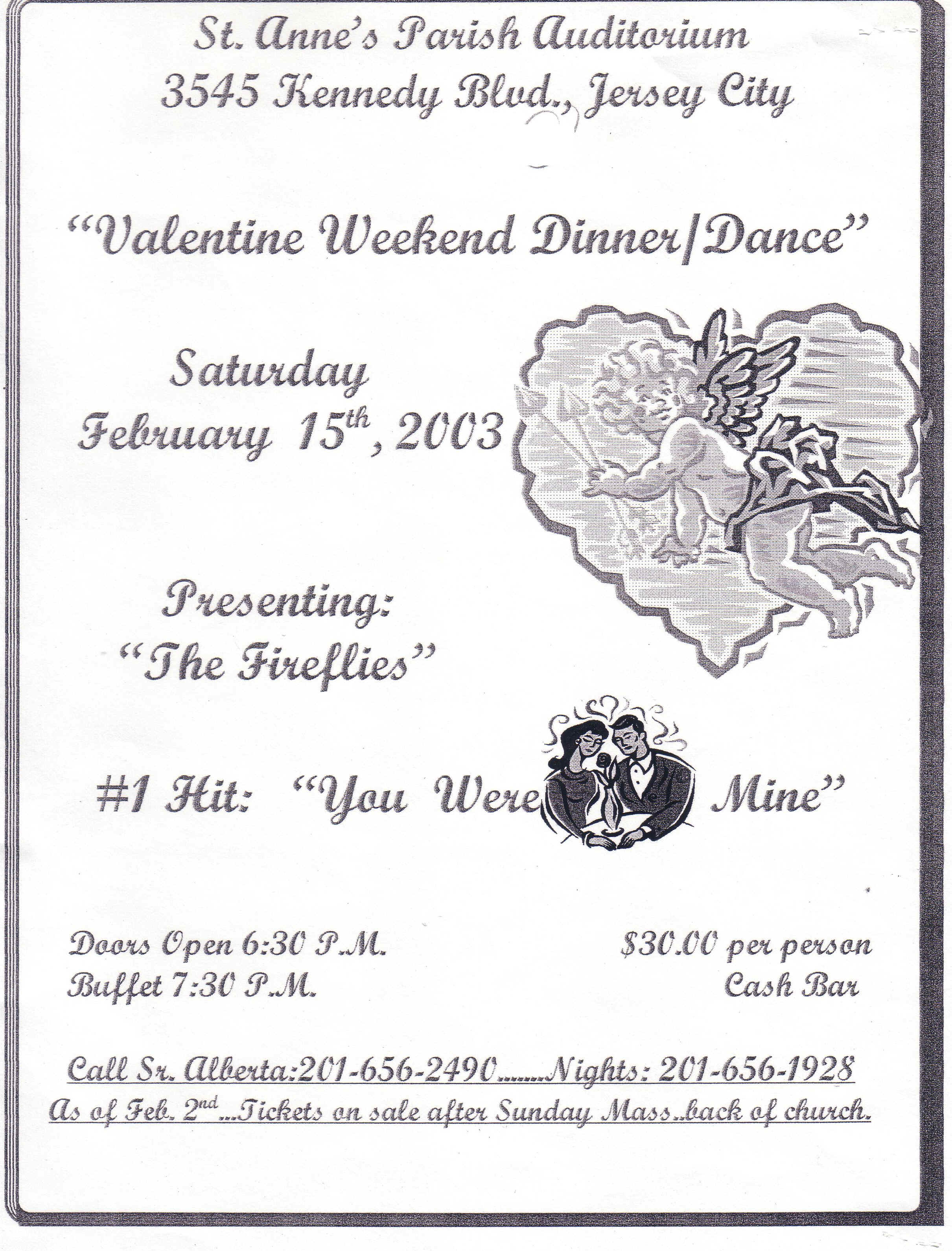 Page 9 Top
Personal Meditation
January 19th, 2003
Is 9:1-6, Eph 1:3-6, 15-18, Mt 18:1-5, 10
Feast of Saint Niño
Gospel Reading
The disciples came to Jesus and asked him, "Who is the greatest in the kingdom of heaven?"
Then Jesus called a little child, set the child in the midst of the disciples, and said, "I assure you that unless you change and become like little children, you cannot enter the kingdom of heaven. Whoever becomes lowly like this child is the greatest in the kingdom of heaven, and whoever receives such a child in my name receives me.
"See that you do not despise any of these little ones, for I tell you: their angels in heaven continually see the face of my heavenly Father."
Reflection
"Unless you change and become like little children"... Jesus asks for nothing more than our acceptance of the deepest truth about ourselves. No matter how much we possess, how much our power or high position allows us to manage reality, how much apparent influence we have over our own destinies or the lives of others, the truth of the matter is: we are not in control. Every moment, we receive our existence from God. Everything we have and are is a gift. We are creatures, absolutely dependent on God for all. Before God, we are like little children, not like powerful grown-ups. But we are like little children in yet another way. We are not only dependent; we are also cherished, as children are cherished by a father. If we do not deeply accept our dependence and our being loved, we will live in illusion-and ultimate frustration. Jesus invites us to embrace our truth, and to live as dependent and trusting children.
* * * * *
We appreciate interpreters of languages who tear down the walls of isolation that keep people apart. How rarely, however, do we think of ourselves as believers who interpret, not a different language but a particular dimension of our neighbor's relationship with God. Today's readings show us people searching for meaning in life and "faith interpreters" unlocking the answers to their questions.
The first reading is a scene from the eleventh century B.C. in which the power of the priest Eli passes to Samuel. The scene requires a skilled interpreter. Eli interprets for Samuel that it is the Lord who calls, and thus Eli launches Samuel on one of Israel's most significant careers.
Paul deals with Christians for whom casual sex with a prostitute poses no moral problem. For the Corinthians the body was morally irrelevant since at death it was destroyed. Thus sin existed only outside the body, in one's motive and intention. Paul had to interpret the moral consequences of Christian faith. The bodies of Christians continue Jesus' saving mission, thus we must be committed to his service.
The gospel is John's account of the call of the first disciples. In the company of two of his disciples, the Baptist interprets the person of Jesus: "Look! Here is the Lamb of God!" (John 1:36). As a result, the two disciples decide to stay, to follow Jesus; the same happens with all the rest.
Sometimes we meet people who may not be aware of their gifts. At other times, they may be too shy to use their talents. In these circumstances believers can translate the presence of gifts as an indication of their use on behalf of the community and encourage the talented to step forward. Believers are more than the reciters of doctrines and formulas. Believers are interpreters.