© copyright stannes4/2000
Page 1
*******************************************************************************************************************
January 26th, 2003
3rd Sunday in Ordinary Time


Schedule of Masses Week of January 27th - February 3rd, 2002

Day

Time

Requested for

Requested by

Mon Jan. 27th

7 A.M.

Joseph Sernia Sr.

Family

9A.M.

Liv Renee Gaughan

Grandmother

Tues Jan. 28th

7 A.M.

Socorro Kennedy

Frances Muzikar

9 A.M.

Herman Diller

Jane Glennon & Family

Wed Jan. 29th

7A.M.

Mark Carlin

Wojciechowicz Family

9A.M.

Anna DiLella

Caterina Russo

7 P.M.

Gonzalo Rodriguez

Carol Family

Thurs Jan. 30th

7A.M.

Liv Agnes Ferrara

josie & Tony

9A.M.

Anna DiLella

Maria Russo

Fri. Jan. 31st

7A.M.

Robert Wojciechowicz

Kathleen & Dan Wong

9A.M.

Socorro Kennedy

Burke Family

Sat. Feb. 1st

9 A.M.

Liv Purification Gonzalez

Family

6 P.M.

Charles Schaadt Sr.

Family

7:30PM

For the People of the Parish

Sun. Feb.2nd

7:30AM

Marie bianco
Camille Martin
9 AM
Joseph L. Meehan
Danny & Joyce chiara

10:30AM

Anthony DeLuise

12 PM

Dorothy Ensemenger
Martin & Nancy Schade
Sanctuary Gifts January 26th - February 1st, 2002

Gift

In Memory Of

Requested By

Altar Wine

Socorro Kennedy

Ron Lenahan

Altar Bread

Socorro Kennedy

Ron Lenahan

Sanctuary Lamp

Socorro Kennedy

Ron Lenahan

Altar Candles

Socorro Kennedy

Ron Lenahan
Let Us Pray For Those Seriously Ill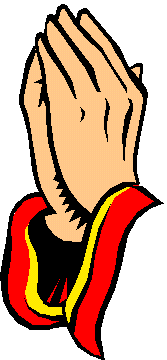 Frank Plantamura, Joan Wheeler, Marie Starz, Anthony Pristera, Bruno Spazian, and Angela Krajnik.
Vocation reflections

In today's Gospel we hear the Lord inviting all of us to repent and believe in the good news. He reminds us that the kingdom of God has come upon us. Will you respond to his invitation to bring the good news of God's kingdom to all people as a priest, brother, or sister?
If you feel this call, "inquire within" and Please contact the Vocations Office the Vocations Office at (973) 497-4365 or by E-mail at kellyric@rcan.org. Or visit our web site at www.rcan.org.

Page 2 Top
STEWARDSHIP



STEWARDSHIP SCRIPTURE REFLECTION
The Ninevites heard the preaching of Jonah and repented of their evil ways, thus experiencing the Lord's compassion. Do we repent when we hear the preaching of Jesus? Do we invest our lives in the world rather than in God's kingdom?
Our Weekly Offering
January 2003
January 18/19 $ 5,684.
Month's Total $16,485.
Month's Average $ 5,495.
Mailed in, thank you $ 242.

WEEKLY AVERAGE COMPARISONS:
Month '01 Monthly Avg. '02 Monthly Avg.
December $6,056. $5,330.
January $5,657.




HOLY HOUR FOR PRIESTS


DUE TO FATHER JULIO ROMAN'S ABSENCE, HOLY HOUR WILL BE CANCELLED FOR JANUARY AND WILL RESUME ON MARCH 4TH!
Every Tuesday the Blessed Sacrament is exposed in the church from 3 to 4 p.m. It is an hour of prayer for the priests, DIVINE MERCY and religious men and women of the church. Prayers are also said for an increase of vocations to the priesthood and religious life.
We invite you to come and spend time with the Lord for these intentions and for your personal requests. The Holy Hour closes with Benediction of the Blessed Sacrament. If you cannot join us in church, we ask you to join us from a quiet spot in your home and pray with us, asking the Lord to guide and protect our priests.




Catholic Schools' Week
Dear Parents/Guardians,
St. Anne's School will be celebrating Catholic Schools Week from January 26th through January 31st. It is a time to reflect on the great achievements that our parochial schools have attained throughout their history.
The parochial school has proven to be invaluable. This, however, could never be accomplished without the spiritual guidance that is practiced everyday within its walls. Catholic Schools would not be able to survive without the support of parents and fellow parishioners. Your cooperation is what allows our school to maintain the standards and values, which are necessary in forming young minds.
On the weekend of January 26th, there will be a second collection for our School Endowment Fund. We ask that you be as generous as possible for the sake of your children, grandchildren, and those others that should benefit in years to come.
For those who are not of our faith, we ask that you kindly contribute to the fund through the school office.
Thank you for all that you do and may God bless you.
Mrs. M. Bartram Principal
Top
page 3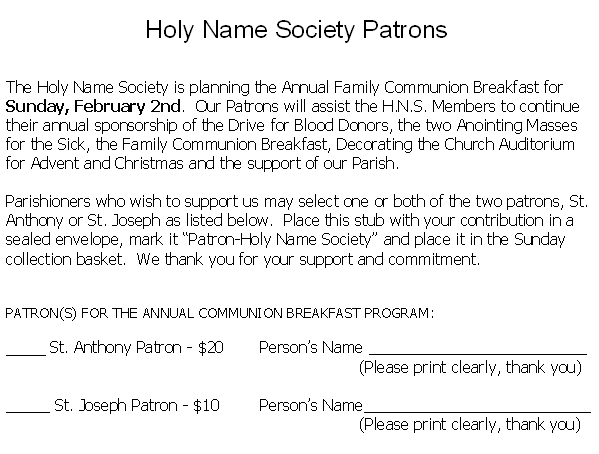 Top page 4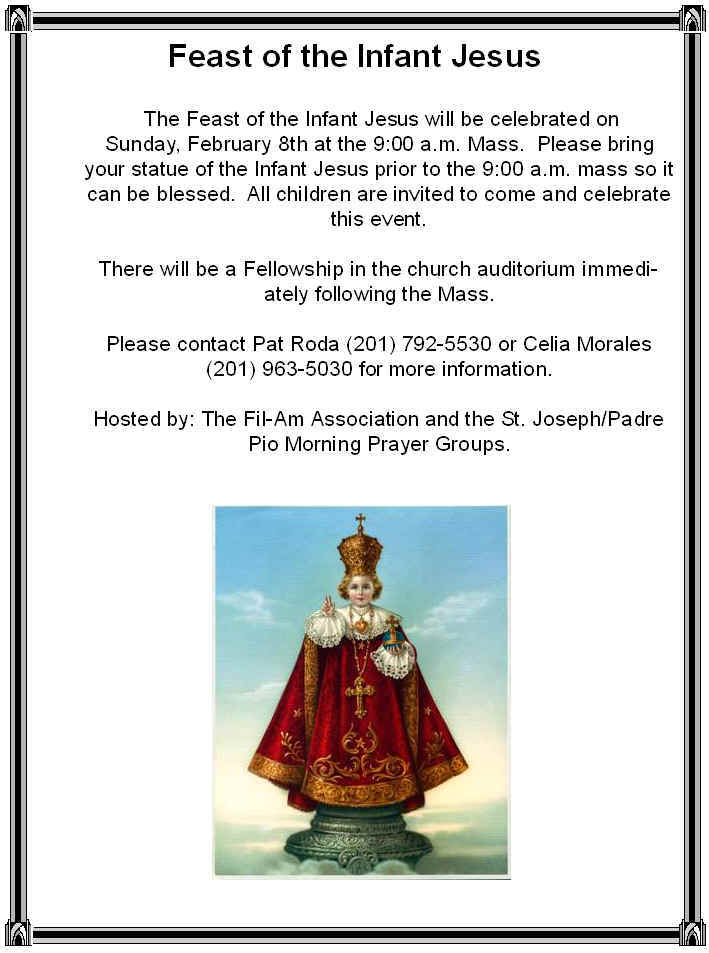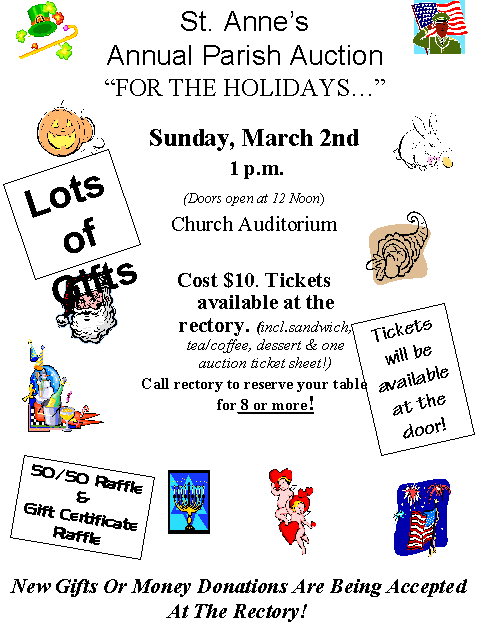 Top Page 6
MONDAY Heb 9:15,24-28 Ps 98:1-6 Mk 3:22-30
TUES. Heb 10:1-10 Ps 40:2,4,7-8,10-11 Mk 3:31-35
WED. Heb 10:11-18 Ps 110:1-4 Mk 4:1-20
THURS. Heb 10:19-25 Ps 24:1-4ab,5-6 Mk 4:21-25
FRIDAY Heb 10:32-39 Ps 37:3-6,23-24,39-40 Mk 4:26-34
SATURDAY Heb 11:1-2,8-19 (Ps)Lk 1:69-75 Mk 4:35-41
NEXT SUNDAY - THE PRESENTATION OF THE LORD Mal 3:1-4 Ps 24:7-10 Heb 2:14-18 Lk 2:22-40

Oratory Preparatory School: Come live the Oratory experience at our OPEN HOUSE on Sunday, February 2nd from 3-5 p.m. Oratory is a Catholic college preparatory day school for boys in grades 7-12. The main school building is located at One Beverly Road, Summit, New Jersey, off Morris Avenue. For further information call 908-273-5771, ext. 11 or visit us at www.oratoryprep.org .
CCD News
· Today is Open House for all parents of the Religious Education Program. Parents are to meet in Chapel Hall at 11 a.m.
· NO CLASS today. Children and their families will be attending Family Communion Breakfast.
· Tickets for Valentine's Dance (Feb. 15) will be sold after all Masses Feb. 2nd & 10th.
· Dance meeting will be held on Wednesday, Feb. 29th at the convent at 7 p.m. sharp! We need more people on the committee. Please volunteer your time and attend this meeting.
· January 30th - New Confirmation classes begin for public school 6:30 to 8:30 p.m. in Parish Center #3. First night of class (Introduction to the preparation) children will stay from 6:30-7:30 p.m. Please be on time or they will have to stay later.
· First Penance Concert is changed from Feb. 9th to Feb. 23rd at 3:30 p.m. in church. Children must attend with parents.
Villa Roma Trip - First week of July plan your vacation. It's a family resort in the Catskills. Price includes transportation, food, indoor/outdoor adult and teen activities, evening shows, babysitting. If interested call Sr. Alberta at 659-1794.
Second Collection
St. Anne's School will be celebrating Catholic Schools' Week January 27th –31st. Throughout the week students and teachers will participate in special activities and invite parents/guardians to observe.
We will have a second collection the weekend of January 25/26 for St. Anne's Education Fund to kick off Catholic Schools' Week. This fund was established a few years ago to assist with the education of St. Anne's School children.
Night at the Races
Mark your calendar!! Only $10 for entry, dinner and FUN! St. Aloysius Elementary School (West Side and Kensington Aves.) in Jersey City on Saturday, February 1st. Doors open after 5:30 p.m. Mass - Post-time 7:30 p.m. - School cafeteria entrance from West Side Avenue. For information/reservations call St. Al's Rectory at 201-433-6365.
This event is sponsored by the Holy Name Society and Filipino American Association of St. Aloysius Parish.
From Generation to Generation, We Share Our Faith
The 100th Anniversary of our Parish is fast approaching. We will be celebrating this once in a lifetime event during the year 2004. Special events, both spiritual and social, are being planned. Preliminary plans regarding the Centennial Celebrations will be discussed at all the Masses the weekend of January 25th/26th.
If you have not yet submitted your suggestions, or memorabilia..it is not too late. The Suggestion Box is in the vestibule of the Church. Memorabilia can be left at the rectory marked "Centennial Committee". Pictures will be scanned and originals will be returned to you.
Let us pray that the Faith we share will continue to grow.
Top Page 7
Our Web Site
When you log on and browse around you'll see all kinds of information about our parish. Included, of course, will be the current activities for the many different organizations as well as an update as to what is going on with our parish family.
Do not let evil defeat you: Instead, conquer evil with good!!
By your wounded heart: teach us love, teach us love, teach us love..... -Daphne Fraser
Pope Urges Catholic School Upbringing
Information given by Associated Press (1/19/03)
Pope John Paul II urged Catholics on Sunday to send their children to Catholic Schools, saying the education will help the young confront the "big questions of existence". The Pope made the comments during his regular Sunday appearance to pilgrims and tourists in St. Peter's Square. Among those gathered this week were students and teachers from several Catholic schools in Rome. "While I thank those who live and work in Catholic schools, I hope that every family has the concrete possibility of choosing for their children this type of school", the Pope said.
Blessing of the Throats
The Feast of St. Blase is Monday, February 3rd. There will be a general blessing of the throats at all Masses the weekend of February 1st/2nd. Anyone wishing an individual blessing of the throats can attend the 7 a.m. and 9 a.m. Masses on the Feast Day itself.
Festival 2003
Baby, it's cold outside...but Spring and Summer are just around the corner, and we all know what that means...St. Anne's Festival will be here before you know it!! So, let's plan ahead. The Festival will be held on July 25, 26, and 27, 2003.
The Festival Committee is starting to look for volunteers, any age, before you make your vacation plans. We need volunteers to help make this another successful year. We want you to join us right from the start, as we have a lot of fun meeting and working with all of our family members that we don't get a chance to spend more time with. It's not just work. It's sharing ideas and being committed to each other as a family. So, please join our team. We need you! Sign up sheets are in the back of church or at the rectory.
Welcome to our Family
We welcome the following new members to our family of St. Anne's through the Sacrament of Baptism:
Daniel Gelcich, Henry Gomes, Brian Schade, David Hojnowski
As they begin their new life of grace, please remember them in your prayers.
Souper Bowl of Caring
On Sunday, January 26th, St. Anne's will again participate in the annual "Souper Bowl of Caring". After each Mass, Kelly Ann Lillis and her classmates will be in the church vestibule with their "soup pots" to accept your $1 donations for St. Lucy's Shelter.
The Souper Bowl of Caring began in 1990 in a single South Carolina church. Since that time, more than $16.6 million has been donated to fight hunger and poverty. None of the money collected goes to Souper Bowl organizers. Thanks to your past generosity, more than $1,000 has been donated to St. Lucy's Homeless Shelter since St. Anne's began participating in this event three years ago.
Thank you in advance for your donations.
Top Page 8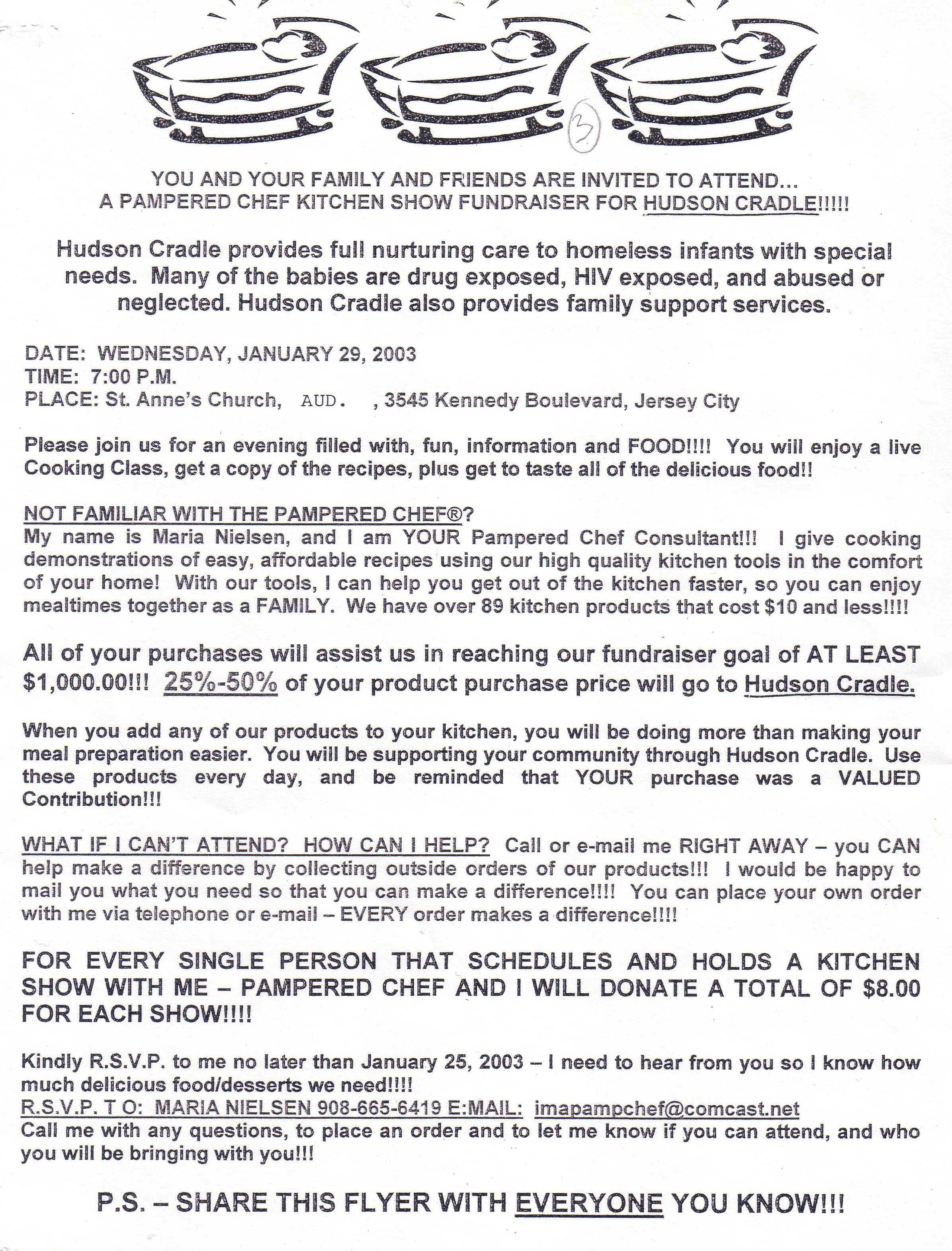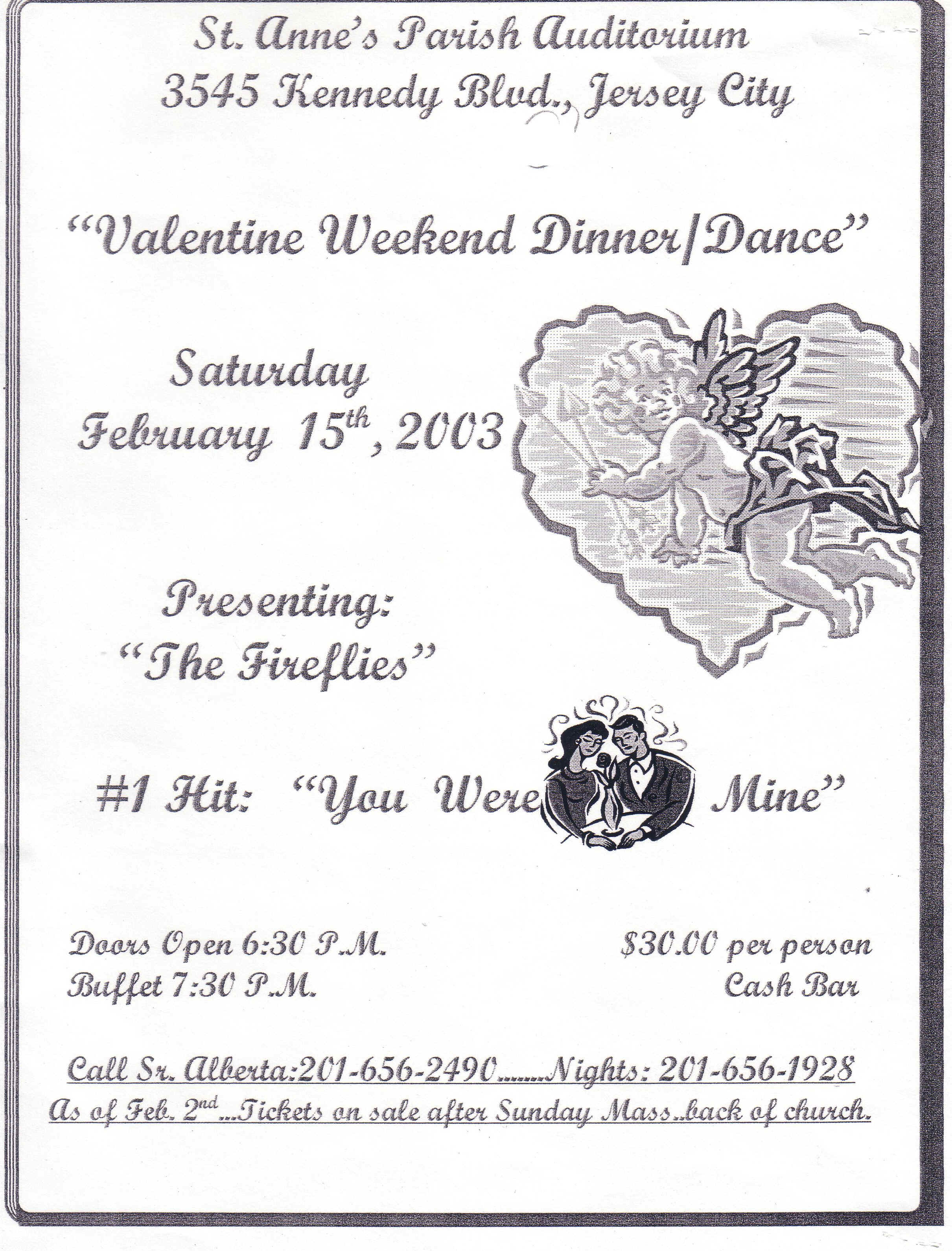 Page 9 Top
Personal Meditation
January 26th, 2003
Jon 3:1-5, 10, 1 Cor 7:29-31, Mk 1:14-20
Gospel Reading
After John was arrested, Jesus went into Galilee and began preaching the Good News of God. He said, "The time has come; the kingdom of God is at hand. Change your ways and believe the Good News."
As Jesus was walking along the shore of Lake Galilee, he saw Simon and his brother Andrew casting a net in the lake, for they were fishermen. And Jesus said to them, "Follow me, and I will make you fish for people." At once, they left their nets and followed him. Jesus went a little farther on and saw James and John, the sons of Zebedee; they were in their boat mending their nets. Immediately, Jesus called them and they followed him, leaving their father Zebedee in the boat with the hired men.
Reflection
"The word of the Lord came to Jonah a second time." This is, of course, because, the first time around, Jonah fled from the Lord, refusing the mission to preach repentance to Nineveh. But the Lord pursued him, through the dramatic storm, which resulted in Jonah's being cast overboard, and through the great fish, which swallowed the reluctant prophet and spewed him on the soil of Nineveh. Here he stands, in today's reading, freshly regurgitated, now attentive to the Word that missions him. By way of contrast, the disciples Jesus calls need no second invitation. All of them,-Peter, Andrew, James and John-left everything immediately to follow Jesus. Or so it seems. For, after a few years, they all will need a second time for the word of the Lord to come to them. Now, since they are not yet fully aware of the cost of following Jesus, they are enthusiastic. Later, when the cross looms, they will abandon and deny him. But the word of the Lord does come to them a second time, speaking of peace, recommisioning them to service and witness. Praise the God then whose missioning word comes a second, a third, a fourth time to send reluctant prophets and renew the call of wavering disciples!
* * * * *
God, our Father,
you are the source of all life and goodness. Lead us in the way of your commandments. May we always do what pleases you, in thought, word, and deed. We ask this through our Lord Jesus Christ, your Son, who lives and reigns with you and the Holy Spirit, one God, forever, and ever. Amen.