© copyright stannes4/2000
Page 1
*******************************************************************************************************************
February 2nd, 2003
Presentation of the Lord


Schedule of Masses Week of February 3rd - February 9th, 2002

Day

Time

Requested for

Requested by

Mon Feb. 3rd

7 A.M.

Theodore Petty

Pat & Jim Riccardi

9A.M.

Liv. Theresa Lattanzi

Frances S.

Tues Feb. 4th

7 A.M.

Joseph Creazzo

Grace Salvemini

9 A.M.

Liv Theresa Lattanzi

Frances M.

Wed Feb. 5th

7A.M.

Ida Romano

Romano Family

9A.M.

Liv Bridget Burke

Burke

7 P.M.

Joseph Rao

Marie & Robert Kenny

Thurs Feb. 6th

7A.M.

Catherine Wojciechowicz

Kathleen & Robert

9A.M.

Liv Theresa Lattanzi

Angela Maccini

Fri. Feb. 7th

7A.M.

John L. Yori

Mother & Sister

9A.M.

Joseph &Michael Barbalinardo

Maccini & Spazian

7P.M

Olga Hernandez

Chris Wengroski

Sat. Feb. 8th

9 A.M.

Concetta Pallante

Maria Russo

6 P.M.

Monica V. Keenan

Keenan Family

7:30PM

St. Anne's Church

Paciello

Sun. Feb.9th

7:30AM

Chillermo Gonzales
Samson Family
9 AM
Grazia Voza
Virginia Sarni

10:30AM

Alexander Vaccarella
Sister

12 PM

Mary Burke
Burke Family
1:30PM
For the People of the Parish
Sanctuary Gifts February 2nd - February 8th, 2002

Gift

In Memory Of

Requested By

Altar Wine

Dorothy Ensmenger

Rita Rinyak

Altar Bread

Kitty Wojciechowicz

Kay & Gary Bleski

Sanctuary Lamp

Special Intention for the Residents of Muhlenberg Gardens

Anonymous

Altar Candles

Special Intention for the Residents of Wittenberg Manor

Anonymous
Let Us Pray For Those Seriously Ill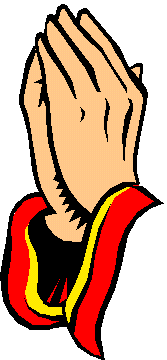 Frank Plantamura, Joan Wheeler, Marie Starz, Anthony Pristera, Bruno Spazian, and Angela Krajnik, Diane O'Sullivan, James McGrath.
Vocation reflections

In today's Gospel we hear how Jesus was presented to the Lord and how Simeon sees the Lord's saving power. Are you prepared to speak about God and to bring the Good News as a priest, brother or sister?
If you feel this call, "inquire within" and Please contact the Vocations Office the Vocations Office at (973) 497-4365 or by E-mail at kellyric@rcan.org. Or visit our web site at www.rcan.org.

Page 2 Top
STEWARDSHIP



STEWARDSHIP SCRIPTURE REFLECTION
Jesus, the King of glory, yet like us in all things, comes to his temple to be a light for all the nations.
Our Weekly Offering
January 2003
January 25/26 $ 5,049.
Month's Total $21,534.
Month's Average $ 5,383.
Mailed in, thank you $ 190.

WEEKLY AVERAGE COMPARISONS:
Month '01 Monthly Avg. '03 Monthly Avg.
January $5,657. $5,383.
February $5,841.




HOLY HOUR FOR PRIESTS


DUE TO FATHER JULIO ROMAN'S ABSENCE, HOLY HOUR WILL BE CANCELLED FOR JANUARY AND WILL RESUME ON MARCH 4TH!
Every Tuesday the Blessed Sacrament is exposed in the church from 3 to 4 p.m. It is an hour of prayer for the priests, DIVINE MERCY and religious men and women of the church. Prayers are also said for an increase of vocations to the priesthood and religious life.
We invite you to come and spend time with the Lord for these intentions and for your personal requests. The Holy Hour closes with Benediction of the Blessed Sacrament. If you cannot join us in church, we ask you to join us from a quiet spot in your home and pray with us, asking the Lord to guide and protect our priests.




Kelly Anne Lillis, The founder of the Souper Bowl for the homeless in the surrounding community of St. Anne's Church, Jersey City
Pictured below are Kelly Anne Lillis of St. Anne's and Brenda Pulaski, Director of the St. Lucy's Homeless Shelter as she tenders the check from St. Anne's in the amount of $705.00 collected from the Souper Bowl on January 26 by Kelly and her friends. We are all very proud of them!!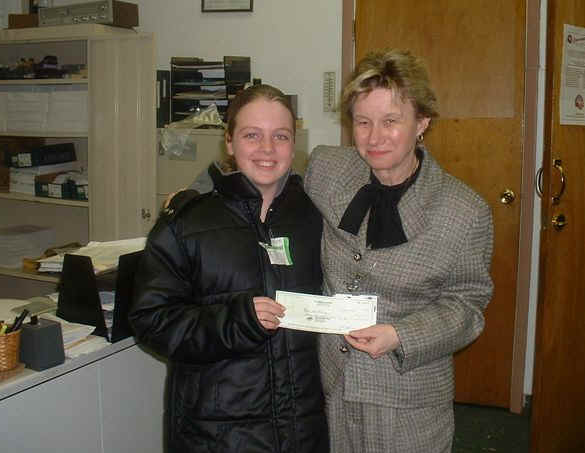 Festival 2003
Baby, it's cold outside...but Spring and Summer are just around the corner, and we all know what that means...St. Anne's Festival will be here before you know it!! So, let's plan ahead. The Festival will be held on July 25, 26, and 27, 2003.
The Festival Committee is starting to look for volunteers, any age, before you make your vacation plans. We need volunteers to help make this another successful year. We want you to join us right from the start, as we have a lot of fun meeting and working with all of our family members that we don't get a chance to spend more time with. It's not just work. It's sharing ideas and being committed to each other as a family. So, please join our team. We need you! Sign up sheets are in the back of church or at the rectory. We encourage you to attend our next meeting that will be on Tuesday, February 11th at 7 P.M. in Parish Center #4.
Blessing of the Throats
The Feast of St. Blase is Monday, February 3rd. There will be a general blessing of the throats at all Masses the weekend of February 1st/2nd. Anyone wishing an individual blessing of the throats can attend the 7 a.m. and 9 a.m. Masses on the Feast Day itself.
Top
page 3
Our Web Site
When you log on and browse around you'll see all kinds of information about our parish. Included, of course, will be the current activities for the many different organizations as well as an update as to what is going on with our parish family.
Do not let evil defeat you: Instead, conquer evil with good!!
By your wounded heart: teach us love, teach us love, teach us love..... -Daphne Fraser
Retreats
Thomas Merton: a Man of Paradox - will be presented at Saint Walburga Monastery January 31-February 2, 2003. The full retreat weekend is open to women only, but on Saturday from 9 a.m. to 3:30 p.m. the conferences are open to men and women. For more information and registration, call (908) 353-3028. Donation $75 for weekend, $20 for the Saturday (lunch included).
Living in the Present Moment - will be presented at Saint Walburga Monastery February 25-27, 2003. The full retreat weekend is open to women only, but on Saturday from 9 a.m. to 3:30 p.m. the conferences are open to men and women. For more information and registration, call (908) 353-3028. Donation $75 for weekend, $20 for the Saturday (lunch included).
Emmaus Discernment Retreat
The Vocations Office of the Archdiocese of Newark will again sponsor its annual "Emmaus Discernment Retreat" the Weekend of February 14-16, 2003. The "Emmaus Discernment Retreat" is designed to help and support men 18-45 years of age who are open to the possibility that the Lord may be calling them to Priesthood. The Retreat includes elements typical to most retreats: daily Mass, talks, a holy hour, time for prayer, reconciliation and fellowship. Take advantage of this valuable opportunity to spend quality time discerning your future. Please contact the Vocations Office at (973) 497-4365 if you are interested or would like more information or e-mail us at platebri@rcan.org.
Padre Pio
The Padre Pio Group will meet Saturday, February 8th at 2 p.m. in church for prayers, with meeting following in auditorium. All are welcome!
Bereavement Support Group Facilitator Training
Are you interested in becoming part of the ministry to the bereaved in your parish? An eight-week training program is offered at the Archdiocesan Center and is now open for registration. Participants will explore the stages and tasks of grief and mourning and develop their communication and group facilitation skills. Sessions are offered on Tuesday mornings or on Thursday evenings and will begin at the end of February and continue through April. For registration and fee information, please contact the Office of Family Life Ministries of the Archdiocese of Newark at 973-497-4327. Pre-registration is required; class size is limited.
Opportunities for Spiritual Growth at the College of St. Elizabeth
A workshop on the Spirituality of Lay Ministry will be given by Dr. Zeni Fox on March 1, 2003 9:30 a.m-12:30 p.m.
The Eleventh Annual Spirituality Convocation featuring Sr. Elizabeth Johnson and Fr. J. Glenn Murray as keynote speakers along with thirty workshops in spirituality will take place on April 5, 2003.
Please call the Center of Theological and Spiritual Development at the College of St. Elizabeth at (973) 290-4300/4364 for details and registration information for these special events. We also invite you to visit our website at www.csespirit.org.
Top page 4
MONDAY Heb 11:32-40 Ps 31:20-24 Mk 5:1-20
TUES. Heb 12:1-4 Ps 22:26-28,30-32 Mk 5:21-43
WED. Heb 12:4-7,11-15 Ps 103:1-2,13-14 Mk 6:1-6
THURS. Heb 12:18-19,21-24 Ps 48:2-4,9-11 Mk 6:7-13
FRIDAY Heb 13:1-8 Ps 27:1,3,5,8-9 Mk 6:14-29
SATURDAY Heb 13:15-17,20-21 Ps 23:1-6 Mk 6:30-34
NEXT SUNDAY - 5 SUNDAY IN ORDINARY TIME Jb 7:1-4,6-7 Ps 147:1-6 1Cor 9:16-19,22-23 Mk 1:29-39

CCD
· NO CLASS today. Children and their families will be attending Family Communion Breakfast.
· Confirmation classes are in session every Thursday evening from 6:30 to 8:30 p.m. in Parish Center #3.
· Parent Club Meeting today due to no class on February 2nd.
· February 9th - Teachers' meeting 11:30-12:30 in Parish Center #3.
· February 11th - Confirmation conferences begin. Look for your appointment. Letters will be given to the Candidate.
· February 16th - NO CLASS, President's weekend.
· February 23rd - Confirmation Enrollment Ceremony at the 9 am. Mass. Parents & Sponsors are to attend. At 1 p.m. there will be a Sponsors' meeting in Chapel Hall.
· Preparation for the Sacrament of Reconciliation has begun. Children are to come to the 9 a.m. Mass each Sunday. They are to deposit chapters done in basket in back of church on the table. They will be carried in Offertory. Families will be asked to bring up Offertory Gifts with their children.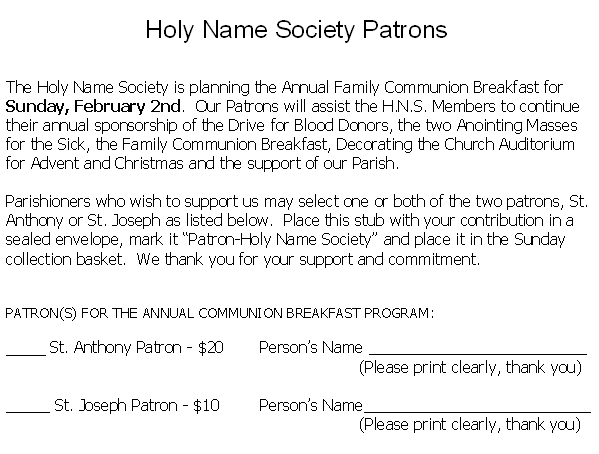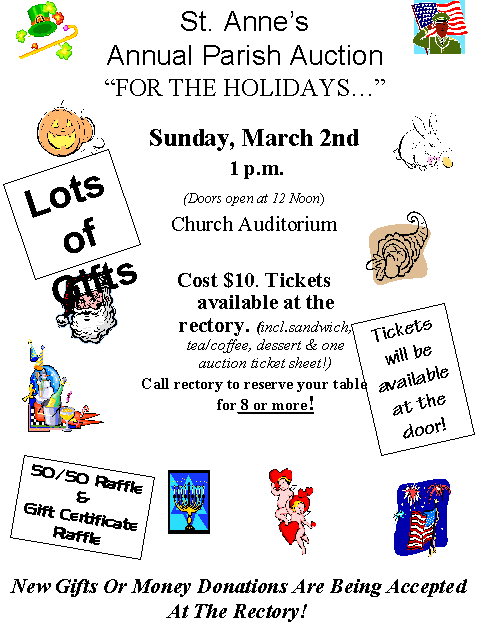 Top Page 6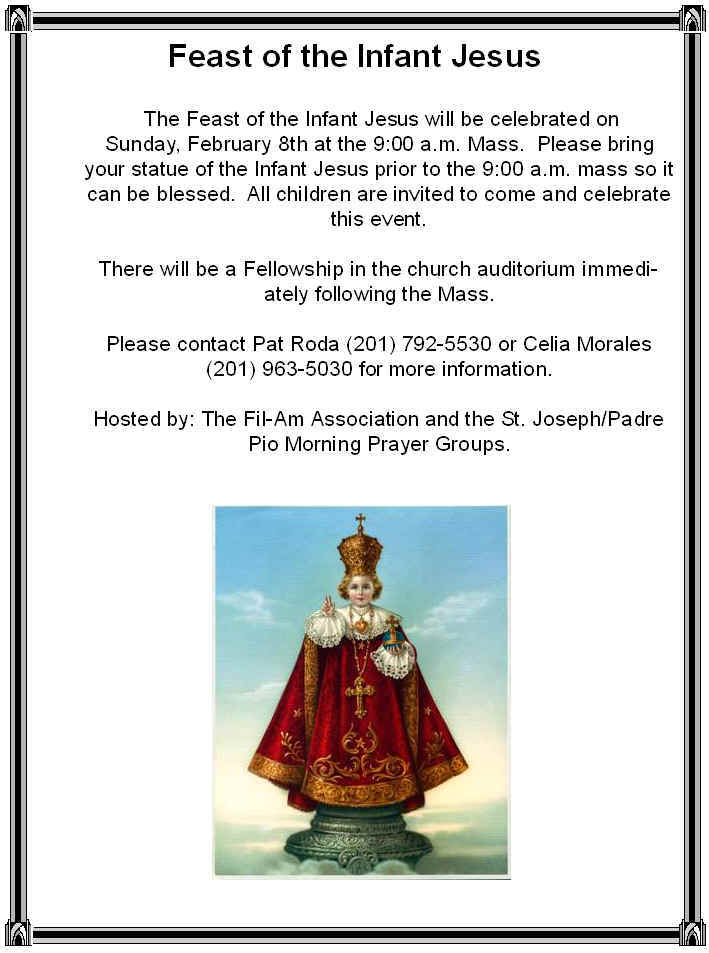 Top Page 7
2003 Anniversary Liturgies
Archbishop John J. Myers has announced the following dates to honor couples in our Archdiocese who will be celebrating five, twenty-five or fifty years of Christian marriage in 2003: (Please come to the rectory to register.)
March 23, 2003 - 3:00 p.m. 5 & 25 Years Deadline to register: March 12th
April 6, 2003 - 3:00 p.m. 50 Years Deadline to register: March 26th
Liturgy Committee Meeting
There is a scheduled Liturgy Committee Meeting for Monday, February 17th at 7:30 p.m. in the rectory. All are asked to attend to discuss upcoming events involving the Liturgy. Lent is only around the corner!
Retreat - Living the Lord's Prayer
Attention men and women, married and single, ages 21-39! You are invited to attend a retreat designed specifically to your age group. Living the Lord's Prayer is a powerful weekend retreat experience that offers you an opportunity to deepen your relationship with God through personal reflection on the Lord's Prayer. You will be challenged to imagine your life in terms of the words Jesus taught us, and consider it as a foundation for every day living. The next retreat is scheduled to take place February 21-23, at the Claremount Retreat Center in beautiful Mount Arlington, New Jersey, on the bank of Lake Hopatcong. The weekend cost of $95 includes food, housing and all materials. Financial assistance available. A registration form, including directions, is located online at www.NewarkOYM.org. Print and send the form as soon as possible. If you would like to receive a form by mail, call 973-497-4502.
x
Top Page 8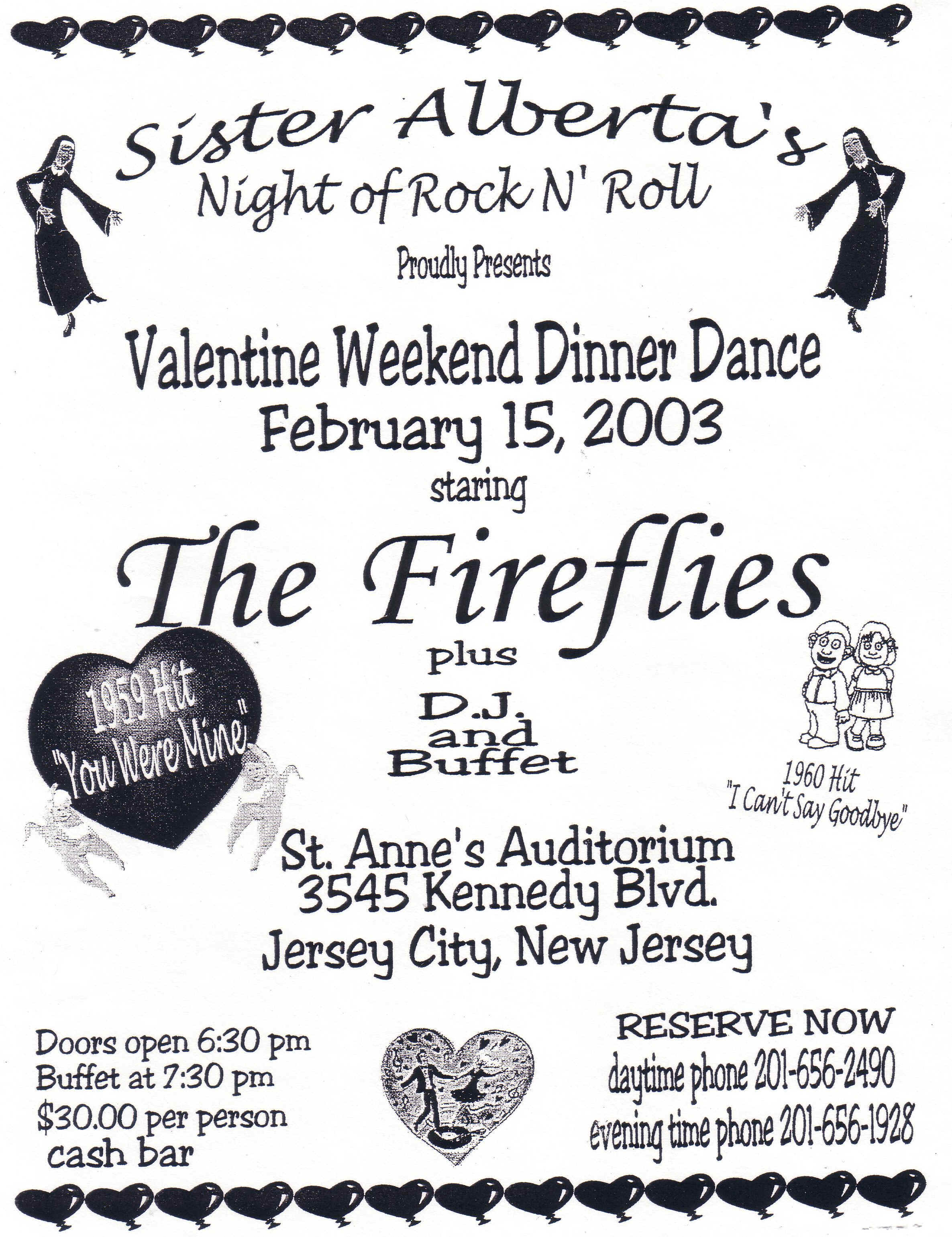 Page 9 Top
Personal Meditation
February 2nd, 2003
Mal 3:1-4 , Heb 2:14-18, Lk 2:22-40
Gospel Reading
When the day came for the purification according to the law of Moses, the parents of Jesus brought the baby up to Jerusalem to present him to the Lord, as it is written in the law of the Lord: Every firstborn male shall be consecrated to God. And they offered a sacrifice as ordered in the law of the Lord: a pair of turtledoves or two young pigeons.
There lived in Jerusalem at this time a very upright and devout man named Simeon; the Holy Spirit was in him. He looked forward to the time when the Lord would comfort Israel, and he had been assured by the Holy Spirit that he would not die before seeing the Messiah of the Lord. So he was led into the Temple by the Holy Spirit at the time the parents brought the child Jesus, to do for him according to the custom of the Law.
Simeon took the child in his arms and blessed God, saying,
"Now, O Lord, you can dismiss
your servant in peace,
for you have fulfilled your word
and my eyes have seen your salvation,
which you display for all the people to see.
Here is the light you will reveal to the nations
and the glory of your people Israel."
His father and mother wondered at what was said about the child. Simeon blessed them and said to Mary, his mother, "See him; he will be for the rise or fall of the multitudes of Israel. He shall stand as a sign of contradiction, while a sword will pierce your own soul. Then the secret thoughts of many may be brought to light."
There was also a prophetess named Anna, daughter of Phanuel, of the tribe of Asher. After leaving her father's home, she had been seven years with her husband, and since then she had been continually about the Temple, serving God as a widow night and day in fasting and prayer. She was now eighty-four. Coming up at that time, she gave praise to God and spoke of the child to all who looked forward to the deliverance of Jerusalem.
When the parents had fulfilled all that was required by the law of the Lord, they returned to their town, Nazareth in Galilee. There the child grew in stature and strength and was filled with wisdom: the grace of God was upon him.
Reflection
Was it just a coincidence, or is this the way it is with those who live by God's Spirit? Simeon "was led into the temple by the Holy Spirit" just at the right time, when Jesus was being presented and consecrated to God. Simeon followed his inner sense and asked to hold the child. He knew that Jesus was the promised Messiah, and openly expressed his great joy and peace that God's promise had been fulfilled-for him and "in the sight of all peoples." God has promised to live fully in each of us. If we live in the awareness of God's life and strongly desire to see God's message fulfilled in our time, we will become sensitive to the ways this happens in our time. When we feel "led by the Spirit" and move with this sense, let us not ignore the happening or call it just a coincidence. A better name is Providence.