© copyright stannes4/2000
Page 1
*******************************************************************************************************************
February 16th, 2003
6th Sunday in Ordinary Time


Schedule of Masses Week of February 17th - February 23rd, 2003

Day

Time

Requested for

Requested by

Mon Feb. 17th

7 A.M.

Caroline Goglia

Frances & Angela

9A.M.

Olga Hernandez

Sue Fusco

Tues Feb. 18th

7 A.M.

Carmelo Midola

Patricia Todd

9 A.M.

Anthony S. Tighe

Burke Family

Wed Feb. 19th

7A.M.

Liv Joseph Ferrara

Mother

9A.M.

Liv Theresa Fusco

St. Joseph Morning Prayer Group

7 P.M.

Eduardo Dairo

Family

Thurs Feb. 20th

7A.M.

Lucille Cherry

Family

9A.M.

Mildred Samuelson

Christine Burke

Fri. Feb. 21st

7A.M.

Frank Tango

Wife

9A.M.

Grace Espositio

Fusco Family

Sat. Feb. 22nd

9 A.M.

Illuminado Estores

Emma & Family

6 P.M.

Dorothy Ensmenger

Mr. & Mrs. Dewan

7:30PM

For the People of the Parish

Sun. Feb.23rd

7:30AM

Sick People of the Parish
9 AM
Liv/Dec Members of Hanley Family
Family

10:30AM

Ralph Russo
Mom

12 PM

Eunice Murphy
Warren & Helen Ferris
Sanctuary Gifts February 16th - February 22nd, 2003

Gift

In Memory Of

Requested By

Altar Wine

Frank Tango

Family

Altar Bread

Frank Tango

Family

Sanctuary Lamp

Frank Tango

Family

Altar Candles

Frank Tango

Lorraine Dewan
Let Us Pray For Those Seriously Ill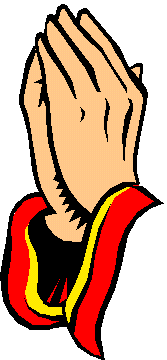 Frank Plantamura, Joan Wheeler, Marie Starz, Anthony Pristera, Bruno Spazian, and Angela Krajnik, Diane O'Sullivan, James McGrath, Mary Coughlin, Barret Family, and Antonet Witkowski.
Vocation reflections

Even though the man was told not to publicize his healing, his joy and excitement could not be hidden-he had to share the Good News. Are you willing to share the Good News of Christ's power in your life as a priest, sister or brother?
If you feel this call, "inquire within" and Please contact the Vocations Office the Vocations Office at (973) 497-4365 or by E-mail at kellyric@rcan.org. Or visit our web site at www.rcan.org.

Page 2 Top
STEWARDSHIP



STEWARDSHIP SCRIPTURE REFLECTION
Jesus manifests the powerful, healing love of God by curing the leper who was forced to live under severe restrictions by Jewish legislation. He turned to Jesus in his need and was filled with joy. We are called to imitate the healing and compassionate Jesus.
Our Weekly Offering
February 2003
February 8/9 $ 5,524.
Month's Total $ 11,046.
Month's Average $ 5,523.
Mailed in, thank you $ 253.

WEEKLY AVERAGE COMPARISONS:
Month '01 Monthly Avg. '03 Monthly Avg.
January $5,657. $5,383.
February $5,841.




HOLY HOUR FOR PRIESTS


DUE TO THE EXTREME COLD, HOLY HOUR WILL BE CANCELLED FOR AND WILL RESUME ON MARCH 4TH!
Every Tuesday the Blessed Sacrament is exposed in the church from 3 to 4 p.m. It is an hour of prayer for the priests, DIVINE MERCY and religious men and women of the church. Prayers are also said for an increase of vocations to the priesthood and religious life.
We invite you to come and spend time with the Lord for these intentions and for your personal requests. The Holy Hour closes with Benediction of the Blessed Sacrament. If you cannot join us in church, we ask you to join us from a quiet spot in your home and pray with us, asking the Lord to guide and protect our priests.




Palms
We are requesting that your old Palm be dropped off at the rectory to be burned for Ash Wednesday, March 5th. This is the appropriate way to dispose of your old Palm and make it useful for the church.
Wedding Anniversary Celebrations
Archbishop John J. Myers has announced the following dates to honor couples in our Archdiocese who will be celebrating five, twenty-five or fifty years of Christian marriage in 2003: (Please come to the rectory to register.)
March 23, 2003 - 3:00 p.m. 5 & 25 Years Deadline to register: March 12th
April 6, 2003 - 3:00 p.m. 50 Years Deadline to register: March 26th
Liturgy Committee Meeting
There is a scheduled Liturgy Committee Meeting for Monday, February 17th at 7:30 p.m. in the rectory. All are asked to attend to discuss upcoming events involving the Liturgy. Lent is only around the corner!
Cathedral Concert Series
A concert will be given by the North Jersey Philharmonic Glee Club (all-male African-American chorus) Sunday, Feb. 16th at 4 pm in the Cathedral Basilica. Suggested donation $10. For more information call 973-484-2400. All are welcome.
Top
page 3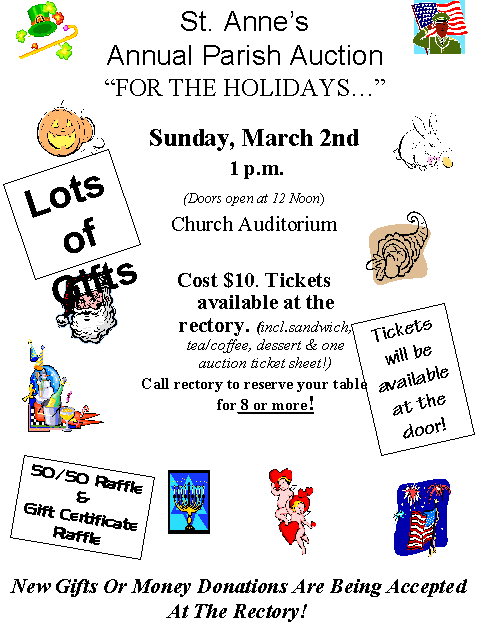 Top page 4
MONDAY Gn 4:1-15, 25 Ps 50:1-8,5-416bc-17,20-21 Mk 8:11-13
TUES. Gn 6:5-8;7:1-5 Ps 29:1a,2,3ac-4 Mk 8:14-21
WED. Gn 8:6-13,20-22 Ps 116:12-15,18-19 Mk 8:22-26
THURS. Gn 9:1-13 Ps 102: 16-18,19-23,29 Mk 8:27-33
FRIDAY Gn 11:1-9 Ps 33:10-15 Mk 8:34-9:1
SATURDAY Gn 5:1-4 Ps 23:1-6,12-13 Mk 8:1-10
NEXT SUNDAY - 7th SUNDAY IN ORDINARY TIME Is 43:18-19,21-22,24b-25 Ps 41:-2-5,13-14 2Cor 1:18-201 Mk 2:1-12

ATTENTION ALL SENIORS
Thanks to Maureen Corcoran of the Mayor's Action Bureau, there will be a bus going to the Shop-Rite in Jersey City stopping at Nelson Ave. & Congress St. at 10 a.m. 2nd & 4th Monday of each month. Please mark your calendars and take advantage of this service and tell your friends. Please be punctual as the bus will only stay for 5 minutes and then proceed to Muhlenberg and Hague Street Senior Locations.
Disaster Relief Fund
Archbishop John J. Myers has continued to provide assistance to those affected by the Sept. 11th tragedy within the Archdiocese of Newark. If you or anyone you know in our parish needs assistance from this fund, please contact Carmel Galasso at the Hudson County Parish Access Center 201-798-9958 or stop at the rectory.
Our Web Site
When you log on and browse around you'll see all kinds of information about our parish. Included, of course, will be the current activities for the many different organizations as well as an update as to what is going on with our parish family.
Do not let evil defeat you: Instead, conquer evil with good!!
By your wounded heart: teach us love, teach us love, teach us love..... -Daphne Fraser
Retreats
Living the Lord's Prayer - Attention men and women, married and single, ages 21-39! You are invited to attend a retreat designed specifically to your age group. "Living the Lord's Prayer" is a powerful weekend retreat experience that offers you an opportunity to deepen your relationship with God through personal reflection on the Lord's Prayer. You will be challenged to imagine your life in terms of the words Jesus taught us, and consider it as a foundation for every day living. This retreat is scheduled to take place February 21-23, at the Claremount Retreat Center in beautiful Mount Arlington, New Jersey, on the bank of Lake Hopatcong. The weekend cost of $95 includes food, housing and all materials. Financial assistance available. A registration form, including directions, is located online at www.NewarkOYM.org. Print and send the form as soon as possible. If you would like to receive a form by mail, call 973-497-4502.
Thomas Living in the Present Moment - will be presented at Saint Walburga Monastery February 25-27, 2003. The full retreat weekend is open to women only, but on Saturday from 9 am to 3:30 pm the conferences are open to men and women. For more information/registration, call (908) 353-3028. Donation $75 for weekend, $20 for the Saturday (lunch incl.).
The Jesus Experience
The Jesus Experience is an amazing chronicle of the saints and rogues who carried the message of Christianity across the globe. This six-week series is rich in Christian history, music and art.
Produced by Paulist Productions, a ministry of the Paulist Fathers, The Jesus Experience is the inspirational and enriching story of how six world cultures embraced Jesus and made Him their own, shaping a worldwide faith totaling more than two billion believers.
Hallmark Channel every Sunday beginning March 9 through April 13, 2003 - 12 noon to 1 p.m. ET/PT, consult your local listings.
Bid For Student Success
The Felician College Alumni Association and Council of Regents invite you to come to the auction block and make a bid for student success at a live auction and dinner. Join us on Saturday, March 8 in the cafeteria on the Lodi campus and bid on vacations, sports memorabilia, electronics, tickets to shows and events, celebrity autographed collectibles, and many other fabulous items. Preview begins at 5 p.m. and the dinner and live auction begin at 6:30 p.m. Tickets - including dinner, dessert, beer, wine, and soda - are $50 per person, and are advance sale only. For reservations, please call 201-559-3315. Please reserve your space by February 17th. Proceeds benefit the Felician College Student Scholarship Fund.
Business Degree Program
Would you give up one night a week to complete your college degree? Enroll in Felician College's accelerated business degree program and complete your bachelor's degree in organizational management in as little as 18 months if you have an associate's degree or a minimum of 60 college credits. As part of this innovative program, you'll benefit from a unique distributed learning program that combines traditional classroom instruction with on-line learning. By attending class one night a week, one five-week course at a time, you can complete your degree in just 18 months. Classes begin February 13. Call 201-559-6055 to learn more!
Festival 2003
Baby, it's cold outside...but Spring and Summer are just around the corner, and we all know what that means...St. Anne's Festival will be here before you know it!! So, let's plan ahead. The Festival will be held on July 25, 26, and 27, 2003.
The Festival Committee is starting to look for volunteers, any age, before you make your vacation plans. We need volunteers to help make this another successful year. We want you to join us right from the start, as we have a lot of fun meeting and working with all of our family members that we don't get a chance to spend more time with. It's not just work. It's sharing ideas and being committed to each other as a family. So, please join our team. We need you! Sign up sheets are in the back of church or at the rectory. We encourage you to attend our next meeting that will be on Tuesday, February 11th at 7 P.M. in Parish Center #4.
Top Page 6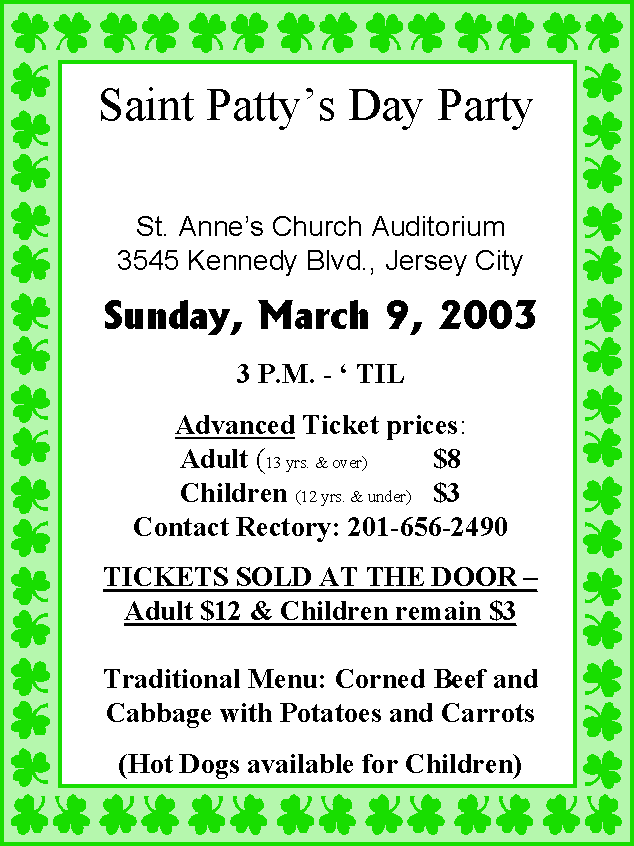 Top Page 7
Discernment Retreat Weekend
Come as you are to listen, to reflect and to pray. Weekend Retreat for Women at Xavier Center in Convent Station, NJ February 21st at 7:30 p.m. through February 22nd at 8 p.m. Prayer, quiet time, group and individual meetings. Free-will offering for the weekend. For more information call Sister Maryanne Tracey at 973-290-5331 or e-mail MTracey611@aol.com or visit our website at www.SCNJ.org .
CCD News
- NO CLASS today President's weekend.
- Confirmation Conferences February 18th, 19th, and 24th at 7 p.m. in the Convent. Your child has brought home your appointment date.
- Confirmation Enrollment Ceremony February 23rd at 9 a.m. Mass. Parents & Sponsors are to attend. Sponsor meeting at 1 p.m. in Chapel Hall.
- Date for Villa Roma Trip - June 22nd-27th, 5 nights/6 days (Sunday thru Friday) Price includes: hotel accommodations, meals, activities, night entertainment, tips, tax, and transportation - Adults $540. + 40 transportation, Children up to 3 yrs. Free, 4 to 10 $150. + 40 transportation, 11 to 17 $175. + 40 transportation.
Disaster Relief Fund
Archbishop John J. Myers has continued to provide assistance to those affected by the Sept. 11th tragedy within the Archdiocese of Newark. If you or anyone you know in our parish needs assistance from this fund, please contact Carmel Galasso at the Hudson County Parish Access Center 201-798-9958 or stop at the rectory.
Rosary Society
Bake Sale/Flea Market
St. Anne's Rosary Society will be having their Annual Bake Sale/Flea Market Saturday, April 12th (following 6 p.m. Mass) Sunday, April 13th (following ALL masses).
Anyone wishing to donate baked goods or items for the flea market (PLEASE...NO CLOTHES OR BOOKS), may drop them off at the auditorium on Saturday, April 12th after 4 p.m or any time Sunday, April 13th up to 2 p.m. We appreciate your support. See you at the Sale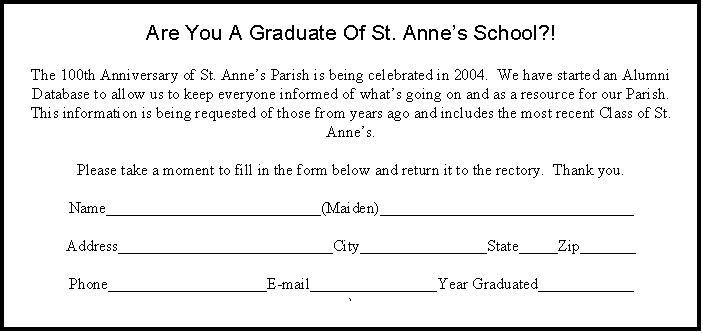 Page 8 Top
From Generation To Generation, We Share Our Faith
Saint Anne's 100th Anniversary News Update
Parishioners are asking, "How do I contribute to the Centennial Fund?" At the request of the Centennial Committee, Father Vic has established a special Centennial Fund. Our goal is to raise $100,000 to completely renovate the Parish Auditorium to have it ready for the Anniversary Celebrations. We hope to complete the Fundraiser within 100 days. You will soon be receiving a letter with the exact dates of the Drive and the details of the plan. We are still looking for Memorabilia...Do you have First Communion pictures, Wedding pictures, Confirmation pictures? We will scan and then return originals to you. All pictures so far submitted have already been returned to owners. These pictures will be used for displays and possibly for the Anniversary Book. Thanks to all who have already sent in their pictures. We're off to a great start.
"Let us pray together that the Faith we share will continue to grow."
Page 9 Top
Personal Meditation
February 16th, 2003
Lev 13:1-2, 44-46, 1 Cor 10:31-1:1. Mk 1:40-45
Gospel Reading
A leper came to Jesus and begged him, "If you so will, you can make me clean." Moved with pity, Jesus stretched out his hand and touched him, saying, "I will; be clean." The leprosy left the man at once and he was made clean. As Jesus sent the man away, he sternly warned him, "Don't tell anyone about this, but go and show yourself to the priest and for the cleansing bring the offering ordered by Moses; in this way you will make your declaration."
However, as soon as the man went out, he began spreading the news everywhere, so that Jesus could no longer openly enter any town. But even though he stayed in the rural areas, people came to him from everywhere.
Reflection
When the leper asked to be cured, he humbled himself and begged Jesus to heal him. He said, "If you so will...." He opened himself in humility to the will of Jesus. Knowing that he was an outcast and thus considered a sinner by society, he did not insist or demand but begged. He trusted Jesus and believed in Him, "...you make me clean." Jesus has always willed that we may be clean and be part of the community. He is just waiting for us to accept our own "sickness" and ask for his cure. We always say that we trust him but unlike the leper, we sometimes fail to allow his will to happen to us, and trust that his will will always be the best for us.