© copyright stannes4/2000
Page 1
*******************************************************************************************************************
March 2nd, 2003
8th Sunday in Ordinary Time


Schedule of Masses Week of March 3rd - March 9th, 2003

Day

Time

Requested for

Requested by

Mon March 3rd

7 A.M.

Marcell Pokraska

Reiner Family

9A.M.

Rose & Thomas Mastrant

Theresa Lattanzi

Tues March 4th

7 A.M.

Priscilla Figueroa

St. Joseph Morning Prayer Group

9 A.M.

Julian Hoffmeyer

Burke Family

Wed March 5th

7A.M.

Socorro Kennedy

Marlene Bartram

9A.M.

William & Kathleen Staranka

Family

7 P.M.

Rachel Stefano

Michael Stefano

Thurs March 6th

7A.M.

Samuel Wilkins Jr.

Family

9A.M.

John Stefano

Michael Stefano

Fri. March 7th

7A.M.

CatherineWojciechowicz

Don & Florence Eng

9A.M.

Robert Edelman

Family

Sat. March 8th

9 A.M.

Lucille Cherry

Family

6 P.M.

Josephine & Eugene Ackerman

Isabelle & Charlotte

7:30PM

For the People of the Parish

Sun. March 9th

7:30AM

Joseph Altomonte
Daughters Agnes & Josie
9 AM
Domenica Fontana
Sister Virginia Rossi

10:30AM

Liv Joseph Paparella
Frances & Bruno

12 PM

John Neumann Jr.
Neumann Family
1:30PM
For the People of the Parish
Sanctuary Gifts March 2nd - March 8th, 2003

Gift

In Memory Of

Requested By

Altar Wine

For the People of the Parish

Altar Bread

Marie Starz

Edward Anderson Jr.

Sanctuary Lamp

For the People of the Parish

Altar Candles

For the People of the Parish
Let Us Pray For Those Seriously Ill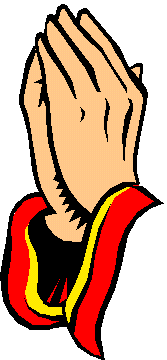 Orlando Basile, Joan Wheeler, Angela Krajnik, Mary Coughlin, Barret Family, and Antonet Witkowski.
Vocation reflections

In Hosea God says, "I will lead you into the desert and speak to your heart." As we approach the season of Lent take time to ask yourself if the Lord is speaking to your heart; is God calling you into the desert to ponder His call to priesthood or religious
life?
If you feel this call, "inquire within" and Please contact the Vocations Office the Vocations Office at (973) 497-4365 or by E-mail at kellyric@rcan.org. Or visit our web site at www.rcan.org.

Page 2 Top
STEWARDSHIP



STEWARDSHIP SCRIPTURE REFLECTION
Bless the Lord who is full of love and compassion, who is espoused to us forever. Our bridegroom, Christ, has come, and will come again in glory. His spirit gives us life.
Our Weekly Offering
February 2003
February 22/23 $ 4,939.
Month's Total $ 20,852.
Month's Average $ 5,213.
Mailed in, thank you $ 145.

WEEKLY AVERAGE COMPARISONS:
Month '01 Monthly Avg. '03 Monthly Avg.
February $5,841. $5,213.
March $6,230.




HOLY HOUR FOR PRIESTS


HOLY HOUR WILL RESUME ON MARCH 4TH!
Every Tuesday the Blessed Sacrament is exposed in the church from 3 to 4 p.m. It is an hour of prayer for the priests, DIVINE MERCY and religious men and women of the church. Prayers are also said for an increase of vocations to the priesthood and religious life.
We invite you to come and spend time with the Lord for these intentions and for your personal requests. The Holy Hour closes with Benediction of the Blessed Sacrament. If you cannot join us in church, we ask you to join us from a quiet spot in your home and pray with us, asking the Lord to guide and protect our priests.
Palms
We are requesting that your old Palm be dropped off at the rectory to be burned for Ash Wednesday, March 5th. This is the appropriate way to dispose of your old Palm and make it useful for the church.




Stations
During the Lenten Season, there will be Stations of the Cross in Church on Fridays at 1 p.m. and 7 p.m. beginning March 7th and ending April 11th.
Ash Wednesday
Wednesday, March 5th, is Ash Wednesday.
Ashes will be distributed after ALL Masses, 7 a.m., 9 a.m., 7 p.m. and at the 3 p.m. Service for Distribution of Ashes.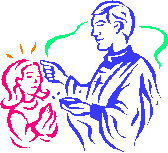 Top
page 3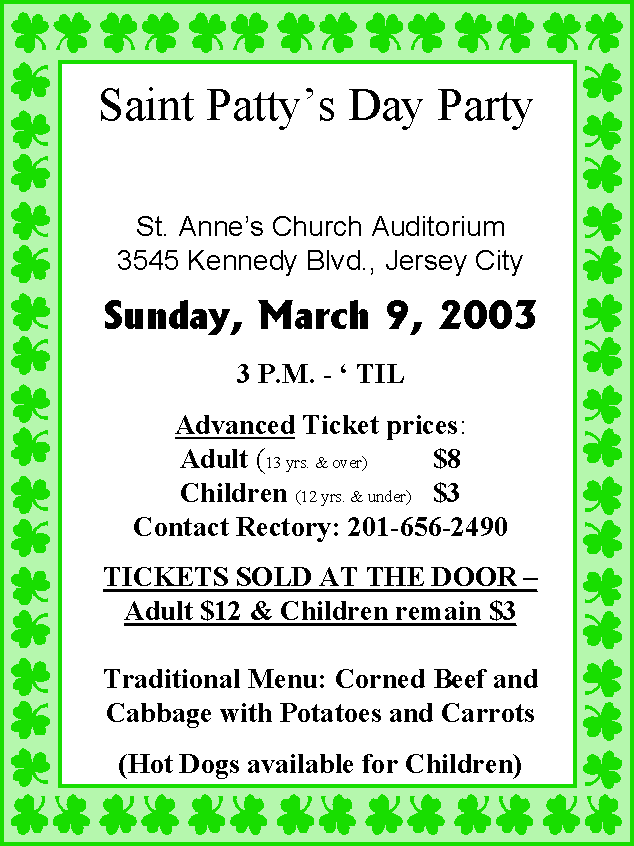 Top page 4
MONDAY Sir 17:19-27 Ps 32:1-2,5-7 Mk 10:17-27
TUES. Sir 35:1-12 Ps 50:5-8,14,23 Mk 10:28-31
WED. Jl 2:12-18 Ps 51:3-6a,12-14,17 2Cor 5:20-6:2 Mt 6:1-6,16-18
THURS. Dt 30:15-20 Ps 1:1-4,6 Lk 9:22-25
FRIDAY Is 58:1-9a Ps 51:3-6a,18-19 Mt 9:14-15
SATURDAY Is 58:9b-14 Ps 86:1-6 Lk 5:27-32
NEXT SUNDAY - 1ST SUNDAY OF LENT Gn 9:8-15 Ps 25:4-9 1Pt 3:18-22 Mk 1:12-15

CCD News
· Contact Sister Alberta in the CCD Office at 201-659-1794 or at the Convent 201-963-0998 if you're interested in the Villa Roma trip June 22nd-27th, 5 nights/6 days. Price includes: hotel accommodations, meals, activities, night entertainment, tips, tax and transportation - Adults: $540 + $40 transportation; Children up to 3 yrs. are free; 4 to 10 $150 + $40 transportation; 11 to 17 $175 + $40 transportation
· Candidates for the Fall Confirmation have begun their preparation with an Enrollment Ceremony last Sunday. It was a great showing. I want to thank all parents and sponsors for participating.
· Please remember these Candidates in your prayers. In the near future, their pictures will be displayed in back of church. There will also be a basket with their names. We ask all parishioners to become a prayer partner to one of these candidates and to get to know them.
· Confirmation classes in session on Thursday evenings from 6:30-8 p.m.
· Parent Club Meeting today from 10-11:15. All parents are to attend.
· First Penance Practice March 10,12,13 from 3 - 4:30 p.m. in church.
· First Penance Day will be on March 15th at 11 a.m. Children are to be here by 10:45 in church.
· March 16th - First Communion meeting from 10-11:15 a.m. in Chapel Hall. Please be on time!
· March 23rd - First practice for Last Supper Presentation from 11 a.m. to 12:30 p.m. in Chapel Hall. Religious Education and Catholic School students. If you want your child to be part of this.
March 30th - Confirmation Concert in church at 3 p.m. for Grade 7 Candidates, Parents and Sponsors. Grade 6 also invited to come with their parents. ALL are welcome to attend.
From Generation To Generation, We Share Our Faith
Saint Anne's 100th Anniversary News Update
1904-2004
At Saint Anne's, our central pledge is to create a space so sacred that God's deep passionate love can be experienced and shared.
Thanks to our ancestors, the parish they created 100 years ago affords us the opportunity to pray, to play and to learn in an inspiring and spacious environment. As announced at all the Masses the weekend of January 25th and 26th, some of this space is in need of repair. As a Centennial Gift to Saint Anne and to prepare for the 100th Anniversary Celebrations, it has been proposed by the Centennial Committee that we, as parishioners, refurbish the auditorium (floor, stage, rest- rooms, painting, etc.).
Letters have been mailed to all parishioners with further details regarding this proposal.
Our deepest gratitude to everyone for helping to make this occasion successful.
"Let us pray together that the Faith we share will continue to grow."
Our Web Site
When you log on and browse around you'll see all kinds of information about our parish. Included, of course, will be the current activities for the many different organizations as well as an update as to what is going on with our parish family.
Do not let evil defeat you: Instead, conquer evil with good!!
By your wounded heart: teach us love, teach us love, teach us love..... -Daphne Fraser
St. Anne Seniors
A trip to Atlantic City has been planned for March 26, 2003. Cost is $11. Bus will leave from in front of St. Anne's Church at 9 a.m. We are going to the Sands Casino.
Welcome to our Family
We recently received five new members to our St. Anne's Parish Family through the Sacrament of Baptism. As they begin their new life of grace, we ask that you remember them in your prayers. They are:

Shane Curran
Raven Ortiz
Jeremiah Moreno
Vanessa Vellaro
Samantha Wares
Archdiocese of Newark ~ 2003 Lenten Regulations
1. The days of both Fast and Abstinence during Lent are Ash Wednesday and Good Friday. The other Fridays of Lent are days of Abstinence.

On a day of Fast, only one (1) full meal is permitted. Those between the ages of 18 and 59 are obliged to fast.

On a day of Abstinence, no meat may be eaten. Those who have reached the age of 14 are obliged by the law of abstinence.

2. The obligation to observe the laws of Fast and Abstinence "substantially", or as a whole, is a serious obligation.

3. The Fridays of the year, outside of Lent, are designated as days of penance, but each individual may substitute for the traditional abstinence from meat some other practice of voluntary self-denial as penance.

4. The time for fulfilling the Paschal Precept (Easter Duty*) extends from the First Sunday of Lent, March 9, 2003 to the Solemnity of the Holy Trinity, June 15, 2003.

*Canon 920, §1. All the faithful, after they have been initiated into the Most Holy Eucharist, are bound by the obligation of receiving Communion at least once a year.
Top page 6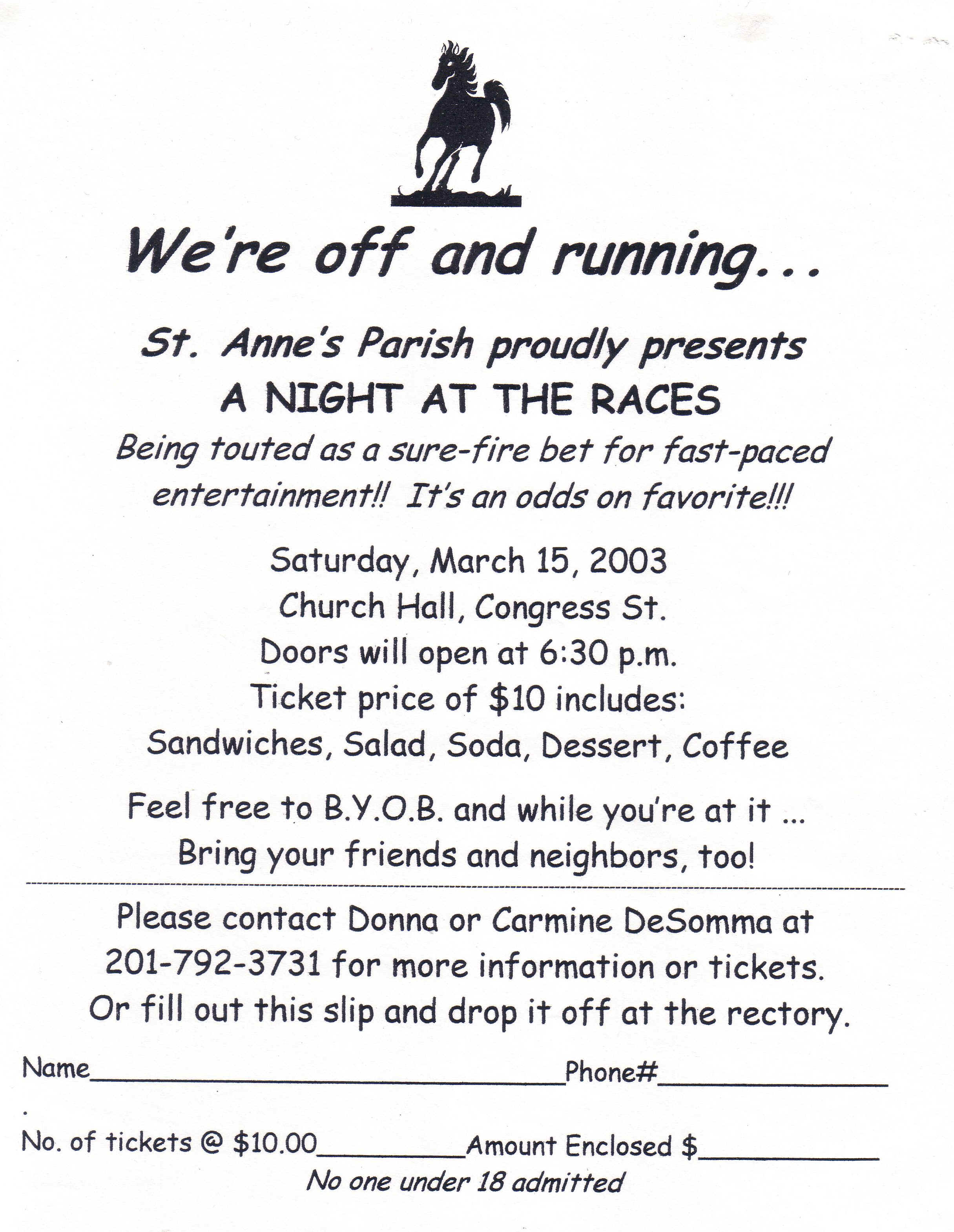 Top Page 7
School News
A letter to the Students of St. Anne's School from Hudson Hospice in Jersey City
Dear Friends at St. Anne's,
I was so happy to receive your generous donation of $415 for our hospice patients. What a wonderful way to celebrate the 100th day of your school year!
Your spirit of caring is the same kind of spirit that motivates the more than one hundred volunteers who make up our hospice program. These volunteers care about people who are in need, just like your school cares. When the world is full of people who care, it is a better and much more peaceful place.
I can't wait to tell all the others here at Hudson Hospice about your school. Not only will the $415 help us to help our patients and their families, but when they hear about all of you, it will give us lots more energy to keep on caring. Thank you for both of these gifts to us. We think that you are the greatest.
Gratefully, Sister Alice McCoy, O.P., Project Director
Support Groups for Parents Grieving the Loss of a Child
The Office of Family Life Ministries of the Archdiocese of Newark sponsors two support groups for "Parents Grieving the Death of a Child". Groups meet on the first Wednesday of each month at St. Thomas the Apostle Parish Center, 60 Byrd Avenue, Bloomfield, and on the third Monday of each month at St. Peter the Apostle Rectory, 445 Fifth Avenue, River Edge. There is no preregistration and there is no fee. All meetings begin at 7:30 p.m. For further information, please contact the Office of Family Life at 973-497-4327.

Annulment Information Evening
An Annulment Information Evening is scheduled for Wednesday, March 12th. A canon lawyer from the Archdiocese of Newark will discuss the most recent theology, guidelines and requirements for obtaining a Church annulment. The information will be presented in terms that all can understand. A question and answer period will conclude the session. Pre-registration is not necessary. This evening of information will be held at Corpus Christi RC Church, (School Cafeteria), 218 Washington Place, Hasbrouck Heights, at 7:30 p.m. For additional information, please call the Office of Family Life Ministries at 973-497-4327.

Aids Compassion Sunday
AIDS Compassion Sunday is March 2nd and will be celebrated at all Masses throughout the Archdiocese of Newark. Encourage your family and friends who may be living with HIV/AIDS to join us and feel welcomed.

Felician Day of Recollection
Are you a single, young adult, Catholic woman between ages 18-35 searching to deepen your spiritual life? The Felician Franciscan Sisters invite you for a day of recollection, "Living a Eucharistic Life" on Saturday, March 15th at Heart of Mary Convent, 257 South Main St., Lodi - 9 a.m. - 3 p.m. Contact Sr. Marilyn Minter at 973-473-5923.
St. Anne's Elementary School
Registration for 2003-04

Location: 255 Congress St., Jersey City

March 10th-14th for Grades Pre-K through 7th

Requirements:

Birth Certificate & Baptismal Certificate

Medical Records

Registration Fee of $150

Must attain the age of 4 or 5 by September 30th, 2003

For further information, please call 201-659-0450.
Page 8 Top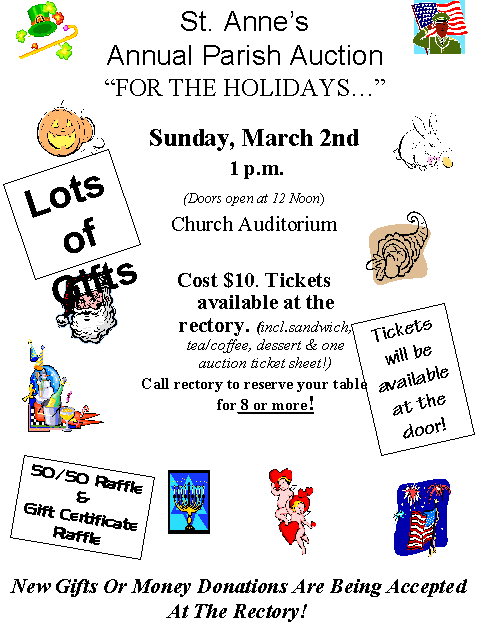 Page 9 Top
Personal Meditation
March 2nd, 2003
Hos 2:16-17, 21-22, 2 Cor 3:1-6, Mk 2:18-22
Gospel Reading
One day, when the disciples of John the Baptist and the Pharisees were fasting, some people asked Jesus, "Why is it that both the disciples of John and of the Pharisees fast, but yours do not?" Jesus answered, "How can the wedding guests fast while the bridegroom is with them? As long as they have the bridegroom with them, they cannot fast. But the day will come when the bridegroom will be taken from them and on that day they will fast.
No one sews a piece of new cloth on an old coat, because the new patch will shrink and tear away from the old cloth, making a worse tear. And no one puts new wine into old wineskins, for the wine would burst the skins and then both the wine and the skins would be lost. But new wine, new skins!"
Reflection
In the gospel, Jesus used wedding imagery to describe his presence among his disciples as a groom among her guests. His wedding is a time to celebrate, not rest. "As long as they have the bridegroom with them, they cannot fast. But the day will come when the bridegroom will be taken from them and on that day they will fast." Christian life is a happy one. No doubt it knows trials and difficult times. It often fasts from pleasures, but it never fasts from joy.
* * * * *
ASH WEDNESDAY—March 5TH
Gospel Reading
Jesus said to his disciples, "Be careful not to make a show of your righteousness before people. If you do so, you do not gain anything from your Father in heaven. When you give something to the poor, do not have it trumpeted before you, as do those who want to be seen in the synagogues and in the streets in order to be praised by the people. I assure you, they have been already paid in full.
"If you give something to the poor, do not let your left hand know what your right hand is doing, so that your gift remains really secret. Your Father who sees what is kept secret, will reward you.
"When you pray, do not be like those who want to be seen. They love to stand and pray in the synagogues or on street corners to be seen by everyone. I assure you, they have already been paid in full. When you pray, go into your room, close the door and pray to your Father who is with you in secret; and your Father who sees what is kept secret will reward you.
"When you fast, do not put on a miserable face as do the hypocrites. They put on a gloomy face, so people can see they are fasting. I tell you this: they have been paid in full already. When you fast, wash your face and make yourself look cheerful, because you are not fasting for appearances or for people, but for your Father who sees beyond appearances. And your Father, who sees what is kept secret will reward you."
Reflection
Ash Wednesday begins the great season of Lent, when we are invited to "rend our hearts and not our garments" and to "offer to God a sacrifice of a humble and contrite spirit." As we enter into the spirit of this season, it is good to remind ourselves of the truthfulness and honesty that Jesus asks of his followers-one that suggests an almost child-like disposition. A child is spontaneous and free in what he does. In a way, our way of living our faith should be the same, spontaneous, free, child-like, honest, and true. The world must know of our faith and our commitment to it. We must not hide the fact that we follow in the footsteps of Christ. But what Jesus was really warning against was not so much the external manifestations of our faith, but the internal dispositions that lead one to them. What one's motives and intentions are makes all the difference. For Jesus, it is what lies deep in our hearts that is of the greatest importance.