© copyright stannes4/2000
Page 1
*******************************************************************************************************************
American Family Association is joining others in an effort to pass a Constitutional Amendment protecting the Pledge of Allegiance and our national motto, "In God We Trust." This proposed Constitutional Amendment is sponsored in the House (H.J. Res 108) by Rep. Chip Pickering and in the Senate (S.J. Res 43) by Senator Trent Lott. It will protect our Pledge of Allegiance and national motto, and will prohibit judges from declaring them illegal. Please support this effort by signing a petition which will go directly to the House and the Senate.
WePledge.com is trying to secure ten million signatures for the Constitutional Amendment to save the Pledge of Allegiance and our National Motto. This would be the most people to sign a petition in history! Help save our Pledge of Allegiance and National Motto! Please sign the petition and forward it on to others. To sign the petition and for more information, go to www.wepledge.com.
March 16th, 2003
2nd Sunday of Lent


Schedule of Masses Week of March 17th - March 23rd, 2003

Day

Time

Requested for

Requested by

Mon March 17th

7 A.M.

Thomas Browne

Wife & Family

9A.M.

Glennon & Ruddy Families

Family

Tues March 18th

7 A.M.

Henry Vigna

Vigna Family

9 A.M.

Frank & George Cerosky

Anne & Fran

Wed March 19th

7A.M.

Joseph Belfiore

Toni Belfiore

9A.M.

Honor of St. Joseph

Frances

7 P.M.

Joseph Mocarski

Family

Thurs March 20th

7A.M.

Lillian Koska

Albert Koska

9A.M.

Frank & Catherine Infante

Frank & Gemma

Fri. March 21st

7A.M.

Jin Sturdy

Pat Nash

9A.M.

Lucille Cherry

Family

Sat. March 22nd

9 A.M.

Edward Wilkins

Family

6 P.M.

Charles Schaadt Sr.

Family

7:30PM

For the People of the Parish

Sun. March 23rd

7:30AM

Marcela Villanueva
Family
9 AM
Grace Chieffo
Anna DiLella

10:30AM

Angelo Tomeo
Granddaughter Claire

12 PM

Joseph Infante
Nicastro Family
Sanctuary Gifts March 16th - March 22nd, 2003

Gift

In Memory Of

Requested By

Altar Wine

Marie Starz

Bernadette Berger

Altar Bread

Lucie McNulty

Angela Schmitt

Sanctuary Lamp

Elizabeth Krohn

Lorraine Dewan

Altar Candles

Elizabeth Krohn

Madeline Gerrity
Let Us Pray For Those Seriously Ill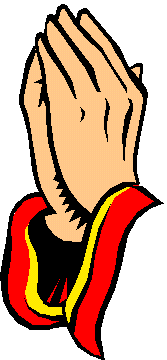 John Brawer, Joan Wheeler, Angela Krajnik, Cecilio Villanueva, James McGrath
Vocation reflections

From the cloud came a voice that declared, "this is my beloved Son. Listen to him." Jesus, the Son, still speaks to us today. He calls some of us to follow him as priests, others as religious men and women. Is this what Jesus asks of you? Are you listening to the Son?
If you feel this call, "inquire within" and Please contact the Vocations Office the Vocations Office at (973) 497-4365 or by E-mail at kellyric@rcan.org. Or visit our web site at www.rcan.org.

Page 2 Top
STEWARDSHIP



STEWARDSHIP SCRIPTURE REFLECTION
Abraham offers the ultimate sacrifice of thanksgiving, the gift of his very son. This sacrifice prefigures the sacrifice of Jesus who died for us all. In his transfiguration, Jesus discloses a suffering messiahship.
Our Weekly Offering
March 2003
March 8/9 $ 5,490.
Month's Total $ 11,232.
Month's Average $ 5,616.
Mailed in, thank you $ 98.

MONTHLY AVERAGE COMPARISONS:
Month '01 Monthly Avg. '03 Monthly Avg.
February $5,841. $5,213.
March $6,230.




HOLY HOUR FOR PRIESTS


HOLY HOUR WILL RESUME ON MARCH 4TH!
Every Tuesday the Blessed Sacrament is exposed in the church from 3 to 4 p.m. It is an hour of prayer for the priests, DIVINE MERCY and religious men and women of the church. Prayers are also said for an increase of vocations to the priesthood and religious life.
We invite you to come and spend time with the Lord for these intentions and for your personal requests. The Holy Hour closes with Benediction of the Blessed Sacrament. If you cannot join us in church, we ask you to join us from a quiet spot in your home and pray with us, asking the Lord to guide and protect our priests.




Stations of the Cross
During the Lenten Season, there will be Stations of the Cross in Church on Fridays at 1 p.m. and 7 p.m. beginning March 7th and ending April 11th.

Easter Flowers
For your convenience, a "Flower" depository has been placed in the front of church next to the altar. While beautifying the church for the Easter Season through the generosity of your donation, you will also be remembering your loved ones. On Easter Sunday in the church vestibule, there will be a "donor" list displayed. If you wish to have your loved ones listed, kindly drop off your flower envelope by April 13th.
Home & Garden Party
St. Anne's Rosary Society will be hosting a "Home & Garden Party" on Tuesday, April 1st at 7 p.m. in the auditorium. Candles, floral arrangements, frames, dinnerware, etc. are just a few of the items available for purchase. Please join us...all are welcome. Coffee and cake will be served.
Top
page 3
Cake Sale/Flea Market
St. Anne's Rosary Society will be holding its annual Cake Sale/Flea Market on Saturday and Sunday, April 12 & 13th following all Masses. Please support their fundraiser by stopping by after Mass for a sweet treat, roll, or just a cup of coffee. Don't forget to browse their flea market tables for super bargains. Looking forward to seeing you there!





Marriage Encounter Weekend
Jesus went into the desert for forty days and nights to deepen his relationship with his Father and prepare himself for the task ahead. The Church has always viewed the season of Lent as a time of renewal for the most important relationship in our lives. Wouldn't Lent be the perfect time to renew and enrich your marital relationship?
You don't have to go to the desert (you can stay in a comfortable hotel room), and it won't be for forty days (only a Friday night to Sunday afternoon), but it could change your life.
You are invited to participate in a Marriage Encounter Weekend on April 4-6. Marriage Encounter: helping to make good marriages better. For more information and to register, please call Jim & Pat Detura at 1-800-823-5683 or 201-384-8497.

Archdiocesan Sesquicentennial Pilgrimage to Portugal
Archbishop John J. Myers invites you to join him on a pilgrimage to the Shrine of Our Lady of Fatima in Portugal to give thanks to God for 150 years of ministry in the Archdiocese of Newark, and to ask Our Lady to bring peace to our world. Mass will be celebrated daily in Fatima and in churches and monasteries in Portugal; the Rosary will be prayed each day. The cost of $1,675.00 (double occupancy) / $2,075.00 (single occupancy) includes round-trip airfare and departure taxes, 6 nights in first class hotels, full breakfast and dinner daily, all transportation and sightseeing by private motor-coach with the services of a professional tour manager, all entrance fees, taxes and service charges, hotel baggage handling, tips to professional tour manager, city guides and motor-coach drivers. For a detailed brochure, please contact Anne Breslin at 201-261-8484. Reservations are limited and should be made quickly.



RETROUVAILLE Ministry for Troubled Marriages
Is your marriage tearing you apart? RETROUVAILE is a program of the Catholic Church designed to provide practical help and support to married couples who are in struggling relationships. The program, offered by the Office of Family Life Ministries of the Archdiocese of Newark, is three-fold and begins with a weekend experience on May 16-18. For program and fee information and registration, please contact the Office of Family Life Ministries at 973-497-4327.

High School Night
Attention 5th, 6th, 7th Graders!! High School Night is just around the corner...it's a great opportunity to visit several High Schools in one location. What a great way to visit and interview potential schools!
April 8th St. Helen's Parish, Westfield
April 9th Queen of Peace E.S., North Arlington
April 10th Our Lady of Sorrows, South Orange
April 15th RCAN Archdiocese Center, Newark
April 29th Ascension Parish, Paramus
April 30th Our Lady of Mercy Parish, Jersey City
May 1st Aquinas Academy, Livingston
Talk to your parents and mark your calendars for High School Nights 2003!

Spring Auction
Saints John & Ann School proudly presents their Spring Auction on Sunday, March 23rd at 1:30 p.m.. They're located at 3044 Kennedy Blvd., Jersey City. Ticket price is $10. Please call 201-653-4416 for information
Top page 4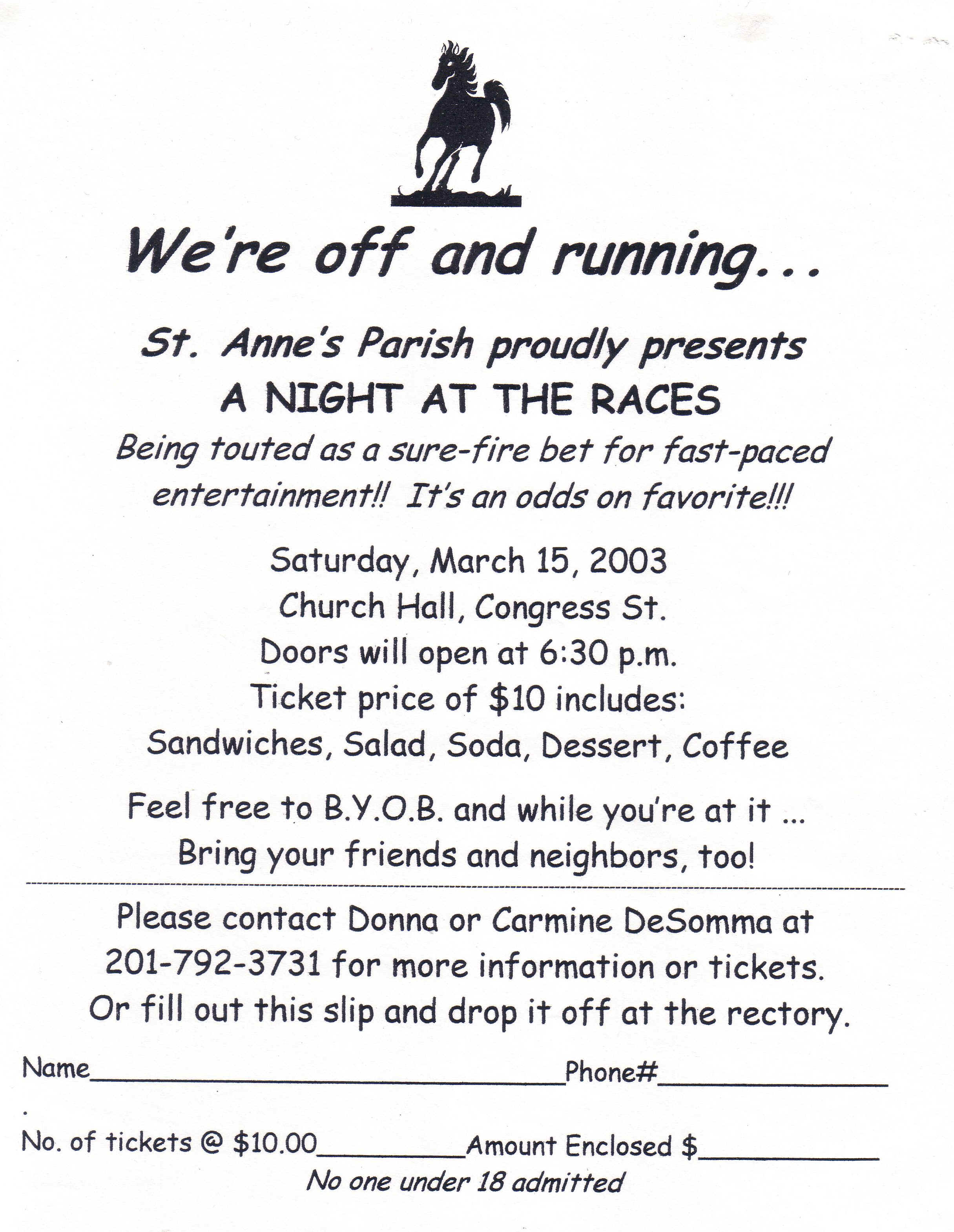 Top page 6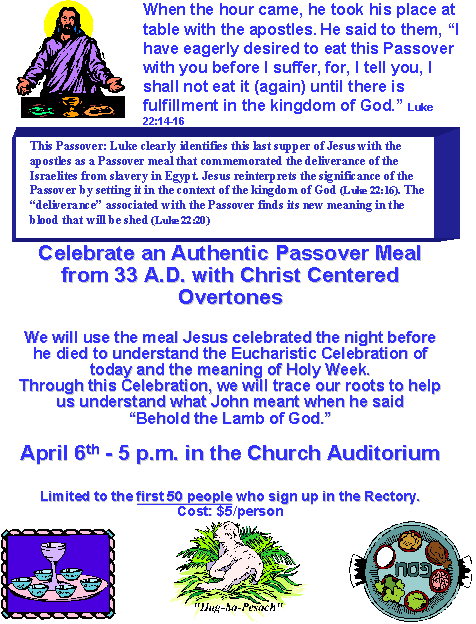 Top Page 7
MONDAY Dn 9:4b-10 Ps 79:8-9,11,13 Lk 6:36-38
TUES. Is 1:10,16-20 Ps 50:8-9,16bc-17,21,23 Mt 23:1-12
WED. 2Sm 7:4-5a,12-14a,16 Ps 89:2-5,27,29 Rom 4:13,16-18,22 Mt 1:16,18-21,24a
THURS. Jer 17:5-10 Ps 1:1-4,6 Lk 16:19-31
FRIDAY Gn 37:3-4,12-13a,17b-28a Ps 105:16-21 Mt 21:33-43,45-46
SATURDAY Mi 7:14-15,18-20 Ps 103:1-4,9-12 Lk 15:1-3,11-32
NEXT SUNDAY - 3RD SUNDAY OF LENT Ex 20:1-17 Ps 19:8-11 1Cor 1:22-25 Jn 2:13-25

Liturgy Meeting
There is a Liturgy Committee Meeting on Monday, March 17th at 7:30 p.m. in the rectory. (This is the real thing and is not an error!!)

St. Anne Seniors
A trip to Atlantic City has been planned for Wednesday, March 26, 2003. Cost is $11. Bus will leave from in front of St. Anne's Church at 9 a.m. We are going to the Sands Casino.

College of St. Elizabeth -Spirituality Convocation at the
All are invited to the Spirituality Convocation at the College of St. Elizabeth on April 5th. This is a great opportunity to hear excellent presentations, attend workshops, an participate in the Eucharist. This is a great way to spend a day for your spiritual enrichment during the Lenten Season. Please call (973) 290-4300/4364 for a brochure, or visit their website at www.csespirit.org.

Archdiocese of Newark ~ 2003 Lenten Regulations
1. The days of both Fast and Abstinence during Lent are Ash Wednesday and Good Friday. The other Fridays of Lent are days of Abstinence.

On a day of Fast, only one (1) full meal is permitted. Those between the ages of 18 and 59 are obliged to fast.

On a day of Abstinence, no meat may be eaten. Those who have reached the age of 14 are obliged by the law of abstinence.

2. The obligation to observe the laws of Fast and Abstinence "substantially", or as a whole, is a serious obligation.

3. The Fridays of the year, outside of Lent, are designated as days of penance, but each individual may substitute for the traditional abstinence from meat some other practice of voluntary self-denial as penance.

4. The time for fulfilling the Paschal Precept (Easter Duty*) extends from the First Sunday of Lent, March 9, 2003 to the Solemnity of the Holy Trinity, June 15, 2003.

*Canon 920, §1. All the faithful, after they have been initiated into the Most Holy Eucharist, are bound by the obligation of receiving Communion at least once a year.
Page 8 Top
Our Web Site
When you log on and browse around you'll see all kinds of information about our parish. Included, of course, will be the current activities for the many different organizations as well as an update as to what is going on with our parish family.
Do not let evil defeat you: Instead, conquer evil with good!!
By your wounded heart: teach us love, teach us love, teach us love..... -Daphne Fraser
CCD News
· Contact Sister Alberta in the CCD Office at 201-659-1794 or at the Convent 201-963-0998 if you're interested in the Villa Roma trip June 22nd-27th, 5 nights/6 days. Price includes: hotel accommodations, meals, activities, night entertainment, tips, tax and transportation - Adults: $540 + $40 transportation; Children up to 3 yrs. are free; 4 to 10 $150 + $40 transportation; 11 to 17 $175 + $40 transportation
· Confirmation classes in session on Thursday evenings from 6:30-8 p.m.
· March 16th - First Communion meeting from 10-11:15 a.m. in Chapel Hall. Please be on time!
· March 23rd - First Penance Conference was changed from March 9th. Parents and First Communion children are to attend. All parishioners are invited to attend. Also on this day, there is a practice for Last Supper Presentation from 11 a.m. to 12:30 p.m. in Chapel Hall.
March 30th - All Confirmation candidates, sponsors and parents are to attend "Lenten Reflection" which is their mini-retreat for grade 7. All must be present. All parishioners are invited to attend.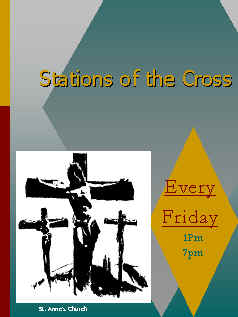 Page 9 Top
THE PARISH FAMILY OF ST. ANNE
From Generation To Generation, We Share Our Faith
1904-2004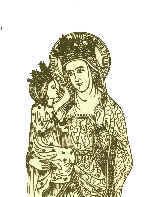 Saint Anne's 100th Anniversary News Update
At Saint Anne's, our central pledge is to create a space so sacred that God's deep passionate love can be experienced and shared.
Thanks to our ancestors, the parish they created 100 years ago affords us the opportunity to pray, to play and to learn in an inspiring and spacious environment. As announced at all the Masses the weekend of January 25th and 26th, some of this space is in need of repair. As a Centennial Gift to Saint Anne and to prepare for the 100th Anniversary Celebrations, it has been proposed by the Centennial Committee that we, as parishioners, refurbish the auditorium (floor, stage, rest- rooms, painting, etc.).
Letters have been mailed to all parishioners with further details regarding this proposal.
Our deepest gratitude to everyone for helping to make this occasion successful.
"Let us pray together that the Faith we share will continue to grow."