© copyright stannes4/2000
Page 1
April 6th, 2003
5th Sunday of Lent


Schedule of Masses Week of April 7th-13th, 2003

Day

Time

Requested for

Requested by

Mon 4/7

7 A.M.

Jim Sturdy

Rich Mazzola

9A.M.

St. Joseph Morning Prayer Group

Frances & Bruno Spazian

Tues 4/8

7 A.M.

Liv. Frances Muzikar

Halina Sarnovsky

9 A.M.

Lyda & Doris

Ruth Cullen

Wed 4/9

7A.M.

Lucille Cherry

Family

9A.M.

Charles Fabre

Albert Koska

7 P.M.

Carmel Beuazya

St. Anne's Rosary Society

Thurs 4/10

7A.M.

Mary Stefano

Michael

9A.M.

Conception Samson

Samson Family

Fri. 4/11

7A.M.

John Mondanaro

Florence

9A.M.

Albert Muzikar

Wife Frances

Sat. 4/12

9 A.M.

Liv Gilda & Mark Spazian

Frances and Bruno

6 P.M.

Dec members of Glennon Family

Henry

2 P.M.

For the Sick of the Parish

2 P.M.

Rosemary Maffei

Husband

2 P.M.

Alice Kilmer

Mr. & Mrs. Anthony Manzo

7:30PM

Margaret Brizzolara

Catherine & Al Dentale

Sun. 4/13

7:30AM

Socorro Kennedy
Class of 2003
9 AM
Margaret & Frank Mussara
Loving Family

10:30AM

Mary Cecere
Lou & Jane

12 PM

Monica V. Keenan
Keenan Family
1:30PM
For the People of the Parish
Sanctuary Gifts April 5th- April 12th, 2003

Gift

In Memory Of

Requested By

Altar Wine

For the People of the Parish

Altar Bread

For the People of the Parish

Sanctuary Lamp

For the People of the Parish

Altar Candles

For the People of the Parish
Let Us Pray For Those Seriously Ill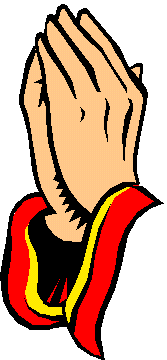 Frances Muzikar, Joan Wheeler, Richard Carlson, Agnes Lawrence, Angela Krajnik, John Brawer, James McGrath
Vocation reflections

Jesus says, whoever loves his life will lose it, whoever serves me, must follow me. Are you willing to lose your life to Jesus? Are you willing to serve him by following him as a priest or religious sister or brother?
If you feel this call, "inquire within" and Please contact the Vocations Office the Vocations Office at (973) 497-4365 or by E-mail at kellyric@rcan.org. Or visit our web site at www.rcan.org.

Page 2 Top
STEWARDSHIP



STEWARDSHIP SCRIPTURE REFLECTION
The grain of wheat must die to produce fruit. Such dying must be cultivated by obedience and by our covenant with God, rooted in love and

forgiveness.

Our Weekly Offering

March 2003

March 29/30 $ 5,657.

Month's Total $ 27,729.

Month's Average $ 5,545.

Mailed in, thank you $ 324.

MONTHLY AVERAGE COMPARISONS:
Month '02 Monthly Avg. '03 Monthly Avg.
March $6,320. $5,545.
April $5,496.




HOLY HOUR FOR PRIESTS


Every Tuesday the Blessed Sacrament is exposed in the church from 3 to 4 p.m. It is an hour of prayer for the priests, DIVINE MERCY and religious men and women of the church. Prayers are also said for an increase of vocations to the priesthood and religious life.
We invite you to come and spend time with the Lord for these intentions and for your personal requests. The Holy Hour closes with Benediction of the Blessed Sacrament. If you cannot join us in church, we ask you to join us from a quiet spot in your home and pray with us, asking the Lord to guide and protect our priests.




Stations of the Cross
During the Lenten Season, there will be Stations of the Cross in Church on Fridays at 1 p.m. and 7 p.m. , ending April 11th.

Easter Confession Schedule
Sat., April 12th 1-2 p.m. & 4:30-5:30 p.m.
Mon., April 14th 4-4:30 p.m. & 7-7:30 p.m.
Tues., April 15th 4-4:30 p.m.
Wed., April 16th 4-4:30 p.m. & 7-7:30 p.m.
NO CONFESSIONS ARE SCHEDULED DURING THE TRIDUUM.
Blessing of the Food
On Holy Saturday following the 9a.m. Morning Prayer, there will be a Food Blessing for those who wish to have food for their Easter table blessed.
Easter Mass & Prayer Service Schedule
Holy Thursday - 9 a.m. Morning Prayer & 7:30 p.m. Mass of Last Supper
Good Friday - 9 a.m. Morning Prayer & 3 p.m. Prayer Service
Holy Saturday/Easter Vigil - 9 a.m Morning Prayer & 7:30 p.m. Mass
Easter Sunday - 7:30 a.m.,9 a.m.,10:30 a.m., 12 noon
Top
page 3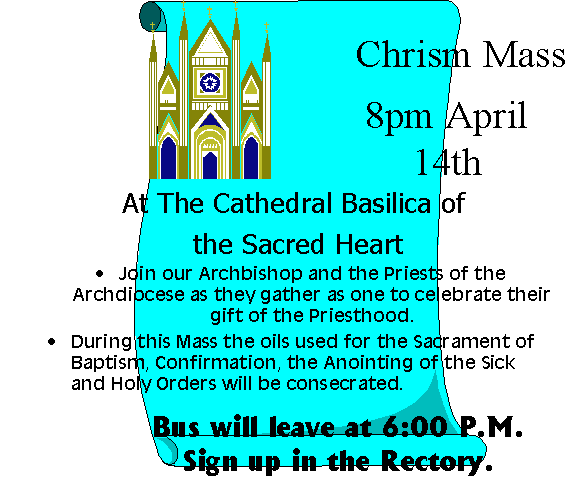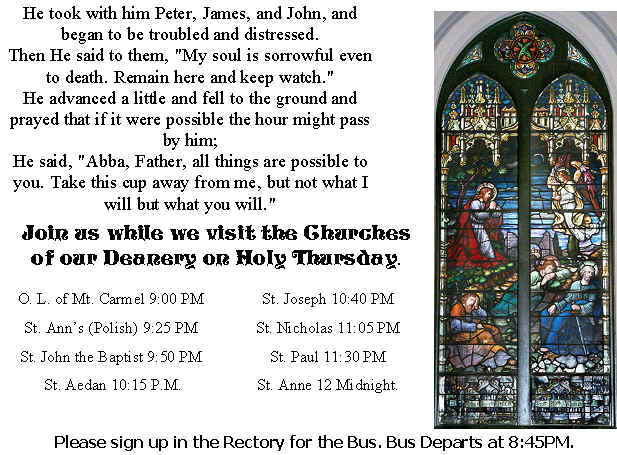 Top page 4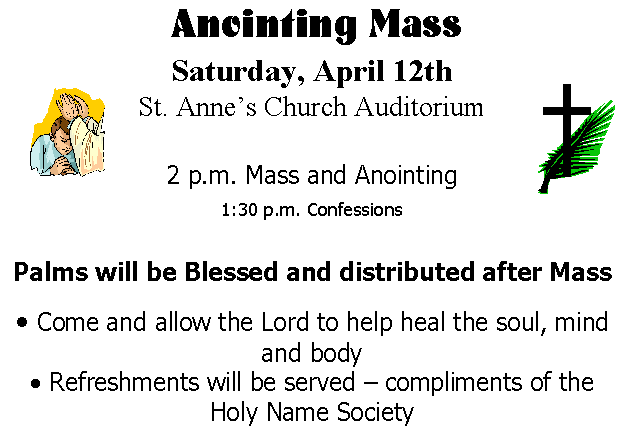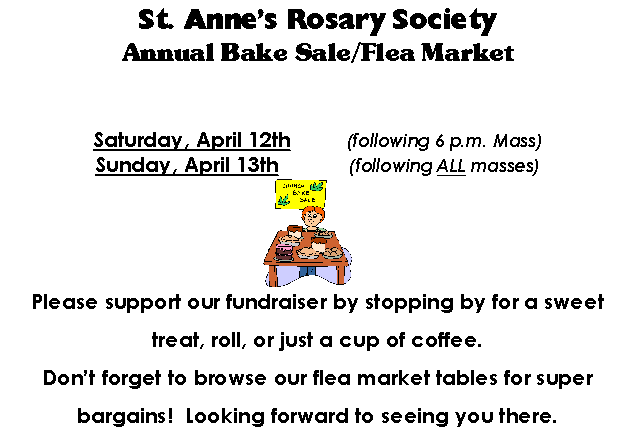 Easter Story Cookies
Ingredients:

Directions:

Preheat oven to 300 degrees.

Place pecans in Ziploc bag and let kids beat them with the wooden spoon to break into small pieces. Explain that after Jesus was arrested, He was beaten by the Roman soldiers. Read: John 19:1-3. Then Pilate took Jesus and had him flogged. The soldiers twisted together a crown of thorns and put it on his head. They clothed him in a purple robe and went up to him again and again, saying, "Hail, king of the Jews!" And they struck him in the face.

Let each child smell the vinegar. Add teaspoon of vinegar into the mixing bowl. Explain that when Jesus was thirsty on the cross He was given vinegar to drink. Read John 19:28-30...Later, knowing that all was now completed, and so that the Scripture would be fulfilled, Jesus said, "I am thirsty." A jar of wine vinegar was there, so they soaked a sponge in it, put the sponge on a stalk of the hyssop plant, and lifted it to Jesus' lips. When he had received the drink, Jesus said," It is finished." With that, he bowed his head and gave up his spirit.

Add egg whites to vinegar. Eggs represent life. Explain that Jesus gave His life to give us life. Read John 10:10-11. The thief comes only to steal and kill and destroy; I have come that they may have life, and have it to the full. "I am the good shepherd. The good shepherd lays down his life for the sheep."

Sprinkle a little salt into each child's hand. Let them taste it and brush the rest into the bowl. Explain that this represents the salty tears shed by Jesus' followers, and the bitterness of our own sins. Read Luke 23:27 A large number of people followed Him, including women who mourned and wailed for Him.

So far the ingredients are not very appetizing. Add 1 cup of sugar. Explain that the sweetest part of the story is that Jesus died because He loves us. He wants us to know and belong to Him. Read Psalm 34:8--Taste and see that the Lord is good; blessed is the man who takes refuge in Him and John 3:16--"For God so loved the world that He gave His only begotten son, that whoever believeth in Him shall not perish but have everlasting life."

Beat with a mixer on high speed for 12-15 minutes until stiff peaks are formed. Explain that the color white represents the purity in God's eyes of those whose sins have been cleansed by Jesus. Read Isaiah 1:18--"Come now, let us reason together," says the Lord. "Though your sins are like scarlet, they shall be as white as snow; though they are red as crimson, they shall be like wool." And John 3:1-3 Now there was a man of the Pharisees named Nicodemus, a member of the Jewish ruling council. He came to Jesus at night and said, "Rabbi, we know you are a teacher who has come from God, for no one could perform the miraculous signs you are doing if God were not with him." In reply Jesus declared, "I tell you the truth, no one can see the kingdom of God unless he is born again."

Fold in broken nuts.
Line cookie sheet with waxed paper. Drop mixture by spoonfuls onto waxed paper.
Explain that each mound represents the rocky tomb where Jesus' body was laid. Read Matthew 27:57-60 As evening approached, there came a rich man from Arimathea, named Joseph, who had himself become a disciple of Jesus. Going to Pilate, he asked for Jesus' body, and Pilate ordered that it be given to him. Joseph took the body, wrapped it in clean linen cloth, and placed it in his own new tomb that he had cut out of rock. He rolled a big stone in front of the entrance to the tomb and went away.

Place the cookie sheet in the oven, close the door and turn the oven OFF. Give each child a piece of tape and seal the oven door. Explain that Jesus' tomb was sealed. Read Matthew 27:65-66 "Take a guard," Pilate answered. "Go, make the tomb as secure as you know how." So they went and made the tomb secure by putting a seal on the stone and posting a guard.
GO TO BED. Explain that they may feel sad to leave the cookies in the oven overnight. Jesus' followers were in despair when the tomb was sealed. Read John 16:20 "I tell you the truth, you will weep and mourn while the world rejoices. You will grieve, buy your grief will turn to joy." And John 16:22 "So with you~ Now is your time of grief, but I will see you again and you will rejoice, and no one will take away your joy."

On Easter morning, open the oven and remove the cookies. Take a bite. Notice the cookies are hollow!

On the first Easter Jesus' followers were amazed to find the tomb open and empty.

Read Matthew 28:1-9 After the Sabbath, at dawn on the first day of the week, Mary Magdalene and the other Mary went to look at the tomb. There was a violent earthquake, for an angel of the Lord came down from heaven and, going to the tomb, rolled back the stone and sat on it. His appearance was like lightning, and his clothes were white as snow. The guards were so afraid of him that they shook and became like dead men. The angel said to the women, "Do not be afraid, for I know that you are looking for Jesus, who was crucified. He is not here; He has risen, just as He said. Come and see the place where He lay. Then go quickly and tell His disciples: "He has risen from the dead and is going ahead of you into Galilee. There you will see Him. Now I have told you." So the women hurried away from the tomb, afraid yet filled with joy, and ran to tell His disciples. Suddenly Jesus
Top Page 7
MONDAY Dn 13:1-9,15-17,19-30,33-62 Ps 23:1-6 Jn 8:1-11
TUES. Nm 21:4-9 Ps 102:2-3,16-21 Jn 8:21-30
WED. Dn 3:14-20,91-92,95 Ps Dn 3:52-56 Jn 8:31-42
THURS. Gn 17:3-9 Ps 105:4-9 Jn 8:51-59
FRIDAY Jer 20:10-13 Ps 18:2-7 Jn 10:31-42
SATURDAY Ez 37:21-28 Ps Jer 31:10-13 Jn 11:45-56
NEXT SUNDAY - PALM SUNDAY Mk 11:1-10 Ps 22:8-9,17-18a,19-20,23-24 Phil 2:6-11 Mk 14:1-15:47

Good Friday Collection for the Holy Places
Your help is needed now, as in the days of St. Francis, to protect the Holy Places of the Holy Land. Even more important, we need your help to protect the Holy Name of Our Lord in this troubled land which He chose for His birth, sacrificial death and victorious resurrection.
Your gift will give life to some and hope to others, lighting candles of faith in darkened shrines and lives. Even becoming the very bread and wine of our daily Eucharist.
The Holy Land Collection will be made on Good Friday, April 18th.





Easter Flowers
For your convenience, a "Flower" depository has been placed in the front of church next to the altar. While beautifying the church for the Easter Season through the generosity of your donation, you will also be remembering your loved ones. On Easter Sunday in the church vestibule, there will be a "donor" list displayed. If you wish to have your loved ones listed, kindly drop off your flower envelope by April 13th.
Deanery Lenten Penance Service
Our Deanery will be having a Penance Service during Holy Week on Tuesday, April 15th at 7 p.m. at St. John the Baptist Church. There will be individual confessions in various languages. Transportation is up to the individual. Our host's address is: 3026 Kennedy Boulevard.



CCD News
· Today will be last practice for Last Supper Presentation 11-12:30.
· April 9th - Last Supper Presentation for parents/relatives in Chapel Hall at 7:30 p.m. Apostles are to be here by 6:45 p.m., other children by 7 p.m.
· April 13th - Eucharist Concert at 3 p.m. in church. Children and parents are to attend.
· April 13th - Living Meditation will be performed by the Mystery Players at 8 p.m. in church. All Confirmation Candidates are to attend.
· April 14th - All Confirmation students are to attend Chrism Mass in Newark. You need to sign up at the rectory for the bus.
· Registration for 2003-04 year for Religious Education Program will take place on April 7th & 8th at St. Anne's Convent, 246 Congress Street from 6:30-8 p.m. Please bring copy of Baptismal Certificate.
· April 21,23,24 - Practice in church 3-4:30 p.m. for all children receiving Communion on April 26th/27th.
· April 28,30 May 1 - Practice in church 3-4:30 p.m. for all children receiving Communion on May 3rd/4th.
Page 8 Top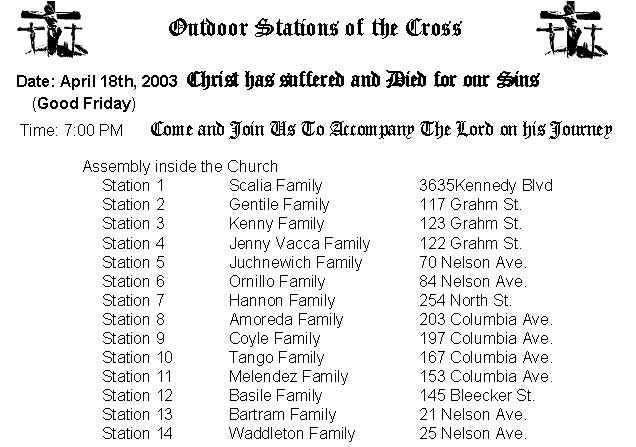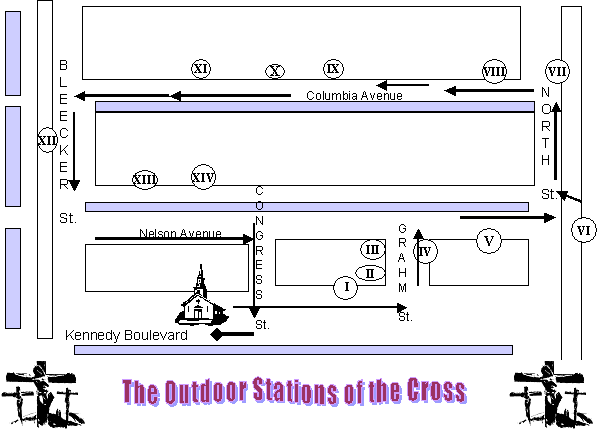 Page 9 Top
Our Web Site
When you log on and browse around you'll see all kinds of information about our parish. Included, of course, will be the current activities for the many different organizations as well as an update as to what is going on with our parish family.
Do not let evil defeat you: Instead, conquer evil with good!!
By your wounded heart: teach us love, teach us love, teach us love..... -Daphne Fraser
Saint Anne's 100th Anniversary News Update
"We are a collection of all our years, our stories, our glories, our troubles and tears. Tales of a Century live in our eyes...We are a hundred years wise."
So many extraordinary things have happened here at St. Anne's over the past century...so many Sacraments received...so many celebrations...so many blessings bestowed on our parishioners - past and present.
DO YOU HAVE A MEMORY TO SHARE? One parishioner who graduated in the 50's from St. Anne's School wrote Father Vic a great letter recalling memories from that era.
DO YOU HAVE A PHOTO TO SHARE? Two of our parishioners (sisters who graduated from St. Anne's in the 30's) spent an afternoon looking through old albums, searching for special photos. They sent two wonderful pictures...one sent her First Communion picture, one sent her Graduation picture.
All of this memorabilia will be displayed during the Centennial Year (2004) on the special St. Anne's Wall, or possibly be included in the History of our Parish, which is currently being written. Remember that we are looking for recent pictures, as well as those from years ago. Pictures can be left at the rectory. Please remember to address them to the Centennial Committee and if you wish originals to be returned to you, indicate that as well.
How is the Centennial Fund doing? Check the bulletin board in the church vestibule.
"Let us pray that the Faith we share will continue to grow."
Annual Easter Egg Hunt
On April 20th, immediately following the 9 a.m. Mass, there will be an Easter Egg Hunt on the St. Anne's Church grounds. Refreshments will follow in the auditorium. This event is being sponsored by St. Anne's HSA, St. Anne's Charismatic Prayer Group & St. Anne's Fil-Am Association. For information, please call Carmela Lombardi (201-792-2562), Be Jansen (201-653-8964) or Celia Morales (201-963-5030).