Top To view the Pope's latest encyclical please go to Parish News
© copyright stannes4/2000
Page 1
April 20th, 2003
Easter Sunday


There will be NO 7PM MASS WEDNESDAY during Holy Week
Schedule of Masses Week of April 21st- 27th, 2003

Day

Time

Requested for

Requested by

Mon 4/21

7 A.M.

Helen Mary

Bacigalupo Family

9A.M.

Vicenza Infante

Maria Russo

Tues 4/22

7 A.M.

John Lanigan

Donna & Carmine DeSomma

9 A.M.

Jim Sturdy

Beverly Nash

Wed 4/23

7A.M.

Josephine Joworowski

Joworowski Family

9A.M.

Jim Sturdy

Lori Nash

Thurs 4/24

7A.M.

Liv France Muzikar

7 am Mass Friends

9A.M.

Liv Angie Maccini

Frances M.

Fri. 4/25

7AM

Frank Rizzo

Mr. & Mrs. Steve Petrillo

9A.M.

Anne Burke

Burke Family

Sat. 4/26

9 A.M.

Rosemary Maffei

Husband

6P.M.

Theresa Buckley

Dot & Don Wetzel

7:30 P.M.

For the People of the Parish

Sun. 4/27

7:30AM

James Mocarski
Family
9 AM
Gertrude Fischer
James Fischer

10:30AM

Liv Angela Maccini
Theresa Lattanzi

12 PM

Socorro Kennedy
Mr. & Mrs. San Diego
Sanctuary Gifts April 20th- April 26th, 2003

Gift

In Memory Of

Requested By

Altar Wine

Marie Starz

Dot & Don Wetzel

Altar Bread

Dorothy Ensmenger

Dot & Don Wetzel

Sanctuary Lamp

Special Intentions

Altar Candles

Special Intentions
Let Us Pray For Those Seriously Ill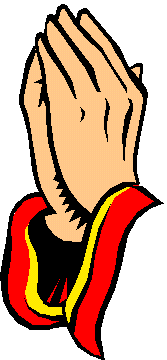 Frances Muzikar, Louis Simone, James McGrath, Joan Wheeler, Richard Carlson, Angela Krajnik, John Brawer, Joseph Galasso, Anna Zuppa.
Vocation reflections

At first the disciples did not understand the scriptures. Then they went to the tomb, saw that it was empty, and they believed. With belief came great joy and the desire to share the news with others. Does the resurrection fill you with great joy? Do you desire to share the good news with the world? If so, consider doing this as a priest or religious brother or sister.
If you feel this call, "inquire within" and Please contact the Vocations Office the Vocations Office at (973) 497-4365 or by E-mail at kellyric@rcan.org. Or visit our web site at www.rcan.org.

Page 2 Top

SCRIPTURE REFLECTION
On this day of days we offer a joyful sacrifice of praise to the Father who raised his Son from the dead. Let us be intent upon the life Christ offers us, Christ our Passover who has been sacrificed.
Our Weekly Offering
April 2003
April 12/13 $ 6.318.
Month's Total $ 11,327.
Month's Average $ 5,663.
Mailed in, thank you $ 140.

MONTHLY AVERAGE COMPARISONS:
Month '02 Monthly Avg. '03 Monthly Avg.
March $6,230. $5,545.
April $5,496.




HOLY HOUR FOR PRIESTS


Every Tuesday the Blessed Sacrament is exposed in the church from 3 to 4 p.m. It is an hour of prayer for the priests, DIVINE MERCY and religious men and women of the church. Prayers are also said for an increase of vocations to the priesthood and religious life.
We invite you to come and spend time with the Lord for these intentions and for your personal requests. The Holy Hour closes with Benediction of the Blessed Sacrament. If you cannot join us in church, we ask you to join us from a quiet spot in your home and pray with us, asking the Lord to guide and protect our priests.




Easter Flower
Donations
Thank you for your Easter Flower donations. While beautifying the church for the Easter Season through the generosity of your donation, you will also be remembering your loved ones. On Easter Sunday in the church vestibule, there will be a "donor" list displayed.
Parish Registration
We invite you to join us in the daily celebration of the Eucharist and become an active member of St. Anne's Parish. There are many Organizations and Groups that would love new faces and fresh ideas. We are a very active parish.
Please take a few minutes to pick up a Registration Form from the church vestibule or stop by the rectory and fill out a Registration Form to become a parishioner.
If you wish to receive envelopes, please check "yes" in the appropriate area on the Registration Form and they will be mailed to you.
Second Collection
Next weekend will be the Catholic Home Missions Appeal. This appeal strengthens the Church at home by supporting Catholic communities in need. It enables Catholic parishes in poor and remote communities to provide Mass, the sacraments, and religious education for their people. This appeal gives us a chance to respond to the Father's call to love our neighbor. Please give generously.
Top
page 3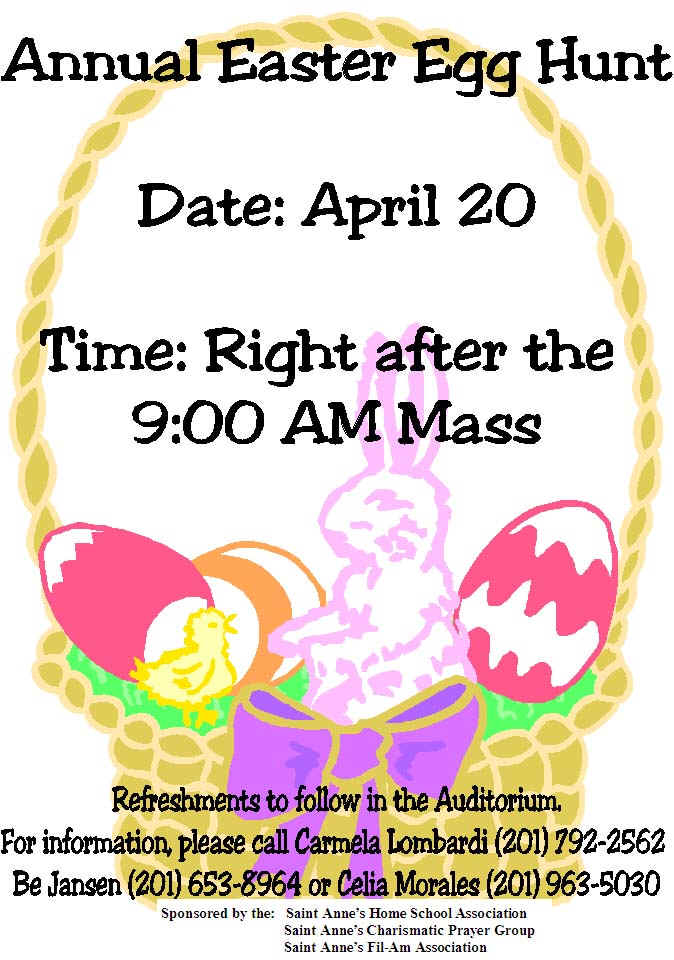 Top page 4
Our Web Site
When you log on and browse around you'll see all kinds of information about our parish. Included, of course, will be the current activities for the many different organizations as well as an update as to what is going on with our parish family.
Do not let evil defeat you: Instead, conquer evil with good!!
By your wounded heart: teach us love, teach us love, teach us love..... -Daphne Fraser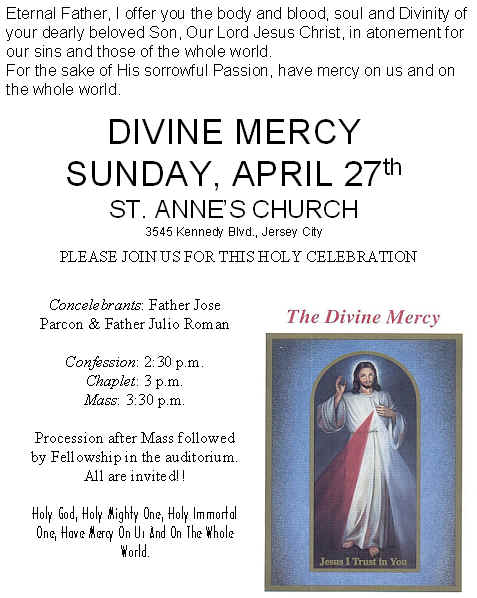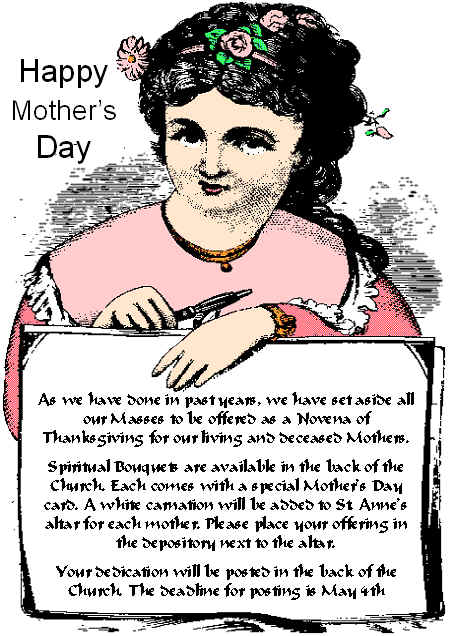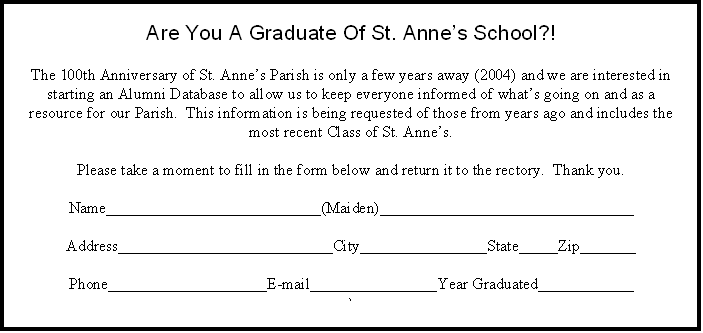 Top page 6
MONDAY Acts 2:14,22-33 Ps 16:1-2a,5,7-11 Mt 28:8-15
TUES. Acts 2:36-41 Ps 33:4-5,18-20,22 Jn 20:11-18
WED. Acts 3:1-10 Ps 105:1-4,6-9 Lk 24:13-35
THURS. Acts 3:11-26 Ps 8:2a,5-9 Lk 24:35-48
FRIDAY Acts 4:1-12 Ps 118:1-2,4,22-27a Jn 21:1-14
SATURDAY Acts 4:13-21 Ps 118:1,14-15,16ab-21 Mk 16:9-15
NEXT SUNDAY - 2nd SUNDAY OF EASTER Acts 4:32-35 Ps 118:2-4,13-15,22-24 1Jn 5:1-6 Jn 20:19-31

CCD News
· No classes today and next Sunday, April 20th & 27th.
· April 21,22,23 - Practice in church 12-1:30 p.m. for all children receiving Communion on April 26th/27th.
· April 28,30, May 1 - Practice in church 3-4:30 p.m. for all children receiving Communion on May 3rd/4th.
· No class for Confirmation candidates this week. They will return on May 5th. May 7th will be their last class. Please make sure all service work and Saint's projects are brought in.



Shrine of Divine Mercy Pilgrimage
We invite you to join us in our Annual Mercy Sunday Pilgrimage to the Shrine of Divine Mercy, Stockbridge, MA on April 27, 2003. Bus leaves at 7 a.m. in front of St. Anne's Church and will depart from MA around 4:30 p.m. Bus fare is $18. Payment reserves seating. Seats are limited. You may bring own lunch, dress for comfort. For more information, please call Tina (201-653-4785) or Lou (201-656-6567). Father Julio Roman is Pilgrimage Spiritual Director.



Thank You

,

from Sister Celeste
I'd like to thank all who attended the Anointing Mass. I'm sure you were touched by the Liturgy and the Rite of the Anointing. I encourage anyone who cannot get to church on Sundays to contact me at 201-222-0497 and arrangements can be made for Holy Communion to be brought to you at home. There are many dedicated Eucharistic Ministers who would be honored to bring you the Sacrament. I wish to thank the Holy Name men who set up and served the delicious goodies after the Mass. They did a great service by transporting people who needed a ride to the Mass. Lastly, I'd like to thank John and Maria for their hard work in setting up the auditorium for the Anointing Mass. God bless all!



EMS Mass
The Archdiocese of Newark will celebrate its Inaugural Mass for Emergency Medical Services personnel and their families at the Cathedral Basilica of the Sacred Heart in Newark on Sunday, April 27th at 12 noon.
Rev. Msgr. Richard J. Arnhols, Vicar for Pastoral Life, will be the Principal Celebrant of the Liturgy, with Rev. Ernest Rush, Parochial Vicar of St. Philomena's Church, Livingston, as homilist.
All EMS/EMT personnel in uniform will receive a special commemorative pin. The public is invited to join in this Mass, celebrating the heroic dedication of all Emergency Services Personnel. Presentation of Colors will begin at 11:45 a.m. For more information, go to www.rcan.org/ems or email at emsmass@yahoo.com .



Divine Mercy Devotions
The Cathedral Basilica of the Sacred Heart in Newark will celebrate Divine Mercy Sunday, April 27th at 3:30 p.m. Devotion will begin with Exposition of the Blessed Sacrament and conclude with evening Prayer from the Liturgy of the Hours at 4:30 p.m. Most Rev. Arthur J. Serratelli will preside.
Top Page 7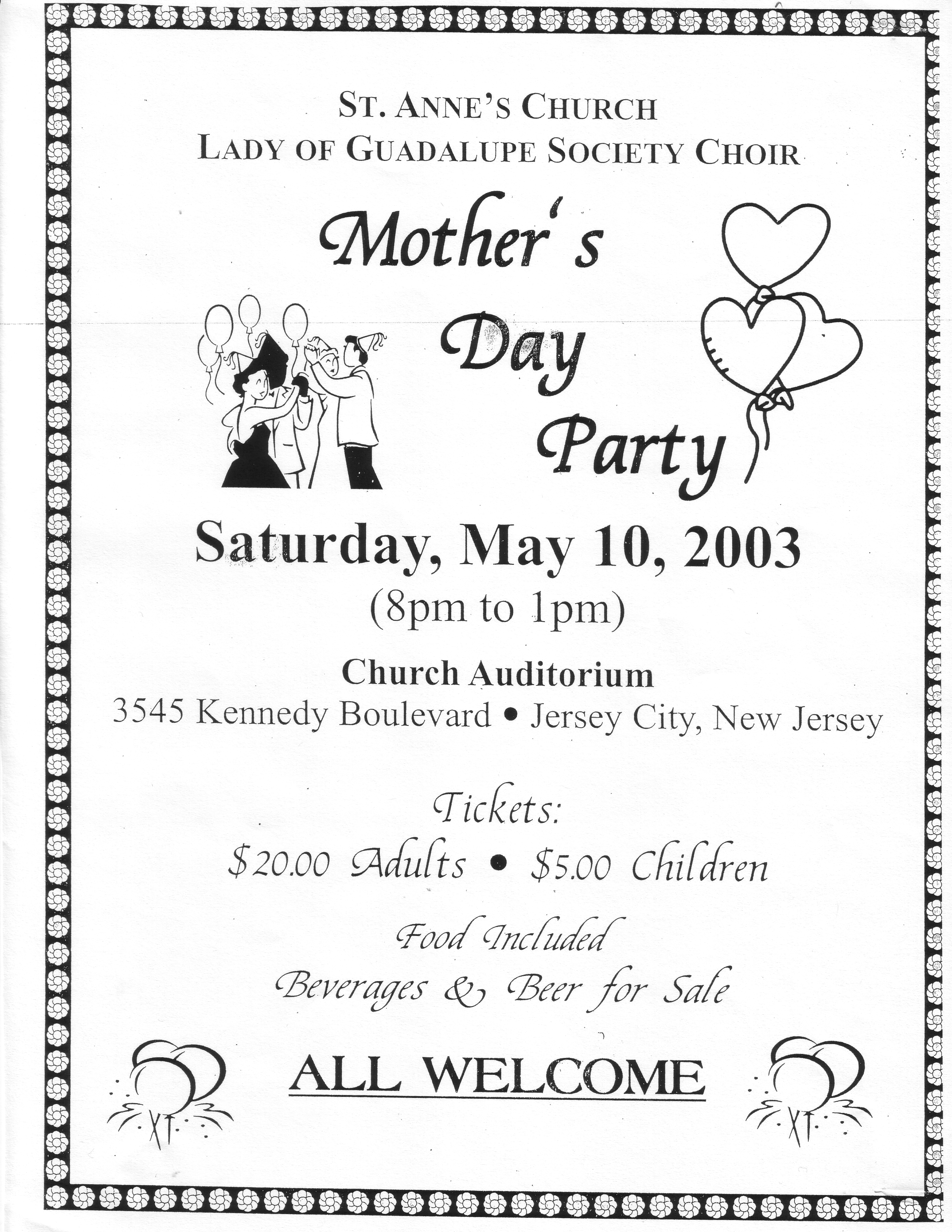 Page 8 Top
Dear Parishioners, Alumni, and Friends,
Happy Easter!
As you may already know, our Parish will be celebrating its 100th Anniversary in the year 2004. Plans are currently under way for an Anniversary Mass followed by a reception in the auditorium on January 11, 2004 - save the date! Other events will include: Parish Mission, a Traditional Latin Mass, Youth Days, Fashion Show, Parish May Crowning, Dinner/Dance, etc.
We need your help, however, as we prepare for these festivities. Do you have any type of Memorabilia (Wedding pictures, Confirmation pictures, Journals, etc.) that you could share? These will be displayed or, perhaps, be included in the "History of St. Anne's" which is currently being written. Please leave all items at the rectory marked Centennial Committee. If you wish originals to be returned to you, please indicate that as well.
We have asked Father Vic to begin renovating the auditorium to prepare our church "home" for these Centennial events (new floor, bathroom facilities, walls, stage area). To help the parish meet the necessary costs, a separate Centennial Fund has been established. The Centennial Fundraiser began March 5th and will end June 12th with the ultimate goal of raising $100,000. If each parish member/friend/alumnus/alumna could donate $100 or more, this goal is achievable and your name will be placed on a Centennial Wall Plaque commemorating the event. LETTERS WITH FURTHER DETAILS CAN BE FOUND IN THE CHURCH VESTIBULE.
We are sure you will agree this donation will be well worth the joy our Parish Family will continue to share over the next 100 years.
Saint Anne, pray with us as we continue our journey.
Sincerely,
Your Fellow Parishioners on the
St. Anne's Centennial Committee
Page 9 Top

Come join us