© copyright stannes4/2000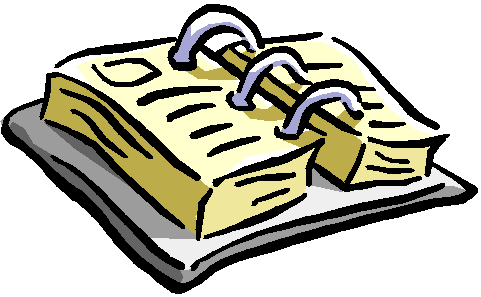 To use the Catholic calendar and follow the readings of the day please click the link below:
http://www.usccb.org/nab/index.htm
Page 1
July 20th, 2003
16th Sunday in Ordinary Time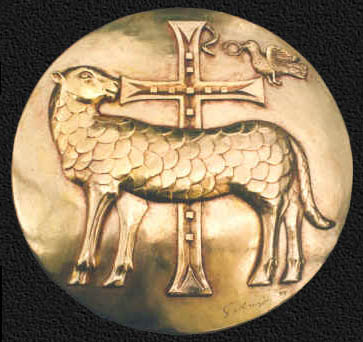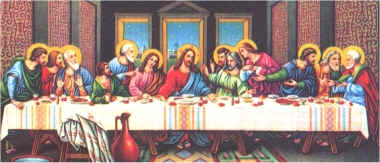 Schedule of Masses Week of July 21st - 27th, 2003

Day

Time

Requested for

Requested by

Mon 7/21

7 A.M.

Adeline Pesce

Louise Bronder

9A.M.

Lester Infante

Frank & Gemma

Tues 7/22

7 A.M.

Sondra Boulware

Donna Maroney

9 A.M.

Mary Zinzius

Family

Wed 7/23

7A.M.

Ernest Meyer

Albert Koska

9A.M.

Natale Stefano

Michael Stefano

7 P.M.

Lillian Amabile

children

Thurs 7/24

7AM.

Filomina Perrucci

Lombardi Family

9A.M.

Mary & Thomas Doyle

Children

Fri. 7/25

7 AM

James Mocarski

Family

9A.M.

Marie Starz

Frances & Angela

Sat. 7/26

9 A.M.

Anna Vispo Fiore

Toni Belfiore

6P.M.

St. Anne

Gemma

Sun. 7/27

7:30AM

James Mocarski

Family

9 AM

John Delgado

Wife Aniceta

10:30AM

For the People of the Parish

12 PM

Monica V. Keenan

Keenan Family
Sanctuary Gifts July 20th - July 26th , 2003

Gift

In Memory Of

Requested By

Altar Wine

Joseph Rinyak

Rita Rinyak

Altar Bread

Raymond J. Caroselli 3rd

Hogan Family

Sanctuary Lamp

Julia Boldt

Colleen & Robert Eick

Altar Candles

Charlotte Eick

Colleen & Robert Eick
Let Us Pray For Those Seriously Ill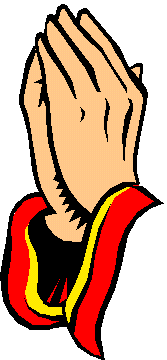 People will remain on the sick list for 2 weeks unless otherwise notified:
Anthony Tuzzo, Frances Muzikar, Joan Wheeler, John Brawer, Bernadette Berger and Richard Carlson.
Vocation reflections

In today's gospel Jesus sees a vast crowd. "He pitied them, for they were like sheep without a shepherd; and began to teach them at great length." Is your heart moved with compassion and mercy for God's people? Do you want to make a difference? How about becoming a priest, deacon, religious sister or brother?
If so, please contact the Vocations Office at 973-497-4365 or by e-mail at platebri@rcan.org or visit our website at www.rcan.org.

Page 2 Top

SCRIPTURE REFLECTION


"Give, and it shall be given to you. Good measure pressed down, shaken together, running over, will they pour into the fold of your garment. For the measure you measure with will be measured back to you." (Luke 6:38)
Our Weekly Offering
June 2003
Ju

ly

12/13

$

4

,485.

Month's Total
$

9,323.

Month's Average
$

4,662.

Mailed in, thank you
$

476

.

| | | |
| --- | --- | --- |
| MONTHLY AVERAGE COMPARISONS: | | |
| Month | '02 Monthly Avg. | '03 Monthly Avg. |
| June | $5,368. | $4,692.90 |
| July | $4,900. | |




HOLY HOUR FOR PRIESTS


Our Holy Hour will be suspended during the summer months of July and August.
However, we invite you to spend this scheduled time with the Lord in a quiet spot at home for these intentions and for your personal requests. It is an hour of prayer for the priests, DIVINE MERCY and religious men and women of the church. Prayers are also said for an increase of vocations to the priesthood and religious life. Pray for our priests and for all religious - help guide them through your prayers.




NO BINGO
There will be NO BINGO
on Friday, July 25th,
due to the set up of Saint Anne's Festival.
The Gift Shop
St. Anne's Gift Shop is located in the Rectory. Hours of operation are Monday thru Thursday 9 a.m. - 4 p.m.

For the months of July and August, the Gift Shop will be closed on Sundays.

However, articles will be available during the Feast at the

Gift Shop Booth!

Top
page 3


Our Web Site

When you log on and browse around you'll see all kinds of information about our parish. Included, of course, will be the current activities for the many different organizations as well as an update as to what is going on with our parish family.
Do not let evil defeat you: Instead, conquer evil with good!!
By your wounded heart: teach us love, teach us love, teach us love..... -Daphne Fraser

MONDAY Ex 14:5-18 Ps Ex 15:1-5 Mt 12:38-42

TUES. Ex 14:21-15:1 Ps Ex 15:8-10,12,17 Jn 20:1-2,11-18

WED. Ex 16:1-5,9-15 Ps 78:18-19,23-28 Mt 13:1-9

THURS. Ex 19:1-2,9-11,16-20b Ps Dn 3:52-56 Mt 13:10-17

FRIDAY 2Cor 4:7-15 Ps 126:1-6 Mt 20:20-28

SATURDAY Ex 24:3-8 Ps 50:1-2,5-6,14-15 Mt 13:24-30

NEXT SUNDAY -

17TH SUNDAY IN ORDINARY TIME

2Kgs 4:42-44 Ps 145:10-11,15-16,17-18 Eph 4:1-6 Jn 6:1-15

Saint Anne Novena
The Novena to Saint Anne, Our Patroness, starts July 18th and ends July 26th. However, we will conclude the Liturgical celebration on Sunday, July 27th at the 12 noon Mass followed by a Procession carrying the statute of Saint Anne.
Saint Anne Novena prayers will be offered at the 9 a.m. Mass each morning and each evening at 7 p.m.. The 7 p.m. Saint Anne Novena prayers will be offered with Benediction of the Blessed Sacrament. There will be no 7 p.m. Novena offered on Saturday, July 19th and Saturday, July 26th.
ATTENTION All Organization Representatives:
The St. Anne's Festival Committee would like to unify our Parish during this year's Saint Anne Procession following the 12 noon Mass on Sunday, July 27th.
The Committee is asking all Organizations to participate by processing with their group in solidarity.
For additional information/necessary arrangements, please contact Jennifer Lambert at daytime phone number 201-531-6884.

Calling All Clam Shuckers

2003 Festival Committee is seeking volunteers to work the Clam Bar- opening the clams. If you or someone you know is available to volunteer any time during the Feast, please contact Jennifer Lambert at 201-531-6884. We truly need your support to make this clam booth a success. Thank you for your time!
CCD NEWS
A Day of Recollection is being planned for August 23rd at Mount St. Frances Convent in Ringwood, NJ. Anyone interested in going, please contact Sr. Alberta at 201-659-1794. Price for day with dinner is $35.
Top page 4
Gift Wheel
As in the past years, the Padre Pio and St. Joseph Prayer Groups will be sponsoring a booth at St. Anne's Festival. Donations of new/unused gifts will be gladly accepted. If you feel you do not have the time to shop, monetary donations will also be gladly accepted. Items or donations can be dropped off at the rectory marked
"St. Joseph Prayer Group".
Heavenly Desserts
One of the many booths at St. Anne's Feast will be a dessert booth - Heavenly Desserts made by angels! If you wish to bake or donate your favorite dessert, please contact Pat Roda at 201-792-5530 or fill out the form below and return it to Ruth Cullen, Claire Maglori or Pat Roda. Please let us know if we can count on you to make our dessert table very sweet, delicious, tempting and successful. Thanks in advance, Ruth, Pat & Claire.
NAME: _____________________________
PHONE: __________________
I will bring my dessert to the Dessert Booth located in the auditorium:
Fri., July 25____
Sat., July 26____
Sun., July 27____
<![if !vml]>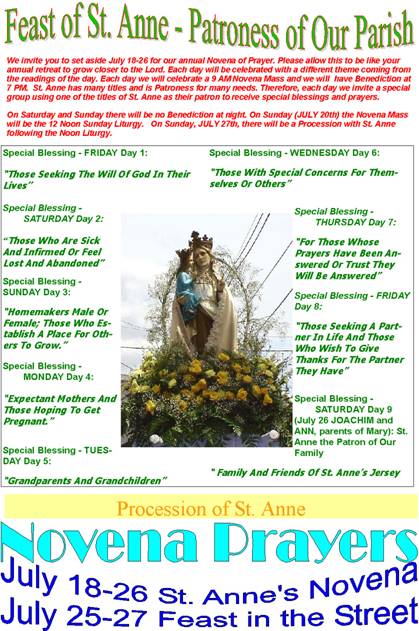 <![endif]>
Page 7 Top
2003 Feast of Saint Anne
Work Schedule
(Please reply as soon as possible or call)
Georgene De Benedetto 656-2490 Jim Kerwin 656-7670 (indoor)
John Romano 459-1285 (outdoor) Pat Roda 792-5530 (indoor)
Ed Gonzalez 963-8964 (Outdoor)
Name:________________

Telephone
:__________________________________
Address:

City:

Zip:

________________
(please check where you would like to work)
____ Indoor Games-
You Must
be 18 years old
____
50/50 (sell tickets)
You Must
be 18 years old
____
Floater-
willing to work where needed
____
Food Server-
work in booths serving food
____ Set-up & break-down booths Thursday July 20 & Monday July 24
____
Clean-up-
at end of the evening
Please
Check Off
the times when you are available to work
Friday July 25th

5:00pm -8:00pm

____

7:45pm-11:00pm

____
Saturday

July 26th

1:45pm-4:00pm
3:45pm-6:00pm

____
&

5:45pm-8:00pm

____

7:45pm-11:00pm

____
Sunday

July 27th

12:45pm-3:00pm

____

2:45pm-5:00pm

____
4:45pm-7:00pm

____

6:45pm-10:00pm

____
____I am available to work anytime during the Feast
Please make your selection as soon as possible or by

the July 19
th
, cutoff. Also, a meeting with all

volunteers will
be held on Sunday, July 20th, at 1:00pm in the auditorium. (All assignments will
be given at the time you arrive for
work).
Page 8 Top
How Sweet It Was!
Did you visit the Candy Booth at last year's Festival? Jackie O and the "Candy Booth Crew" are planning an even bigger and sweeter collection of your favorite treats for Festival 2003. However, in order to make it as successful as last year, we are once again asking for monetary donations.
Last year, all of the contributions towards the Candy Booth were clear profit because many of you had made generous donations. If you can help again, please leave donations at the Rectory marked "Candy Booth"-Attn: Jackie O.
Thank you...and don't forget to stop by the 'Sweetest Booth at the Festival 2003'.
Page 9 Top