© copyright stannes4/2000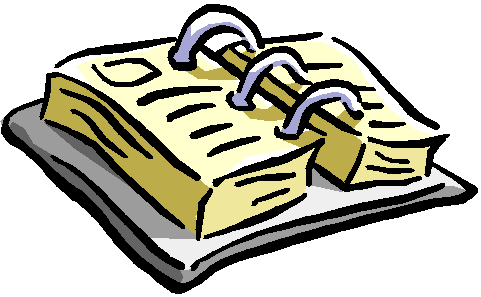 To use the Catholic calendar and follow the readings of the day please click the link below:
http://www.usccb.org/nab/index.htm
Page 1
August 17th, 2003
20th Sunday in Ordinary Time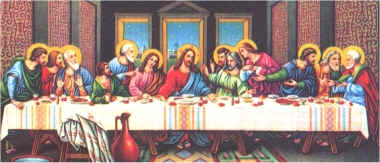 Schedule of Masses Week of August 18th - 24th, 2003

Day

Time

Requested for

Requested by

Mon 8/18

7 A.M.

Harold Ferry

The Salati Family

9A.M.

Marie Starz

Rosary Society Members

Tues 8/19

7 A.M.

Charles Winterhalter

Grace Winterhalter

9 A.M.

Marie Sansone

James, Ann & Thomas Sanson

Wed 8/20

7A.M.

Sue Capone

Capone Family

9A.M.

Marie Starz

Freda Hemsel

7 P.M.

John Tierney

Linda Walsh

Thurs 8/21

7AM.

August Zenzius

Family

9A.M.

Mary & John Staranka

Family

Fri. 8/22

7 AM

James Mocarski

Family

9A.M.

Carmela & Colgero Tagliareni

Frank & Gemma

Sat. 8/23

9 A.M.

Lucille Cherry

Family

6P.M.

Dorothy Ensmenger

Marie Starz

7:30 PM

For the People of the Parish

Sun. 8/24

7:30AM

Joseph Malandrino

Saccente Family

9 AM

Annita D'Amico

Family

10:30AM

Ralph Russo

Mom

12 PM

Grace Chieffo

Anna DiLella
Sanctuary Gifts August 17th - 23rd, 2003

Gift

In Memory Of

Requested By

Altar Wine

Joseph Rinyak

Rita Rinyak

Altar Bread

Albert Hollingsworth

Doris Hollingsworth

Sanctuary Lamp

William Couglin

Burke Family

Altar Candles

Louis Pezzulo

Michael & Grace Agresta
Let Us Pray For Those Seriously Ill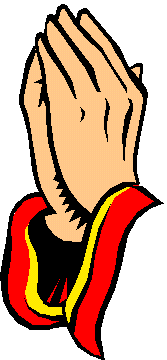 People will remain on the sick list for 2 weeks unless otherwise notified:
Anthony Tuzzo, Joan Wheeler, John Brawer, Bernadette Berger, John Bowman, Richard Carlson & Tommasina Tango.
Vocation reflections

Jesus is the living bread come down from heaven. The bread he gives is life for the world. For those who desire life, Jesus gives his own flesh and blood that we may become what we receive, his life for others. Are you willing to share that fullness of life in Christ with others as a priest, deacon, religious sister or brother?
If so, please contact the Vocations Office at 973-497-4365 or by e-mail at platebri@rcan.org or visit our website at www.rcan.org.
Page 2 Top

SCRIPTURE REFLECTION
"Do not neglect good deeds and generosity. God is pleased by sacrifices of that kind." (Hebrews 13:16)

Our Weekly Offering

August

2003

August 9/10

$

4,608.

Month's Total
$

9.130

.

Month's Average
$

4,565.

Mailed in, thank you
$

469

.

MONTHLY AVERAGE COMPARISONS:

Month

'02 Monthly Avg.

'03 Monthly Avg.

July

$

4,900

.

$4,779.

August

$4,902.




HOLY HOUR FOR PRIESTS


Our Holy Hour will be suspended during the summer months of July and August.
However, we invite you to spend this scheduled time with the Lord in a quiet spot at home for these intentions and for your personal requests. It is an hour of prayer for the priests, DIVINE MERCY and religious men and women of the church. Prayers are also said for an increase of vocations to the priesthood and religious life. Pray for our priests and for all religious - help guide them through your prayers.




The Gift Shop
St. Anne's Gift Shop is located in the Rectory. Hours of operation are Monday thru Thursday 9 a.m. - 4 p.m.
For the months of July and August, the Gift Shop will be closed on Sundays.

Day of Recollection
Would you like to spend some quiet time in the mountains of Mount St. Francis in Ringwood, NJ? There is a Day of Recollection on Saturday, August 23rd from 8 a.m. to 4 p.m. Anyone interested in attending? We have 5 more places available. Contact Sister Alberta at 201-659-1794. Price for day with dinner is $35 plus $5 for bus.
Padre Pio
The Padre Pio Prayer Group is having a Pilgrimage to the Shrine of Our Lady of Czestochowa in Doylestown, Pennsylvania on September 27th.
For information, please call Frances Spazian at 201-653-1318 as soon as possible.
Top
page 3


Our Web Site

When you log on and browse around you'll see all kinds of information about our parish. Included, of course, will be the current activities for the many different organizations as well as an update as to what is going on with our parish family.
Do not let evil defeat you: Instead, conquer evil with good!!
By your wounded heart: teach us love, teach us love, teach us love..... -Daphne Fraser

St. Anne's School
Registration
(Entrance 255 Congress St.)
Now accepting registration for
2003-04 school year for grades K-8
beginning August 18th.
School Office open Monday thru Thursday
9 - 11 a.m.
Requirements:
•Birth Certificate & Baptismal Certificate
•Medical Records
•$150 Registration Fee
•Must attain age 5 by Sept. 30, 2003
Top page 4
Top page
5
Hudson Hospice Seeks Volunteers
Do you want to do volunteer work that really makes a difference in the lives of the terminally ill and their families? Volunteer roles might include companionship for the patients, emotional support for patient and family, errands, telephone reassurance and transportation. Our patients are cared for in their own homes. Although the training takes place in Jersey City, volunteering is done throughout Hudson County. Volunteer hours are flexible, according to the needs of the patient/family and the availability of the volunteer.
VOLUNTEER TRAINING PROGRAM
Tuesdays: 10 a.m. - 12 noon
OR
Tuesdays: 7:00 - 9:00 p.m.
September 9 thru October 28, 2003
Hudson Hospice Office
93 Clerk Street
Jersey City
For an application and any further information, call Sister Carol Van Billiard at 201-433-3303

CNVS
Catholic Network of Volunteer Service (CNVS) has just released RESPONSE 2004, a directory of full-time, faith-based volunteer opportunities. RESPONSE is a comprehensive listing of more than 200 member programs that offer more than 9,000 full-time volunteer placements serving the poor and the needy worldwide. Volunteers generally serve full-time (40 hrs/wk) anywhere from one month to one year or more. Contact us today for a free copy of RESPONSE 2004 or to learn more about CNVS. Phone: 1-800-543-5046 or 301-270-0900; E-mail: volunteer@cnvs.org ; Web site: www.cnvs.org . Access the directory online!

Annulment Information Evening
An Annulment Information Evening is scheduled for Wednesday, September 10, 2003. A canon lawyer from the Archdiocese of Newark will discuss the most recent theology, guidelines and requirements for obtaining a Church annulment. The information will be presented in terms that all can understand. A question and answer period will conclude the session. Pre-registration is not necessary. This evening of information will be held at the Archdiocesan Center, Auditorium A, 171 Clifton Avenue, Newark. For additional information, please call the Office of Family Life Ministries at 973-497-4327.

Support Group
For Fathers Whose Children Have Died...The needs of fathers who have suffered the loss of a son or daughter are unique. The Office of Family Life Ministries of the Archdiocese of Newark invites all grieving fathers to an evening of prayer, sharing, and discussion, away from societal expectations, in the hope it will provide a special place of understanding and healing. This evening of reflection will be held on Friday, September 26, 2003 at Notre Dame RC Church (Parish Center), 358 Central Avenue, North Caldwell at 7:30 p.m. Pre-registration is requested. Please call the Office of Family Life Ministries at 973-497-4327 for information and registration.

Felician College
Online Master of Arts in Religious Education. Online Fall 2003 Graduate Course offerings in Religious Education through The Scriptures; The Psychology & Pedagogy of Religious Education; The History & Heritage of the Catholic Church; Religious Education for Ecumenism & Inter-Religious Dialogue. Felician College is located at 262 South Main Street in Lodi. For more information, call 201-559-6085.

Preschool
Little Lamb Preschool is located at 100 East 22nd Street in Bayonne. They accept students 2 1/2 years old that are just beginning potty training and are off the bottle. They also accept 3, 4, 5 year old children. Little Lamb lays the educational foundation at an early age. They strive to place the love of God and learning within the children. You can contact Little Lamb School at 201-437-6244.

Top page 6

Page 7 Top

MONDAY Jgs 2:11-19 Ps 106:34-37,39-40,43-44 Mt 19:16-22

TUES. Jgs 6:11-24a Ps 85:9,11-14 Mt 19:23-30

WED. Jgs 9:6-15 Ps 21:2-7 Mt 20:1-16

THURS. Jgs 11:29-39a Ps 40:7,7-10 Mt 22:1-14

FRIDAY Ru 1:1,3-6,14b-16,22 Ps 146:5-10 Mt 22:34-40

SATURDAY Ru 2:1-3,8-11;4:13-17 Ps 128:1-5 Mt 23:1-12

NEXT SUNDAY -

21st SUNDAY IN ORDINARY TIME

Jos 24:1-2a,15-17,18b Ps 34:2-3,16-21 Eph 5:21-32 Jn 6:60-69

Catholic Center at Rutgers
Rutgers starts off the new year with a variety of opportunities for new students to get involved and make good friends. Their Sunday Mass schedule and locations are as follows:
12:00 p.m. St. Michael's Chapel, Busch Campus
5:00 p.m. Voorhees Chapel, Douglass/Cook Campus
7:00 p.m. St. Peter's Church, College Avenue Campus
8:30 p.m. St. Michael's Chapel, Busch Campus
10:00 p.m. St. Peter's Church, College Avenue Campus
Monday thru Friday Masses are held at 12:10 p.m. at Catholic Center Chapel, College Avenue Campus.
Rutgers University will be having a NEW STUDENT OPEN HOUSE & ICE CREAM SOCIAL on Thursday, September 4th at 6 p.m. at The Catholic Center. Students will have the opportunity to meet the chaplains and their fellow students, get a tour of The Center's three buildings, and hear more about the services they offer. They are also having a WELCOMING PICNIC on Wednesday, September 10th at 6 p.m. at The Catholic Center. All are welcome!

Coop Mission Appeal
Through the direction of The Archdiocese of Newark, we will be having two priests for the Foreign Missions Appeal next weekend - August 23/24 on behalf of the Diocese of Keetmanshoop from Africa.
The Diocese of Keetmanshoop (established in 1994) in the Republic of Namibia is located in the Southwestern corner of Africa formerly known as South-West Africa. The Oblates of St. Francis De Sales have been assisting the new Bishop, Most Rev. Antonio Chiminello, in the missionary efforts of the Church in this land of the Namib Desert. The Diocese consists of the entire southern half of the country and is half the size of the state of Texas although the population is only 136,000.
Thus much of the missionary efforts of the local church are centered on Evangelization with a view of helping the poor of Namibia, one of the methods that is used in this process is the RENEW PROGRAM which originated in the USA Catholic Church but has been adopted to meet the needs of the local population. Mission Funds collected in the Archdiocese will be used to help finance this important spiritual program. Furthermore, the Diocese staffs several orphanages at its fifty mission stations and your mission collections will be used to support these poor children. Please give generously.

Facilitator Training
Are you interested in becoming part of the ministry to the bereaved in your parish? A six-week training program is offered at the Archdiocesan Center and is now open for registration. Participants will explore the stages and tasks of grief and mourning and develop their communication and group facilitation skills. Sessions will begin at the end of September and are offered on Tuesday mornings or on Thursday evenings. For registration and fee information, please contact the Office of Family Life Ministries of the Archdiocese of Newark at 973-497-4327. Pre-registration is required; class size is limited.
Page 8 Top
Christian Foundations for Ministry
"MAKE THE BEST of the present time...be filled with the Holy Spirit," St. Paul advises in today's second reading. The Christian Foundations for Ministry program will guide you along the way. Sessions begin in September at a parish near you. For information and a brochure, call 973-497-4350.
*******************
50th Reunion
St. Michael's High School, Jersey City is having their 50th Reunion September 19th, 2004 at the Crystal Point Marina, Point Pleasant, New Jersey. Contact: Bette Clare Thiele McCloskey at 732-583-9184/betteclare@aol.com or Carol Gilmartin Bailey at 732-787-9524/CBnoe@aol.com - mailing address: Bette Clare McCloskey, 22 Marc Drive, Matawan, NJ 07747.
*******************
25th Anniversary
The Polish Clergymen's Society, along with the religious and lay faithful of Polish heritage in the Archdiocese of Newark, will celebrate in a special way the 25th Anniversary of the Election of our Holy Father, Pope John Paul II as successor of St. Peter.
All are cordially invited to join Archbishop Szczepan Wesoly and Archbishop John J. Myers at Mass on September 21, 2003 at 12 noon in the Cathedral Basilica of the Sacred Heart. The local Church of Newark will join in thanksgiving for the gift of our Holy Father's pontificate.
Holy Humor
1. There was a church that had problems with outsiders parking in its parking lots, so they put up a sign: CHURCH CAR PARK - FOR MEMBERS ONLY Trespassers will be baptized!
2. "No God - No Peace. Know God - Know Peace."
3. "Free Trip to heaven. Details Inside!"
4. "Try our Sundays. They are better than Baskin Robbins."
5. "Searching for a new look? Have your faith lifted here!"
6. An ad for one Church has a picture of two hands holding stone tablets on which the Ten Commandments are inscribed that reads, "For fast, fast, fast relief, take two tablets."
7. When the restaurant next to another Church put out a big sign with red letters that said, "Open Sundays," the church reciprocated with its own message: "We are open on Sundays, too."
8. "People are like tea bags - you have to put them in hot water before you know how strong they are."
9. "Fight truth decay - study the Bible daily."
10. "How will you spend eternity - Smoking or Non-smoking?"
11. "Dusty Bibles lead to Dirty Lives"
12. "Come work for the Lord. The work is hard, the hours are long and the pay is low. But the retirement benefits are out of this world."
13. "It is unlikely there'll be a reduction in the wages of sin."
14. "Do not wait for the hearse to take you to church."
15. "If you're headed in the wrong direction, God allows U-turns."
16. "If you don't like the way you were born, try being born again."
17. "Looking at the way some people live, they ought to obtain eternal fire insurance soon."
18. "This is a ch_ _ ch. What is missing?"…(U R)
19. "In the dark? Follow the Son."
20. "Running low on faith? Step in for a fill-up."
21. "If you can't sleep, don't count sheep. Talk to the Shepherd."
Page 9 Top

Deanery Outdoor Mass
Our Deanery Outdoor Mass is scheduled for September 7th at 12 noon at Pershing Field in Jersey City. We are awaiting further details from our Dean, Father Kevin Carter of St. Nicholas Church.
Due to the Outdoor Mass on September 7th, there will be no 12 noon Mass scheduled here at St. Anne's.
Parish Nursing
A Collaborative Program sponsored by Catholic Charities Congregational Health Ministry-The Diocese of Paterson and The College of Saint Elizabeth in Morristown. This course is given at the College of St. Elizabeth-St. Joseph Hall/Conference Room from 8:30 am. - 3:30 p.m. on five Saturdays: September 13th, 27th, November 8th, 22nd, December 6th. Cost is $250 which includes all books and materials. Registration deadline is September 5, 2003. Maximum registration accepted is 30! Directions to the College will be provided to all registrants. For further information call 973-290-4056.