© copyright stannes4/2000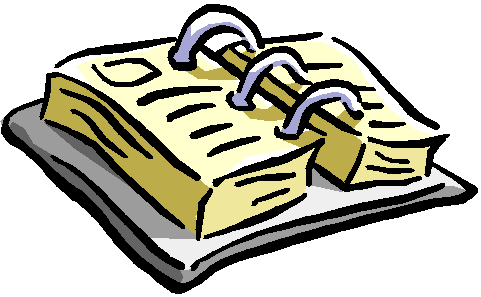 To use the Catholic calendar and follow the readings of the day please click the link below:
http://www.usccb.org/nab/index.htm
Page 1
September 7th, 2003
23rd Sunday in Ordinary Time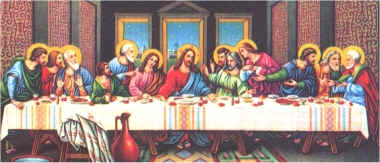 Schedule of Masses Week of September 8th - 14th, 2003

Day

Time

Requested for

Requested by

Mon 9/8

7 A.M.

Elizabeth Krohn

Fallon Family

9A.M.

Frances Muzikar

Frances Spazian

Tues9/9

7 A.M.

Viola Stack

Walter Francis

9 A.M.

Frances Muzikar

Angela Maccini

Wed 9/10

7A.M.

Otto Genoni

Staranka Family

9A.M.

Frances Muzikar

Theresa

7 P.M.

Lucille Cherry

Family

Thurs 9/11

7AM.

Mrs. Guistene Coppola

Christine & Anthony Russo

9A.M.

Helen Wilkins

Family

Fri. 9/12

7 AM

James Mocarski

Family

9A.M.

Louis Costanza

Mother

Sat. 9/13

9 A.M.

Liv. Josephine Tornabe

Sister Agnes

6P.M.

Edward & Butch

Ruth Cullen

7:30 PM

For the People of the Parish

Sun. 9/14

7:30AM

James Mocarski

Family

9 AM

Helen & Joe Smith

John Nadolny

10:30AM

Anthony DeLuise

Wife Delores

12 PM

Susan & Carol Johnston

Dorothy Lee
Sanctuary Gifts September 7th - September 13th, 2003

Gift

In Memory Of

Requested By

Altar Wine

Anthony Scerbo

Wife

Altar Bread

Anthony Scerbo

Wife

Sanctuary Lamp

Frances Muzikar

Burke Family

Altar Candles

Janice Greten

Colleen Mullaly
Let Us Pray For Those Seriously Ill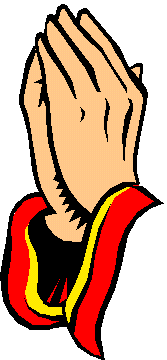 People will remain on the sick list for 2 weeks unless otherwise notified:
Anthony Tuzzo, Dennis McFeeley, Joan Wheeler, John Brawer, John Krohn, Richard Carlson, and Ursala Ferris.
Vocation reflections

Take courage, fear not! God comes to save us! In the gospel Jesus opens the ears of the deaf man and said, "Ephphatha! Be opened!" At times the loud noises of our society make us deaf to God's call. Can you hear God's call in your heart? Hear Jesus say to you "Be open" to the call to be a priest, deacon or religious brother.
If so, please contact the Vocations Office at 973-497-4365 or by e-mail at platebri@rcan.org or visit our website at www.rcan.org.
Page 2 Top

SCRIPTURE REFLECTION
Through observance of the Lord's commands, we shall experience the fullness of life. Living in conformity with God's will frees us from all casuistry about good and evil. We are called to welcome God's word and to let it take root in our hearts.

Our Weekly Offering

August

2003

August 30/31

$

5,021.

Month's Total
$

22,929

.

Month's Average
$

4,586.

Mailed in, thank you
$

265

.

MONTHLY AVERAGE COMPARISONS:

Month

'02 Monthly Avg.

'03 Monthly Avg.

August

$

4,902

.

$4,586.

September

$5,445.




HOLY HOUR


Every Tuesday, the Blessed Sacrament is exposed in the church from 3 to 4 p.m. It is an hour of prayer for the priests, DIVINE MERCY and religious men and women of the church. Prayers are also said for an increase of vocations to the priesthood and religious life.

We invite you to come and spend time with the Lord for these intentions and for your personal requests.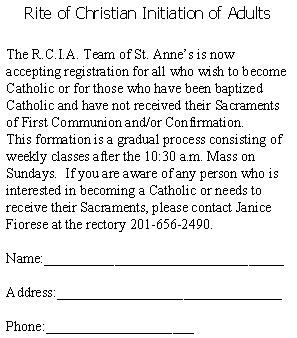 Deanery Outdoor Mass
Due to the Outdoor Mass on September 7th, there will be no 12 noon Mass scheduled here at St. Anne's.

Top
page 3


Our Web Site

When you log on and browse around you'll see all kinds of information about our parish. Included, of course, will be the current activities for the many different organizations as well as an update as to what is going on with our parish family.
Do not let evil defeat you: Instead, conquer evil with good!!
By your wounded heart: teach us love, teach us love, teach us love..... -Daphne Fraser

Top page 4
Annulment Information Evening
An Annulment Information Evening is scheduled for Wednesday, September 10, 2003. A canon lawyer from the Archdiocese of Newark will discuss the most recent theology, guidelines and requirements for obtaining a Church annulment. The information will be presented in terms that all can understand. A question and answer period will conclude the session. Pre-registration is not necessary. This evening of information will be held at the Archdiocesan Center, Auditorium A, 171 Clifton Ave., Newark. For additional information, please call the Office of Family Life Ministries at 973-497-4327.

25th Anniversary
The Polish Clergymen's Society, along with the religious and lay faithful of Polish heritage in the Archdiocese of Newark, will celebrate in a special way the 25th Anniversary of the Election of our Holy Father, Pope John Paul II as successor of St. Peter.
All are cordially invited to join Archbishop Szczepan Wesoly and Archbishop John J. Myers at Mass on September 21, 2003 at 12 noon in the Cathedral Basilica of the Sacred Heart. The local Church of Newark will join in thanksgiving for the gift of our Holy Father's pontificate.

Second Collection
Next week the second collection will go to aid the Church in Central and Eastern Europe. In this part of the world the Church, emerging from 70 years of communist rule, is vigorously involved in rebuilding the faith of its people. Proceeds from the collection, sponsored by the Bishops of the United States, are used for:
· Supporting religious education programs
· Training seminarians
· Expanding social ministries and
· Rebuilding churches, convents and schools.
Your generosity can help provide the resources to grow and nourish the faith in this section of the world.

50th Reunion
St. Michael's High School, Jersey City is having their 50th Reunion September 19th, 2004 at the Crystal Point Marina, Point Pleasant, New Jersey. Contact: Bette Clare Thiele McCloskey at 732-583-9184/ betteclare@aol.com or Carol Gilmartin Bailey at 732-787-9524/CBnoe@aol.com - mailing address: Bette Clare McCloskey, 22 Marc Drive, Matawan, NJ 07747.

St. Joseph Parish Festival
St. Joseph Parish, Jersey City, celebrates 147 years as the Catholic Church on the hilltop of Jersey City with its 26th Annual Parish Festival beginning Tuesday, September 9th at 6 P.M. The Festival extends each night from 6 P.M. until 11 P.M. (except Sunday - 4 P.M. until 9 P.M.). The Festival concludes Sunday, September 14th at 9 P.M. with a 50/50 drawing.
They feature nightly live professional entertainment. Friday, September 12th is "Alumni Night with Baby Parade"; Saturday, September 13th is Spanish Night; Sunday, September 14th is Filipino Night.

Support Group
For Fathers Whose Children Have Died...The needs of fathers who have suffered the loss of a son or daughter are unique. The Office of Family Life Ministries of the Archdiocese of Newark invites all grieving fathers to an evening of prayer, sharing, and discussion, away from societal expectations, in the hope it will provide a special place of understanding and healing. This evening of reflection will be held on Friday, September 26, 2003 at Notre Dame RC Church (Parish Center), 358 Central Avenue, North Caldwell at 7:30 p.m. Pre-registration is requested. Please call the Office of Family Life Ministries at 973-497-4327 for information and registration.

Open House
Oratory Prep, 1 Beverly Rd., Summit, NJ is having Open House Sunday, September 28th 3-5 p.m. for 7th-12th grade boys. More info call 908-273-5771 Ext. 11
Top page 5
<![if !vml]>

<![endif]>

Pershing Field

Sunday, September 7

12:00 Noon

<![if !vml]>

<![endif]>
<![if !vml]>

<![endif]>
Top page 6
Page 7 Top
MONDAY Mic 5:1-4a Ps 13:6 Mt 1:1-16,18-23
TUES. Col 2:6-15 Ps 145:1-2,8-11 Lk 6:12-19
WED. Col 3:1-11 Ps 145:2-3,10-13 Lk 6:20-26
THURS. Col 3:12-17 Ps 150:1-6 Lk 6:27-38
FRIDAY 1Tm 1:1-2,12-14 Ps 16:1-2,5,7-8,11 Lk 6:39-42
SATURDAY 1Tm 1:15-17 Ps 113:1-7 Lk 6:43-49
NEXT SUNDAY - EXALTATION OF THE HOLY CROSS Nm 21:4b-9 Ps 78:1-2,34-38 Phil 2:6-11 Jn 3:13-17

Festival 2003

A reminder for the volunteers of the Festival, our final meeting/pizza party will be Sunday, September 7th after the Deanery Outdoor Mass (about 1:30 p.m.). Please mark your calendar.

CCD News
Anyone interested in working with children - the CCD Program is in need of teacher aides for grades 1,5,7,8. If there are any retired teachers, we would be glad to have you. We are also in need of teenagers to be aides. Please contact Sister Alberta 201-659-1794.
Registration Schedule for Religious Education Program:
Sept. 7th 10 a.m.- 12 Noon, Sept. 9th to 11th - 10 a.m. - 1 p.m. in CCD Office
Sept. 10th & 11th evenings 6:30-8 p.m. CCD Office
* * *
Sept. 11th - Teachers' Orientation Meeting 7 p.m. PC #3
Confirmation Classes begin Sept. 23rd to Nov. 4th 6:30-8 p.m.
First day of CCD Class Sept. 28th with 9 a.m. Mass/classes from 10-11:30 a.m. CHILDREN ARE TO ATTEND MASS!

Rosary Society Auction "Viva Las Vegas"
The annual Rosary Society Auction will be held on Sunday, October 26th, 2003 at 1 p.m. in the auditorium. Please help us...contributions of cash or unused merchandise for the auction (no clothing please). Items may be dropped off at the rectory - Attention: Nora Browne. Thank you for your continued support.

Voter Registration
We will have a Voter Registration Drive on September 27/28 after all Masses. To exercise your civic responsibility, please complete a NJ Voter Registration Application before or after Mass. Please see next week's bulletin for more details.

Conserve Energy and Save Money
A FREE Energy Stewardship Workshop sponsored by the New Jersey Catholic Coalition for Environmental Justice will be held at the Archdiocesan Center on Tuesday, September 16th from 7-9:30 p.m. Utility rates have just gone up! This workshop will tell you how you can conserve energy, save minimum of 10% of your energy bills, and take steps toward being a good steward of the environment. All workshop participants will receive a FREE compact fluorescent light bulb to guarantee energy savings. Refreshments will be provided. To attend or for more information, call the Human Concerns Office at 973-497-4341 or email envirojust@rcan.org.
Page 8 Top
Ministry Fair
The College of St. Elizabeth will hold a Ministry Fair on September 20th and a Preaching Conference on November 15th. Both events are for everyone involved in church ministries and who would like to enhance their skills by coming to some excellent keynote presentations with a number of workshops to choose from. Call the Center for Theological and Spiritual Development at (973) 290-4300/4364 or visit their website at www.csespirit.org for more information.

Planned Giving
With an Archdiocesan Charitable Gift Annuity, you receive...Stable Income - identical payments on a regular schedule; Solid Backing - underwritten by the Archdiocese of Newark; Splendid Rates - higher rates than many other options; Special Savings - tax deduction and tax favored payments. For more information on how you can help yourself and at the same time help the Church, please call Deacon John McKenna at 973-497-4125.

Padre Pio
The Padre Pio Prayer Group is having a Pilgrimage to the Shrine of Our Lady of Czestochowa in Doylestown, Pennsylvania on September 27th.
For information, please call Frances Spazian at 201-653-1318 as soon as possible.
Class of 1947
St. Anne's Class of 1947 will hold its 4th Reunion on Saturday, September 27, 2003. Still MIA: Eileen Casey, Marie Dunne, Joyce Molino, Catherine O'Neill, Frances Shaw, Dolores Sobolesky, and Walter "Fuzzy" Graff. Can you help find friends and classmates??? Thank you!! Contact Tommy Johnson, 908-459-4061 or teejay34@hotmail.com
Page 9 Top