© copyright stannes4/2000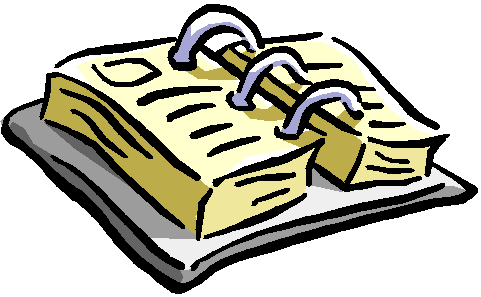 To use the Catholic calendar and follow the readings of the day please click the link below:
http://www.usccb.org/nab/index.htm
Page 1
September 21st, 2003
25th Sunday in Ordinary Time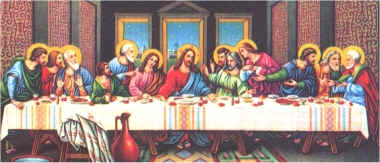 Schedule of Masses Week of September 22nd - 28th, 2003

Day

Time

Requested for

Requested by

Mon 9/22

7 A.M.

Dorothy E. Ensmenger

Bernadette

9A.M.

Dorothy Ensmenger

Teresa Offerman

Tues9/23

7 A.M.

Padre Pio

Toni Belfiore

9 A.M.

Honor of St. Padre Pio

Frances Spazian

Wed 9/24

7A.M.

Lucille Cherry

Family

9A.M.

Susan Fickett

Robert Fickett

7 P.M.

Lucille Cherry

Family

Thurs 9/25

7AM.

Mabel Frank

Joann & Dave Marcille

9A.M.

Mary & Thomas E. Doyle

Children

7P.M.

Arthur Fabian

Rosina Castano

Fri. 9/26

7 AM

James Mocarski

Family

9A.M.

Frank Otersen

Family

8P.M.

Alma Bickhardt

Dolores DeLuise

Sat. 9/27

9 A.M.

Lucille Cherry

Family

6P.M.

Rev. Patrick Pearse Cashman

Burke Family

7:30 PM

For the People of the Parish

Sun. 9/28

7:30AM

Ruth Weber

Nancy, Jim & Pop

9 AM

Annita D'Amico

Family

10:30AM

Agnes Diego

Romano Family

12 PM

Monica V. Keenan

Keenen Family
Sanctuary Gifts September 21st - September 27th, 2003

Gift

In Memory Of

Requested By

Altar Wine

Rita Rinyak

Rita Rinyak

Altar Bread

William Montonez

Elizabeth Pasuco

Sanctuary Lamp

Lee & Tony Ballato

Nancy McGrath

Altar Candles

Frances Muzikar

Hogan Family
Let Us Pray For Those Seriously Ill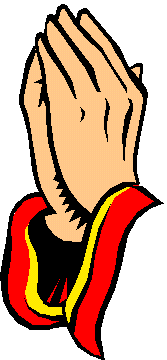 People will remain on the sick list for 2 weeks unless otherwise notified:
Anthony Tuzzo, Joan Wheeler, John Brawer, Edward Anderson, John Krohn, Richard Carlson, Mary Grish and Ursala Ferris.
Vocation reflections

True discipleship, Jesus says is concerned not with status but with service to the poor, with justice and peace. Does the message of Jesus attract the depths of your soul? Does a life of service sound fulfilling to you?
If so, please contact the Vocations Office at 973-497-4365 or by e-mail at platebri@rcan.org or visit our website at www.rcan.org.
Page 2 Top

SCRIPTURE REFLECTION
Stewardship is not job-oriented or project-minded. It is a way of life for a lifetime.

Our Weekly Offering
September 2003

September 13/14

$

5,535.

Month's Total
$

10,081

.

Month's Average
$

5,040.

Mailed in, thank you
$

345.

MONTHLY AVERAGE COMPARISONS:

Month

'02 Monthly Avg.

'03 Monthly Avg.

August

$

4,902

.

$4,586.

September

$5,445.

$5,040.




HOLY HOUR


Every Tuesday, the Blessed Sacrament is exposed in the church from 3 to 4 p.m. It is an hour of prayer for the priests, DIVINE MERCY and religious men and women of the church. Prayers are also said for an increase of vocations to the priesthood and religious life.

We invite you to come and spend time with the Lord for these intentions and for your personal requests.




The Gift Shop
Located in St. Anne's Rectory
Now Open With New Articles Available!
• Open Weekdays: Monday thru Thursday 9 am to 4 p.m. and Sundays 9 a.m. to 1 p.m.
• Variety of Religious Articles
• Wedding Invitations & Gifts
• Items Can Be Special Ordered
• Baptismal, Communion, Confirmation and Wedding Articles
Rosary Society Auction "Viva Las Vegas"

The annual Rosary Society Auction will be held on Sunday, October 26th, 2003 at 1 p.m. in the auditorium. Please help us...contributions of cash or unused merchandise for the auction (no clothing please). Items may be dropped off at the rectory - Attention: Nora Browne. Thank you for your continued support.

Top
page 3
Top page 4


Our Web Site

When you log on and browse around you'll see all kinds of information about our parish. Included, of course, will be the current activities for the many different organizations as well as an update as to what is going on with our parish family.
Do not let evil defeat you: Instead, conquer evil with good!!
By your wounded heart: teach us love, teach us love, teach us love..... -Daphne Fraser


SAINT DOMINIC ACADEMY: Celebrating 125 years of excellence in education; located at 2572 Kennedy Blvd., Jersey City. Catch a glimpse of your future at SDA's Open House for 7th and 8th grade girls and their parents on Sunday, September 28th from 1-3 p.m. and on Monday, September 29th from 6-8 p.m. For any further information, please call 201-434-5938.
ACADEMY OF THE SACRED HEART: "Educating women for 135 years-A Catholic Tradition in Education"; Middle States Accredited; Located at 713 Washington St., Hoboken. Open House for 8th graders and their parents on Sunday, September 21st at 2 p.m. For more information, contact Admissions Director, Sister Maureen Mahan at 201-659-7139.
ACADEMY OF ST. ALOYSIUS: Located at 2495 Kennedy Blvd., Jersey City. Open House on Sunday, September 28th from 1-3 p.m. and Monday, September 29th for all interested grammar school students and parents. For more information, please call 201-433-8777.
MARIST HIGH SCHOOL: Located at 1241 Kennedy Blvd., Bayonne. Hosting Fall Open House on Sunday, September 28th 1 p.m. Sharp! For further information contact: Mr. John Taormina, Director of Admissions, 201-437-4544 ext. 40.
ST. MARY HIGH SCHOOL: Located at 64 Chestnut St., Rutherford. Open House on Sunday, September 28th at 2 p.m. for 6,7,8 grade students. For more information, call 201-933-5220.
ORATORY PREPARATORY SCHOOL: Come live the Oratory experience at our Open House on Sunday, September 28th from3-5 p.m. Faculty and students will be present to give tours and answer questions for prospective 7th-12th grade boys and their families. Oratory Prep is located at 1 Beverly Rd., Summit, NJ off Morris Avenue. For further information call 908-273-5771, ext. 11 or visit www.oratoryprep.org
REGIS HIGH SCHOOL: An all-scholarship Jesuit secondary school for Catholic boys, announces its Open House for 8th graders and their parents to occur on Columbus Day, Monday, October 13th from 1-4 p.m. For additional information, please write or call: Eric Di Michele, Director of Admissions, Regis High School, 55 East 84th Street, New York, NY 10028 - 212-288-1100.

Top page 5
Top page 6
Cathedral Concert Series
The Cathedral Concert Series opens its 35th Season with an organ recital given by Fred Hohman of Pro Organo Recordings. The concert takes place in the Cathedral Basilica on Sunday, September 21, 2003. Suggested donation $10. For more information, call 973-484-2400 or visit http://www.cathedralbasilica.org . All are welcome.

Felician Festival 2003
Something for Everyone! Felician College will host its annual Fall Festival on Sunday, September 28 - rain or shine - on the grounds of its Rutherford campus located at 223 Montross Avenue. The day will begin with a walkathon at 8:30 a.m. to raise funds for the Rutherford Community Pantry and the Rutherford Social Services Department. Mass will be celebrated at 10:30 a.m. in the Student Center, the festival grounds and craft vendors will open at 11 a.m., and the games and rides will open at 11:30 a.m. Admission to the Festival is free, but participants are encouraged to bring a non-perishable food item for the Rutherford Community Pantry. Food donations may be dropped off throughout the day at the Alumni Pavilion.

Dinner Dance
Saint Anne's Filipino-American Association invites you to the Dinner Dance and Induction of Officers on Saturday, October 4, 2003 at 7 p.m. being held at the Crowne Plaza Exhibition Center, 2 Harmon Meadows, Secaucus, New Jersey. Requested donation is $45 per person. Celebrate with them for a Night of Music and Dancing!

Annulment Information
An Annulment Information Evening is scheduled for Wednesday, October 8th. A canon lawyer from the Archdiocese of Newark will discuss the most recent theology, guidelines and requirements for obtaining a Church annulment. The information will be presented in terms that all can understand. A question and answer period will conclude the session. Pre-registration is not necessary. This evening of information will be held at St. John the Baptist RC Church (Parish Center), 69 Valley Street, Hillsdale at 7:30 p.m. For additional information, please call the Office of Family Life Ministries at 973-497-4327.

Magnificat Women's Prayer Dinner
Please join the "Magnificat" (a Ministry to Catholic Women) for dinner on October 20th at 7 p.m. at the Chandelier, 340 Franklin Ave., Belleville, as they share in the Spirit of gratitude and praise of God. After a delicious dinner, there will be a period of prayer and worship and an opportunity to hear Yolanda Cleffi share the story of her journey from Assembly of God minister back to the Roman Catholic Church. We know Yolanda's witness will inspire, encourage and lift you up as she shares the great things the Lord has done in her life. You're invited to bring a friend. For tickets, send $40 with a self-addressed, stamped envelope to Mrs. A. Uzzalino, 553 Lynn Street, Ridgewood, NJ 07450, by October 6th. Directions will be mailed with all ticket confirmations. For more information, call 201-444-4064.
Bulletin Information
Special requirements to Organizations who place information about their upcoming events into the Church Bulletin:

· Information be received by Monday of the week bulletin is to be published

· Flyer Form Information - be put on disc in one of the following formats: preferably POWERPOINT or PUBLISHER, (MICROSOFT WORD) or emailed to sarc2000@verizon.net

· Written text can be dropped off at rectory as is.

· Information should be published AT LEAST 2 WEEKS PRIOR TO EVENT

I appreciate your efforts in fulfilling these requirements whenever possible. Thank you.

Georgene DeBenedetto, Bulletin Editor

Page 7 Top

MONDAY Ezr 1:1-6 Ps 126:1-6 Lk 8:16-18

TUES. Ezr 6:7-8,12b,14-20 Ps 122:1-5 Lk 8:19-21

WED. Ezr 9:5-9 Ps Tb 13:2-4,6-8 Lk 9:1-6

THURS. Hg 1:1-8 Ps 149:1-6,9 Lk 9:7-9

FRIDAY Hg 1:15b-2:9 Ps 43:1-4 Lk 9:18-22

SATURDAY Zec 2:5-9,14-15a Ps Jer 31:10-13 Lk 9:43b-45

NEXT SUNDAY -

26TH SUNDAY IN ORDINARY TIME

Nm 11:25-29 Ps 19:8,10,12-14 Jas 5:1-6 Mk 9:39-43,45,47-48

Padre Pio
St. Padre Pio Prayer Group will be having their annual Communion Breakfast on Saturday, October 11th with Mass at 11 a.m. Following Mass, breakfast will be served in the auditorium where a popular speaker will join us. If interested, please call Frances Spazian at 201-653-1318 or Terri Lattanzi at 201-798-3394.
CCD News
Sept. 22 - Parent sign-up for Rainbows 7 p.m. in CCD Office. This program is for children who have lost a loved one or who come from a one-parent home.
Sept. 23 - Confirmation classes begin from 6:30-5 p.m. Come through CCD entrance; please bring in all materials missing.
Sept. 28 - First day of class. NO REGISTRATION BEING TAKEN THIS DAY!! Parents are to come to Chapel Hall with children. Teachers will bring them to classroom to explain expectations of child.
If you haven't picked up class cards, please do so today. Office will be open from 11 a.m.-1 p.m.

Support Group
For Fathers Whose Children Have Died...The needs of fathers who have suffered the loss of a son or daughter are unique. The Office of Family Life Ministries of the Archdiocese of Newark invites all grieving fathers to an evening of prayer, sharing, and discussion, away from societal expectations, in the hope it will provide a special place of understanding and healing. This evening of reflection will be held on Friday, September 26, 2003 at Notre Dame RC Church (Parish Center), 358 Central Avenue, North Caldwell at 7:30 p.m. Pre-registration is requested. Please call the Office of Family Life Ministries at 973-497-4327 for information and registration.

Marriage Enrichment Weekend
October 3-5, 2003 - With the passing of Labor Day, the summer is over and it's back to the same old grind. Same old work, same old school, same old routine. But it doesn't have to be the same old, same old when it comes to your relationship in marriage. You can reawaken your marriage by attending a Marriage Encounter Weekend. Spending time with your spouse and other couples could put the spring back into your life together. The next weekend will be October 3,4,5 at a nearby Sommerfield Suites Hotel. For more information or to register, please call Jim and Pat Detura at 201-384-8497.

High School Admissions
Applications and fees are presently being processed through October 17th. By applying early, you will have a better chance of being assigned to a test site of your choice. Test date for Archdiocese of Newark (Hudson, Bergen, Essex and Union counties) is November 7th. This test is for 8th grade students applying for Fall 2004 admission to Catholic High School. Applications are available by calling the Coop Admissions Exam Office at 1-800-569-2667 or from a Catholic elementary or high school.
Page 8 Top
Page 9 Top